This chicken taco salad is one of our favourite meals – juicy, grilled cilantro lime chicken tossed with salad, tortilla chips and tasty taco ranch dressing!
Who else loves taco salad? Or taco anything really, I'm not that picky. If taco flavours of some sort are involved, I'm probably pretty happy with my meal.
Anyone else?
This chicken taco salad is probably one of my favourites though. I've made it more times then I can count and we are always happy with this meal.
The recipe uses a cilantro lime chicken marinade and the chicken is then grilled to juicy perfection. The salad is filled with all your favourite taco toppings – lettuce, corn, bell peppers, tomatoes, olives, avocado, green onions, cilantro and tortilla chips.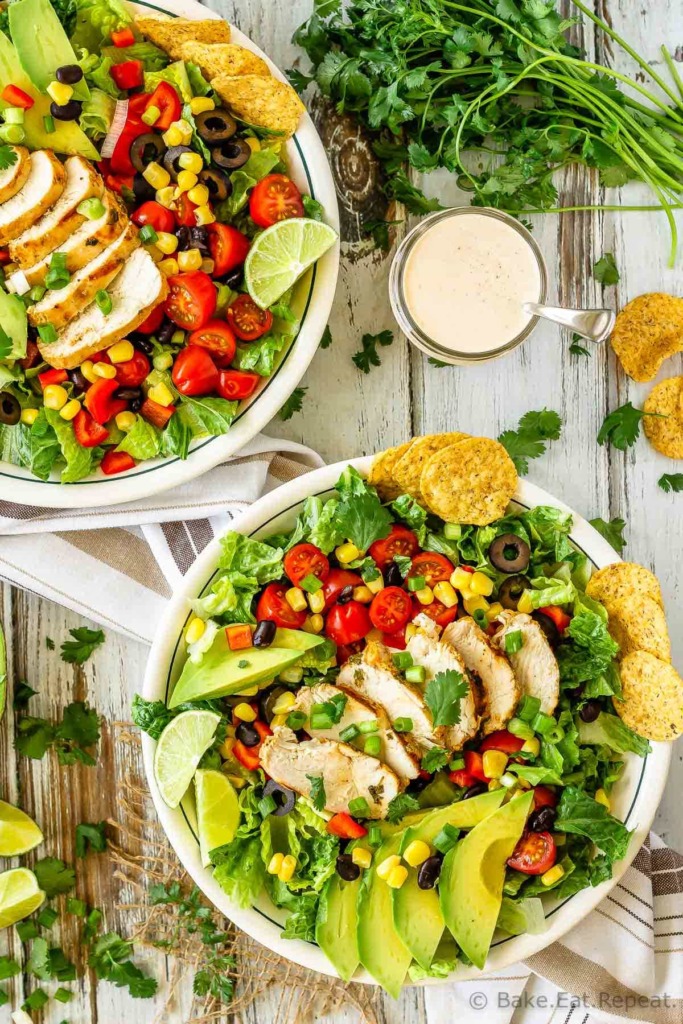 And the dressing is fantastic. It actually might be my favourite part of this salad. When I'm making a quick taco salad for dinner we sometimes just use plain leftover cooked chicken, all the veggies, and sour cream and salsa for "dressing". And while that's tasty, it doesn't compare to this version.
This chicken is just so flavourful and amazing with that cilantro lime chicken marinade. And the dressing is SO good. Simple to make, it's just mayo, sour cream, ranch seasoning, taco seasoning and lime juice – but it goes so well with the other flavours happening here. It really makes the salad in my opinion, so don't skip it!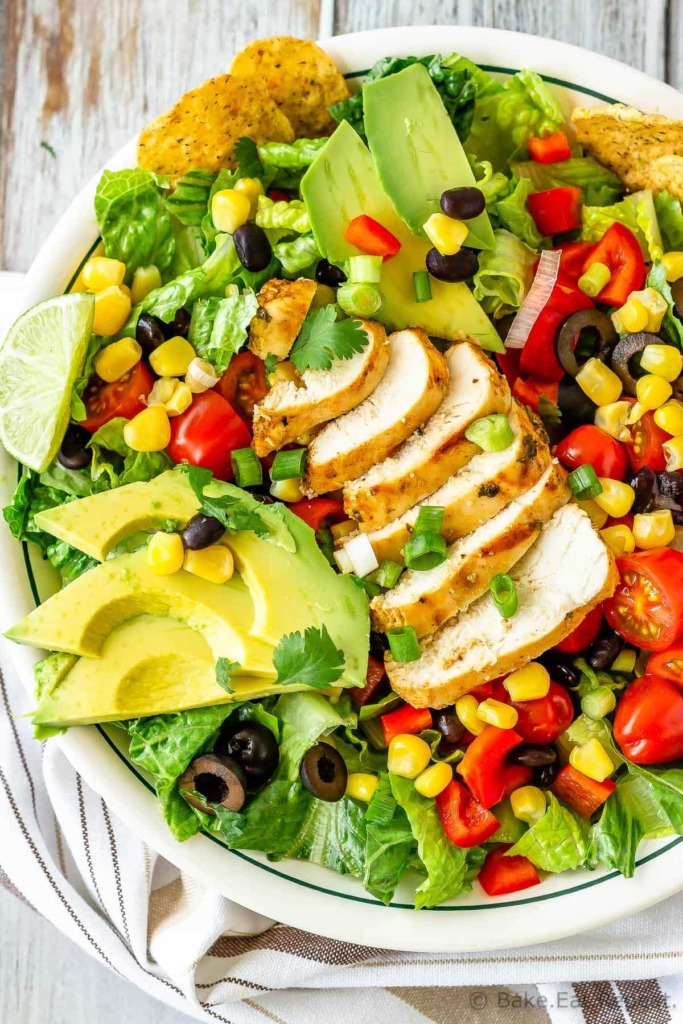 I know a lot of people don't think salad makes a meal (my husband might be one of them!), but this one definitely does. I don't even get any complaints from my family, who typically fall in the "salad is not a meal" camp.
Everyone here is happy having this salad as a meal.
Possibly that's because they get tortilla chips with their dinner.
That's okay though, because we are all happy when this salad makes an appearance at the dinner table!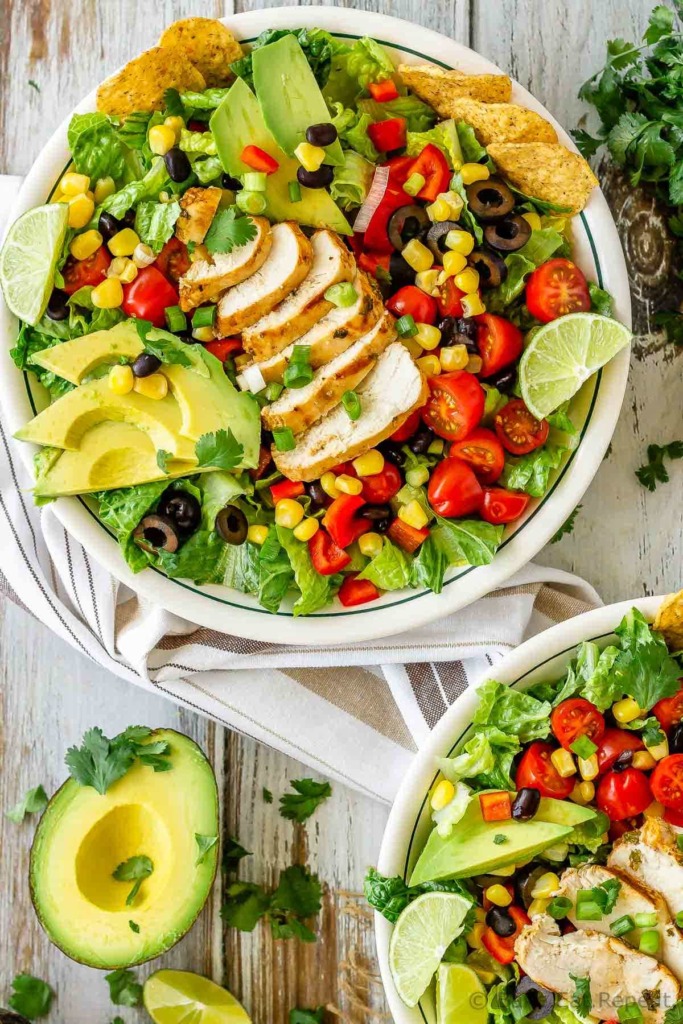 Tips for perfect Chicken Taco Salad:
the chicken is best if it's marinated for at least 30 minutes and up to 2 hours – don't marinate it much longer then this as the acid in the lime juice will start to break down the chicken at that point and the texture can end up being mushy
depending on how much dressing you like on your salad, you may not need all the dressing – my kids don't ever use it so we always have leftovers, but you can halve the dressing amounts if you like, or keep the leftovers in the fridge for up to a week
if you don't want to grill your chicken you can also cook it in a skillet over medium heat, about 8-10 minutes per side, or bake it at 400 degrees F for 18-20 minutes or until cooked through (discard the excess marinade before cooking)
here are a few more amazing taco recipes for you: 3 Ingredient Chicken Tacos, 20 Minute Ground Beef Tacos, and Fish Tacos with Avocado Cream
I've also shared this Chicken Taco Salad Recipe over on Food Fanatic.

This post contains affiliate links, meaning that if you make a purchase through these links, I may receive a small commission. I am a participant in the Amazon Services LLC Associates Program, an affiliate advertising program designed to provide a means for us to earn fees by linking to Amazon.com and affiliated sites.