This homemade salsa is so much better then anything you can buy at the store, and is easy to make. You can even can it at home with a water bath canner so you can enjoy fresh tasting, homemade salsa all year long! (It also freezes well if canning isn't your thing!)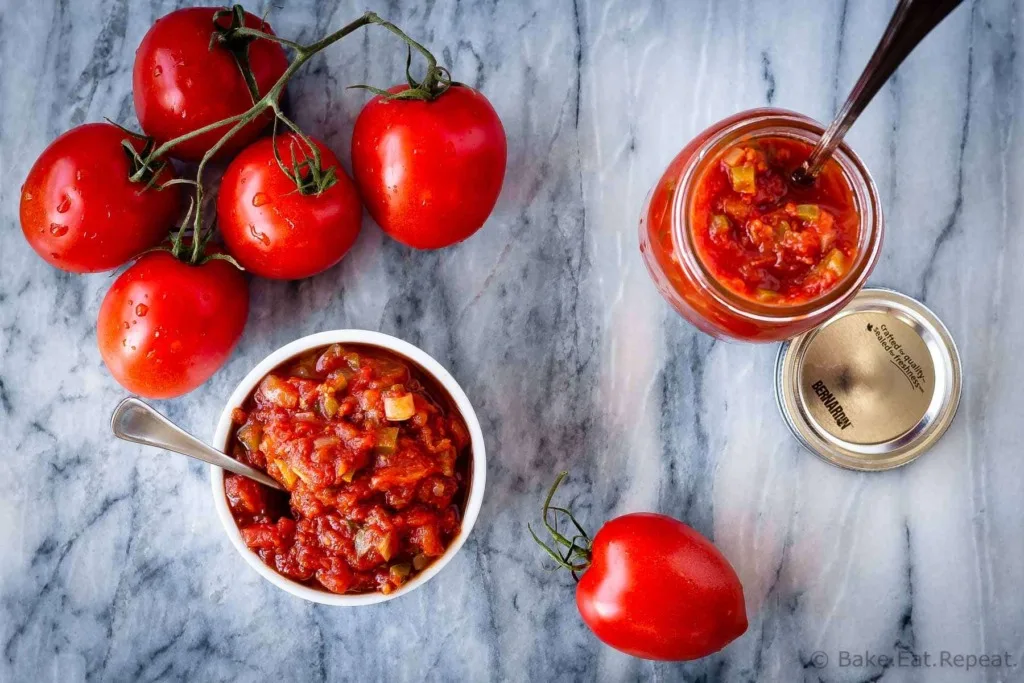 Disclaimer: I have partnered with YMC and Bernardin and have received compensation for this post. All opinions are, as always, my own.
This homemade salsa is nothing short of amazing. Really. I'm not just saying that.
I've made this recipe 4 or 5 times now, so we've eaten a lot of this salsa, and it's now rather disappointing when we run out of the homemade stuff and have to resort to the store-bought kind that we used to love. The homemade version is just so much better.
This recipe does take some time though. I'm not going to tell you that if you start this recipe you will be finished in half an hour while simultaneously enjoying homemade canned salsa for six months. I won't lie, that's not gonna happen. BUT. It's worth it. I promise.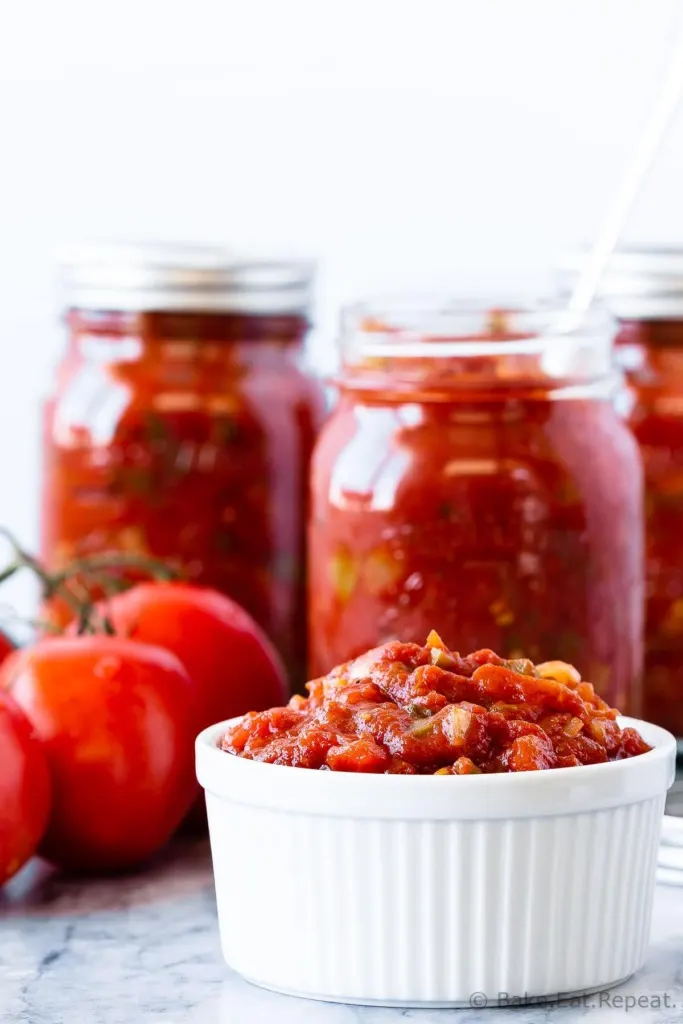 And it's definitely not a difficult recipe – I guarantee that anyone can make it, it's super easy – just takes a little time, that's all.
Mostly it's peeling the tomatoes that takes a while. Again, not hard, but this makes a lot of salsa so you have to peel a lot of tomatoes. Don't skip this step though, as you won't be happy with the texture of the salsa if you leave the peels on. There are some step by step photos below the recipe for you – I've used two different methods for peeling tomatoes and both have their pros and cons.
The traditional method of cutting an X in the bottom of the tomato and poaching it in boiling water for a minute before plunging it into an ice bath works really well – the skins always come off easily, but it is pretty hands on and takes a while to get through all the tomatoes. Easy to do though.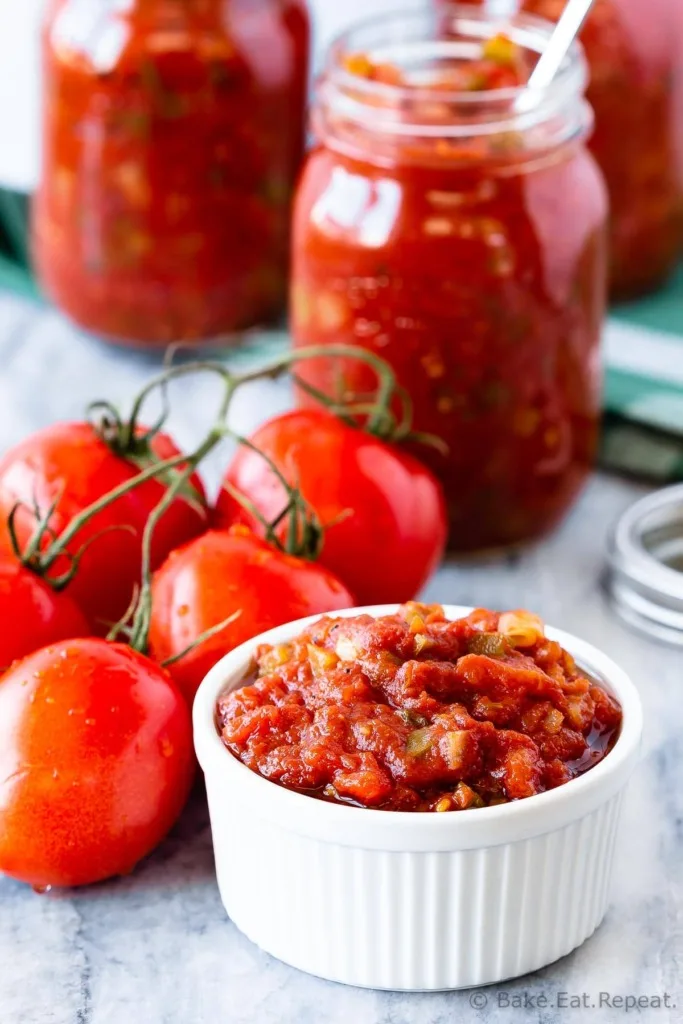 The other option I've used is cutting the tomatoes in half and broiling them for about 15 minutes until the skins start to pucker and split. This is super easy, but I've found that you need to have the broiler on low as the tomatoes tend to blacken on top before the skins on the sides have started to come off when you broil on high. And then you need to wait for them to cool enough to handle them in order to remove the skins. So this is a little more hands off but probably takes just as long (maybe longer) – and I find that sometimes the skins don't slip off quite as easily, although leaving the broiler on low and being patient does help!
Besides the fantastic tasting salsa that you get from this recipe – I also love it because I can preserve it with a water bath canner and have fresh tasting, homemade salsa on the shelf for months.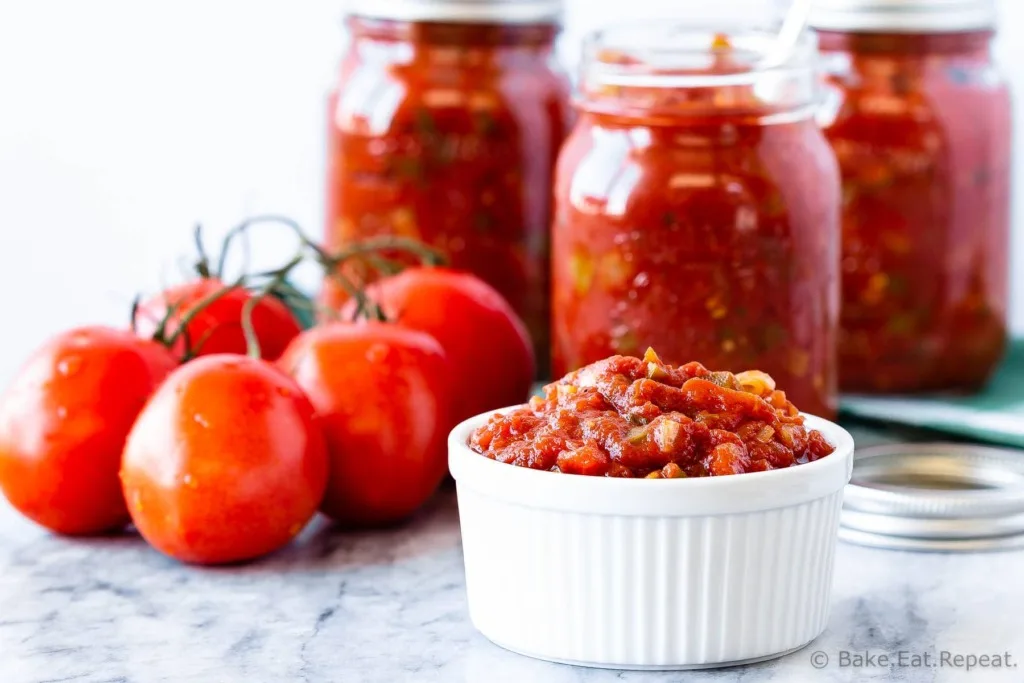 I love canning – although I only started it 6-8 years ago. It's such a fun and easy way to preserve foods so we can enjoy them for months. I've made jam from the fruit trees in our yard for years – we just moved into a new house a couple years ago and I planted so many fruit trees and bushes, specifically so I could make lots and lots of homemade jam!
If you haven't done any canning before but would like to start, I learned everything I needed to know from this recipe/instruction book from Bernardin. It's also easy to find all the tools you need to make canning easy with Bernardin products. This starter canning set is perfect for getting started – it has everything you need. Also if you're buying things individually instead of in a set like that, don't skip out on a set of tools like this! I went without for a few years, and everything is so much easier with the proper tools – don't be like me, just get them now! (I've seen all of those products at both Walmart and Canadian Tire – which is where I buy most of my canning supplies.)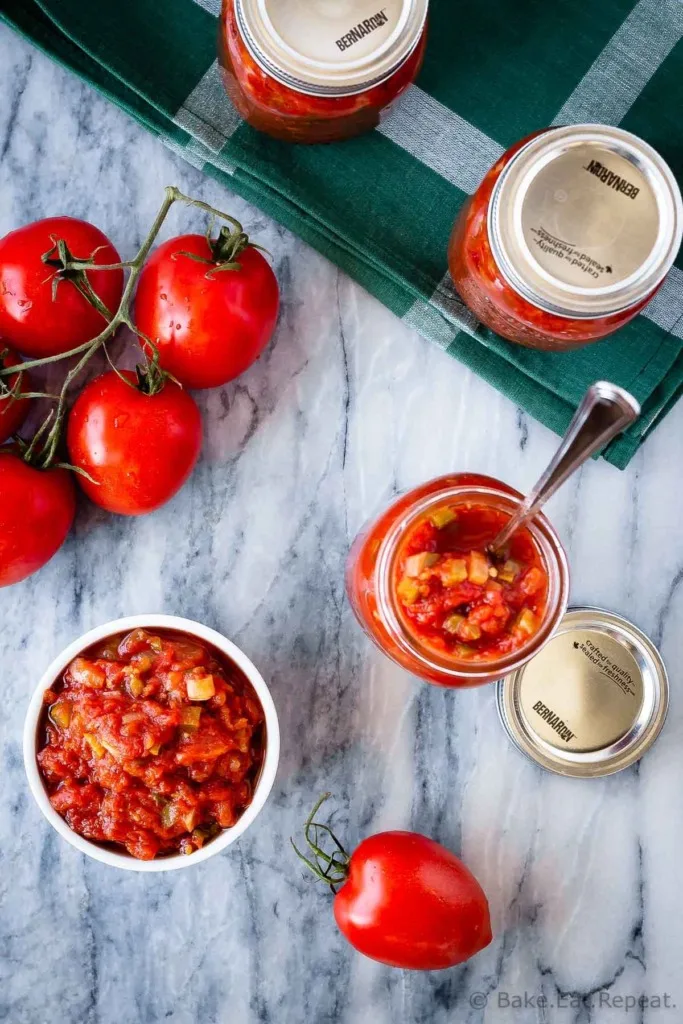 If canning seems too scary for you (it's easy – don't be scared!) – I've also used mason jars to freeze this homemade salsa and they work very well for that. I've used the regular lids, but have some of these plastic lids too, and definitely prefer those for the freezer when I have some available.
So, whether you love canning or not, you can still enjoy this homemade salsa. But I would highly recommend trying your hand at canning if you're even remotely interested – you'll probably fall in love with it and want to can all the things! I know I did!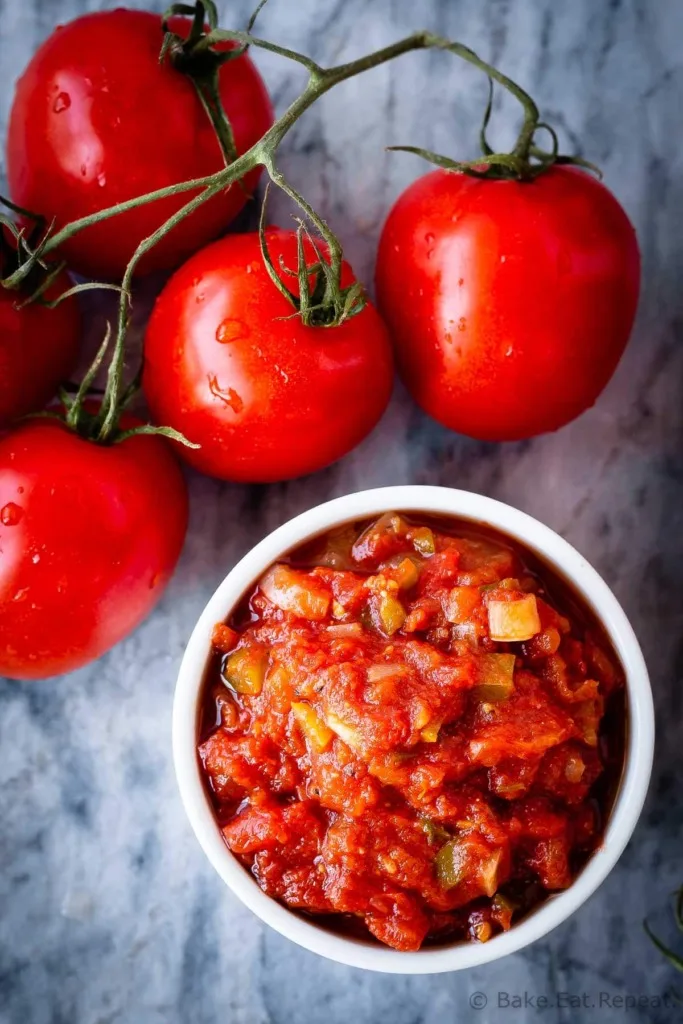 Tips for perfect Homemade Salsa:
When removing the tomato skins – if you're using the boiling/ice bath method, make sure to cut an X on the bottom of the tomato and cut out the stem end, and leave the tomatoes in the boiling water until the skins start to split – it usually takes about a minute. If you're broiling them, place the rack in the middle of the oven and broil on low – it takes longer then if the rack is at the top on high heat, but the skins will separate much easier from the sides of the tomatoes without blackening too much.
I always use Roma tomatoes for this recipe – if you're using a different kind of tomato the weight will be different as the liquid amount in different types of tomatoes varies – I've included the approximate weight of fresh tomatoes needed in the notes of the recipe. Make sure you measure the tomatoes after they've been peeled, chopped and drained.
Don't change up the ingredients in this recipe unless it's indicated in the recipe that you can – canning safety is based on the specific pH of the recipe and if you alter the ingredients it will change the resulting pH, possibly making your salsa unsafe to can. If you want to change things up, I would suggest freezing it instead of canning it.
If you live at a high altitude, you need to adjust your processing time accordingly so check your altitude – the adjustments necessary are listed in the recipe
If a jar doesn't seal after processing, you can reheat that salsa and try processing it again with a new lid if you like, but I usually just freeze any jars that don't seal as it doesn't seem worth the effort to reheat and sterilize everything.
You can make this salsa in half pint (250mL) jars instead if you like, but don't use bigger, quart (litre) sized jars as this recipe hasn't been tested with those and it may not be safe to can in them.
Here are a few fantastic recipes that you can enjoy your homemade salsa with: Sheet Pan Chicken Fajitas, 20 Minute Ground Beef Tacos, and 3 Ingredient Chicken Tacos (or head over to these 17 Easy Mexican Recipes for lots of recipes that go well with salsa!)

This post contains affiliate links, meaning that if you make a purchase through these links, I may receive a small commission. I am a participant in the Amazon Services LLC Associates Program, an affiliate advertising program designed to provide a means for us to earn fees by linking to Amazon.com and affiliated sites.