Maple balsamic roasted brussel sprout recipe – a quick and easy side dish that is perfect for your Thanksgiving meal!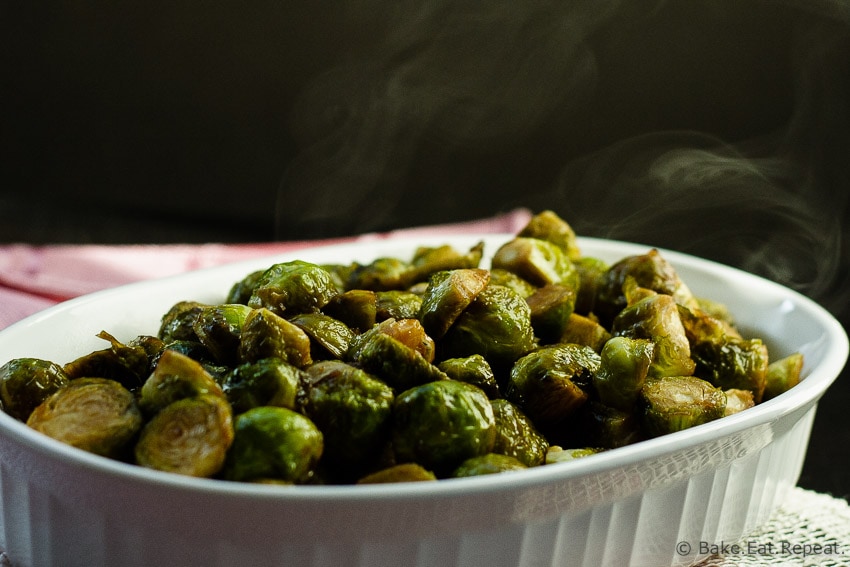 Brussels sprouts have never been my favourite vegetable.  Never really liked them at all if I'm perfectly honest.
But last year I discovered the wonder of roasted brussels sprouts and haven't looked back since.  I'm fairly certain my husband is disappointed that I'm not just steaming them with butter which is the way he loves them, but hey, at least I'm making them right?
Actually I haven't made them real often or anything.  Still not my favourite.  But I will eat them now, so that's progress.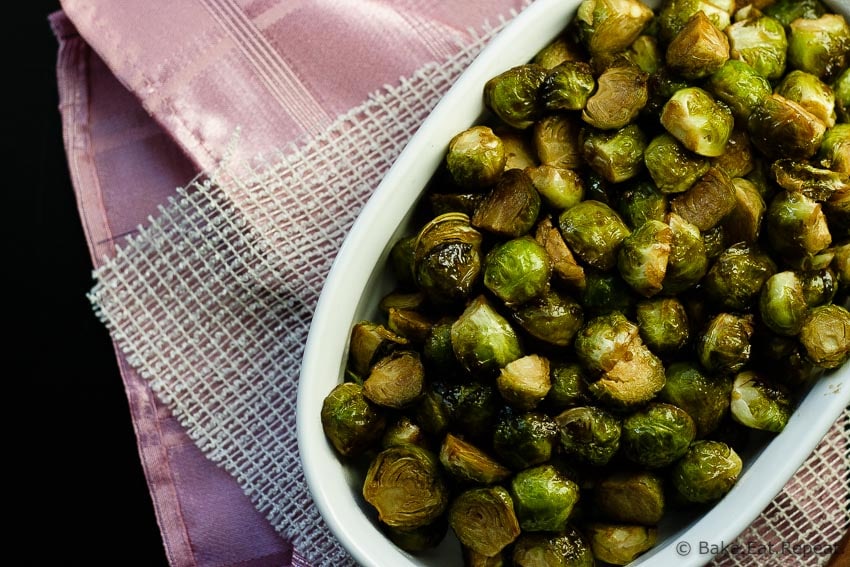 My 7 year old son was requesting that I make brussel sprouts which is why I finally made them again.  Of all things.  Forced into making brussels sprouts because my kid wanted them for supper.  Every parents dream right?  I think he was so intent on having them again because his dad told him they would make him strong so he could skate faster at hockey.  I think we'll have to start saying that about every. single. food. that he doesn't want to try now because he was excited that there were roasted brussels sprouts for supper.  Excited.  My seven year old.
If that doesn't prove that this is a winning recipe, I don't know what does.
Or just the fact that they're maple balsamic roasted brussel sprouts, which was a fantastic flavour.  I actually kept grabbing them from the dish while taking photos, they were so good.  My husband thought they were too sweet, but he likes his brussels sprouts plain so that wasn't too surprising.  My son and I loved them though!  So if you like a little sweetness with your side dishes, I'm sure you will love this one.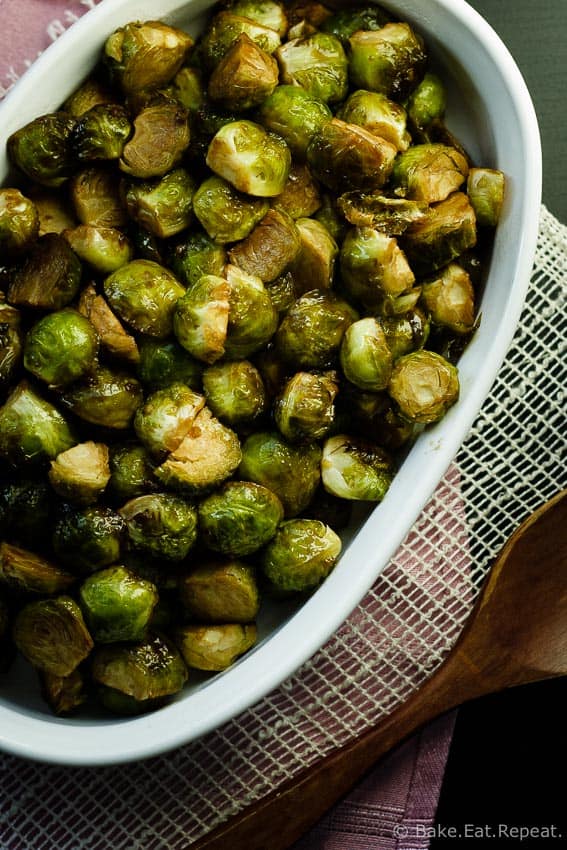 Maple Balsamic Roasted Brussels Sprouts
---
Bake.Eat.Repeat.
Yield: serves 6
15 minPrep Time
25 minCook Time
40 minTotal Time
Ingredients
2 pounds (907 g) brussels sprouts, trimmed and halved lengthwise
2 tablespoons olive oil
3 cloves garlic, minced
1 teaspoon kosher salt
3 tablespoons maple syrup
2 tablespoons balsamic vinegar
Directions
Preheat the oven to 425 degrees F.
In a large bowl whisk together the olive oil, garlic and salt. Add the trimmed brussels sprouts and toss lightly until they are well coated.
Spread on a rimmed baking sheet and roast for 18-20 minutes, tossing halfway, until tender.
In a small bowl, whisk together the maple syrup and balsamic vinegar. Drizzle this over the roasted brussels sprouts and toss to coat. Roast for another 5 minutes and enjoy!
Notes
7.6.8
166
https://bake-eat-repeat.com/maple-balsamic-roasted-brussels-sprouts-recipe/