Maple balsamic roasted brussel sprouts recipe – a quick and easy side dish that is perfect for your Thanksgiving meal!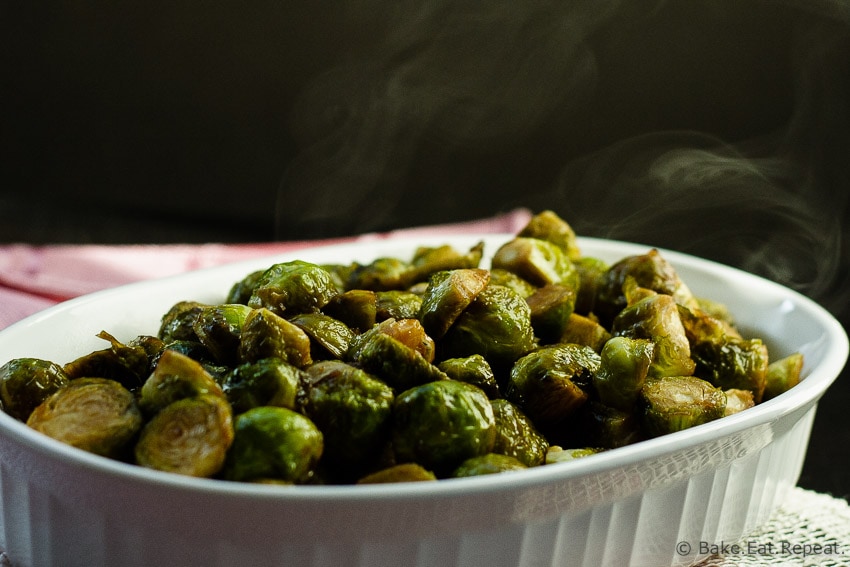 Brussel sprouts have never been my favourite vegetable. Never really liked them at all if I'm perfectly honest.
What is the best way to cook brussel sprouts?
Last year I discovered the wonder of roasted brussels sprouts when I made these honey garlic roasted brussel sprouts and haven't looked back since.
My husband thinks that steaming brussel sprouts with butter is the best way to cook them. I'm firmly in the camp that believes roasting brussels sprouts is the only way to go.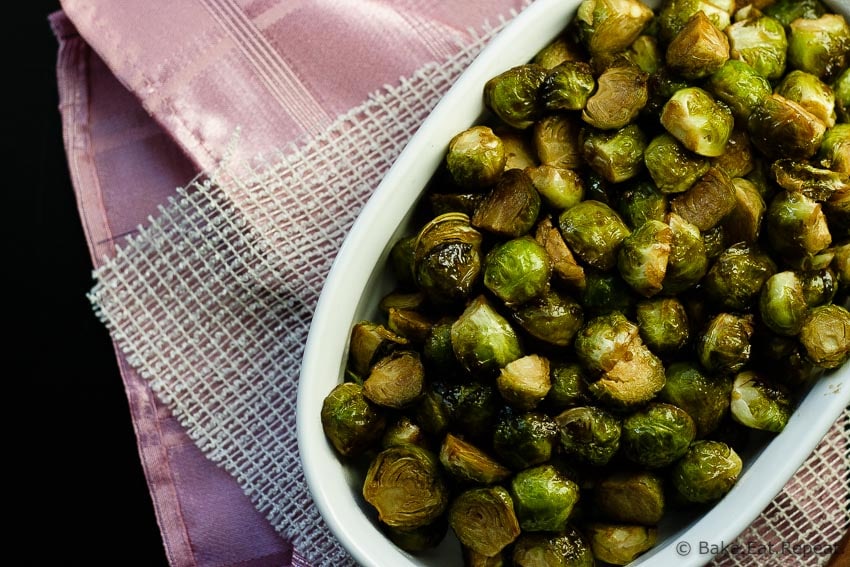 I still don't particularly love them though. My 7 year old son was requesting that I make brussel sprouts so I finally made them again. Of all things.
Forced into making brussel sprouts because my kid wanted them for supper. Every parents dream right?
I think he was so intent on having them again because his dad told him they would make him strong so he could skate faster at hockey. I think we'll have to start saying that about every. single. food. that he doesn't want to try now because he was excited that there were roasted brussels sprouts for supper. Excited. My seven year old.
If that doesn't prove that this is a winning recipe, I don't know what does.
I loved the maple balsamic flavour on these brussel sprouts. I actually kept grabbing them from the dish while taking photos, they were so good. My husband thought they were too sweet, but he likes his brussels sprouts plain so that wasn't too surprising. My son and I loved them though! So if you like a little sweetness with your side dishes, I'm sure you will love this one.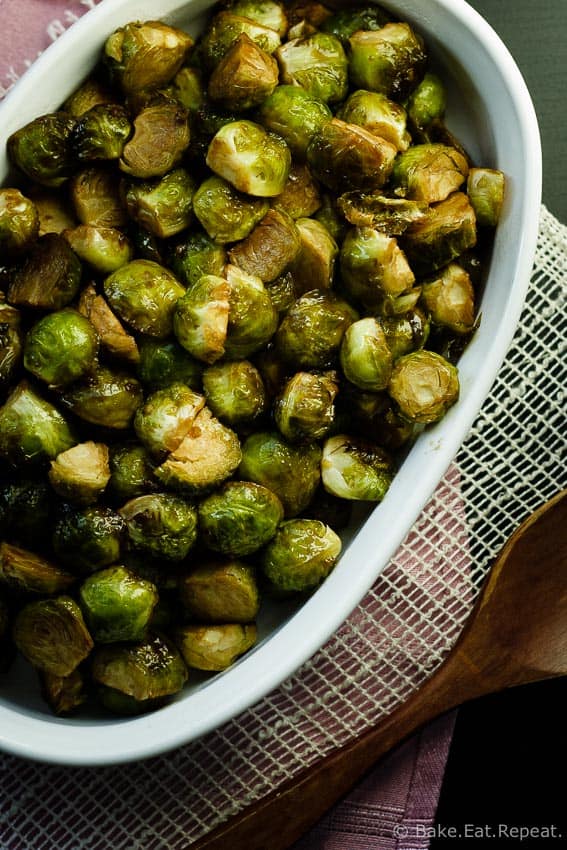 Are brussel sprouts just small cabbages?
I call them mini cabbages when talking about them to my kids – because you can pretend you're a giant when you eat them. Have to make vegetables fun somehow, right?
But if you're curious, they're not actually small cabbages, just part of the same family. With cabbages you eat the whole head of the vegetables that grows out of the ground, but brussels sprouts are buds that grow along a thick stalk.
Can you eat the whole brussel sprout?
Brussels sprouts keep for a couple weeks in the fridge. Smaller sprouts are usually a bit sweeter then the larger ones so look for smaller ones if you don't like the bitter taste they can have.
You can eat the whole sprout, just trim the dry part at the base of the sprout and pull off any loose outer leaves.
How to make perfect Maple Balsamic Roasted Brussel Sprouts:
Make sure to spread the brussels sprouts out on your baking sheet. If they're close together and piled on top of each other you will end up steaming them more then roasting them. To get the crispy edges, they need a bit of space around them.
These maple balsamic roasted brussels sprouts are fairly sweet. If you don't want them to be that sweet you could decrease the maple balsamic mixture to half the amount called for, for a less sweet version.
Here are a few more great side dishes for you: Twice Baked Potatoes with Cheddar and Broccoli, Mashed Carrots and Turnips, and Roasted Rosemary Potatoes.
This post contains affiliate links, meaning that if you make a purchase through these links, I may receive a small commission. I am a participant in the Amazon Services LLC Associates Program, an affiliate advertising program designed to provide a means for us to earn fees by linking to Amazon.com and affiliated sites.