These cranberry orange scones are filled with fresh cranberries and topped with a sweet orange glaze. They're the perfect sweet treat with your morning coffee!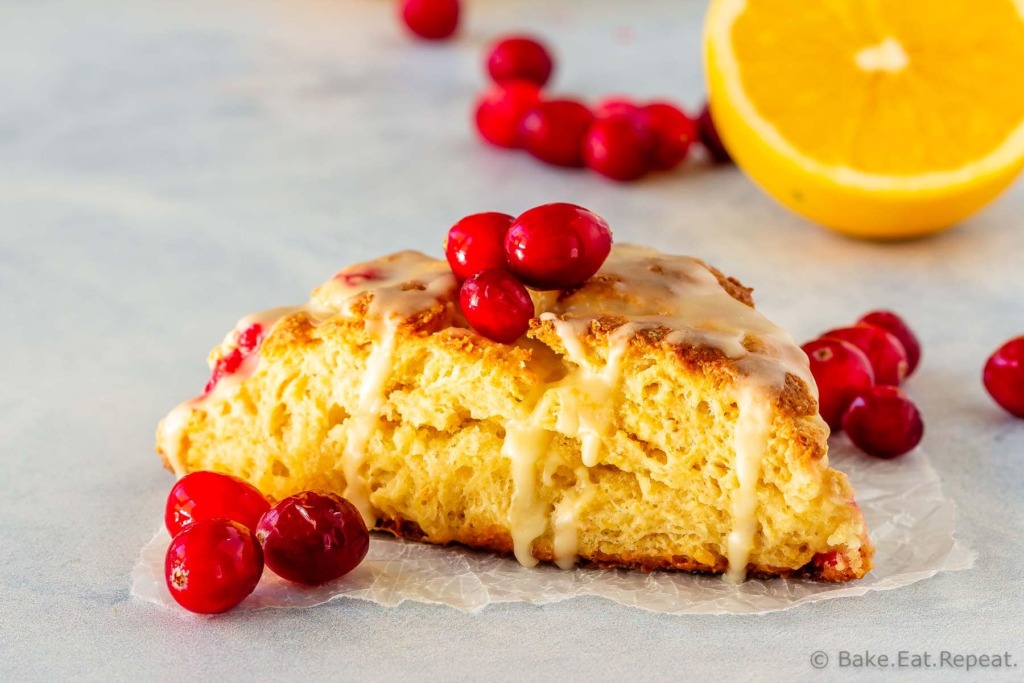 Scones might just be my favourite treat of all time.
Sweet, flaky, pastries that taste like dessert but are acceptable for breakfast. It really doesn't get much better in my book.
I actually have to stop myself from making some version of these scones on a weekly basis. It's just not the healthiest of breakfast options.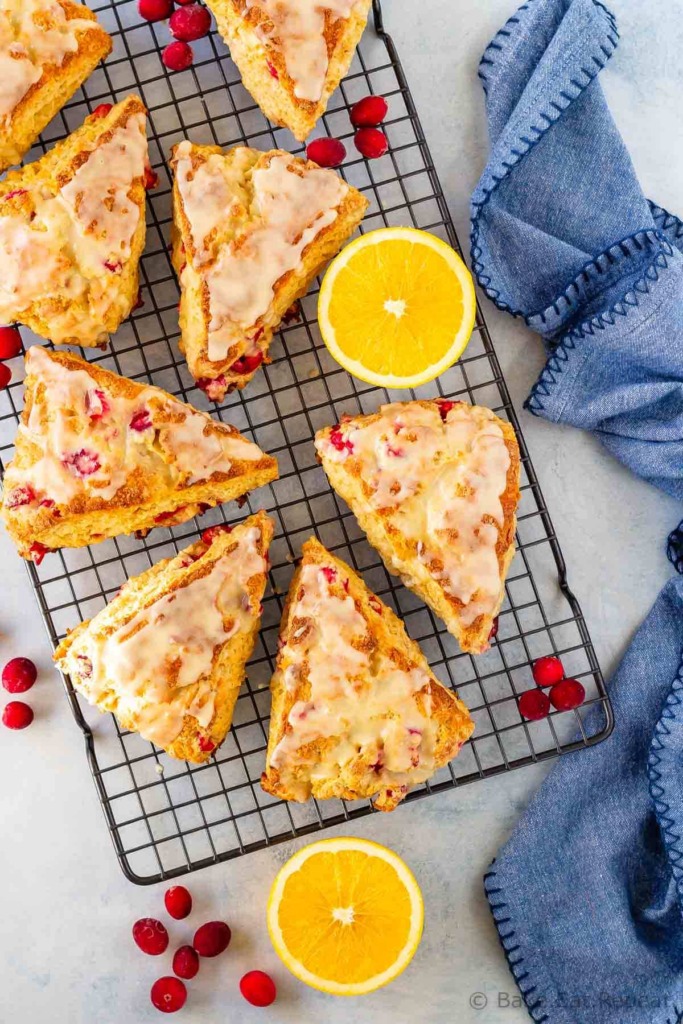 But oh, so tasty.
Having these cranberry orange scones in the freezer calling my name is basically impossible to resist. My coffee needs a scone with it, obviously.
So I don't make them as often as I like. But when I do, we all enjoy them.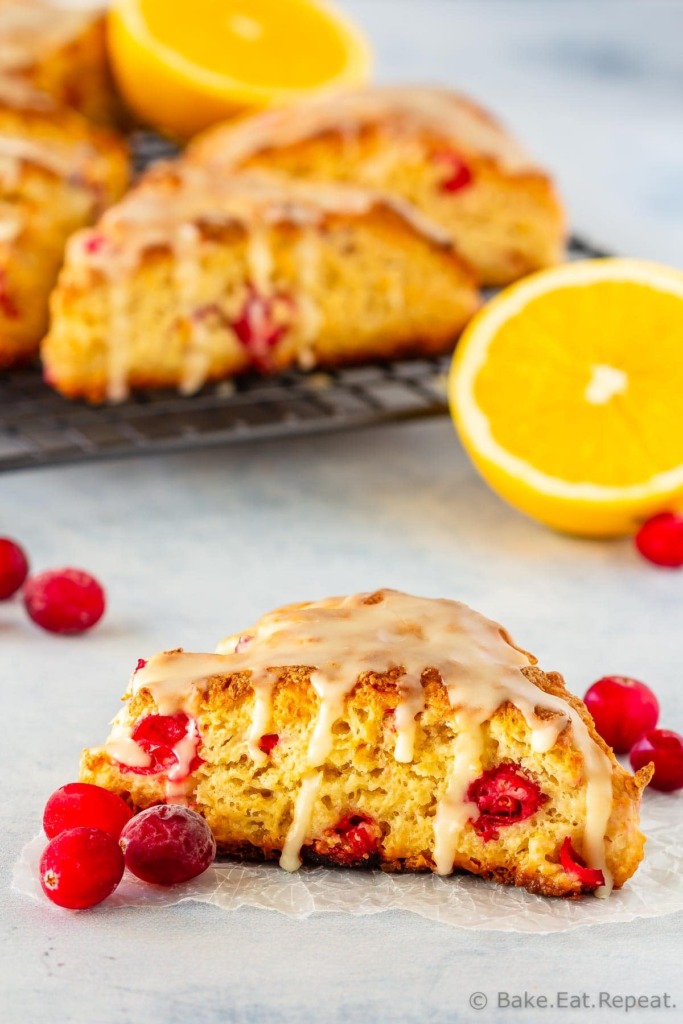 These cranberry orange scones were absolutely delicious. I know that I will need to make them again over the Christmas season.
These tender, flaky scones filled with fresh, tart cranberries and topped with a sweet orange glaze make the perfect sweet treat with your morning coffee!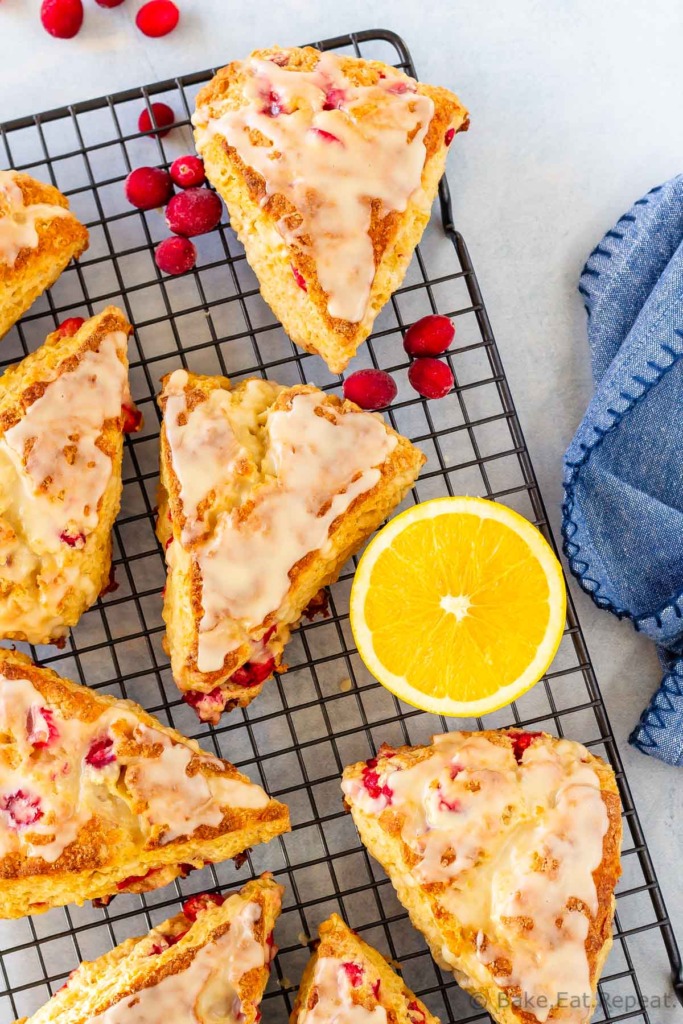 How many calories are in a cranberry orange scone?
The number of calories in a cranberry orange scone depends on the size of the scone, the ingredients used, and whether or not there is a glaze on the scone.
For these cranberry orange scones, there are about 450 calories per scone. Because they're enormous. We often cut them in half and just have half a scone at a time because they are really big.
That calorie count also includes the glaze, which you could omit if you prefer, although it does add some extra orange flavour to the scones which I really like.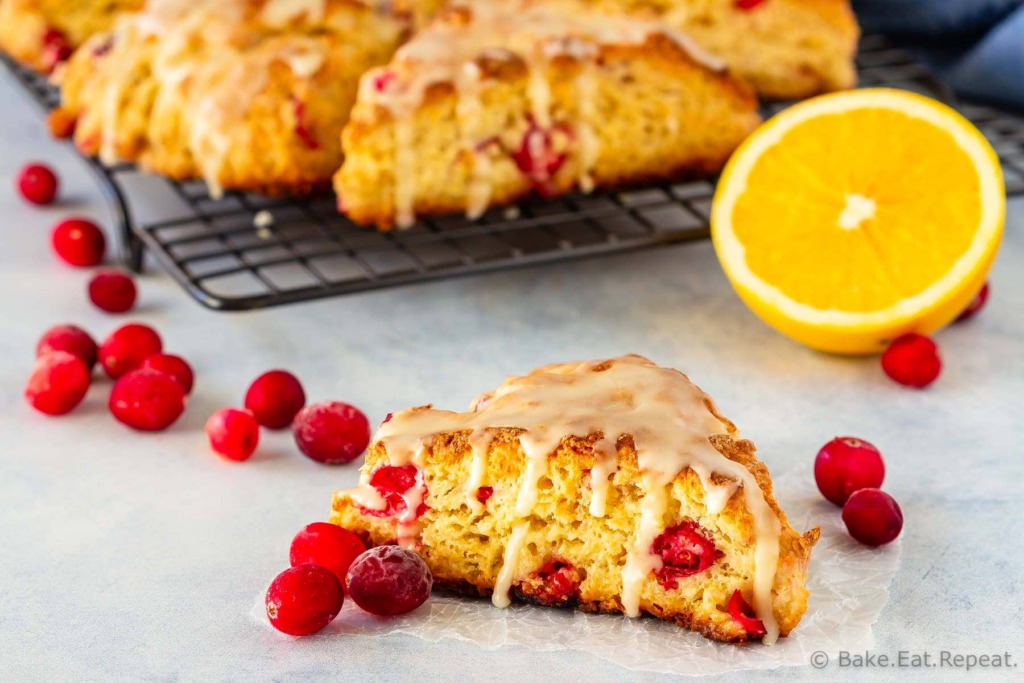 Should scones be crumbly?
The dough for scones should be crumbly after you mix it. When you make scones, you add just enough liquid to hold the dough together.
Don't be concerned when you stir in the liquid and it still just looks like a crumbly, floury mess in your bowl. That's how it should look. If you add more liquid to make it come together by stirring then your scones will be tough.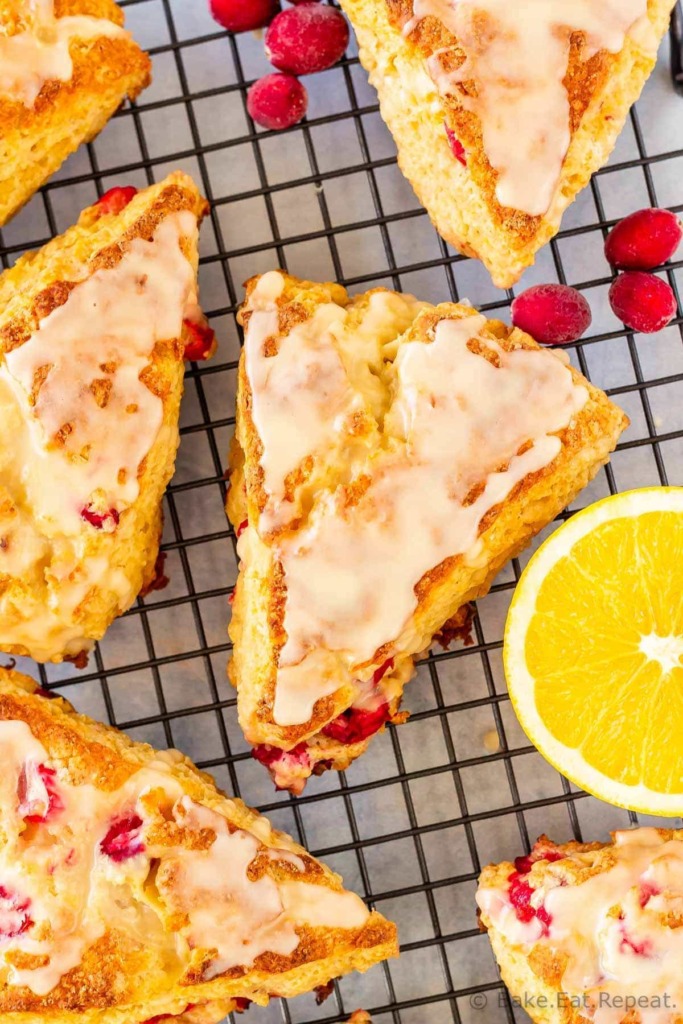 The trick to perfect scones is to let the mixture be crumbly. Stir it just until it starts to clump together a bit and most of the flour looks moistened.
Then use your hands to knead it just a little bit in the bowl and bring most of the dough together, but try not to over-work it. Then dump everything onto a baking sheet and press it all together into a flat disc.
It won't matter that there are still floury bits that don't look mixed in. It works when you bake it, I promise!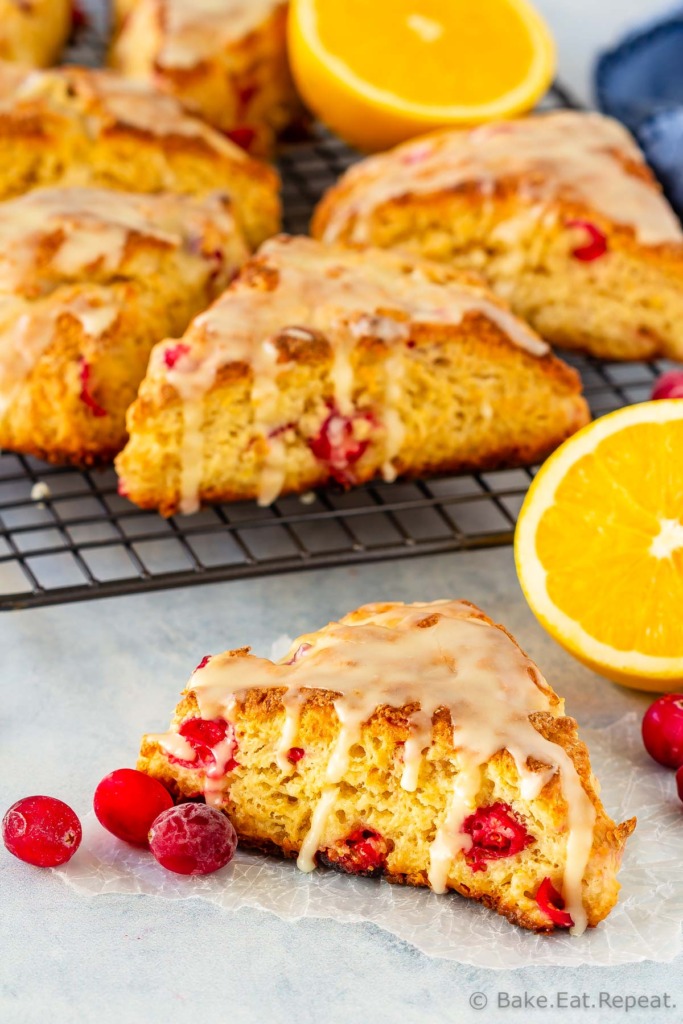 Can you freeze glazed scones?
Yes! I freeze scones all the time. They freeze beautifully.
Let them cool completely after baking, and if you are adding a glaze let it harden completely.
Then store them in a ziplock bag or an airtight container with wax paper in between the layers to keep them from sticking together. Freeze for up to 3 months.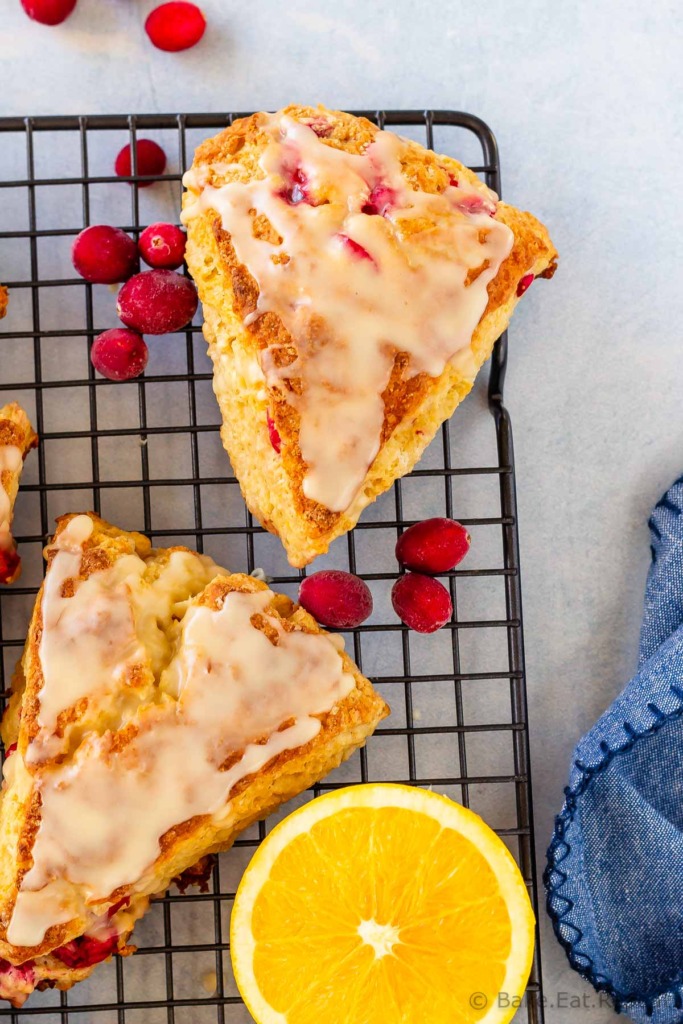 How to make Cranberry Orange Scones:
If you don't want to grate your butter, you can use a pastry cutter or two knives to cut the butter into the flour mixture instead. This works just as well, I just find that grating the butter is faster and easier, and it helps keep the butter cold which is important when making scones.
Make sure to put the scones in the freezer for 15-20 minutes before baking them. Making sure all the ingredients are cold before baking helps the scones to rise better and they end up being flakier then they are if the dough is too warm.
When you cut the scones into wedges, make sure to use a sharp knife and press straight down. If you twist or saw through the dough it will seal the edges and the scones won't rise as well.

Here are some more great scone recipes for you:
Yield: 8 large scones
Cranberry Orange Scones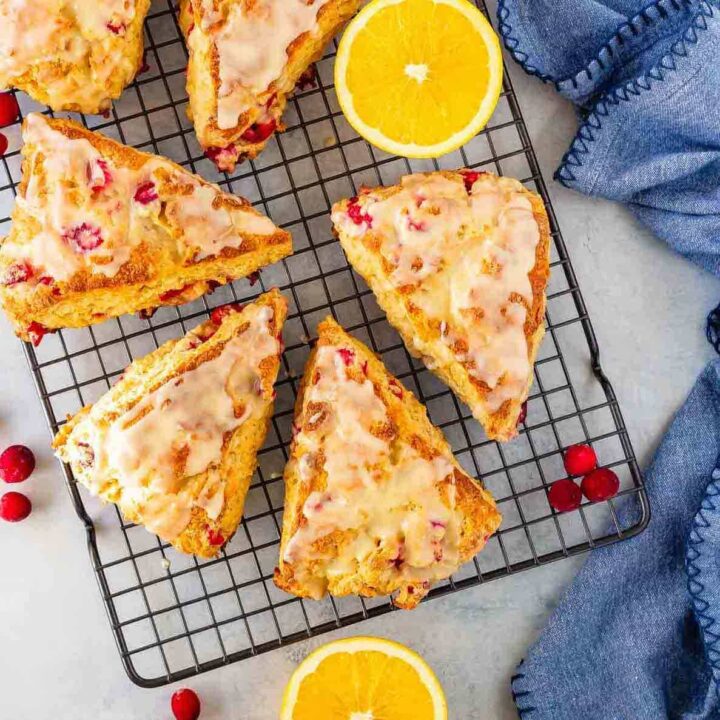 These cranberry orange are filled with fresh cranberries and topped with a sweet orange glaze. They're the perfect sweet treat with your morning coffee!
Ingredients
For the scones:
3/4 cup cold, unsalted butter
2 large eggs
1/2 cup milk (I used 2%)
1/3 cup orange juice (2-3 oranges if using fresh squeezed juice)
3 cups all purpose flour
1/2 cup brown sugar, lightly packed
1 1/2 tablespoons baking powder
1/2 teaspoon salt
2 tablespoons orange zest (about 2 medium oranges)
1 cup fresh or frozen cranberries, halved if large
For the glaze:
1 cup powdered sugar
2 tablespoons orange juice
Instructions
Line a baking sheet with parchment paper, or a non-stick silicone mat and set aside.

Grate the butter and place it in the freezer so it is very cold when you add it to the scones.

In a small bowl, whisk together the eggs, milk, and orange juice until well combined. Set aside.

In a large bowl, combine the flour, brown sugar, baking powder, salt, and orange zest. Add the frozen, grated butter, and toss until the butter is coated in the flour mixture.

Stir in the cranberries.

Add the liquid mixture to the dry ingredients and stir until it just starts to come together. Knead the dough lightly in the bowl to bring everything together into a ball, but try not to over-work the dough.

Transfer the dough to the prepared baking sheet and form it into a large, 8 inch circle.

Place the dough in the freezer to chill for 20 minutes, and preheat the oven to 425 degrees F.

Take the dough from the freezer and cut the circle into 8 wedges with a sharp knife.

Spread the pieces out a bit if you like. If you prefer the edges of your scones to stay soft, you can leave them together. Spreading them out gives you crisper edges.

Bake the scones for 16-18 minutes, or until they are golden brown.

Move them to a wire rack to cool.

Whisk together the powdered sugar and orange juice.

Drizzle the cooled scones with the glaze.

Allow the glaze to set.

Store in an airtight container at room temperature for 3-5 days, or freeze for up to 3 months.
Recommended Products
This post contains affiliate links. As an Amazon Associate, I may receive a small commission from qualifying purchases.
Nutrition Information:
Yield:
serves 8
Serving Size:
1 scone
Amount Per Serving:
Calories:

454
Total Fat:

19.3g
Saturated Fat:

11.6g
Cholesterol:

94mg
Sodium:

181mg
Carbohydrates:

63.9g
Fiber:

1.8g
Sugar:

25.5g
Protein:

7.2g