These cute little Christmas tree cupcakes are the perfect special treat for the holidays! They're very easy to make, but still look adorable, and the kids go crazy for them!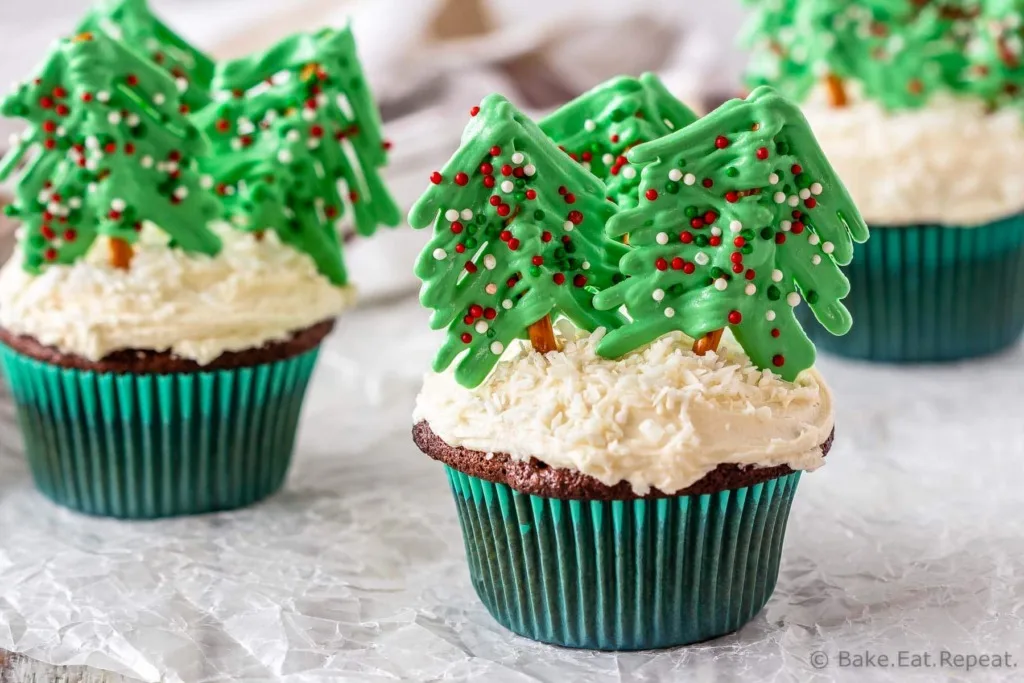 So…I don't really do cutesy food. Just not my thing. I'll always say yes when some group is having a party and needs volunteers to bring food. I love to bake, but I'm not the one bringing adorable little treats.
I bring cookies.
Tasty, yes. But cute? Not so much.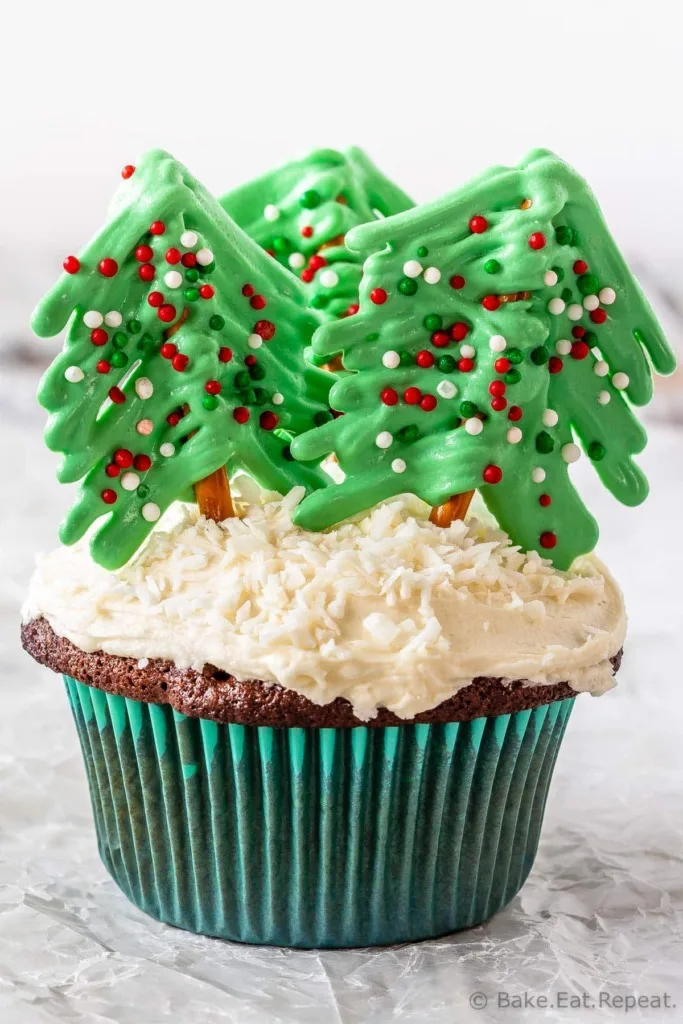 I make an exception to this when it comes to my kids birthdays though. Because cake decorating is kinda fun, so I always make my kids a fun birthday cake. I figure cute food 3 times a year for a celebration is something I can handle.
Last summer my youngest turned 7. We were having his birthday party outside at a park. I asked him what kind of cake he wanted, suggesting soccer, or hockey, or superheroes, or anything that most 7 year old boys would ask for…..and he said forest. Because his party was going to be at a park and there are trees there.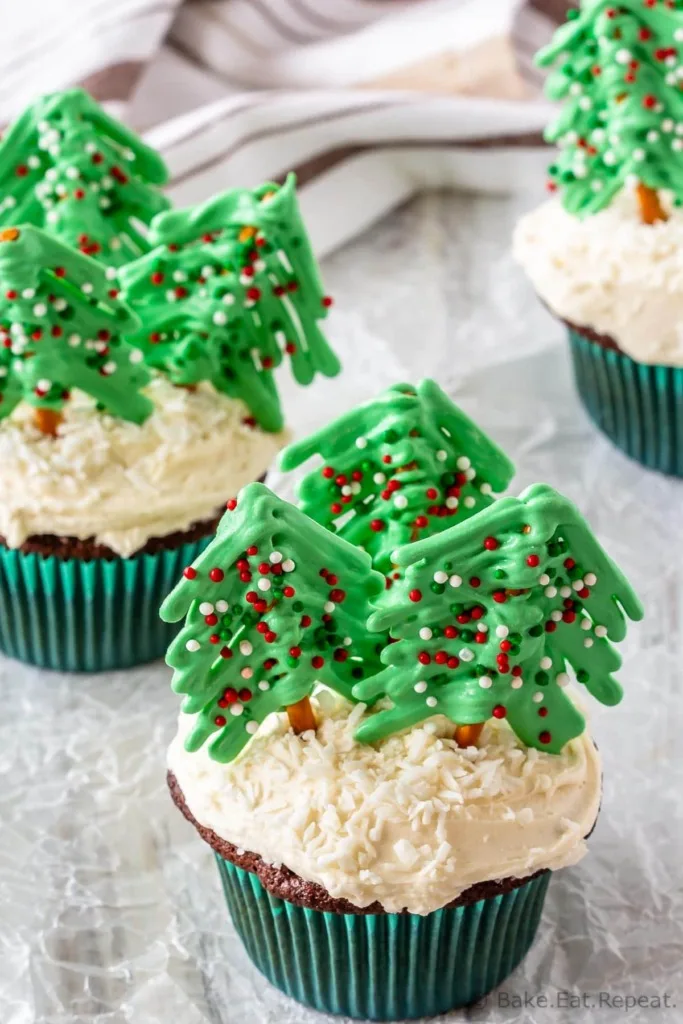 Do you know what you find when you search on Pinterest for "forest cupcake" ideas? Black forest cake, that's what. There's no such thing as forest birthday cakes.
So I decided I would make cupcakes with green "grass" for icing, and some quick and easy "trees" out of pretzels and candy melts. Turns out his idea was actually quite cute. (I included a photo of them, in case you have a child that wants forest cupcakes too!)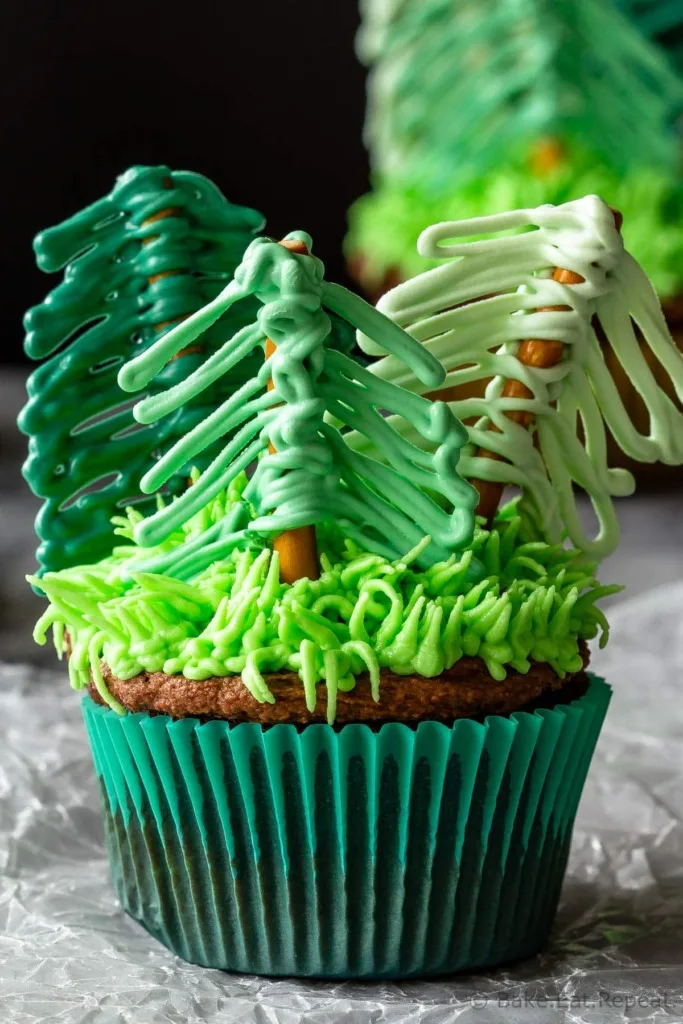 As Christmas tree cupcakes? Even cuter.
These Christmas tree cupcakes are so easy to make, and are a super fun treat if you want to make some cutesy food this Christmas!
Tasty chocolate cupcakes, vanilla buttercream frosting, coconut "snow", and Christmas tree toppers made from pretzels and green candy melts.
So easy and the kids loved them!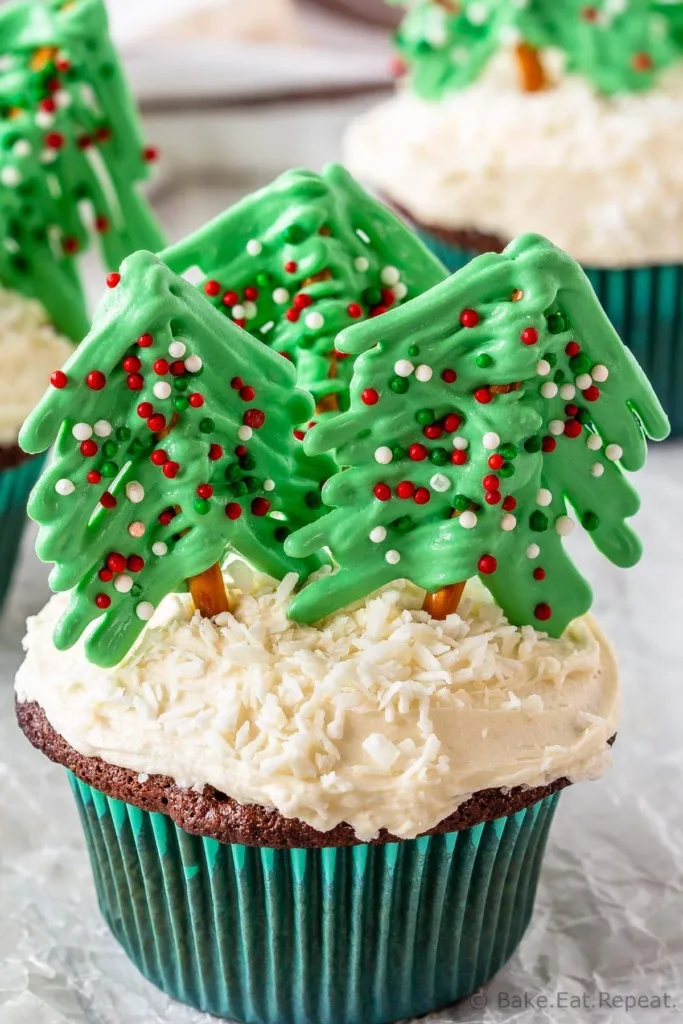 How to make Christmas Tree Cupcakes:
This cupcake recipe can be easily doubled or halved if you need a different number of cupcakes. As written it makes 24.
You can also easily adjust the number of Christmas trees you make if you don't want to make enough for 3 on each cupcake. If you are making 72 trees though, you will want to work in batches, and only melt 1/4 to 1/3 of the candy melts at once as it will start to set up a bit as you're working if it cools off too much and you'll have to re-melt it. There's a photo below the recipe that shows a step by step for making the Christmas trees – as you can see, it's pretty simple!
If you can't find green candy melts, you can also do this with white candy melts and green candy colouring (make sure it's candy colouring, not dye for frosting, they're different). This way you can also make your trees different shades of green, which is what I did on the birthday "forest" cupcakes.
Sweetened or unsweetened coconut will be just fine for the "snow", so use your preference.
This recipe makes chocolate cupcakes – obviously you can make whatever kind of cupcake you like and add the cute little Christmas trees to them!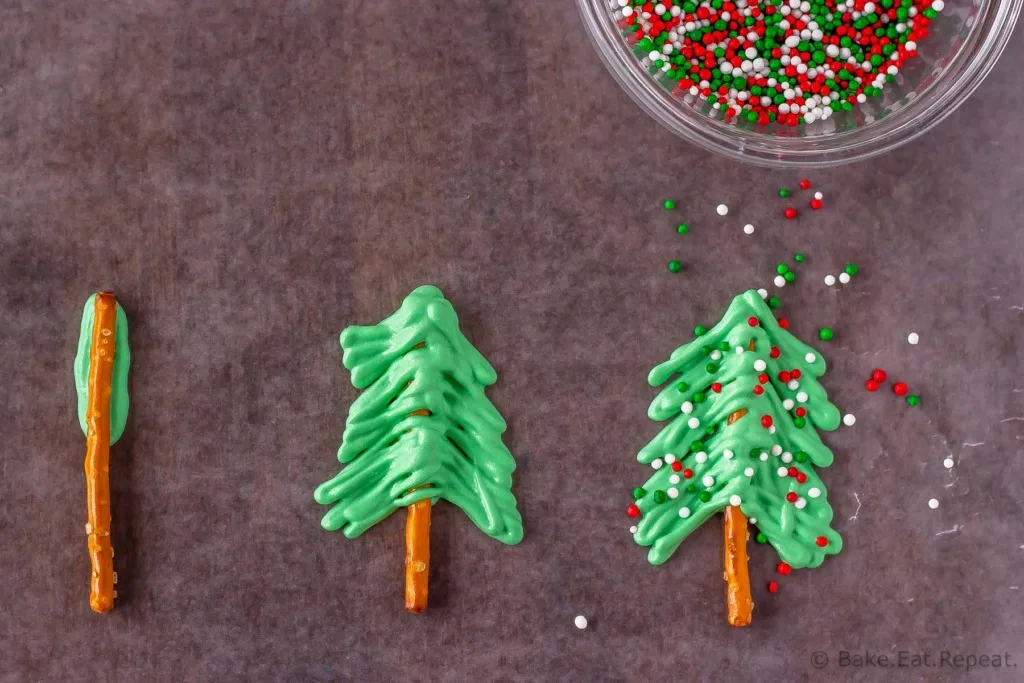 Here are some more great Christmas treats for you:
I've also shared this Christmas Tree Cupcakes recipe over on Food Fanatic.