This caramel corn is so easy to make and it tastes fantastic. It makes the absolute perfect snack or gift for the holidays!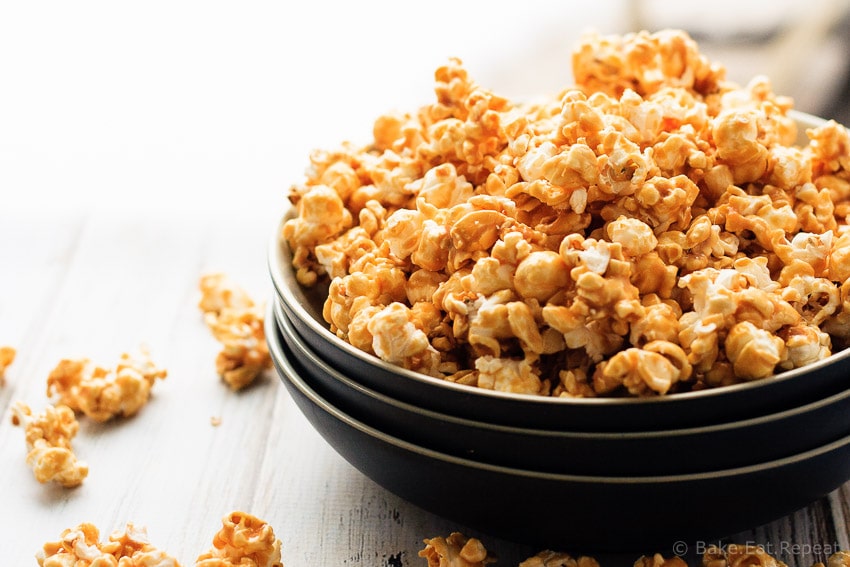 Mmmm, popcorn. Or, more specifically, caramel corn. Easy caramel corn that is absolutely fantastic.
Need I ramble any more about it? Or is that enough information to make you want to jump up and make some immediately? It really should be. I mean, caramel corn. Who doesn't love it?
I'll admit, we're the people that buy that Chicago mix cheese/caramel corn giant bag of popcorn and then fight over the caramel portion. I kind of like the combo of the cheese and caramel popcorn, but if I'm completely honest, I buy it for the caramel portion. If there was no cheese popcorn at all, I'd probably be pretty happy.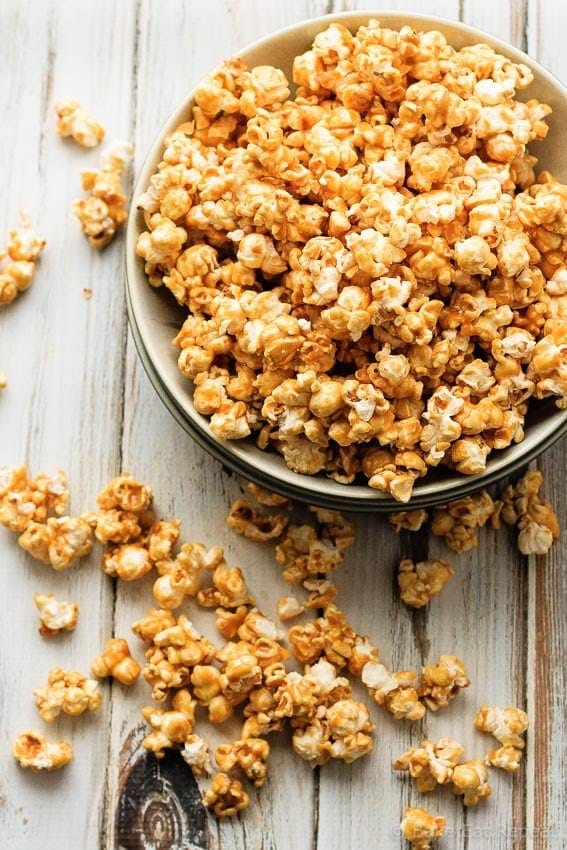 Which begs the question, why do we even buy the mixed bag? I'm not really sure. I guess because it goes on sale at Costco sometimes, and, well…..caramel corn.
But – this is so stinking easy to make that I may not be tempted by that bag again. Well, probably not. I'll keep you posted.
This recipe makes a giant batch of popcorn, and it really is very simple. Boil a few ingredients for 5 minutes, pour it over popcorn and stir, and then bake for an hour. That's it. So easy. And it makes a ton.
So there'll be plenty to give away, plus lots left over to fight your family for.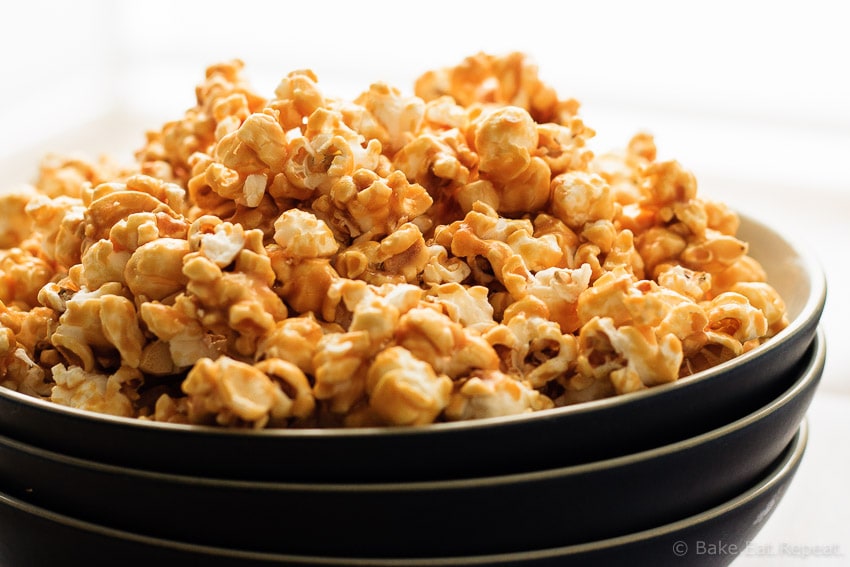 Yield: 10-12 servings
Easy Caramel Corn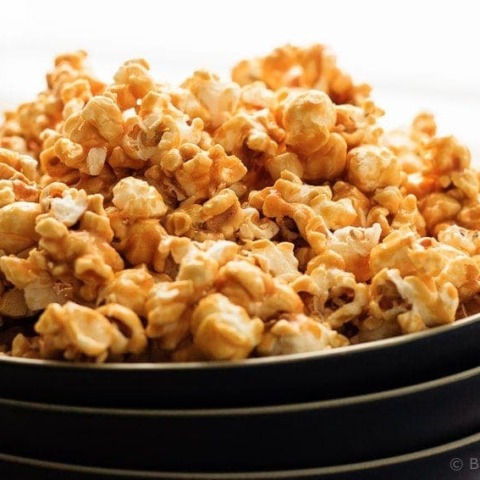 This caramel corn is so easy to make and it tastes fantastic.  It makes the absolute perfect snack or gift for the holidays!
Total Time
1 hour
15 minutes
Ingredients
1 cup popcorn kernels
1 cup unsalted butter
2 cups brown sugar
1/2 cup corn syrup
2 teaspoons salt
1/2 teaspoon baking soda
1 teaspoon vanilla
Instructions
Preheat the oven to 250 degrees F.
Pop the popcorn however you like (I used an air popper) and pick through it to remove any un-popped kernels. Put it in a large roasting pan and place it in the oven to keep it warm while you prepare the caramel.
Line two baking sheets with parchment paper and set aside.
In a large saucepan, over medium heat, combine the butter, brown sugar, corn syrup and salt.
Bring the mixture to a boil, stirring constantly with a silicone spatula. Boil for 5 minutes, stirring, then remove the mixture from the heat.
Stir in the baking soda and vanilla.
Take the popcorn from the oven and pour the caramel over top of the popcorn.
Stir the popcorn to coat it all with the caramel and spread it on the two prepared cookie sheets.
Bake the popcorn for 1 hour, stirring well every 15 minutes.
Remove the baking sheets from the oven and spread the popcorn out on wax paper to cool, breaking the pieces apart as it cools off enough to handle.
Store in an airtight container at room temperature.
Recommended Products
This post contains affiliate links. As an Amazon Associate, I may receive a small commission from qualifying purchases.
Nutrition Information:
Yield:
12
Serving Size:
1
Amount Per Serving:
Calories:

355
Total Fat:

19g
Saturated Fat:

12g
Trans Fat:

0g
Unsaturated Fat:

6g
Cholesterol:

49mg
Sodium:

515mg
Carbohydrates:

49g
Fiber:

0g
Sugar:

49g
Protein:

0g
Nutrition Information is estimated based on ingredients used and may not be exact.