Sooooo…..I don't really like cupcakes.  Yep, I said it.  Totally against the general consensus, but there you go.
I don't know, I'd just rather have a cookie.  Or a scone.  Or any kind of dessert without a ton of frosting on top.  It's just too sweet I think.  Never really been a fan.  All the amazing looking cupcakes have a pile of icing on top, and I just want to scrape it off.
Cupcakes just aren't my thing.
But.  I know that most of the world does love them.  So, I made you cupcakes.  (Actually I made my son's class cupcakes for his birthday, but whatever, cupcakes!)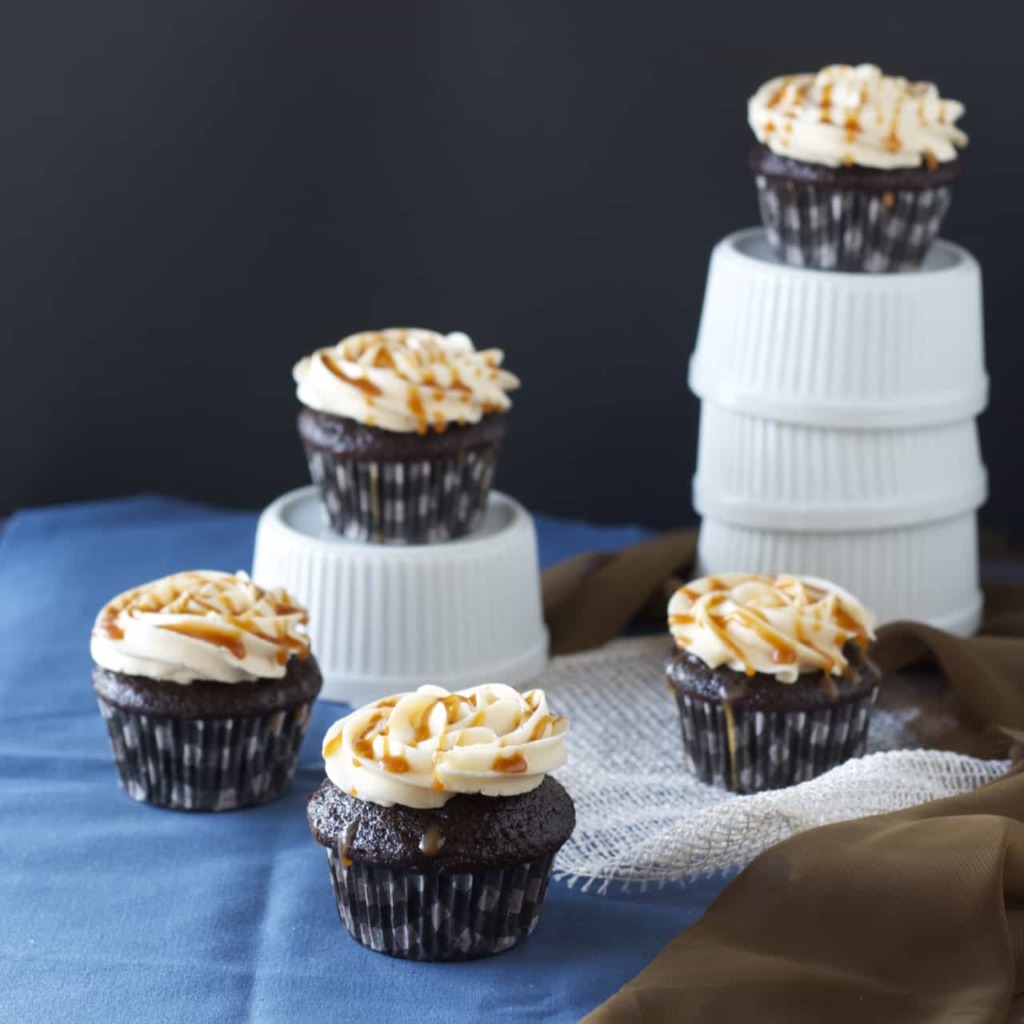 Chocolate cupcakes.  With salted caramel frosting.
And I even enjoyed half of one.  And that was enough.  But the rest of my family loved them and couldn't get enough so I can say with complete confidence that these are perfect cupcakes.
A tender, moist, chocolate cupcake topped with light and fluffy salted caramel buttercream frosting, and then drizzled with more salted caramel sauce.  These are decadent.  And, I'm told, delicious.  You know, if you like that kind of thing!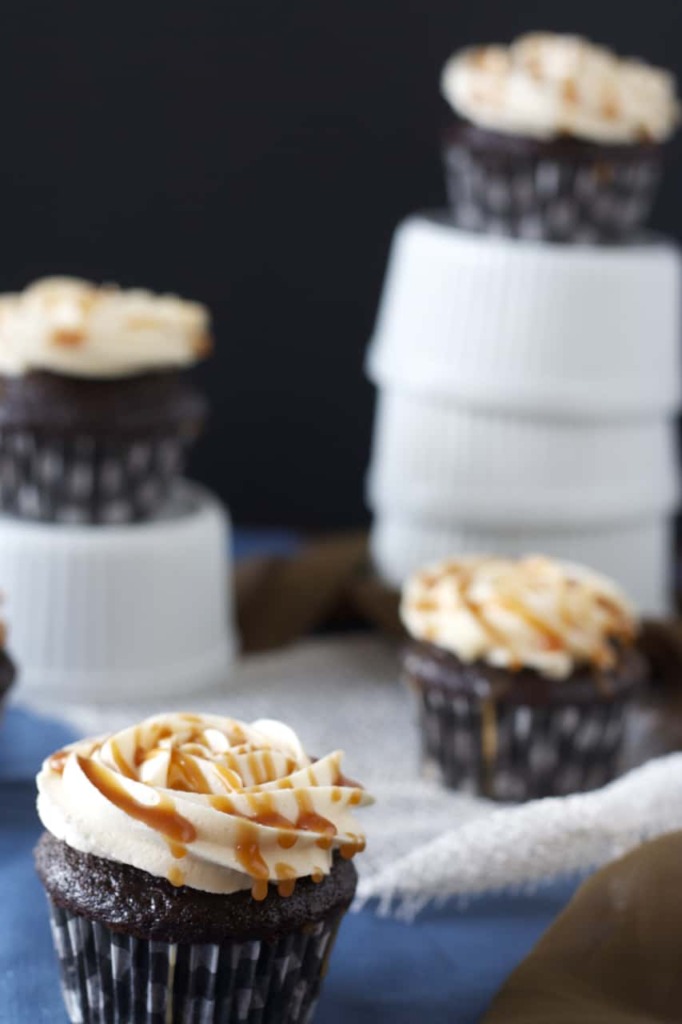 I actually really love making cakes and cupcakes.  It's the decorating.  So much fun.  I love how you can make a dessert so fun and pretty.  Although I just about gave up on these ones ever getting finished.
I was making them for my son to bring to school for his birthday.  And it all started off great.  I started early enough in the day that I would have time to take pictures when I was done.  But then I discovered I was out of icing sugar after I started making the icing.  No real substitute for that.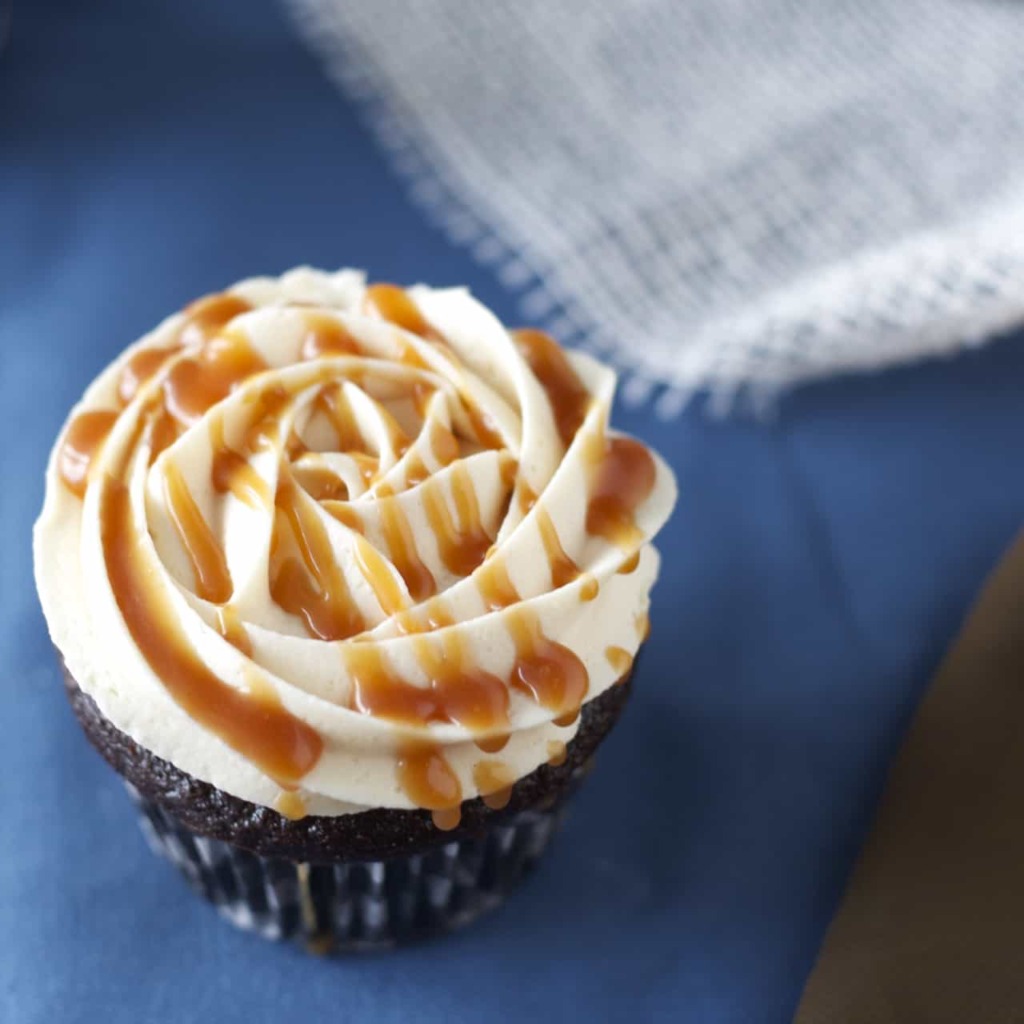 So off to the store I went with my littlest one, rushing so we'd be home in time for the bus, and also so I'd still have time to finish the cupcakes and (hopefully) take pictures of them.  So I make the buttercream as fast as possible, start frosting the cupcakes, and run out.  Before I'm finished.  At that point I considered NOT taking pictures and just spreading the icing with a knife so I'd have enough to cover all the cupcakes.
But, I like pretty food.  So, even though the grade one's wouldn't care what the cupcakes looked like, I made more icing and finished them.  Of course, by the time all this was finished I'd been interrupted 945 times by children, my kitchen was a complete disaster, it was dark out so no photography was happening, and I still needed to scrounge something for supper.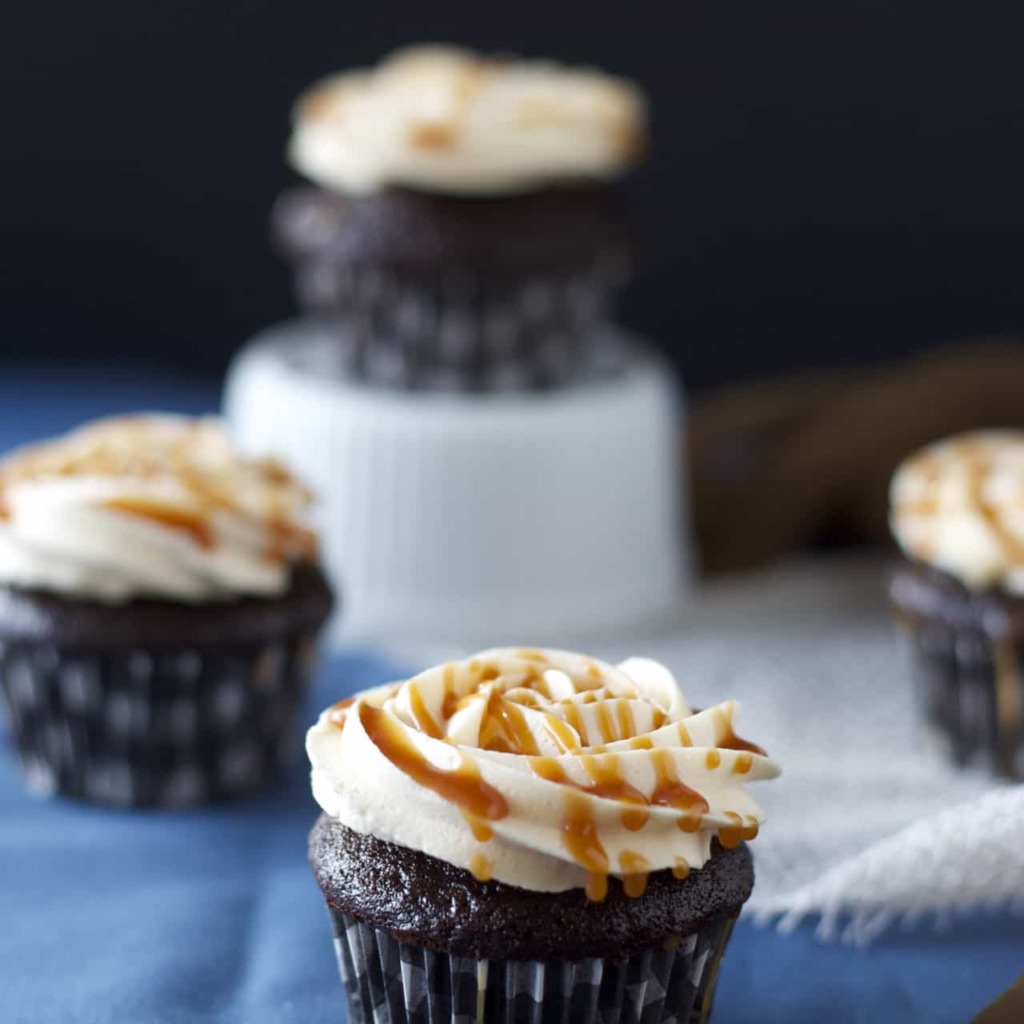 So we taste tested, decided they needed to be photographed, and I took my photos the next morning before bringing them in to the school.  Just as well, morning light is so much better!
If you love cupcakes you will love these chocolate cupcakes with salted caramel frosting.  And, if you're better prepared than me, they're pretty quick to whip up too!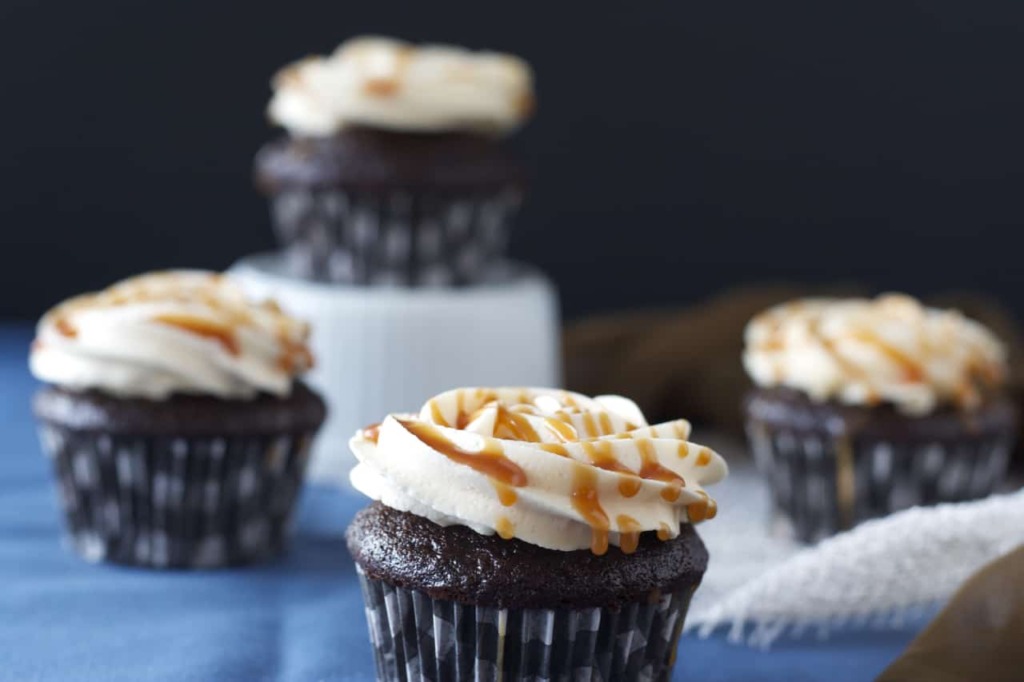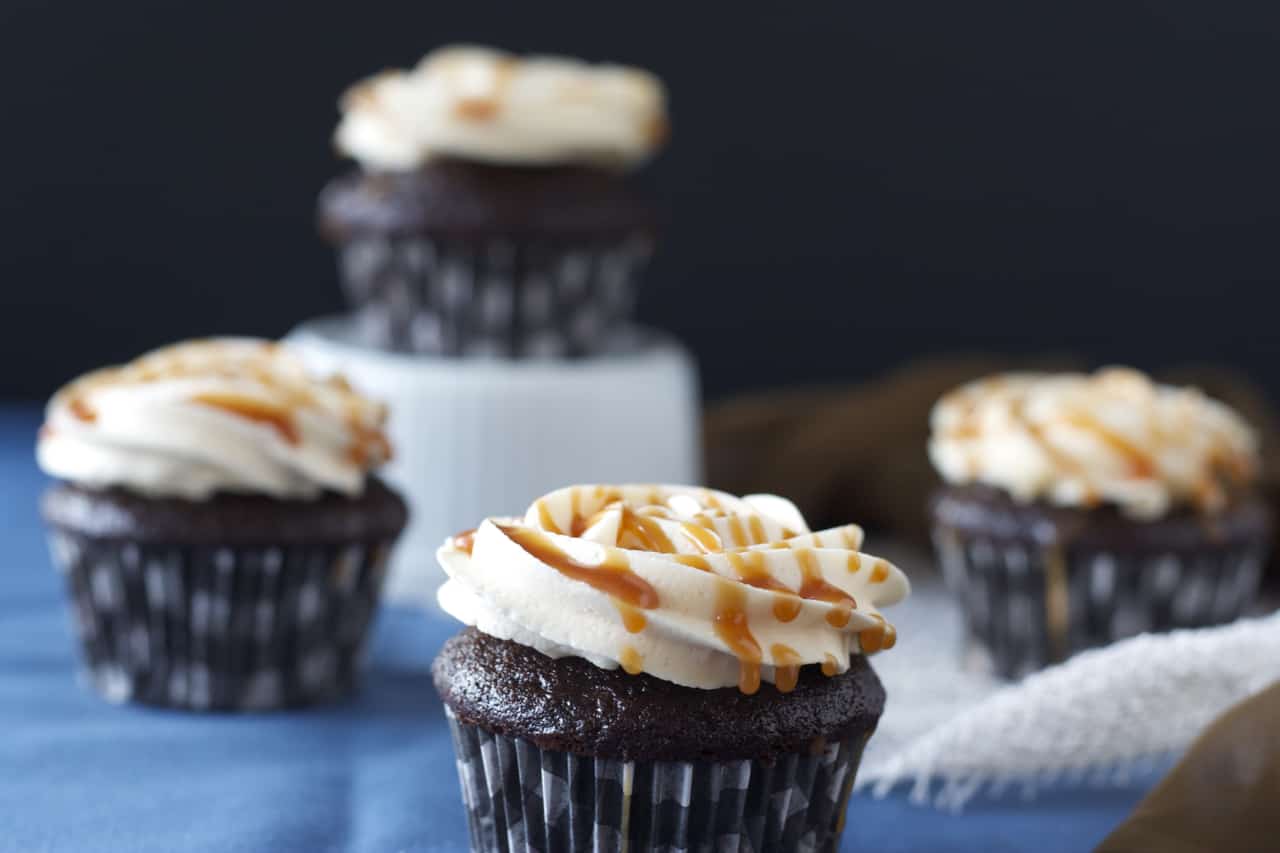 Yield: 36 cupcakes
Chocolate Cupcakes with Salted Caramel Frosting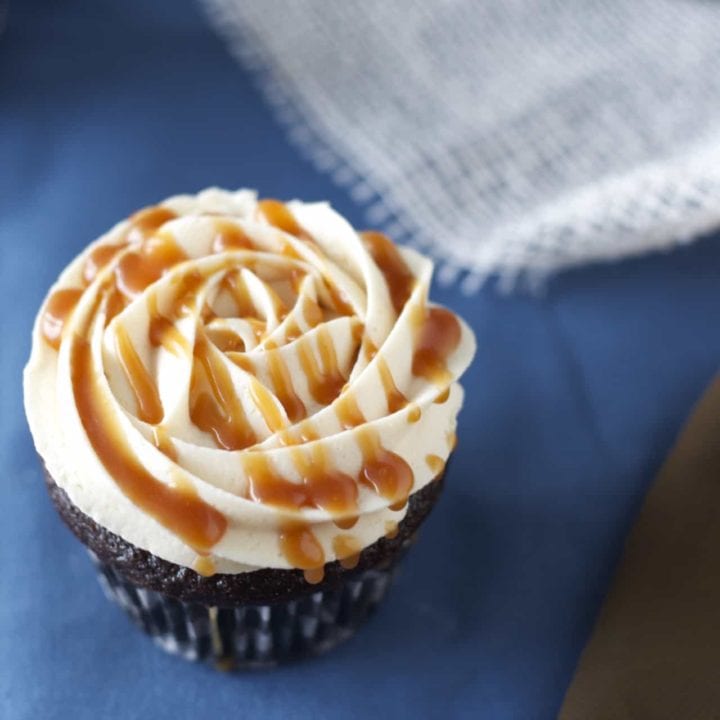 *Note:* If you don't have cake flour, feel free to use all all-purpose flour instead. You can also use regular milk if you don't have buttermilk, just place 1 tablespoon of vinegar or lemon juice in a measuring cup and then add milk up to 1 1/2 cups, stir, and allow to sit for about 5 minutes before using.
Ingredients
For the cupcakes:
1 1/2 cups unsweetened cocoa powder
1 1/2 cups all-purpose flour
1 1/2 cups cake flour
3 cups granulated sugar
1 tablespoon baking soda
1 1/2 teaspoon baking powder
1 teaspoon salt
3 eggs
1 1/2 cups buttermilk
1 1/2 cups warm water
3/4 cup canola oil
2 teaspoons vanilla
For the frosting:
1 1/2 cups unsalted butter, softened
6 cups powdered sugar
6 tablespoons heavy cream
3 tablespoons salted caramel sauce
For the topping:
Instructions
For the cupcakes:
Preheat the oven to 350 degrees F. Line 36 muffin cups with paper liners.
In a large bowl, or the bowl of a stand mixer, whisk together the cocoa powder, all-purpose flour, cake flour, sugar, baking soda, baking powder and salt until well combined. Add the eggs, buttermilk, water, oil and vanilla and mix with an electric mixer, or stand mixer, until well combined, about 2 minutes.
Fill the cupcake liners 2/3 full and bake for 20 minutes or until a toothpick inserted in the center comes out with just a few crumbs. Remove from the pan and cool completely on a wire rack.
For the frosting:
With an electric mixer, or in the bowl of a stand mixer, cream the butter until it is smooth and creamy, about 2 minutes. Add the powdered sugar, heavy cream and salted caramel sauce and beat for a full 3 minutes until it is light and fluffy. Add a little more sugar if it's too runny and a little more cream if it's too thick.
Frost the cooled cupcakes. I used a Wilton 1M piping tip to pipe the swirls onto the cupcakes. If you want the same rose style frosting, pipe starting in the middle and then around in a swirl to the edges. Drizzle more salted caramel sauce over top of the frosted cupcakes.