These are absolutely the best sugar cookies for making Christmas cut-outs. Soft, sweet, and so easy to make – and fun too!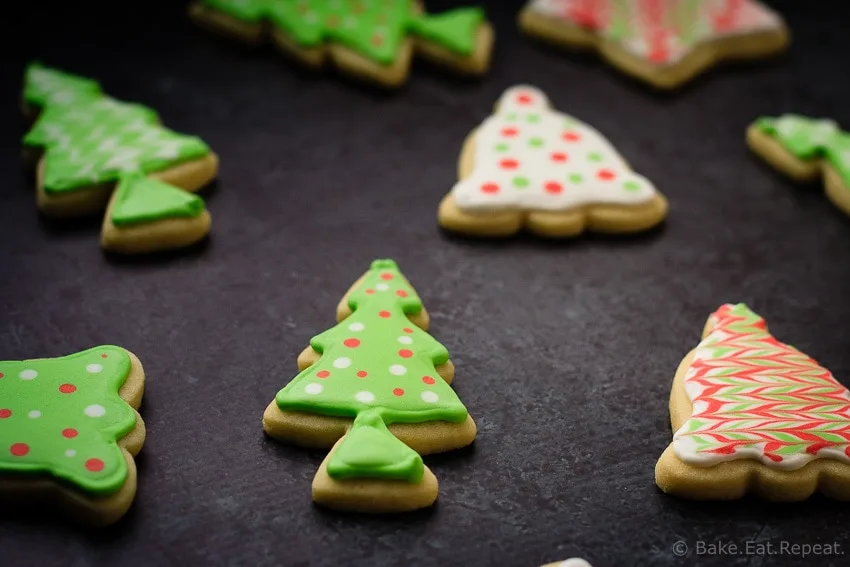 Sugar cookies have never been my favourite Christmas treat. That was probably obvious when I said that I didn't really like making cut-out cookies! They're just kind of a pain. Way more time and effort than regular cookies, like these whipped shortbread. Those are just fast and easy. These….not so much.
But, as far as cut-out cookies go, these sugar cookies aren't bad. And you can split up the work over a couple of days. I tend to make the dough one day, cut them out and bake the next, and decorate the next. Not sure if that's better or worse, but it works for me.
In all honesty, I'd be perfectly happy never making sugar cookies at Christmas. I've just never really liked them all that much. The lack of chocolate perhaps? I don't know. But, I can easily take them or leave them. I know I'm kind of alone in that though!
I will say that the only sugar cookies I was ever really tempted by growing up (yes, even as a child I didn't love them, crazy I know) were the ones my aunt made. I'm not sure if it's because hers were so pretty every year, or if they actually tasted better then most, but I did like to have one every Christmas. So, when I had kids, I decided I needed to get her recipe because kids like sugar cookies (well, most of them, I was crazy apparently) and clearly I needed to make some. I think it's the addition of almond extract to these that makes me like them more than most. Whatever the case may be, these are soft and chewy (if you don't roll them too thin, I have made that mistake for years and finally figured out that you can't roll them super thin) and easy to make and my kids DO love them.
Mine aren't as pretty as my aunt's always are, she will glaze them all and then pipe royal icing detail on top of the glaze. I'll admit, I don't have the patience for that (if you do, make them that way – then you get the better tasting glaze covering the cookies and the pretty royal icing decoration!). Maybe when all the kids are old enough to help do it! For now, we glaze half of them so the younger kids can go crazy with the sprinkles, and my daughter and I use royal icing to flood the rest and make the fast and easy designs that you see in the pictures. The best of both worlds – cut out cookies, but not too insane in the decorating department!