Easy to make salted caramel pretzel bark that is the perfect decadent treat or gift for Christmas. This stuff is just incredible – sweet, salty, perfect.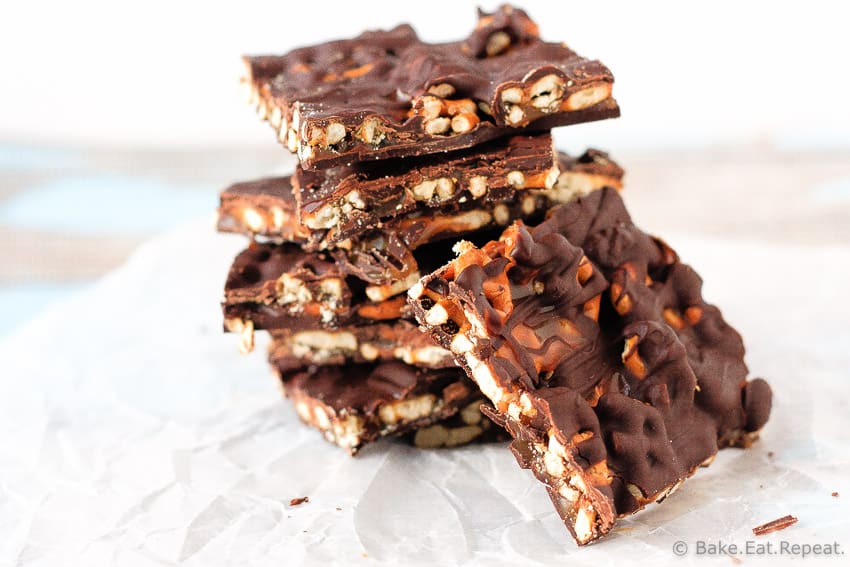 Are you a fan of the sweet and salty combo? I most definitely am. I think that's just about the most perfect combination in a snack food. So salted caramel pretzel bark? It was bound to happen. I'm actually kind of wondering what took me so long to make this. So easy, so fast, and so freaking good. So good. Hide it in the back of the fridge so that no one else knows it exists and I get it all to myself good.
Or you could give it away as gifts. Food gifts are wonderful at Christmas time, and salted caramel pretzel bark would definitely be welcomed. If you're nice like that.
I'm not. It's all gone.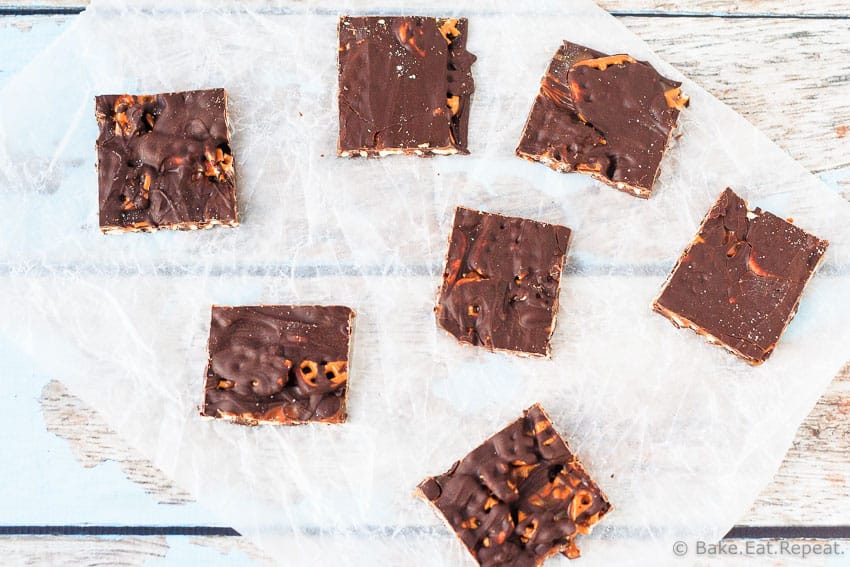 But maybe I'll make more. Because like I said, it's ridiculously easy to make. Although….it might disappear again before it made it to the recipients, but I could try.
I'm pretty sure that I will need to make some more of this stuff. If only because there's half a jar of salted caramel sauce in my fridge right now screaming to be used in something.
I'm not sure I can think of anything better to use it in. Although if you have suggestions, feel free to let me know. Otherwise I might just be over here making (and eating) far too much salted caramel pretzel bark. There could be worse things.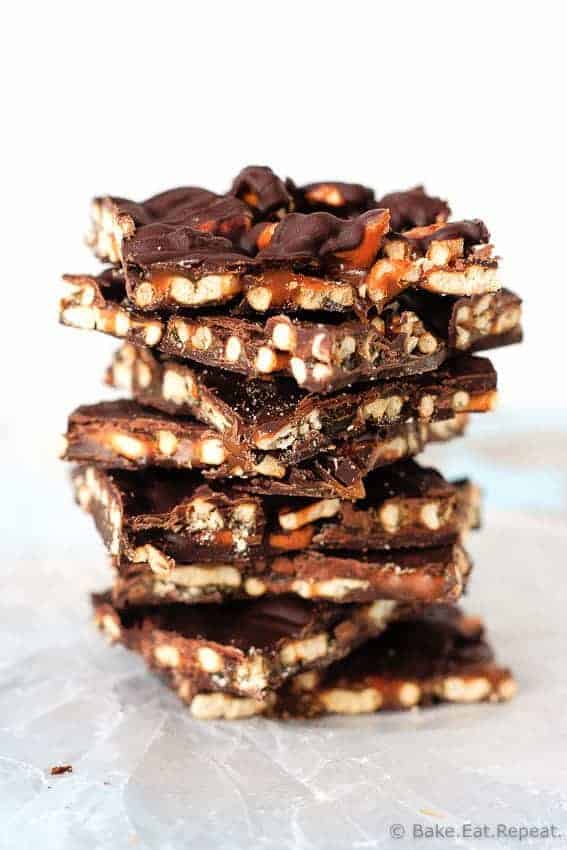 Yield: 12-16 servings
Salted Caramel Pretzel Bark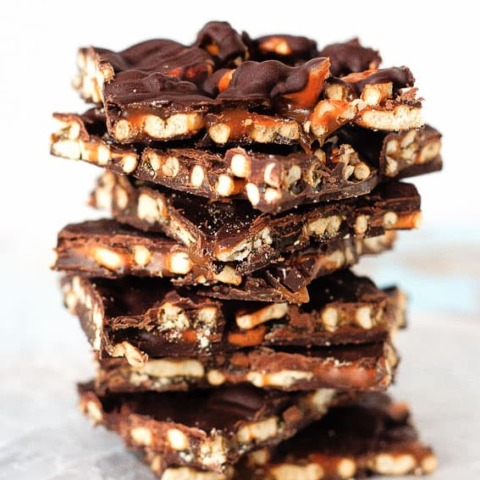 Easy to make salted caramel pretzel bark that is the perfect decadent treat or gift for Christmas. This stuff is just incredible - sweet, salty, perfect.
Total Time
2 hours
15 minutes
Ingredients
10 ounces chocolate (about 2 cups, chopped)
2 cups pretzels (I used the waffle type)
1/2 cup salted caramel sauce
Instructions
In a microwave safe bowl, melt the chopped chocolate at 50% power for about 3 minutes, stirring every 30 seconds until it's almost completely melted. Stir it until it is fully melted.
Spread 3/4 of the melted chocolate on a cookie sheet covered with a silicone baking mat or wax paper.
Spread it out in an even layer with a rubber spatula until it is about 8 x 12 inches.
Spread the pretzels evenly over top of the chocolate.
Drizzle the salted caramel sauce over top of the pretzels (heat it first to make it easy to drizzle - about 30-60 seconds in the microwave).
Drizzle the remaining melted chocolate over top of the salted caramel sauce.
Chill the bark for several hours or overnight until firm.
Cut it into squares and store it in an airtight container in the fridge or freezer.
Notes
Use whatever type of chocolate you prefer, but bar or baking chocolate is a better choice than chocolate chips as it melts much better. I used a combination of milk and dark chocolate.
Recommended Products
This post contains affiliate links. As an Amazon Associate, I may receive a small commission from qualifying purchases.
Nutrition Information:
Yield:
16
Serving Size:
1 piece
Amount Per Serving:
Calories:

172
Total Fat:

7g
Saturated Fat:

4g
Trans Fat:

0g
Unsaturated Fat:

2g
Cholesterol:

8mg
Sodium:

153mg
Carbohydrates:

25g
Fiber:

1g
Sugar:

17g
Protein:

3g
Nutrition Information is estimated based on ingredients used and may not be exact.