These chocolate covered strawberry cupcakes are the perfect sweet treat for Valentine's Day – angel food cupcakes with strawberry whipped cream frosting, and a chocolate covered strawberry on top!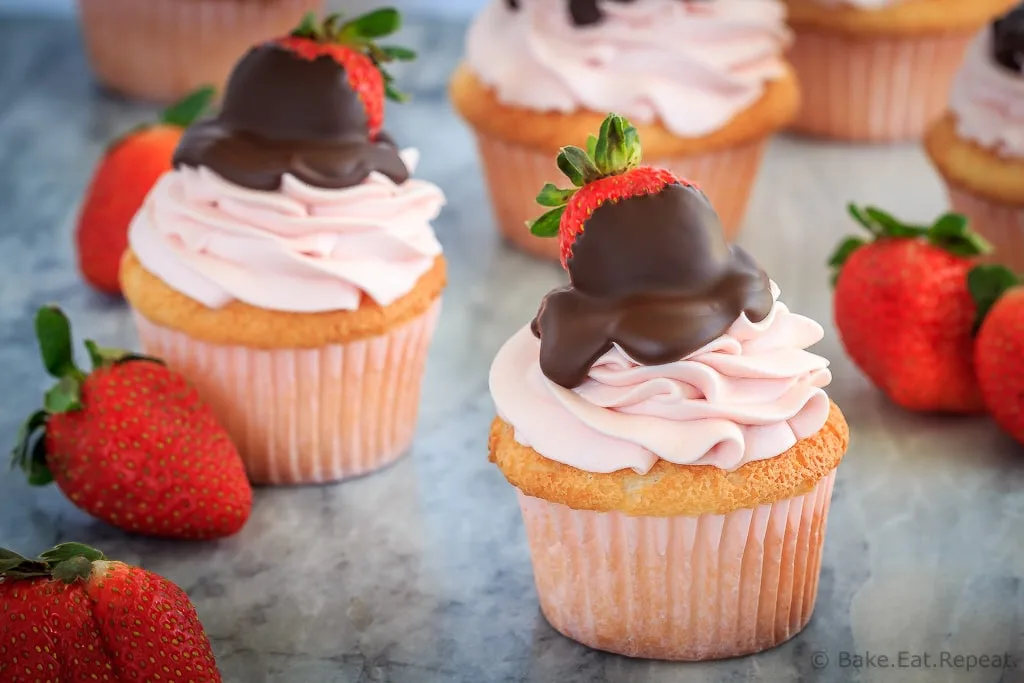 Disclaimer: This post has been sponsored by Life Made Delicious as part of their #CookUpIncredible campaign and I have been compensated for my time. All opinions are, as always, my own.
I don't know if I've every actually done a specific Valentine's Day dessert recipe post on here. There's plenty of chocolate (more then necessary, I'm sure) but nothing that screams Valentine's Day.
These chocolate covered strawberry cupcakes make up for that. They scream Valentine's Day all the way. Chocolate covered strawberries tend to do that.
Although I would happily enjoy one of these cupcakes any day of the year. My sister has already informed me that I need to make them again for her birthday. Her favourite dessert of all time is angel food cake with whipped cream and strawberries so it's not really a surprise that she loved these.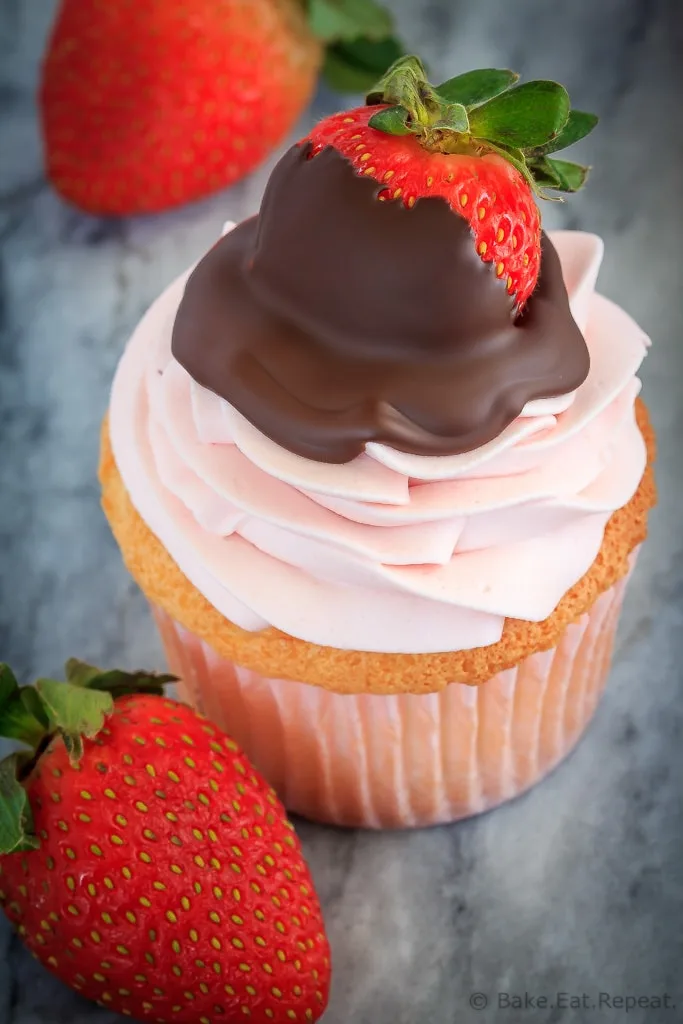 But really, who doesn't enjoy angel food cake with whipped cream? And when it's strawberry whipped cream topped with a chocolate covered strawberry? Even better.
These cupcakes are so pretty, but actually not hard to make at all. The cupcake is actually made from a cake mix, which I know I don't usually have in my recipes, but angel food cake is the one cake that I just don't make from scratch. I've done it once before, and I'm sorry, but it's just not worth it. It takes quite a while to make from scratch, it uses a dozen egg whites, and doesn't taste any different. Cake mix all the way for this one – it tastes great and is much easier.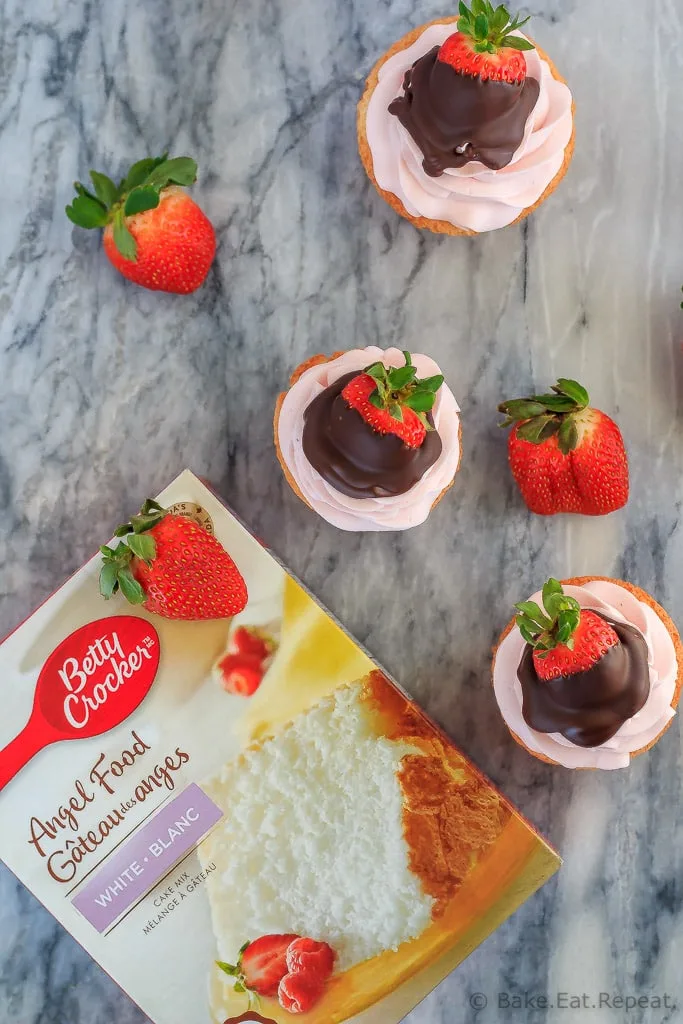 The strawberry whipped cream is super simple to whip up, it's flavoured with strawberry jam and stabilized with gelatin so it lasts when you pipe it on the cupcakes. It's so tasty, you won't mind if you have some left over after frosting the cupcakes!
And chocolate covered strawberries. Just to take these cute little cupcakes over the top. Because everything is better with a chocolate covered strawberry on top!
If you're looking to make someone's life delicious this Valentine's Day, try these cute little chocolate covered strawberry cupcakes – you won't be disappointed!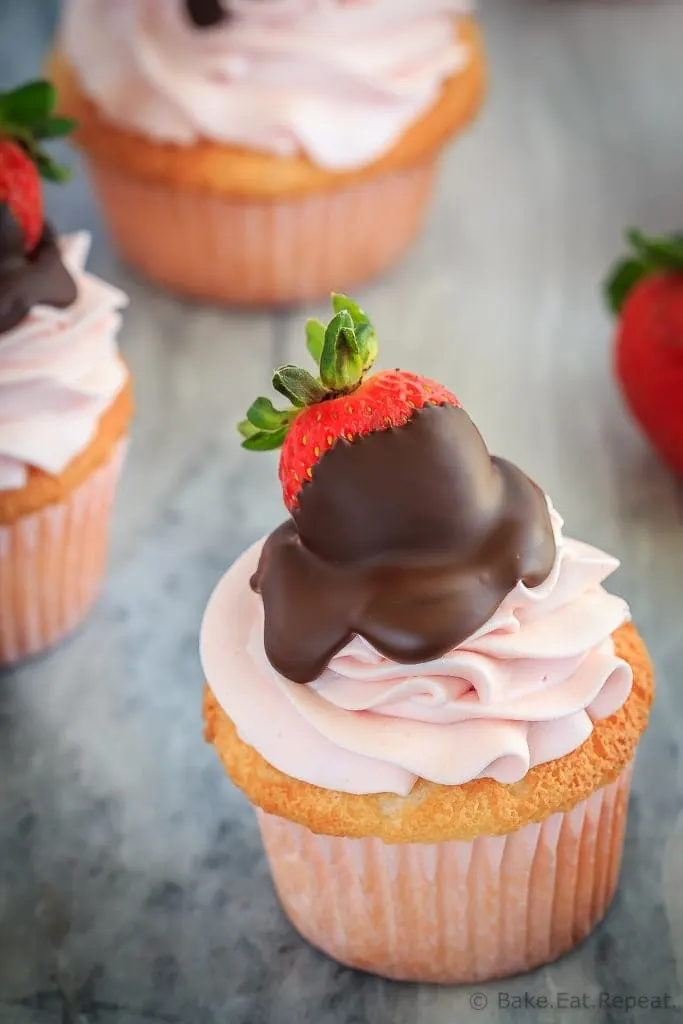 Tips for perfect Chocolate Covered Strawberry Cupcakes:
to make chocolate covered strawberries, wash your strawberries ahead of time, and keep them in the refrigerator until you're ready to use them, so they're dry and cold when you dip them
you don't need to add the gelatin to the whipped cream, but it does stabilize it so that your frosting will keep it's shape and not get watery if you're piping it a day or two ahead of time – if you don't add it I would recommend serving the cupcakes immediately after decorating
I had 30 cupcakes, and used most of the whipped cream frosting for decorating, but you might have some left over depending on how much you put on each cupcake – it will keep for 3-4 days in a sealed container in the fridge if you don't use it all
here are a few more dessert recipes for you: Lemon Strawberry Cream Puff Cake, Raspberry Cheesecake Brownies, and Roasted Strawberry and Oreo Ice Cream