This old fashioned chocolate fudge is easy to make, has the smoothest texture, and the best chocolate flavour. The perfect treat for the holidays!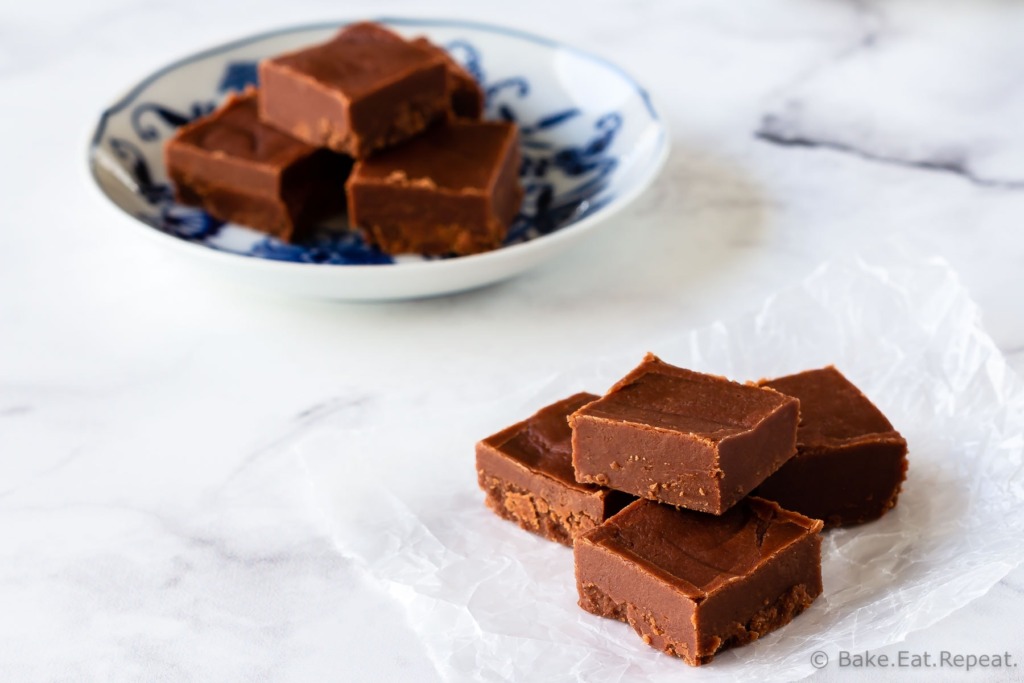 I've never really been a fan of fudge as a treat. Just not my favourite. Too sweet.
But, I realize I'm in the minority there, and most people love the stuff. So I've started making it for my kids because they definitely love it.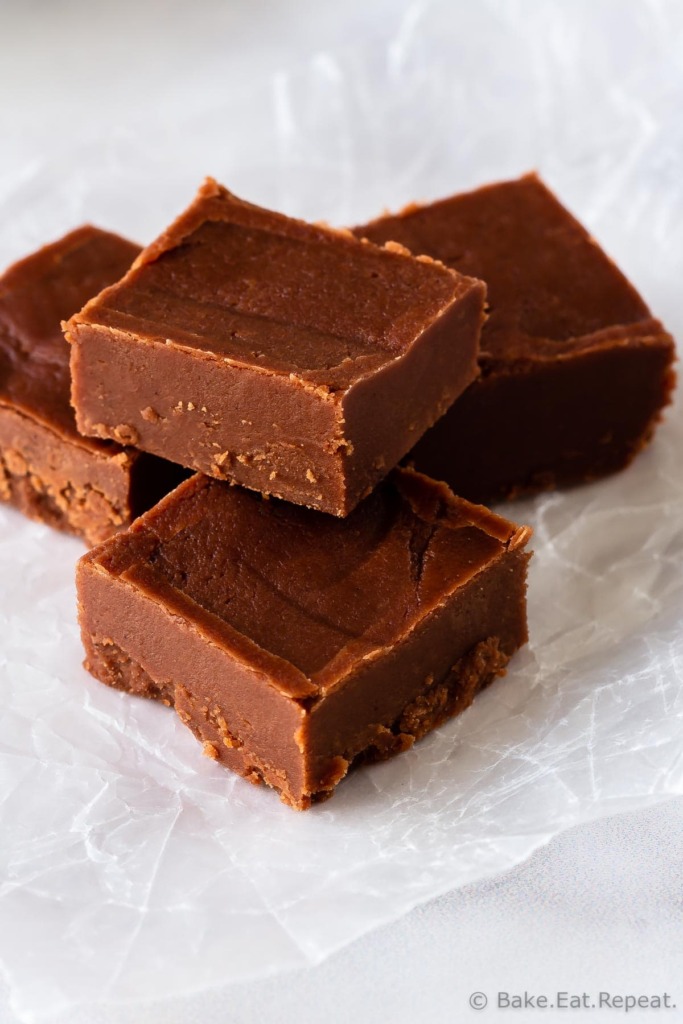 Especially this brown sugar fudge my mom used to make. My kids went crazy for that the first time I made it. And then I felt bad for depriving them and never making fudge just because I don't really like it!
This chocolate fudge might just change my mind on whether I like fudge or not though, because even I have to say that it's pretty fantastic.
Evidently I like anything if you add chocolate to it.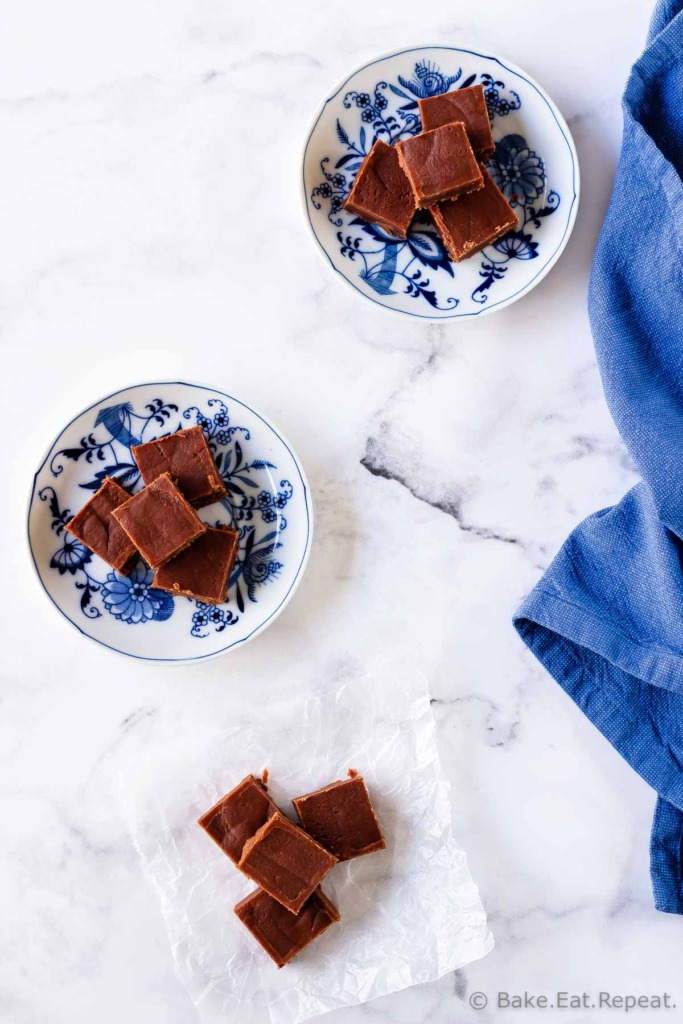 This chocolate fudge is the right amount of sweet for me though. I think the unsweetened chocolate takes the edge off the sweetness and makes the taste more about the creamy chocolate flavour.
Smooth, creamy, chocolate fudge that's easy to make and everybody loves (even me!) – I think that makes this the perfect Christmas treat!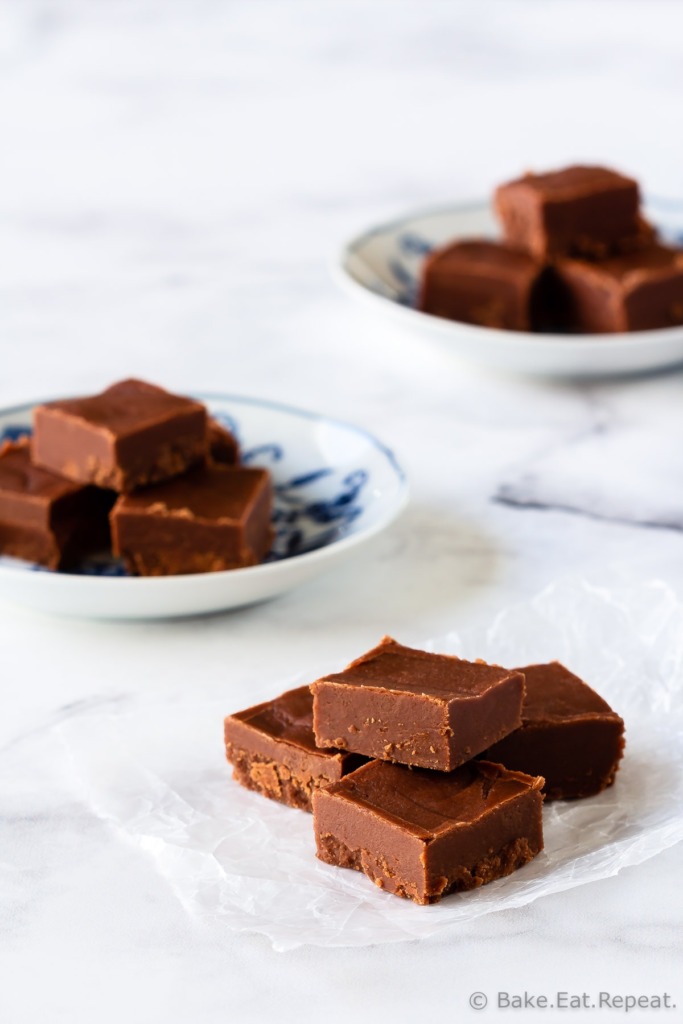 Can you freeze fudge?
You can freeze fudge for up to 3 months. It's best to freeze it in larger blocks (instead of cutting it into little squares) wrapped tightly in plastic wrap.
If you're planning to freeze the whole batch of chocolate fudge, line your pan with tin foil (butter the foil so the fudge doesn't stick) before spreading your fudge into it to set. This way you can pull out the whole block, cut it into a few pieces for freezing, and wrap each piece tightly in plastic wrap. Freeze the plastic wrapped blocks of fudge in a freezer ziplock bag.
Let the fudge thaw before cutting it into squares. Keep it wrapped while it's thawing at room temperature. If you unwrap it before thawing, moisture in the air will condense on the top of the fudge, making it soft and sticky.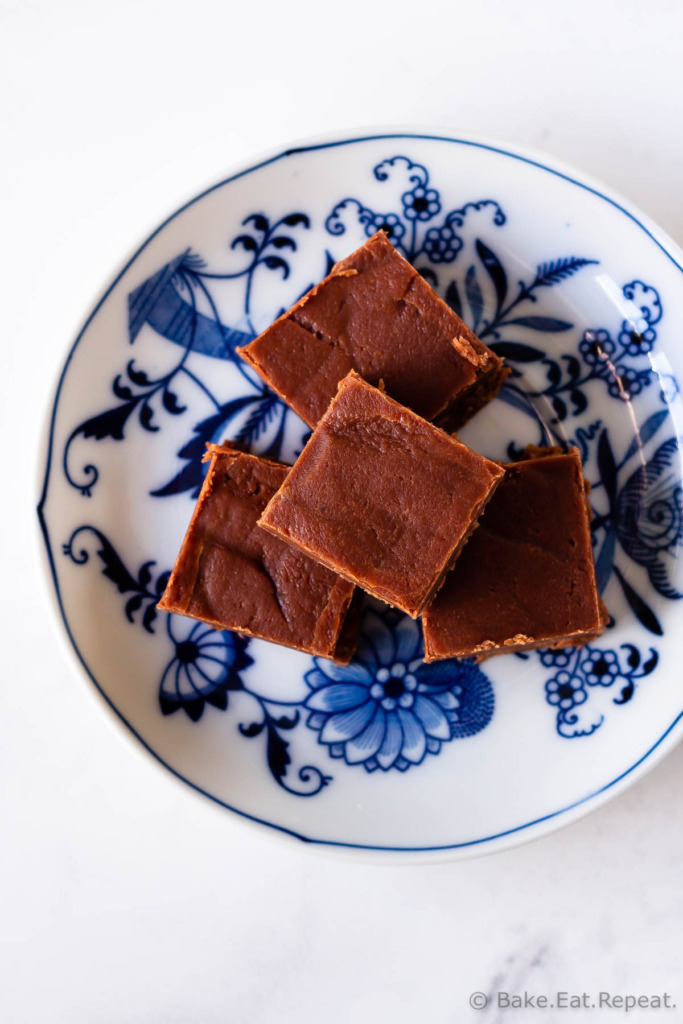 Why did my fudge turn out crumbly?
Fudge ends up with a crumbly or grainy texture because of the development of sugar crystals within the fudge. Cooked fudge is made up of tiny sugar crystals – the smaller the crystals are, the smoother your fudge will be. When the sugar crystals start to form early, they are larger and the fudge ends up with a sugary, or grainy, texture.
You want to stir the fudge until the sugar is dissolved and the chocolate is melted, but after that try to keep the stirring to a minimum while the fudge heats to the soft ball stage.
Then you let it cool down without stirring at all, and beat it with an electric mixer until it thickens a bit, then spread it in a baking dish to set.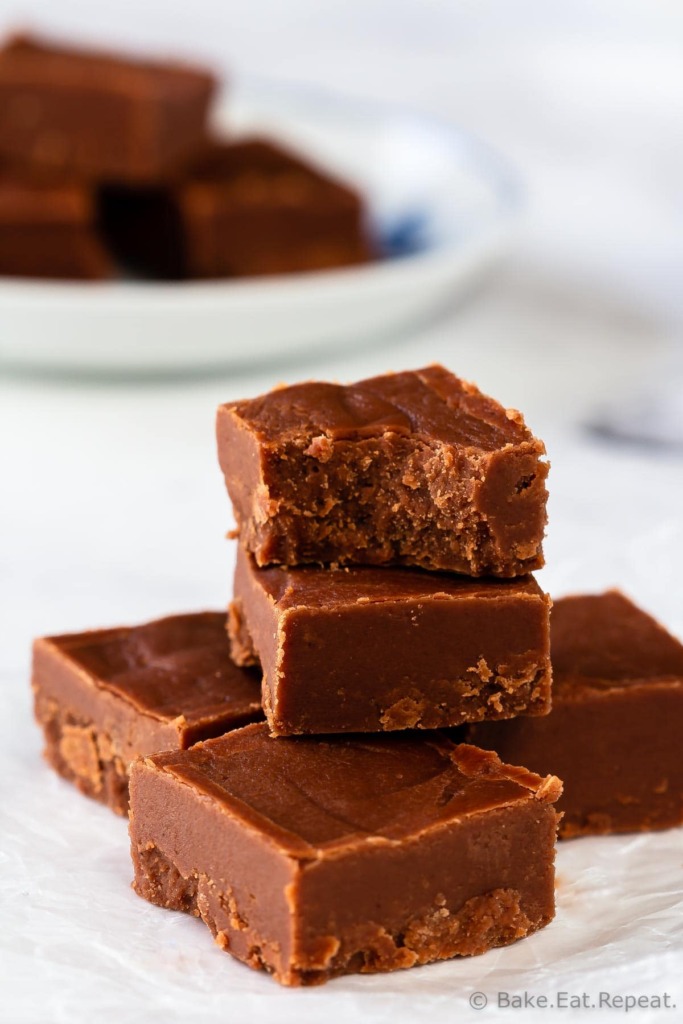 How to make Chocolate Fudge:
This fudge is made with just seven ingredients. You boil the cream, sugar, chocolate, butter, corn syrup, and salt until it reaches the soft ball stage (234-240 degrees F), and then stir in the vanilla, let it cool for about 10 minutes, and beat the mixture until it thickens. The whole process takes about 20-30 minutes.
You don't need to stir the fudge constantly while it's boiling, but keep an eye on it and give it a stir every minute or so once it comes to a soft boil to prevent sticking.
The easiest way to know when the fudge is ready is to use a candy thermometer. I absolutely love this one, that's built right into a silicone spatula, so it's very easy to use. The regular kind that clip onto the side of the pot don't work for me as my pots have a lip on the rim so the thermometer won't clip on and sit straight down the side of the pot. If you have the same problem, this spatula candy thermometer is the way to go!
Leave the fudge alone while it cools down, don't stir it, just let it cool until it reaches 110-115 degrees F before beating it. This will give the fudge the smoothest texture.
When beating the chocolate fudge with an electric mixer, it will continue to thicken the longer you beat it. This fudge only took about 2 minutes of beating on low speed to thicken. If you want your fudge to be harder, beat it a little longer before spreading it in the pan, but be careful not to beat it too long or it will be difficult to spread in the pan.

Here are some more great treats for the holidays for you:
I've also shared this Chocolate Fudge recipe over on Food Fanatic.
Yield: serves 36
Chocolate Fudge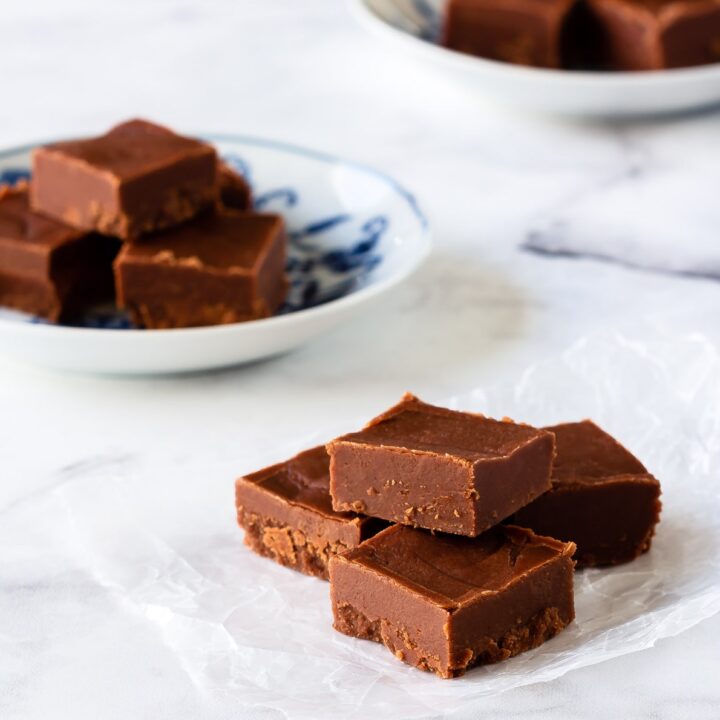 This old fashioned chocolate fudge is easy to make, has the smoothest texture, and the best chocolate flavour. The perfect treat for the holidays!
Ingredients
3/4 cup Heavy Whipping Cream, (35%)
2 cups Granulated Sugar
2 tablespoons Unsalted Butter
2 tablespoons Corn Syrup
2 ounces Unsweetened Chocolate, chopped
1/4 teaspoon Salt
1 teaspoon Pure Vanilla Extract
Instructions
Grease a 9-inch square pan and set aside. You can line the pan with aluminum foil first if you'd like to be able to lift the whole block of fudge out easily.
In a large saucepan over medium heat, combine the cream, sugar, butter, corn syrup, chocolate, and salt.
Cook, stirring, until the sugar has dissolved, the chocolate has melted, and the mixture is smooth.
Continue to cook the mixture, stirring occasionally to keep it from sticking, until the fudge has reached the soft ball stage, about 5 minutes after it starts boiling.
If you're using a candy thermometer, this is between 234-240°F (112.2-115.6°C). If you don't have a candy thermometer, you can drop a teaspoon of the candy into very cold water - it will form a soft ball which flattens on removal from the water when it has reached this stage.
Remove the pan from the heat, stir in the vanilla, and let it cool, without stirring, until it is 110-115°F (43-46°C), about 10-15 minutes.
Once it has cooled, beat the fudge on low speed with an electric mixer, until it just starts to thicken (about 2 minutes).
Quickly spread the fudge in the prepared pan, smoothing the top.
Let it cool completely so it sets before removing it from the pan and cutting it into squares.
Store the fudge in an airtight container at room temperature or in the fridge for up to two weeks, or freeze it for up to 3 months.
Notes
The fudge will be firmer the longer you beat it. If you beat it too long it will be difficult to spread in the pan so be careful not to beat it for too long.
Recommended Products
This post contains affiliate links. As an Amazon Associate, I may receive a small commission from qualifying purchases.
Nutrition Information:
Yield:
36
Serving Size:
1 piece
Amount Per Serving:
Calories:

69
Total Fat:

2g
Saturated Fat:

1g
Sodium:

18mg
Carbohydrates:

12g
Fiber:

0g
Sugar:

11g
Protein:

0g