Easy cinnamon sugar almonds. 5 minutes of prep time plus one hour of baking equals completely addictive, crunchy, candied almonds. The best kind of snack!
Watch how easy these Cinnamon Sugar Almonds are to make here: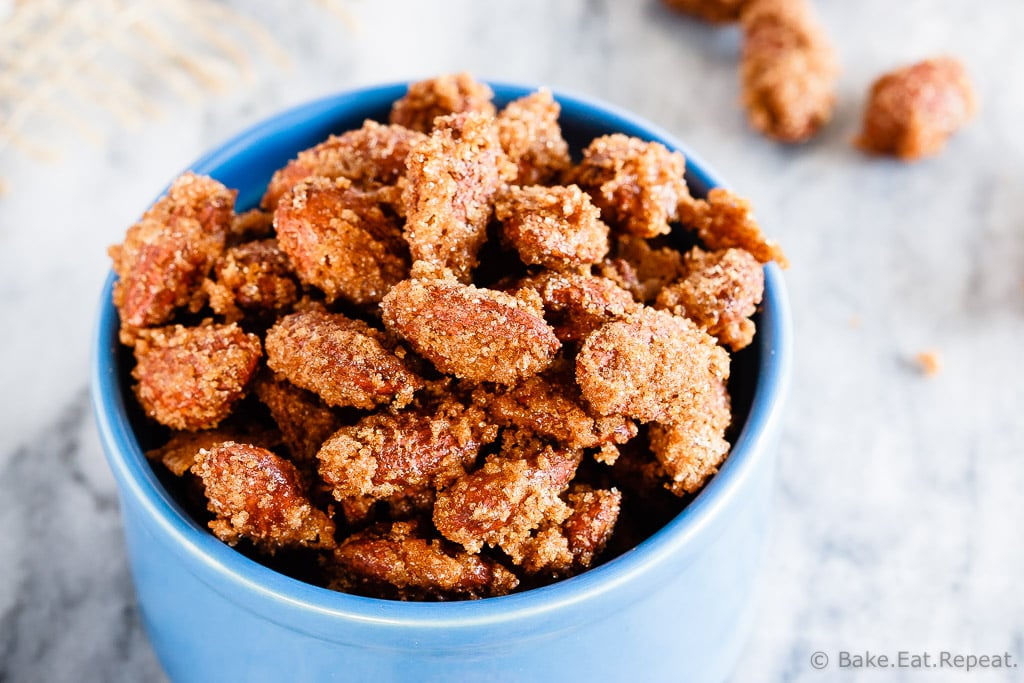 I think candied nuts might possibly be the most addictive snack ever invented.
These cinnamon sugar almonds are incredible, and definitely addictive. Whenever I make these, they are virtually impossible to stop eating. We have to hide them from ourselves to ensure they aren't all gone immediately, if not sooner. Or give them away since we clearly can't be trusted in the same house as these little treats.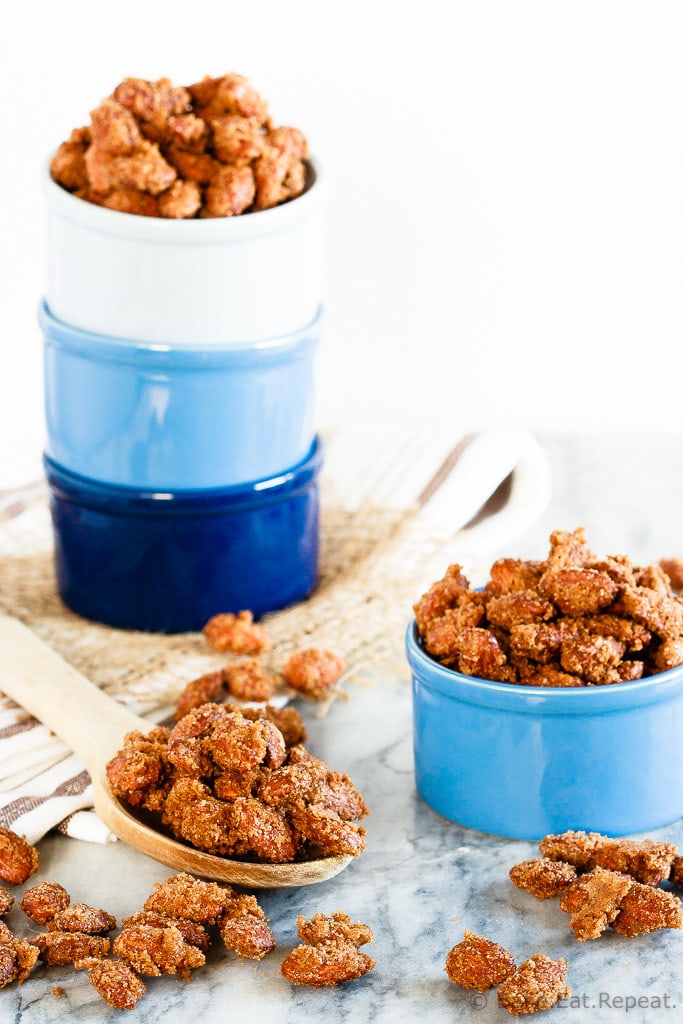 Candied nuts aren't something that I remember having much growing up. The first time I remember having them was when I spent 6 months in Germany at Bible College. I was there over the Christmas season, and was wowed by the Christmas markets. They were so neat, and if I'm ever in Germany again, I kind of hope it's near Christmas just so I can go to those markets again! We don't have anything like that here.
The one kiosk that we all spent far too much money at was the one making candied nuts. They were completely amazing. Warm, freshly made candied nuts served in a paper cone while walking around on cobblestone streets with Christmas music playing. Amazing. That paper cone was always empty far too quickly though!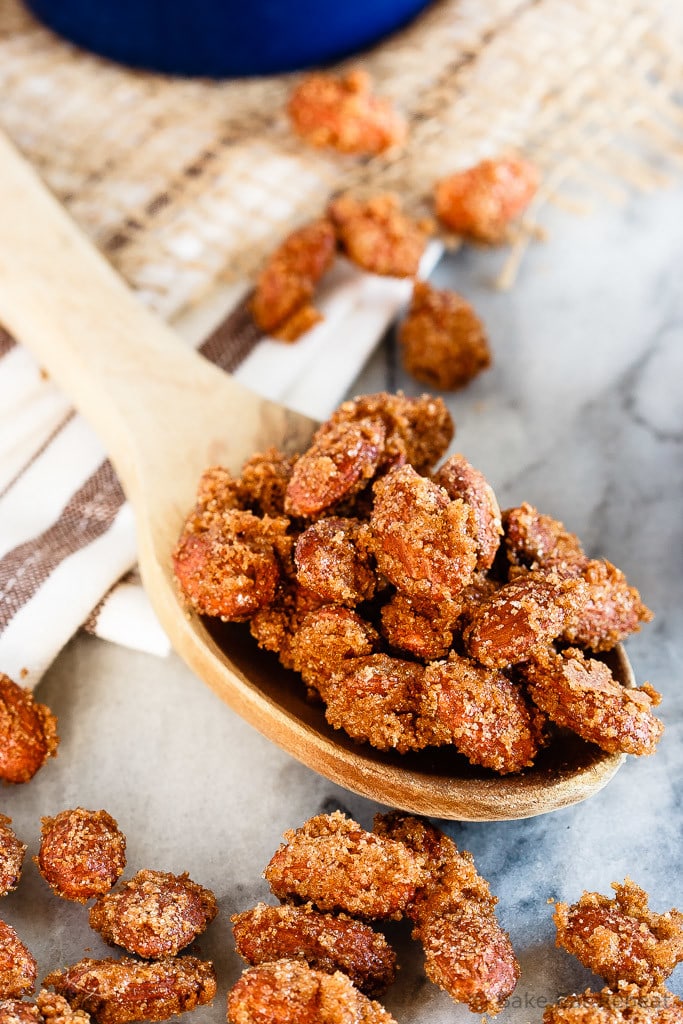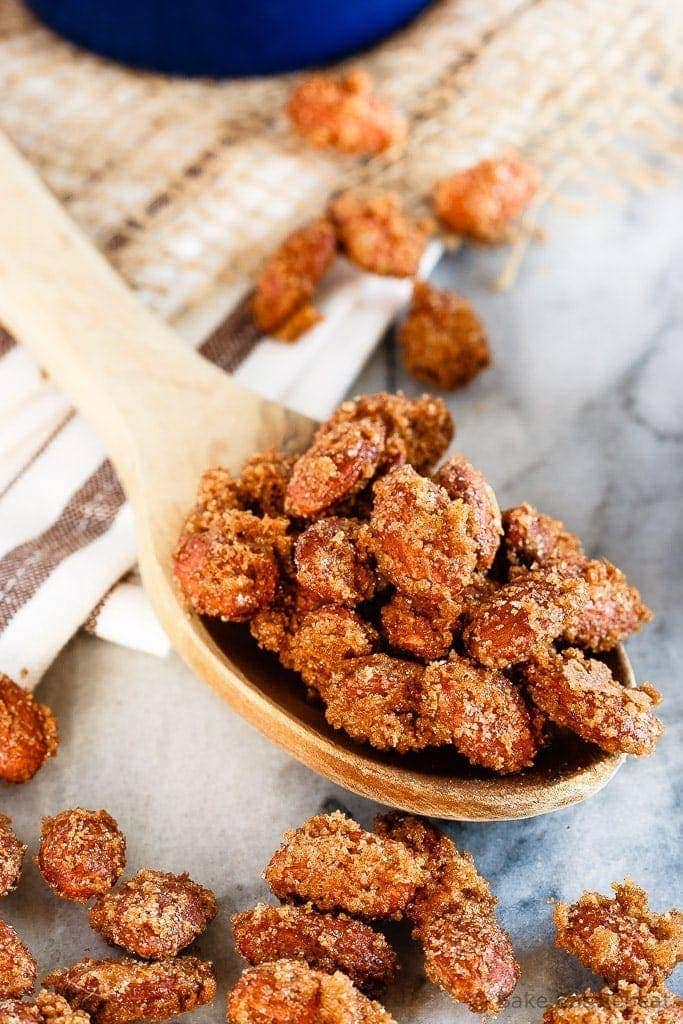 Now that I've discovered the complete simplicity and ease of making these cinnamon sugar almonds at home, that's one memory I can easily relive. These are pretty close. We're not eating them out of paper cones, hot from the pan, while walking through the crisp night air over cobblestone streets. But you can't have everything.
I could make some paper cones I suppose. And it's cold outside. We could go for a walk. It'd be exactly the same, right?
Well, at least the almonds will be just as amazing!
Yield: 3 cups
Cinnamon Sugar Almonds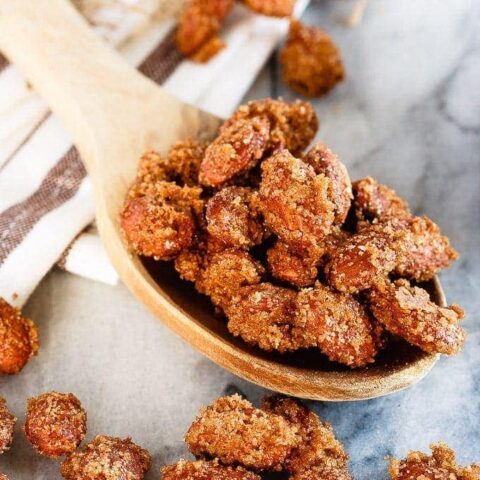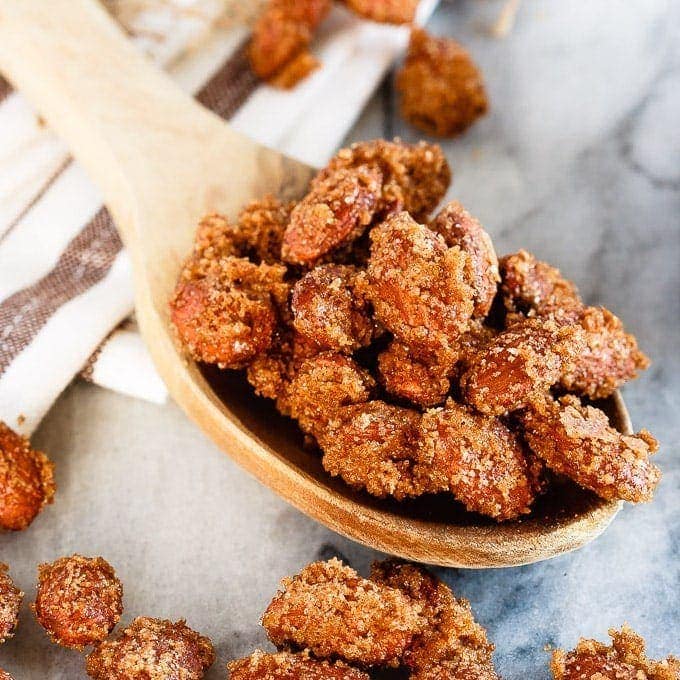 These easy to make candied almonds make the perfect snack!
Total Time
1 hour
10 minutes
Ingredients
1/2 cup brown sugar, lightly packed
1/2 cup granulated sugar
1 tablespoon cinnamon
1 teaspoon salt
1 large egg white
1 teaspoon vanilla
3 cups almonds
Instructions
Preheat the oven to 250 degrees F.
Line a rimmed baking sheet with parchment paper.
In a large bowl, mix together the brown sugar, granulated sugar, cinnamon and salt until well combined.
In another bowl, whisk together the egg white and vanilla until frothy.
Add the almonds to the bowl of frothy egg whites and toss until the nuts are completely coated.
Pour the coated nuts into the bowl with the cinnamon sugar mixture and toss until they are well coated.
Pour the nuts onto the prepared baking sheet and spread them out evenly.
Bake for 1 hour, stirring every 15 minutes.
Allow the nuts to cool completely on the baking sheet.
Store in an airtight container at room temperature for 2-3 weeks.
Recommended Products
This post contains affiliate links. As an Amazon Associate, I may receive a small commission from qualifying purchases.
Nutrition Information:
Yield:
12
Serving Size:
1/4 cup
Amount Per Serving:
Calories:

276
Total Fat:

19g
Saturated Fat:

2g
Trans Fat:

0g
Unsaturated Fat:

16g
Cholesterol:

16mg
Sodium:

356mg
Carbohydrates:

24g
Fiber:

4g
Sugar:

17g
Protein:

8g
Nutrition Information is estimated based on ingredients used and may not be exact.