A perfect 20 minute meal when you want something healthy that everyone will love – these fish tacos with avocado cream are fantastic!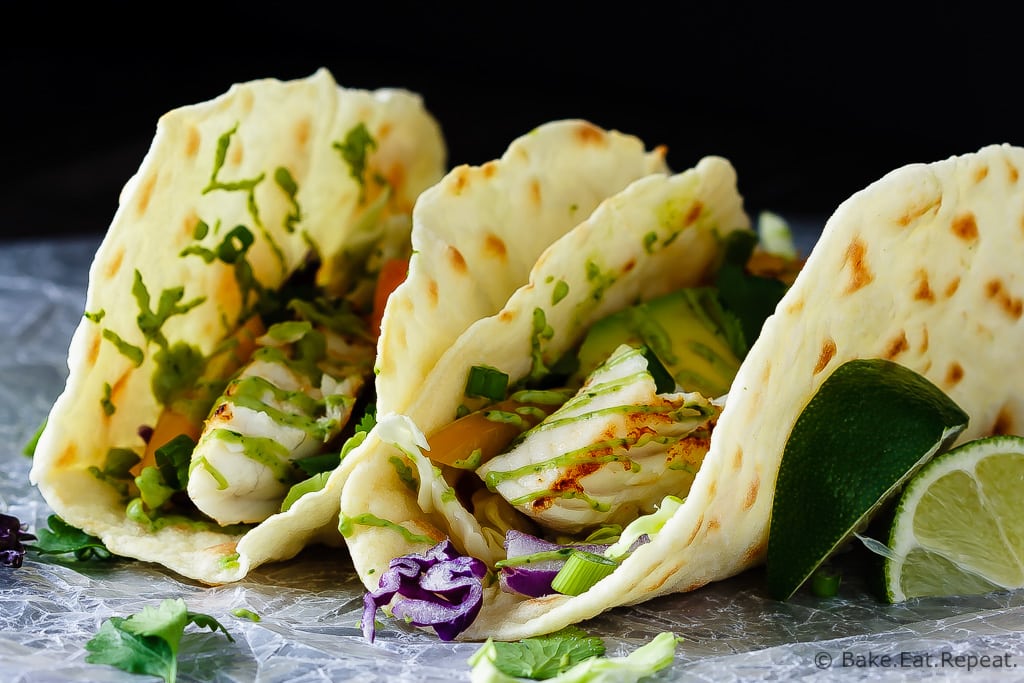 We probably eat tacos at least weekly around here – everyone loves them.  But I haven't made fish tacos more than once or twice over the years.  The kids never used to like seafood so we would typically stick with chicken or beef for taco night.  That has been changing though – my eight year old has now started saying that fish and shrimp are one of his favourite things!
In fact, after serving it on a regular basis for a couple years, all three of them will now eat fish quite happily.  Of course, they still eat it pretty plain (we're talking fish tacos that involve a tortilla, a piece of fish and a few strips of bell pepper – no sauce!), but that's okay.  The beauty of tacos – everyone can have them the way they want!
It's actually starting to get a little tough to cook enough fish.  I always think that I'm making truckloads of food and then all the fish is gone and people are still hungry.  How is that even possible already?  My oldest is only 10.  Isn't the ravenous, eat you out of house and home behaviour supposed to start much later?  Like 4 or 5 years from now at least?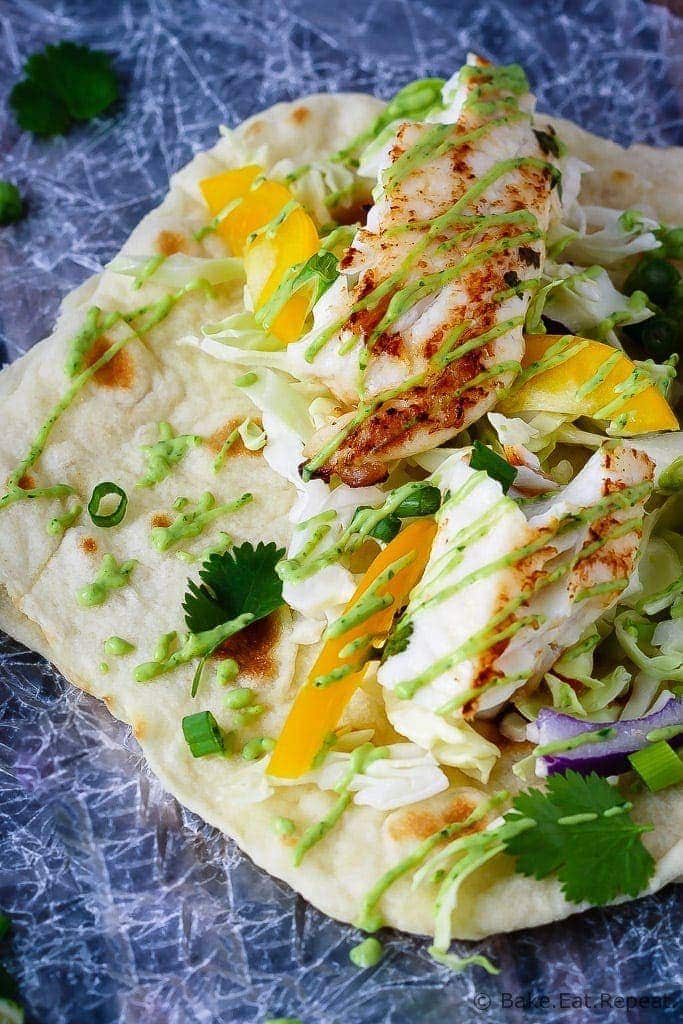 Evidently we will literally have no food in the house ever when my boys are teenagers.  I'm a bit frightened.
That is one of the things I love about having fish tacos instead of fish by itself.  The tortillas and all the toppings really help stretch the meal so that I can cook a reasonable amount of fish and everyone still gets enough to eat. Plus you can load up your tacos with veggies and have quite a healthy meal.  Which I don't always feel is the case when it comes to tacos – by the time you load on the cheese and salsa and sour cream, it doesn't really seem all that healthy anymore!
But fish tacos?  Pretty healthy stuff.  Grilled fish, veggies, an avocado cream sauce that I kind of want to slather on everything it's so good, all wrapped up in a warm tortilla shell.
That, my friends, is a perfect meal.  At least in my world.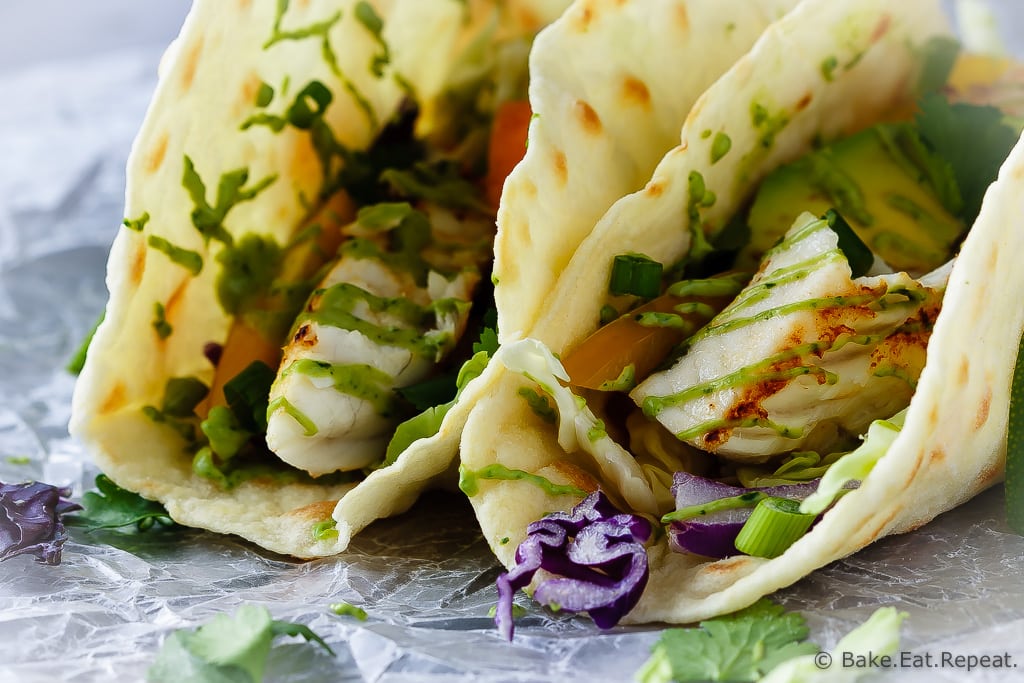 Note: Recipe and post updated April 4/16, originally posted July 14/14.


Yield: serves 4
Fish Tacos with Avocado Cream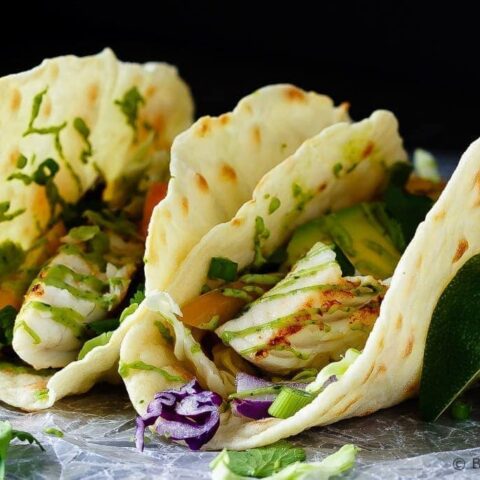 A perfect 20 minute meal when you want something healthy that everyone will love - these fish tacos with avocado cream are fantastic!

Prep Time 20 minutes

Cook Time 10 minutes

Total Time 30 minutes
Ingredients
For the Fish:
2 pounds firm white fish (I used tilapia, about 1 inch thick, but any firm white fish will do)
1/4 cup olive oil
juice of 1 lime
1 tablespoon hot sauce (I've used both Frank's Original and Sriracha)
1 jalapeno, seeded and chopped
1/4 cilantro, chopped
1 teaspoon kosher salt
For the Avocado Cream Sauce:
1/2 cup sour cream
1/2 avocado
3/4 cup cilantro
1 green onion, chopped
1 tablespoon lime juice (about 1/2 lime)
1/2 teaspoon kosher salt
For the Taco Fillings:
cabbage, shredded
carrots, shredded
green onions, sliced
cilantro leaves
red or yellow pepper, sliced thinly
hot sauce (we like sriracha)
avocado cream sauce
lime wedges
Instructions
Preheat the grill to medium high heat. In a shallow dish, whisk together the olive oil, lime juice, hot sauce, jalapeno, cilantro and kosher salt.
Add the fish and turn to coat. Marinate in the refrigerator for 10 minutes before grilling.
When ready to grill, cook for 4-5 minutes on each side or until the fish flakes easily with a fork.
Prepare the taco fillings and set aside.
For the avocado cream sauce, blend together the sour cream, avocado, cilantro, green onion, lime juice and kosher salt until well combined. Refrigerate until ready to eat.
To serve, flake apart the fish and use several pieces per tortilla.
Garnish with the toppings as you like and enjoy!
Notes
I seeded the jalapeno in the marinade as my kids won't eat anything too spicy, so I didn't want to chance it! You definitely don't need to seed it if the heat is not a concern. You can also use a non-stick skillet on the stovetop over medium heat to cook the fish if you like, it will still be 4-5 minutes per side or until the fish flakes easily. If you're not a cilantro fan, you can also make the avocado cream sauce without the cilantro - it's still fantastic!


Source: Adapted from Kitchen Confidante.
Recommended Products
This post contains affiliate links. As an Amazon Associate, I may receive a small commission from qualifying purchases.
Nutrition Information:
Yield:
serves 4
Serving Size:
1
Amount Per Serving: Calories: 410Total Fat: 25.6gSaturated Fat: 7.5gTrans Fat: 0gCholesterol: 123mgSodium: 122mgCarbohydrates: 3.9gFiber: 1.8gSugar: 0.6gProtein: 43.6g

Nutrition Information is estimated based on ingredients used and may not be exact.