Disclaimer: This no churn neapolitan ice cream recipe is a sponsored post written by me on behalf of Eagle Brand, and I have been compensated for my time. All opinions are, as always, my own. #EagleBrandSummer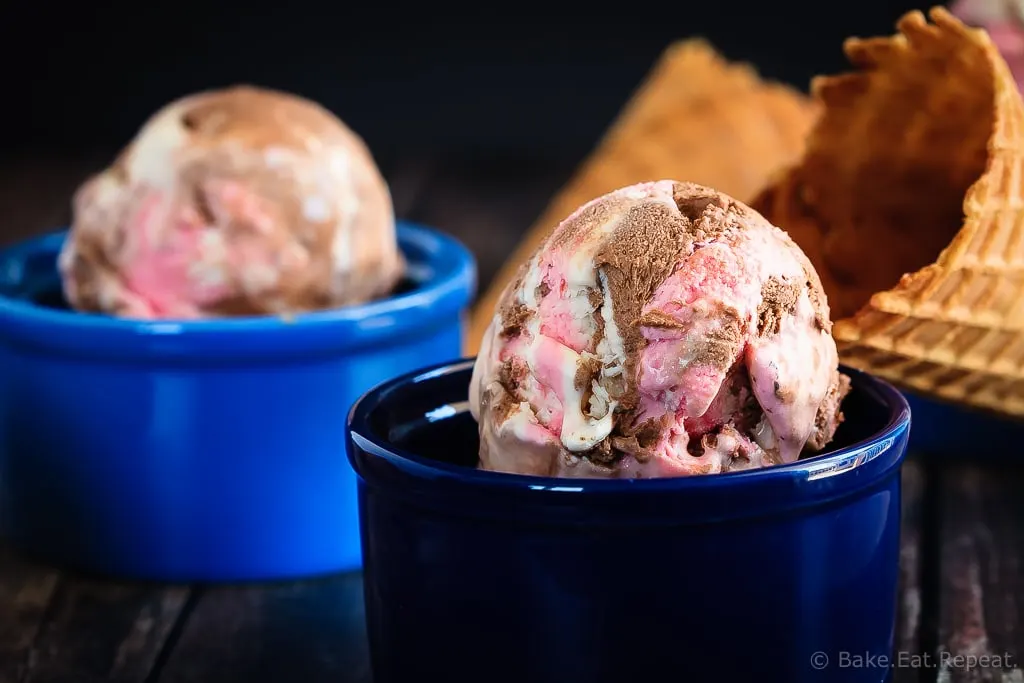 So I'm all about the frozen desserts this week. It's because I'm on vacation and solidly into summer mode right now. Hanging out at the beach with the kids just makes you want ice cream, right? One of those perfect summer treats.
Although, I'll be honest, I could eat ice cream any time of the year. It is definitely a bit more enjoyable on a hot summer day though. Especially no churn neapolitan ice cream. Neapolitan ice cream was always my favourite type of ice cream when I was a kid. I just loved that you got three flavours all at once.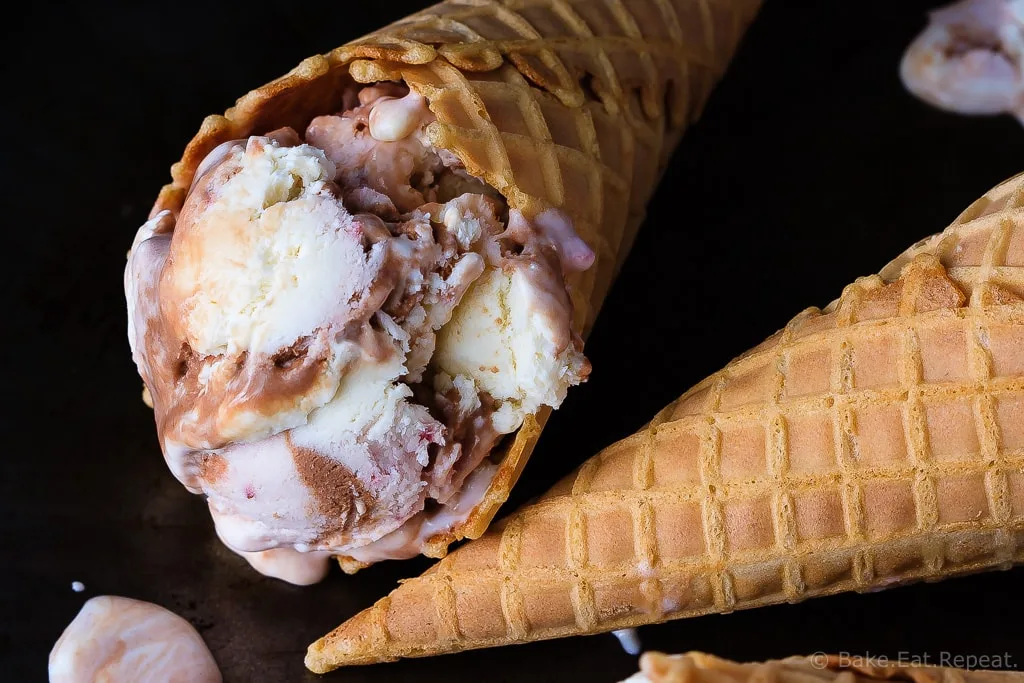 My kids are totally on board with it too. The first time I made this ice cream they were SO excited to try it, and they definitely agreed with me that it's the best flavour. Can't beat three in one.
This may be even better then the kind you buy at the store because of the summer fresh strawberries in it. Those perfect summer berries just make the ice cream so much more flavourful. Plus you can leave some strawberry chunks in it which I think make it better.
If you haven't made no churn ice cream before, the magic ingredient in this easy summer dessert is Eagle Brand Sweetened Condensed Milk. It sweetens the ice cream and gives a smooth, creamy texture to it that makes the perfect ending to a summer meal, or as a sweet treat on a hot summer afternoon.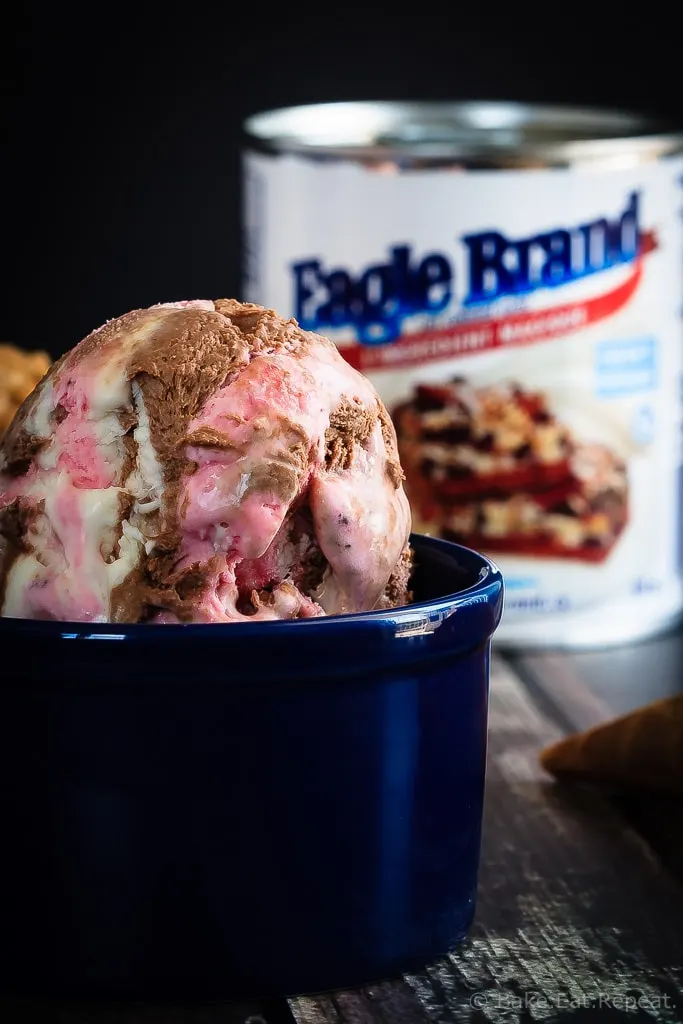 We loved having this no churn neapolitan ice cream after going out for a bike ride or walk with the kids a few evenings in a row. It was the perfect, easy to make sweet treat to have waiting for us at the end of the day.
It's a super simple, no fuss dessert recipe perfect for summer, just like so many of the dessert recipes made with Eagle Brand Sweetened Condensed Milk.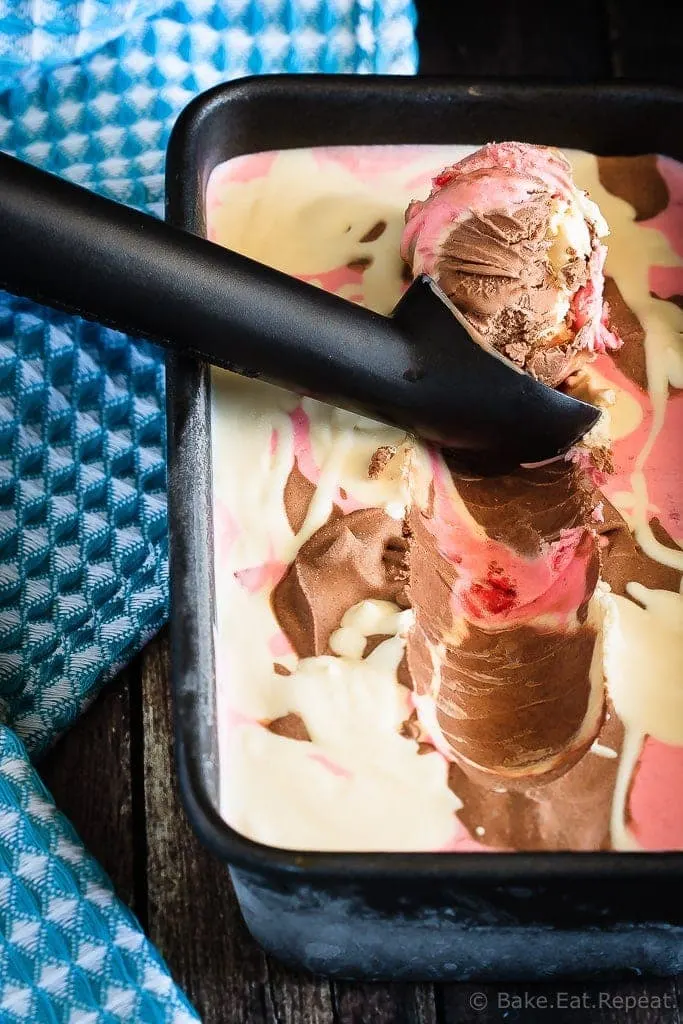 It really doesn't get a whole lot simpler then no churn ice cream. Even neapolitan ice cream, with 3 separate flavours to make, doesn't take long at all. Basically you beat whipping cream until it reaches the stiff peak stage, fold in some sweetened condensed milk mixed with the flavour you want, then freeze it until solid. Doesn't get much easier.
No churn neapolitan ice cream. Only five ingredients and about 15 minutes to make it.
It's my new favourite.