These super fast and easy lemon berry no bake cheesecake cups are the perfect creamy dessert for summer.  Plus, they can be lightened up if you want for a guilt free dessert that is just as tasty!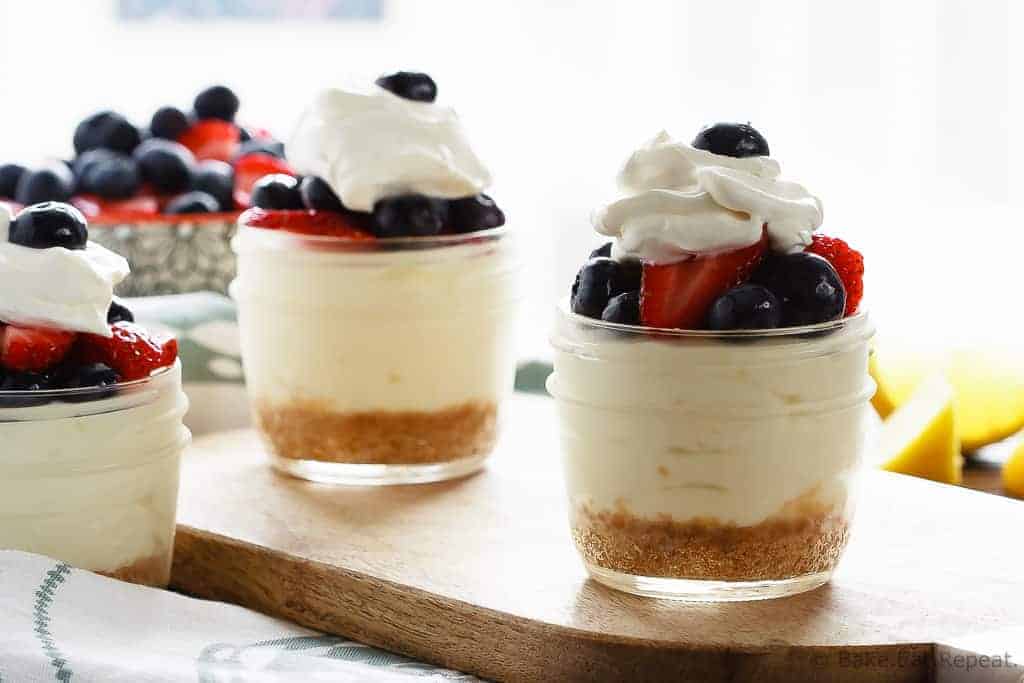 Have you ever made cheesecake with sweetened condensed milk?  I haven't before now.
So when I had the opportunity to make another recipe with Eagle Brand Sweetened Condensed Milk I decided that I needed to try cheesecake.
Clearly ice cream was my first thought – it's summer and I'm a little bit addicted to ice cream, so this No Churn Neapolitan Ice Cream was obviously the first idea when thinking up recipes.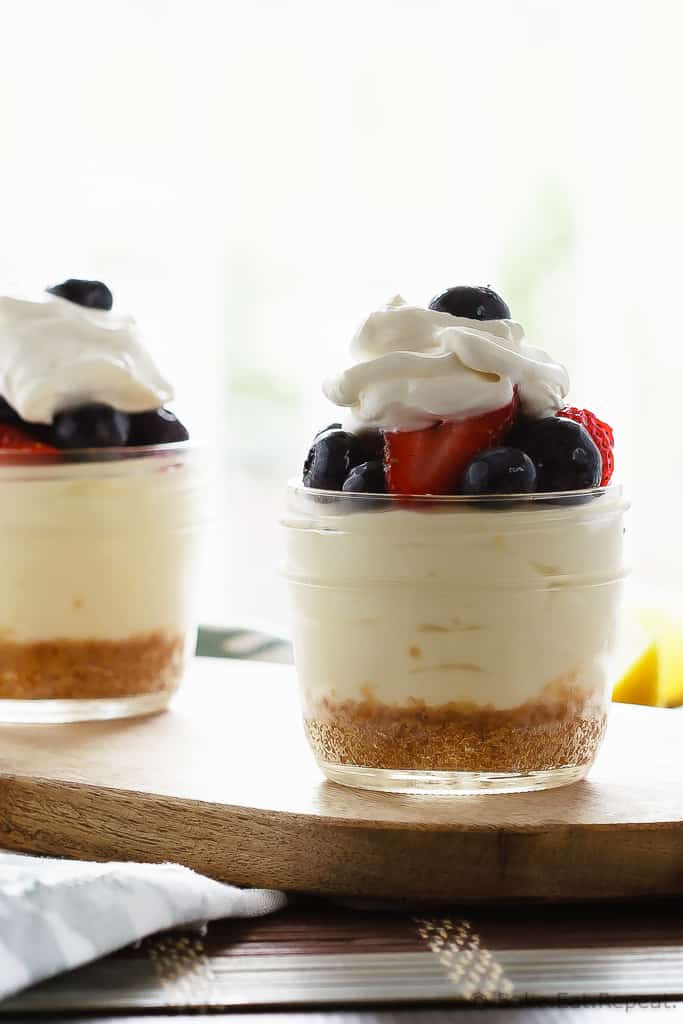 Getting to make another recipe with this product that is so perfect for creamy summer treats let me try out some no bake cheesecake recipes.  And I have to say that I might not make cheesecake any other way from now on.  (Actually, that's probably not true – I like trying new recipes too much to pigeonhole cheesecake!)  But as far as quick and easy no bake summer treats go, this is one of the best I've tried.  So it's possible likely that I'll start inundating you with more!
The beauty of making these lemon berry no bake cheesecake cups with sweetened condensed milk is how easy it is.  The cheesecake portion is only three ingredients – you mix together cream cheese and sweetened condensed milk, then add lemon juice/zest.  With the addition of acidic lemon juice, Eagle Brand Sweetened Condensed Milk thickens almost magically to make the perfect, no bake cheesecake.  Chill it for a few hours to set and you have an amazing no bake dessert.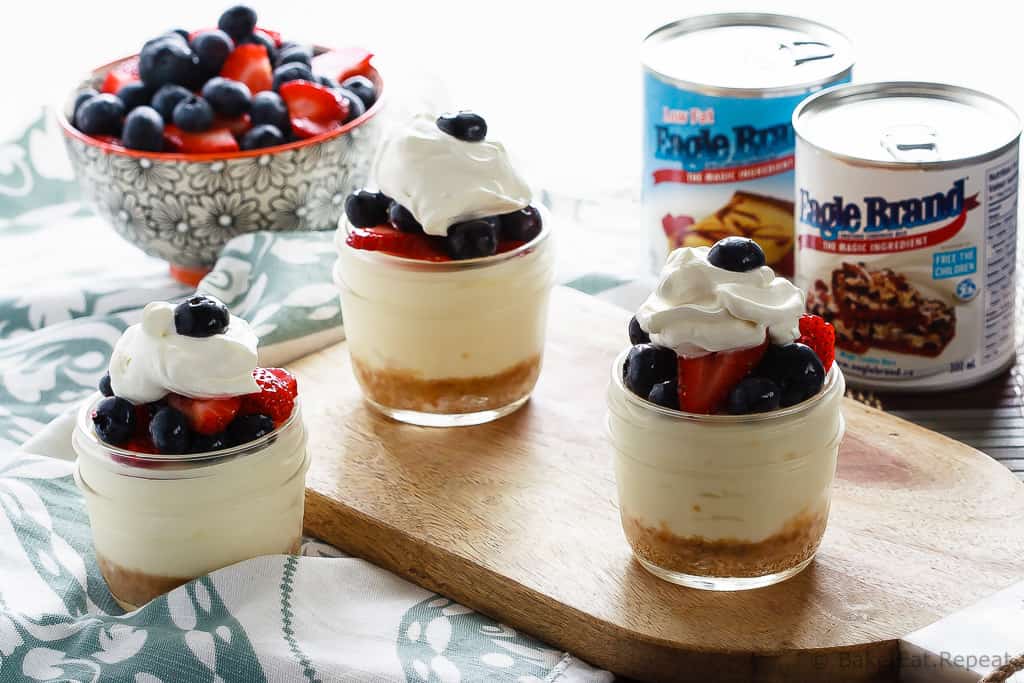 I made these little cheesecake cups in 125 mL jars – for the cuteness factor.  I'll admit, eating them out of these little jars without spilling was a tad difficult.  The price my family pays for cute photos.  BUT, if you used ramekins or little bowls or cups, or larger jars, you wouldn't have that problem – any of those would work just fine so use what you have.
I will say that using jars has the added benefit of a lid if you want to prepare these single serving cheesecake cups and bring them along to a picnic.  You can fancy up your picnic with cheesecake!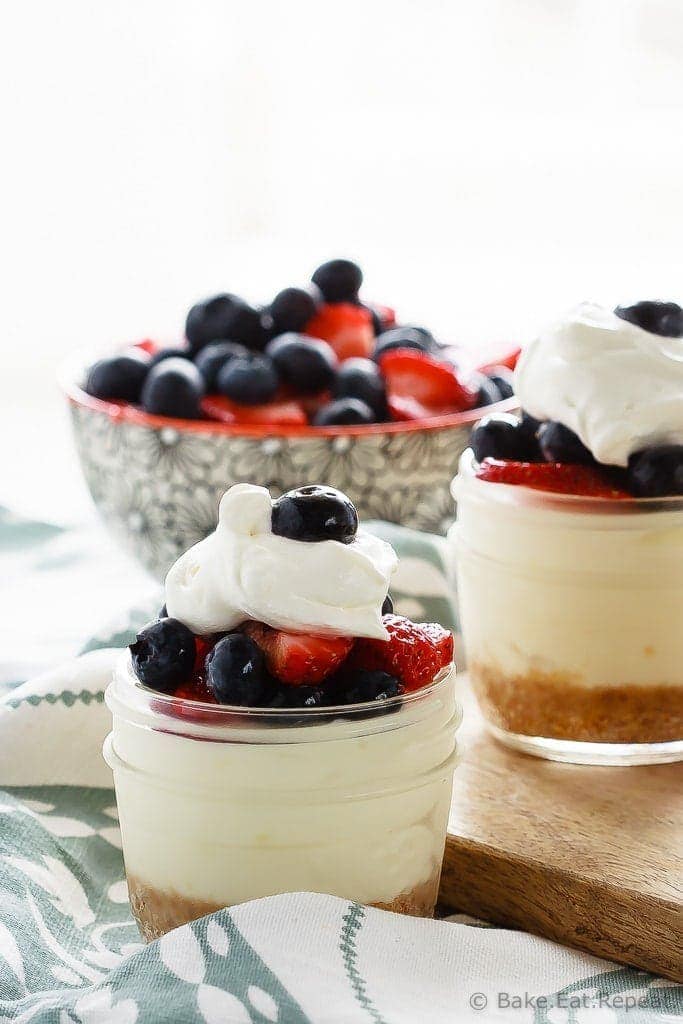 The best part about these cheesecake cups (besides how tasty they are, of course) – you can make them lighter. Eagle Brand is available in three varieties – Sweetened Condensed Milk, Low Fat Sweetened Condensed Milk, and Dulce de Leche caramel flavoured sauce.  For these lemon berry no bake cheesecake cups, I made two varieties.  The recipe is written with the regular sweetened condensed milk, but I also made a lighter version.  For that one I used plain Greek yogurt, light cream cheese, and low fat sweetened condensed milk (the amounts are included in the notes of the recipe).
I could barely tell a difference between the two.  Which actually really surprised me.  I didn't expect the light version to be as good – at least not right next to the regular cheesecake!  The regular cheesecake was very slightly creamier and thicker, but so little that I could hardly tell it was different.
So there you go – two versions to choose from, both fantastic.  So fancy up your picnic with some lemon berry no bake cheesecake cups.  You know you want to!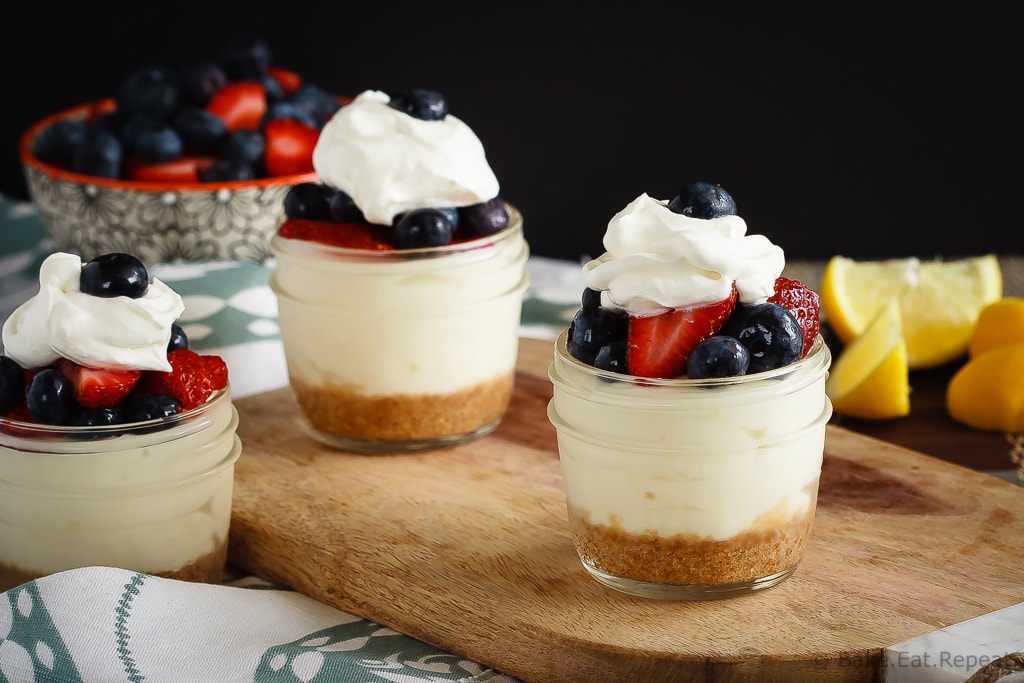 Disclaimer:  This post has been sponsored by Eagle Brand Canada, and I have been compensated for my time.  All opinions are, as always, my own.  To find more great recipes, please visit eaglebrand.ca and follow along using #EagleBrandSummer!


Yield: serves 6
Lemon Berry No Bake Cheesecake Cups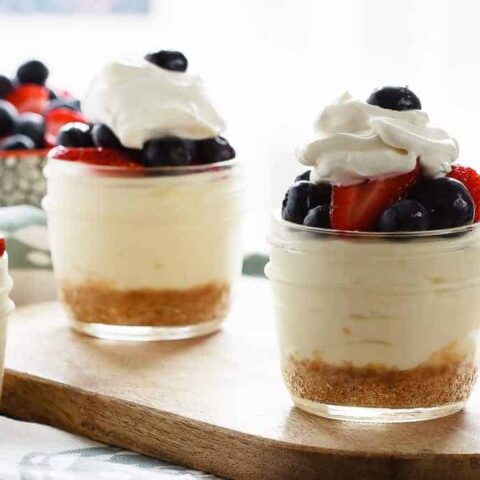 These lemon berry no bake cheesecake cups are easy to make for the perfect creamy dessert for summer. Fast, easy, sweet and creamy, no bake cheesecake cups!

Prep Time 20 minutes

Chilling Time 4 hours

Total Time 4 hours 20 minutes
Ingredients
For the crust:
1/2 cup plus 2 tablespoons graham cracker crumbs
2 tablespoons melted butter
For the cheesecake:
1 can Eagle Brand Sweetened Condensed Milk
250 grams (8 oz) cream cheese, softened
2 lemons, juice and zest
For serving:
fresh berries
whipped cream
Instructions
In a small bowl, stir together the graham cracker crumbs and melted butter until well combined.
Divide this mixture between 6 small bowls, ramekins, or jars (I used 125mL jars) and press it down evenly on the bottom.
Chill for 30-60 minutes.
In a medium bowl, with an electric mixer, combine the sweetened condensed milk and the cream cheese until smooth.
Add the lemon juice and zest and mix again until smooth and slightly thickened.
Spoon the cheesecake filling into the bowls on top of the crust, dividing it equally between the six bowls.
Chill for 3 hours or until set.
Serve with fresh berries and whipped cream.
Notes
If you'd like to make a lighter version of the cheesecake, use Low Fat Sweetened Condensed Milk and replace the cream cheese with half plain Greek yogurt and half light cream cheese. The taste is virtually identical, although it isn't quite as thick and creamy as the regular cheesecake.
Recommended Products
This post contains affiliate links. As an Amazon Associate, I may receive a small commission from qualifying purchases.
Nutrition Information:
Yield:
6
Serving Size:
1 cheesecake
Amount Per Serving: Calories: 251Total Fat: 19gSaturated Fat: 11gTrans Fat: 0gUnsaturated Fat: 6gCholesterol: 55mgSodium: 203mgCarbohydrates: 18gFiber: 2gSugar: 13gProtein: 4g

Nutrition Information is estimated based on ingredients used and may not be exact.