This apple crisp cheesecake is absolutely amazing – creamy cheesecake topped with cinnamon apples, a crumble topping, and caramel sauce! It's the perfect dessert!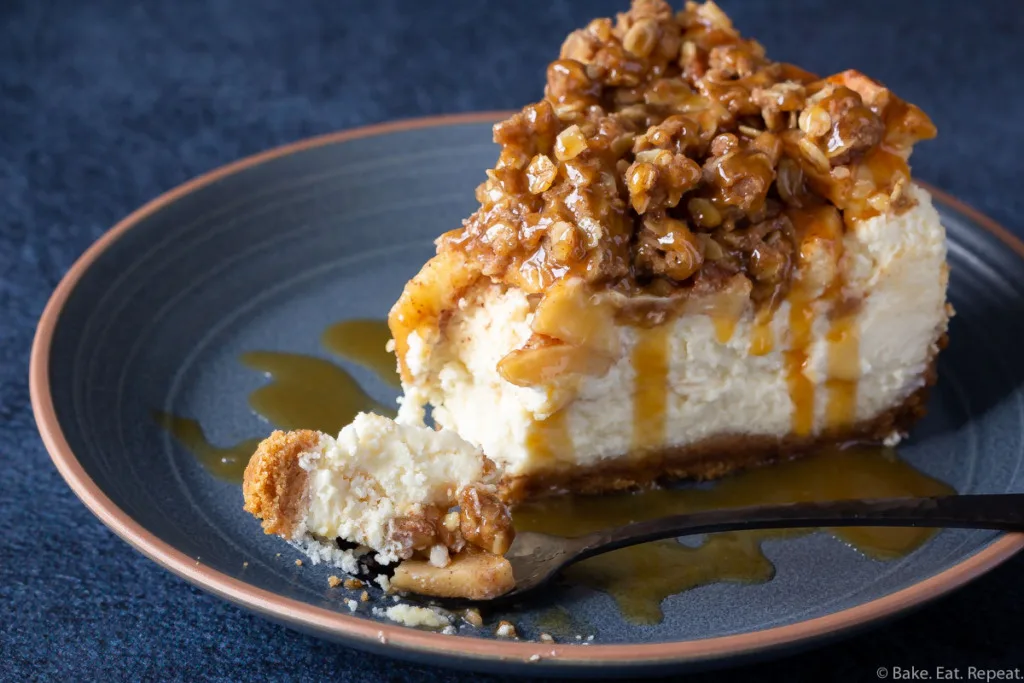 I don't make big desserts very often. Mostly because there's only five of us and a dessert like this cheesecake is a lot more than five servings.
But when I do want to make dessert, I want it to be this apple crisp cheesecake.
This is the best cheesecake I have ever had in my life.
It's amazing. If you love apple desserts and/or cheesecake, you need to make this ASAP.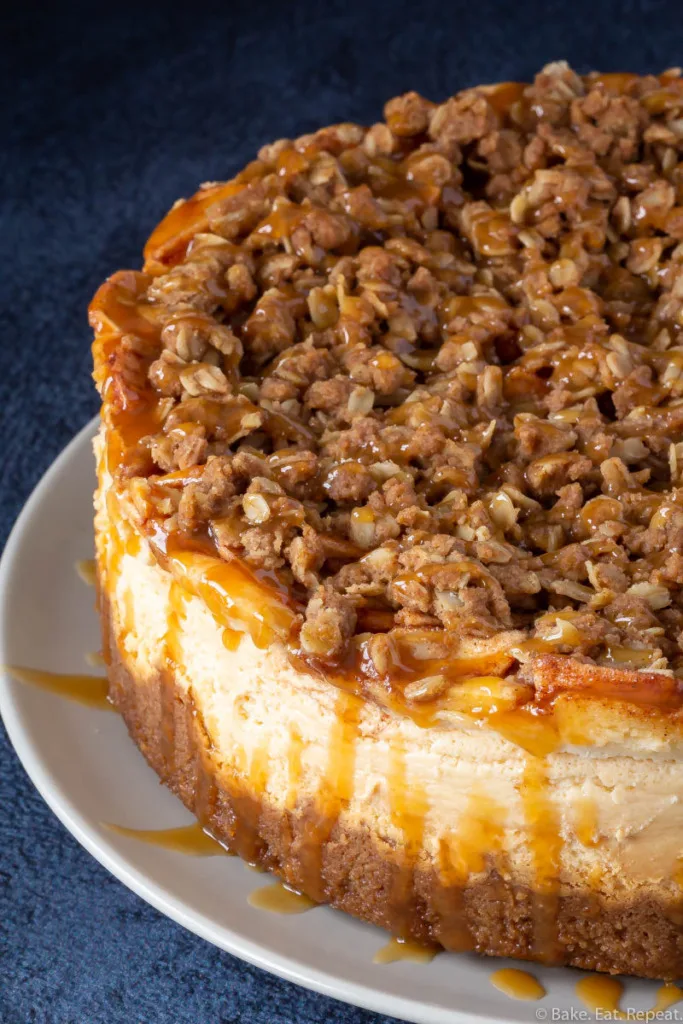 The ultra creamy cheesecake on a graham cracker crust is topped with cinnamon apples, a crumble topping, and then drizzled with caramel sauce.
And the best part is, it's very easy to make. There are four layers, so there's a few steps, but they're all really easy!
Homemade apple crisp cheesecake is definitely worth making. It's amazing!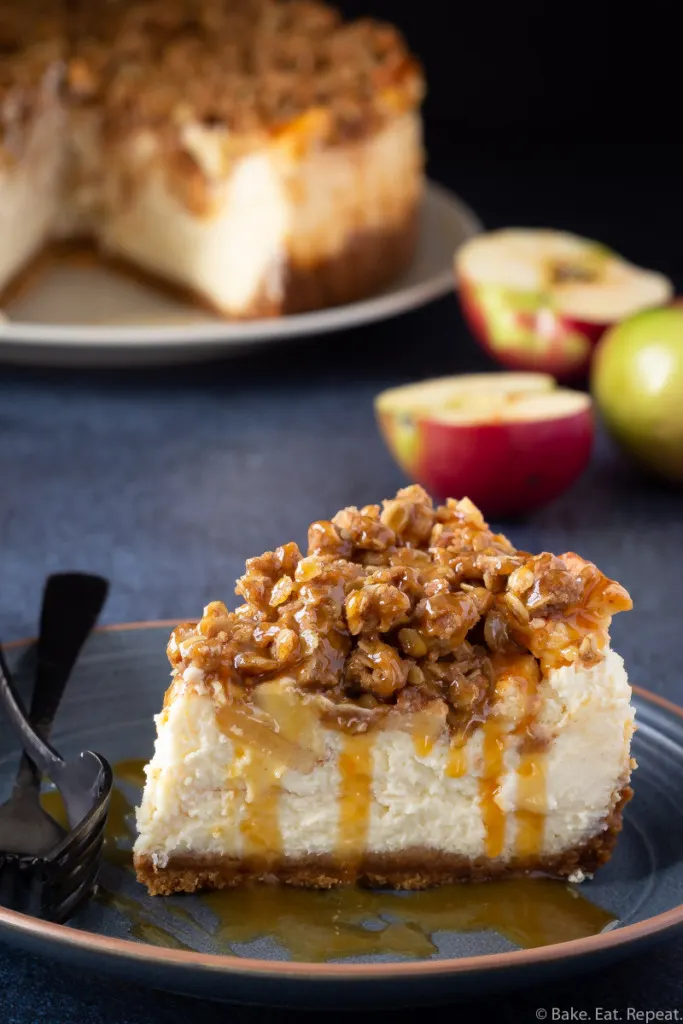 What is the best type of apple to use for apple crisp?
The best apples for baked apple desserts are those that hold their shape well when cooked. Apples like Jonagold, Fuji, Granny Smith, Macintosh, Gala, or Honeycrisp are all good choices.
A combination of several different kinds of apples is the best way to go. However, I will admit that I don't always bother with this – I use what I have, which is usually Gala.
Personally I like a combination of Gala and Granny Smith in my apple desserts, but use your preference!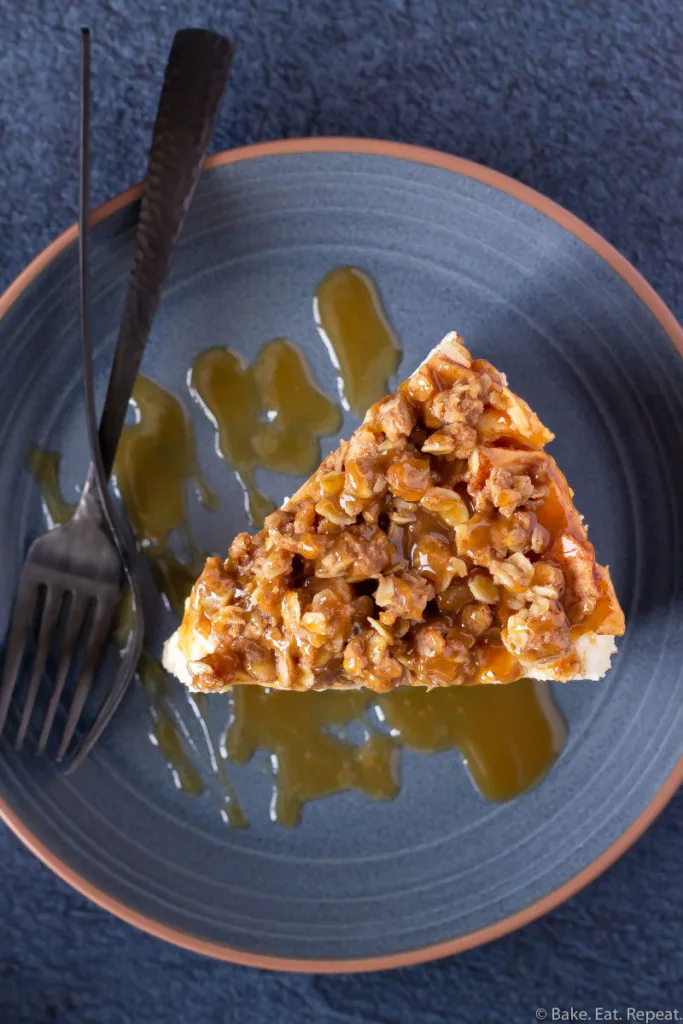 How can you tell if a baked cheesecake is done?
A baked cheesecake is done when the outer couple inches of the cake are set, but the middle is still jiggly.
The most reliable way to tell if a cheesecake is done is by checking the temperature with an instant read thermometer (I have this one and love it!). The internal temperature in the middle of the cheesecake should be 150F when it's done.
Once your cheesecake is 150F in the centre, turn the oven off, prop the door open with a potholder or the handle of a wooden spoon, and let it sit in the warm oven for an hour before taking it out to cool completely.
If you over bake your cheesecake, it will start to dry out and that's when they tend to crack as they cool. This cheesecake is so creamy that it will still be delicious if it's a bit overdone, but you can avoid that by checking the temperature and knowing whether it's finished baking or not.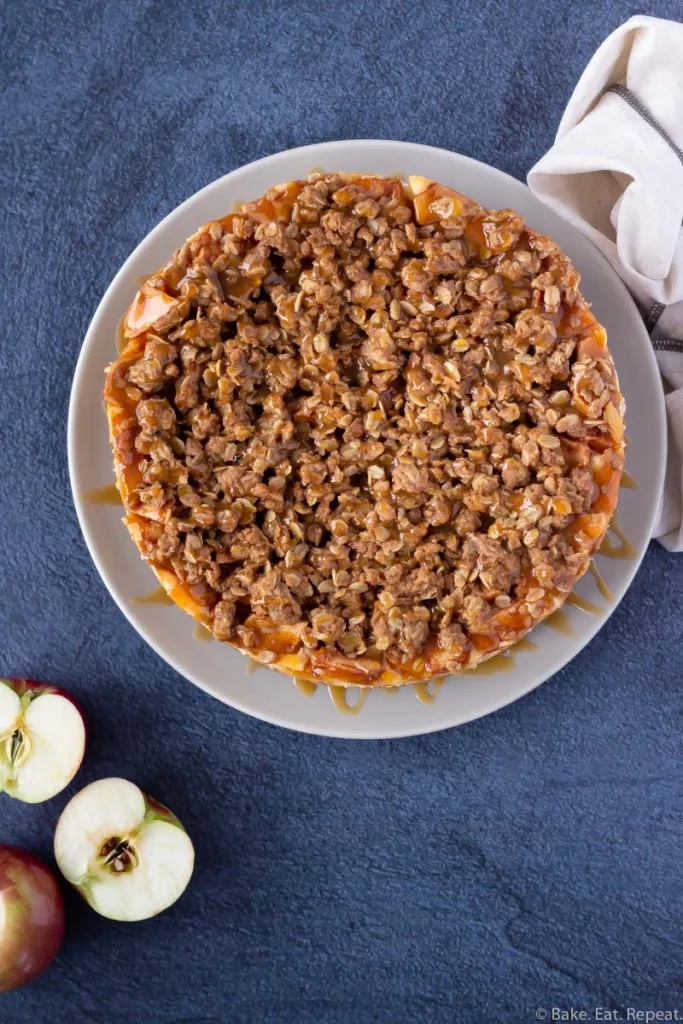 Can you over-beat a cheesecake?
If your cream cheese is softened to room temperature before you start to make your cheesecake batter, it's pretty hard to over beat the mixture.
However, if you try to beat cold cream cheese, you will likely over mix your batter by the time you manage to get it smooth. Over mixing cheesecake batter will result in too much air being incorporated into the batter.
When this happens, the cheesecake will rise in the oven and then fall as it cools, which results in a sunken centre and/or cracks to form in the cheesecake.
So start with room temperature cream cheese for perfect cheesecake!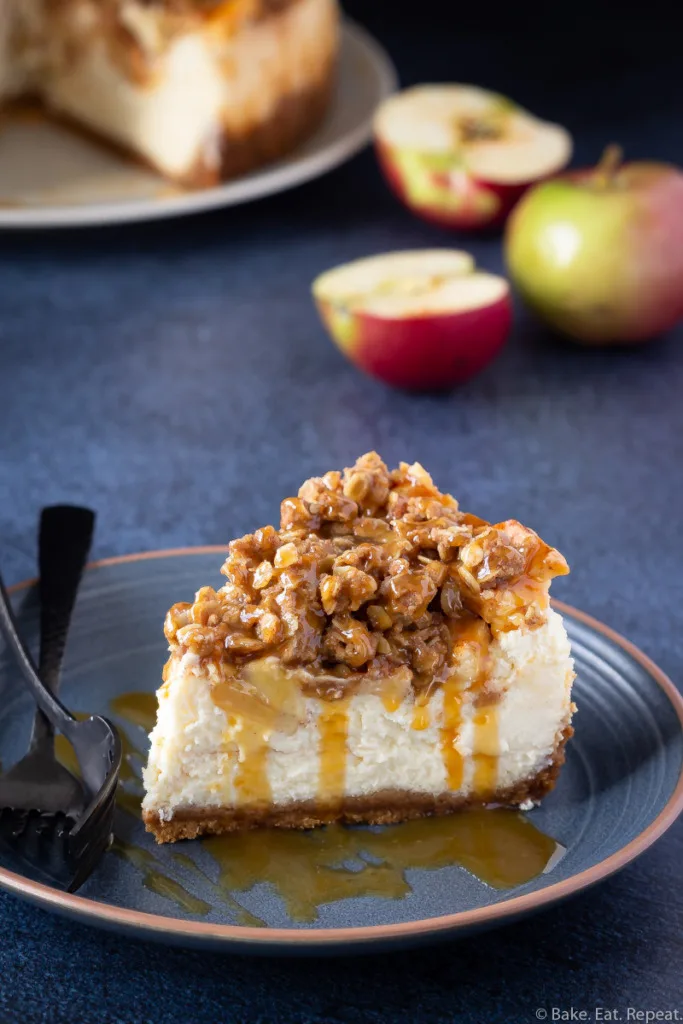 How to make Apple Crisp Cheesecake:
Make sure your cream cheese is softened to room temperature before making the batter so it mixes easily.
It's best to use an electric mixer for the cheesecake batter, so you can get it nice and smooth, but you don't need a stand mixer or anything, just a simple electric hand mixer will work fine here. In fact, a stand mixer may over-beat your batter and result in a cheesecake that rises in the oven.
The springform pan will be quite full once the apples and crumble topping are on top of the cheesecake batter. Place the cheesecake on top of a baking sheet to make it easier to move in and out of the oven.
Use an instant read thermometer to check if your cheesecake is done baking or not – it should be 150F in the centre.
After taking the cheesecake out of the oven, run a thin knife around the edge of the pan so the cheesecake doesn't stick as it cools.
Here are some more great dessert recipes for you: