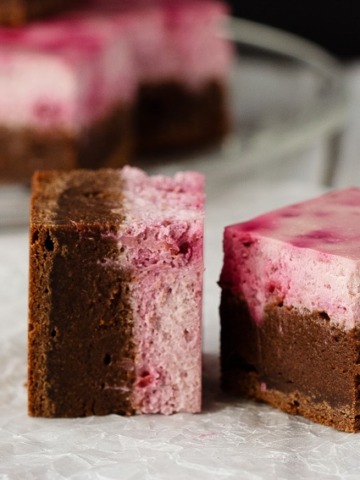 Easy to make raspberry cheesecake brownies that are perfect for Valentine's Day! Or for a special dessert. Or just because. These are amazing!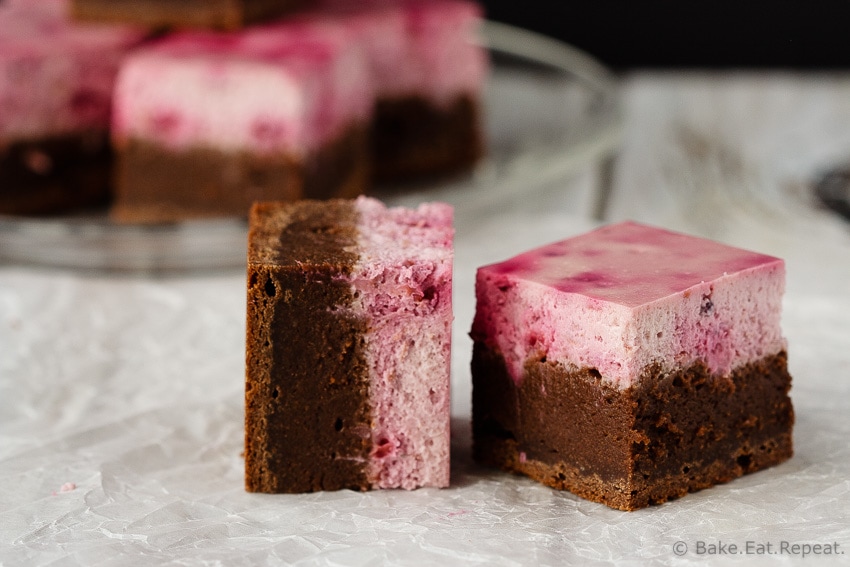 So January is almost over. That means I can share more treats here right? It totally does – so I made some raspberry cheesecake brownies.
Although, if I'm honest I'm still in healthy eating mode right now and had a hard time deciding on something decadent to make. That isn't usually a problem for me. But time is flying by and I can't even believe it's already the end of the month. January always goes fast for me though. My older sons birthday is right in the middle of the month, and that always kind of throws me. The holidays end and suddenly I need to plan a birthday party (which we usually end up doing at least a week after his birthday since it IS so quick after Christmas!) and then suddenly January is over. I don't know why having a birthday in the month makes it go fast but it sure seems to.
Or I'm just getting so old that I'm becoming one of those people that is constantly ranting about how fast time is passing. We'll just go with the first option.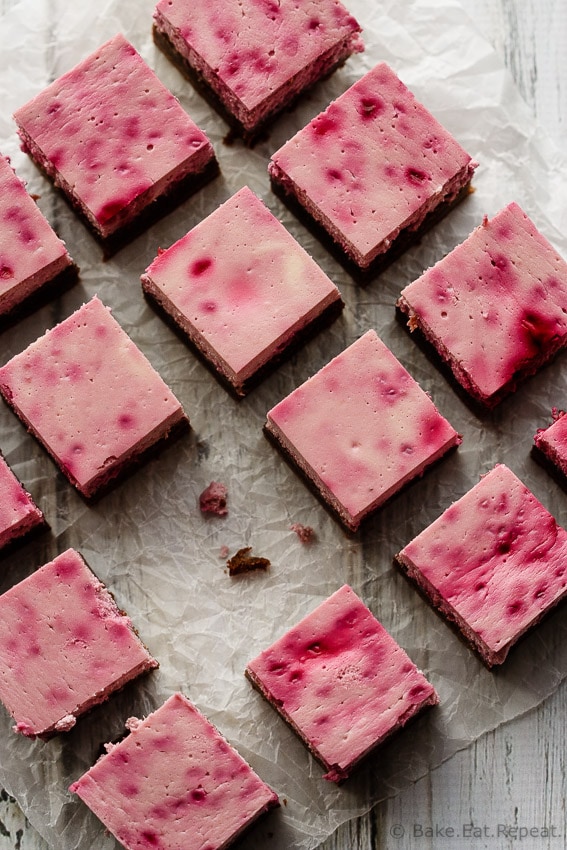 At any rate, I actually got my act together and came up with a Valentine's Day treat for you before the actual day. You know, for those people that actually plan things like that. Clearly I am not one of them. I've been blogging for a while now, and I'm still just posting what I'm making. No planning ahead for holidays and things. I'm more of the, "it's such and such a holiday tomorrow, maybe I should have made something earlier so I could post it" type of planner. In that I don't. Plan. Ever.
I'm working on that. Getting recipes up here for the correct time of year before it passes. I've actually accomplished it this time! Don't hold your breath on me keeping that up, but I'll try!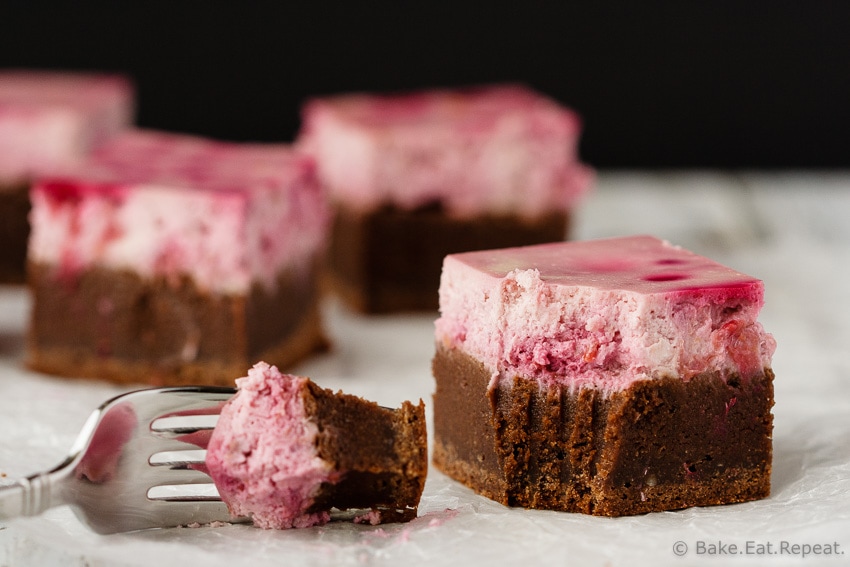 And these raspberry cheesecake brownies? They are perfect for a Valentine's Day treat. A fudgy, chocolatey brownie base topped with a creamy raspberry cheesecake layer. They're fantastic. You should definitely make them, even if you don't need anything for the day itself. Just make them anyways. January's almost over – a little chocolate is in order!
Looking for more Valentine's Day treats? Here's some of my favourites!
Triple Chocolate Strawberry Mousse Cake
Lemon Strawberry Cream Puff Cake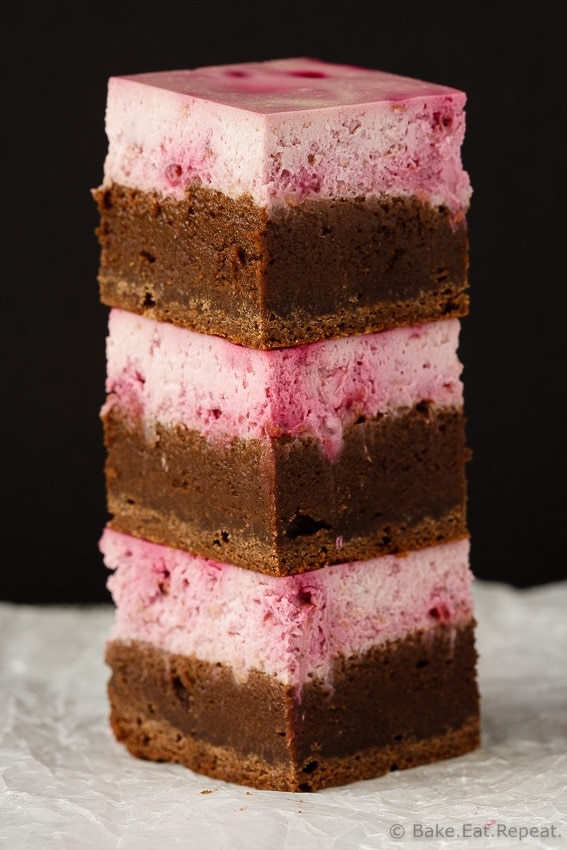 Yield: 16 brownies
Raspberry Cheesecake Brownies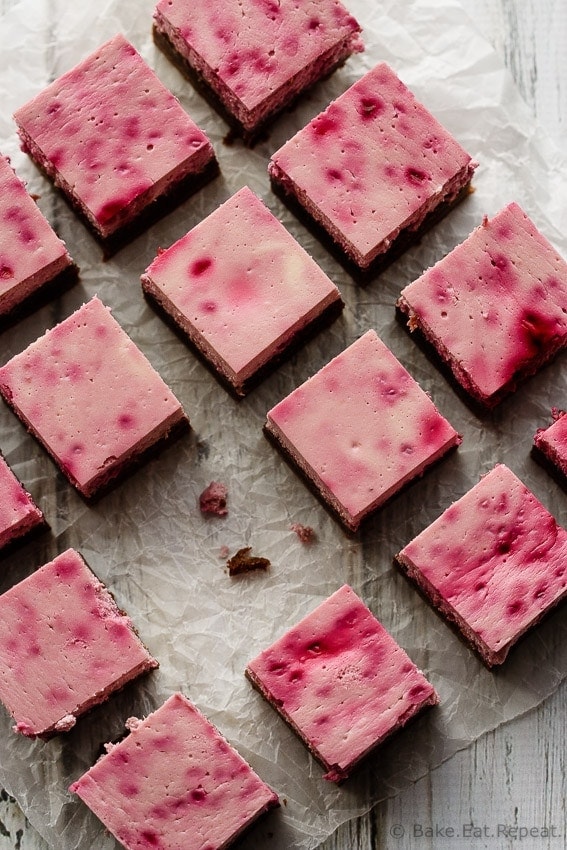 Easy to make raspberry cheesecake brownies that are perfect for Valentine's Day! Or for a special dessert. Or just because. These are amazing!
Total Time
3 hours
20 minutes
Ingredients
For the brownie layer:
1/2 cup unsalted butter, softened
1/2 cup granulated sugar
1/2 cup brown sugar, lightly packed
2 large eggs
1 teaspoon vanilla
1 cup all-purpose flour
1/4 cup unsweetened cocoa powder
1/4 teaspoon salt
For the raspberry cheesecake layer:
8 ounces cream cheese, softened
3/4 cup plain Greek yogurt
2 large eggs
1/4 cup granulated sugar
2 tablespoons all-purpose flour
2 teaspoons vanilla
1 cup raspberries, lightly mashed (I used thawed, frozen berries - it was 3/4 cup mashed)
Instructions
Preheat the oven to 350 degrees F.
Line an 8x8 inch baking pan (I use glass) with parchment paper and set aside.
In the bowl of a stand mixer, or with an electric mixer, cream together the butter, sugar and brown sugar until light and fluffy.
Add the eggs and vanilla and whip again until well combined.
Add the flour, cocoa powder and salt and mix until well combined.
Spread the brownie batter in the prepared pan, smoothing it out into an even layer.
Make the cheesecake layer. With an electric mixer, whip the cream cheese, Greek yogurt and eggs until smooth.
Add the sugar, flour and vanilla and mix again until smooth and well combined.
Fold in the crushed raspberries.
Spread the cheesecake mixture on top of the brownie batter.
Bake for 50-60 minutes until set, and the edges are starting to brown.
Place the pan on a wire rack to cool for about an hour and then chill for 2-3 hours before lifting the bars out and slicing into squares.
Recommended Products
This post contains affiliate links. As an Amazon Associate, I may receive a small commission from qualifying purchases.
Nutrition Information:
Yield:
16
Serving Size:
1 brownie
Amount Per Serving:
Calories:

230
Total Fat:

12g
Saturated Fat:

7g
Trans Fat:

0g
Unsaturated Fat:

4g
Cholesterol:

77mg
Sodium:

102mg
Carbohydrates:

26g
Fiber:

1g
Sugar:

17g
Protein:

5g
Nutrition Information is estimated based on ingredients used and may not be exact.