This Instant Pot ham is so easy to make – 4 ingredients and a pressure cooker is all you need for a fanstastic ham that everyone will love!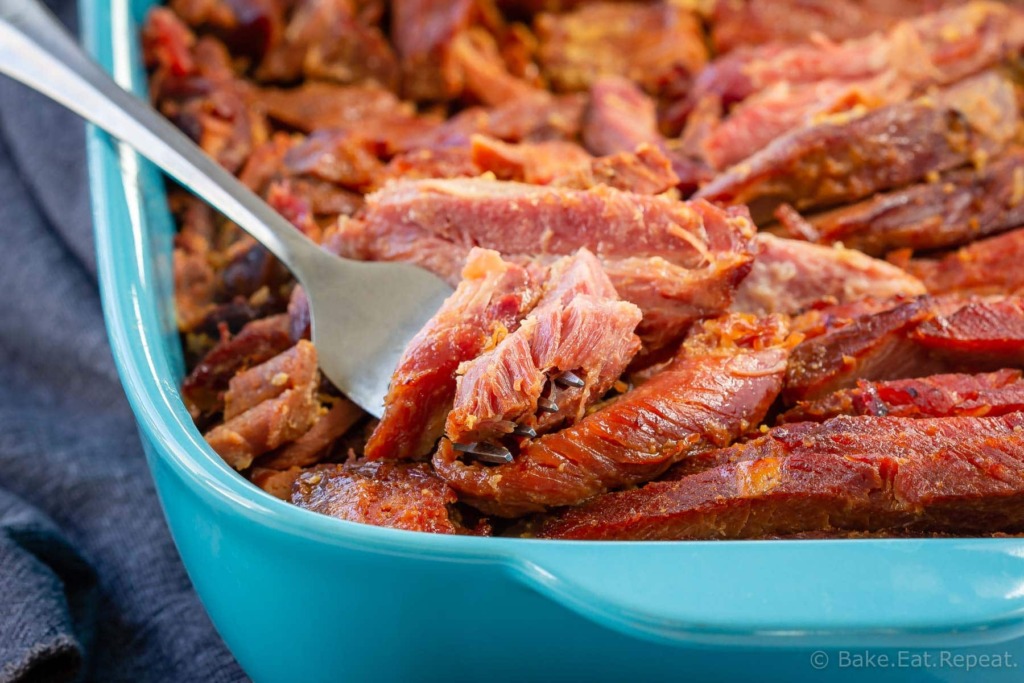 My kids are huge ham fans. One of their favourite meals for sure.
That's probably not unusual. I think that most kids like ham. Maybe not quite as much as mine do.
I made this twice in one week to get the recipe right, and there were audible cheers from the kiddos when they found out I was making a second ham.
And the first one wasn't even all gone yet.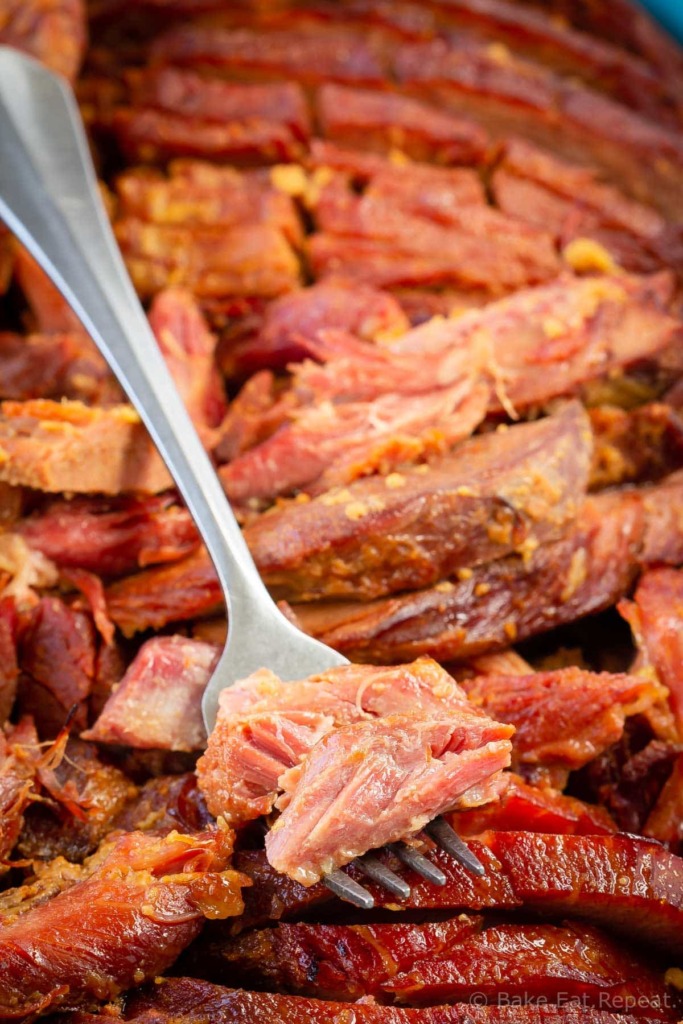 Half hams are big. That's a lot of ham to eat, but they were perfectly okay with that.
My husband and I don't love it as much as the kids, but it's still a meal that makes everyone here pretty happy. Especially me – easy as can be to make, and leftovers for days.
That's pretty much the perfect meal.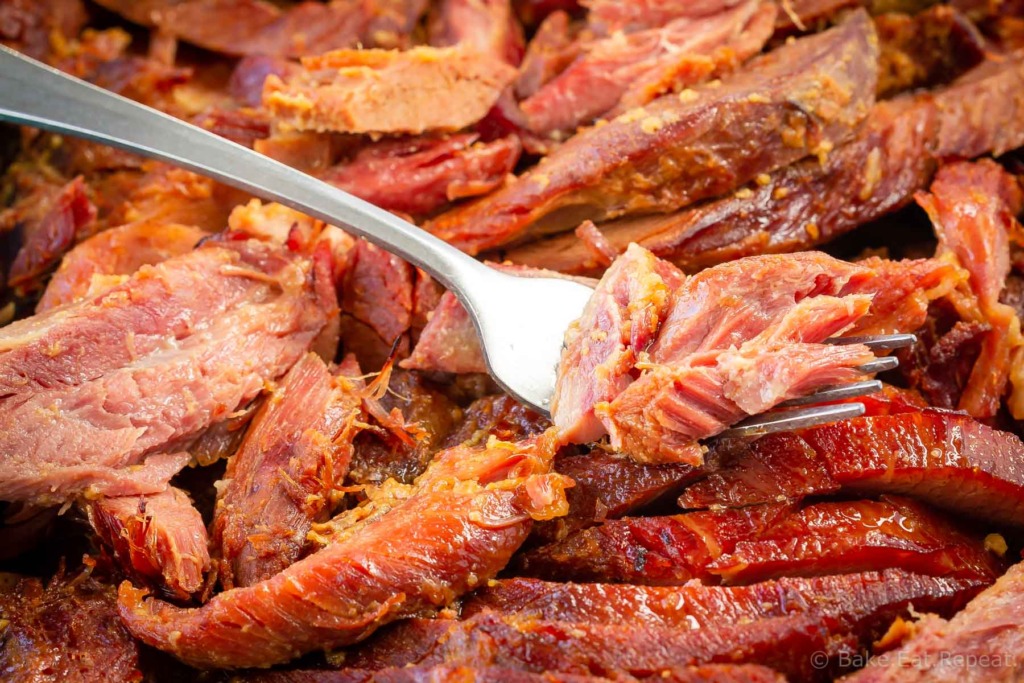 Is bone in ham better than boneless?
Boneless hams are easier to slice, but I have found that they don't have as much flavour as bone in hams, and the texture is sometimes a bit mushy.  So I nearly always buy a bone in ham.
You do need to cut the ham up a bit for this recipe though to fit it in the Instant Pot. So if you prefer to toss a whole ham into the Instant Pot instead of cutting it up, that's definitely an option. If you're doing this, go with 8 minutes per pound for the cooking time, as boneless hams come in a variety of sizes.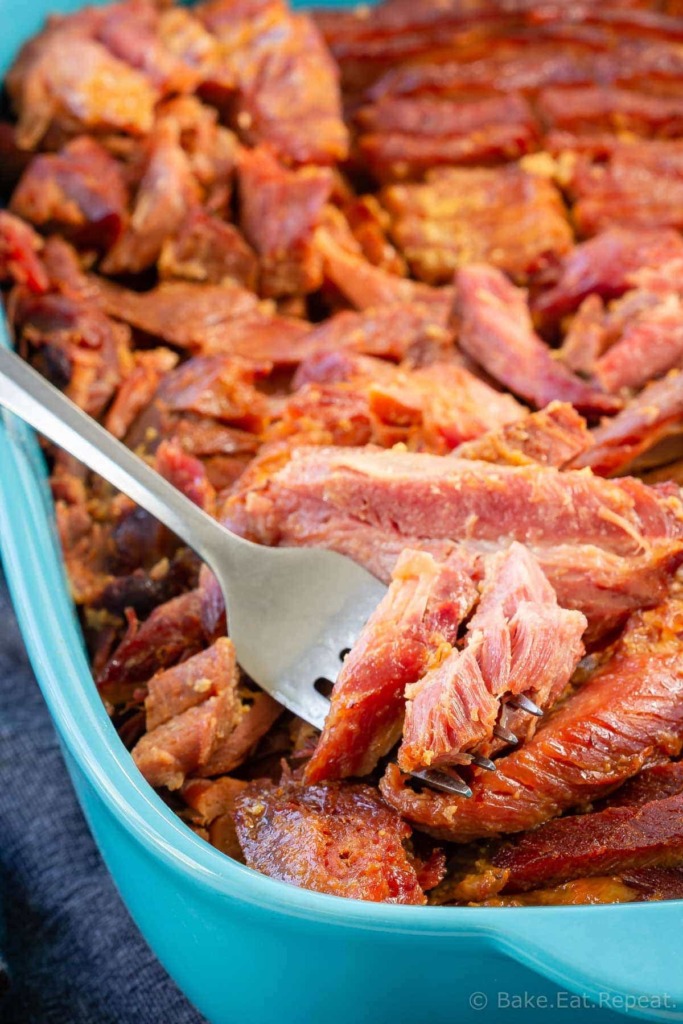 What's the best cut of ham?
I like to get a half ham, labelled either shank portion or butt portion, with the bone in. They are usually quite large but do freeze very well. So if you only want to cook half of it and freeze the other half that's an option. Or cook it and then freeze it for later.
The only kind of ham I wouldn't recommend for this recipe is a spiral cut ham. It would cook a little weird in the Instant Pot and go rather dry I think. That being said, I haven't tried it myself as I always find the spiral cut hams dry.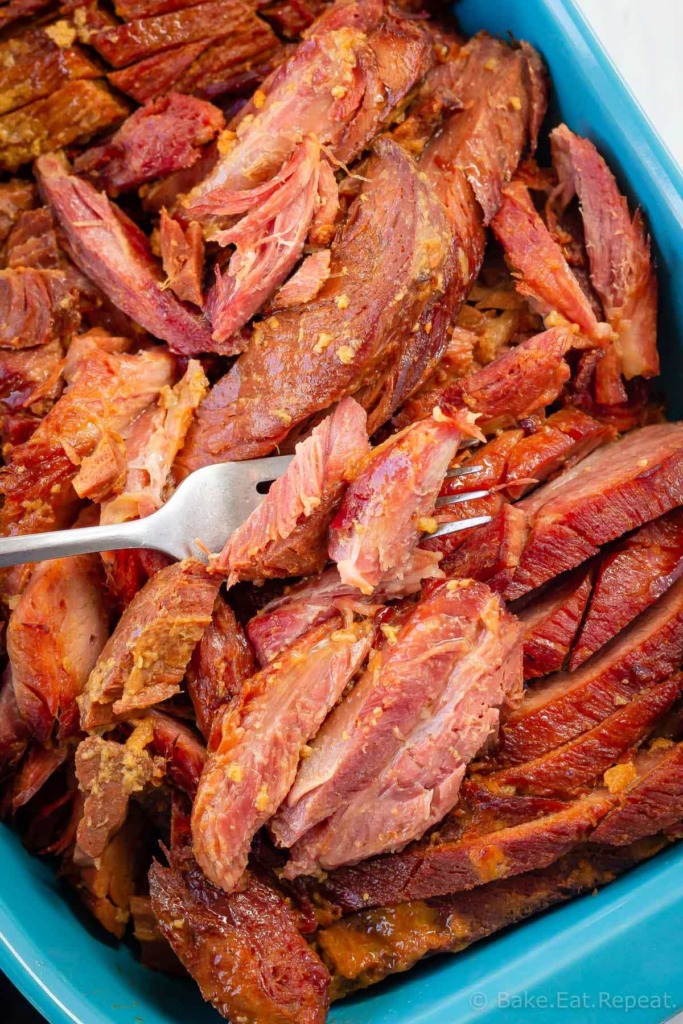 How many people will my ham feed?
A good estimate for how many people your ham will feed is 3/4 pound per person for a bone in ham and 1/2 pound per person for a boneless ham.
The ham I cooked this time was 8 pounds with the bone in. So theoretically that should serve about 12 adults. I think it actually serves more then that as we have leftovers for days when I make a ham even though my kids eat a ton of it, but it obviously depends on how much everyone present eats!
For my family of five this ham was enough for two dinners. We also fried some up with eggs for breakfast a couple times. Plus sandwiches at lunch for a few days. So it lasted just over a week in my house. Ham lasts for quite a while, so it's not a bad thing to have leftovers of!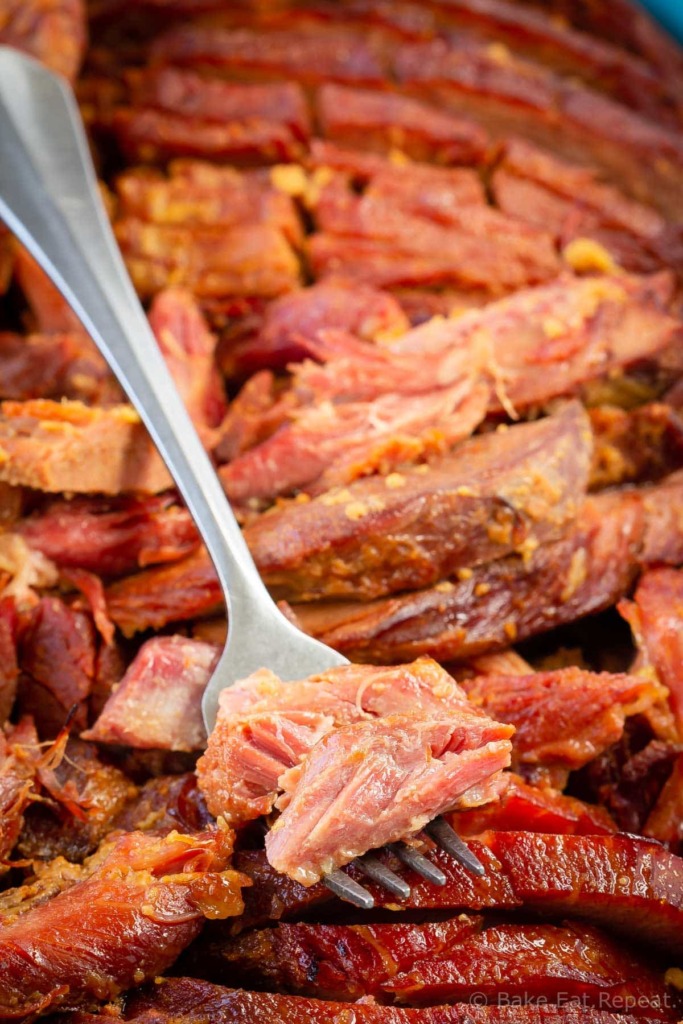 How to make Instant Pot Ham:
This Instant Pot ham is so easy to prep. Simply cut it into a few chunks so it will fit in your Instant Pot, pour a brown sugar, mustard, and orange juice mixture over top, and cook on high pressure. One of the easiest meals to make, and all you need is a few side dishes to go with it.
The edges of the ham pieces so get quite dark with this recipe, especially where the ham is resting on the bottom of the pot, between the heat and the sugar in the sauce. It will still taste fine, but I prefer not to trim the fat and the rind before cooking, and try to have those sides of the ham pieces sitting on the bottom of the pot so you can just trim the dark edges off. If it's the side with the rind, you would usually trim it off anyways so you're not losing anything if you wait to trim it until after it's cooked.
I've made this recipe with both Dijon mustard, and prepared yellow mustard, and I preferred the Dijon, but both were good so use whichever you have on hand.
I have an 8 quart Duo Instant Pot, and could fit the entire ham with the bone in it after cutting it up a bit. If you have a smaller Instant Pot you likely won't be able to fit it all. Leave the bone out if it won't fit, it will still be delicious.

Here are some great recipes for you that you can use the leftovers in:

And here are a few great side dishes to serve with this Instant Pot ham: