This easy cranberry sauce takes just ten minutes and three ingredients to make. Homemade is always better – and this recipe is almost as easy as too!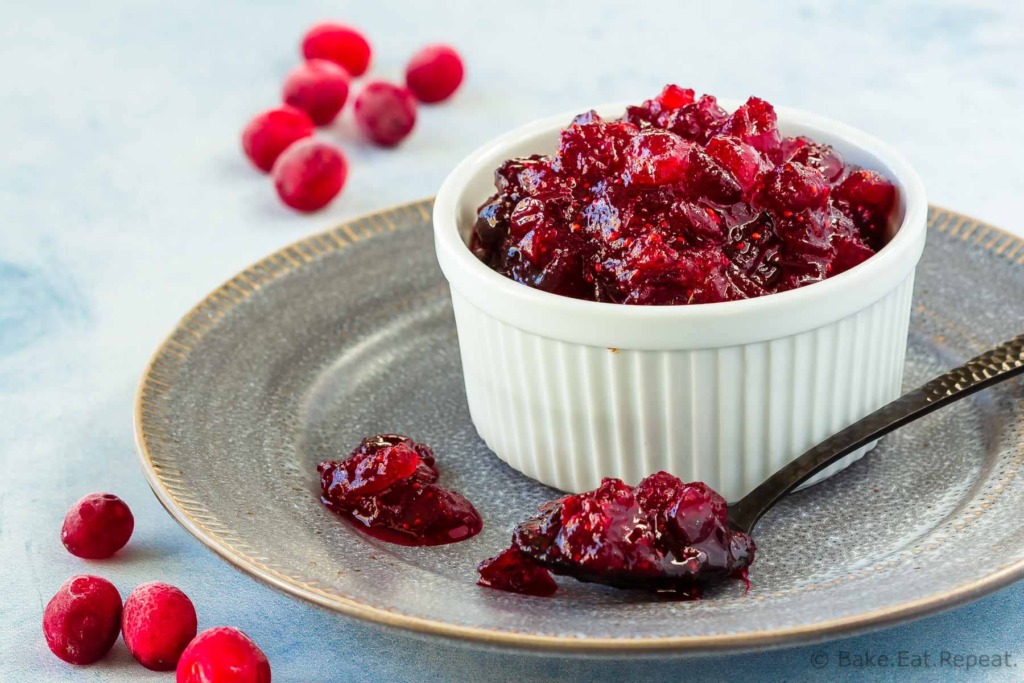 Do you like homemade cranberry sauce, or the kind in a can for your big turkey dinner?
I'll be honest, I've always just bought a can and called it a day. Which is a little weird for me when I'm always going on and on about homemade being better.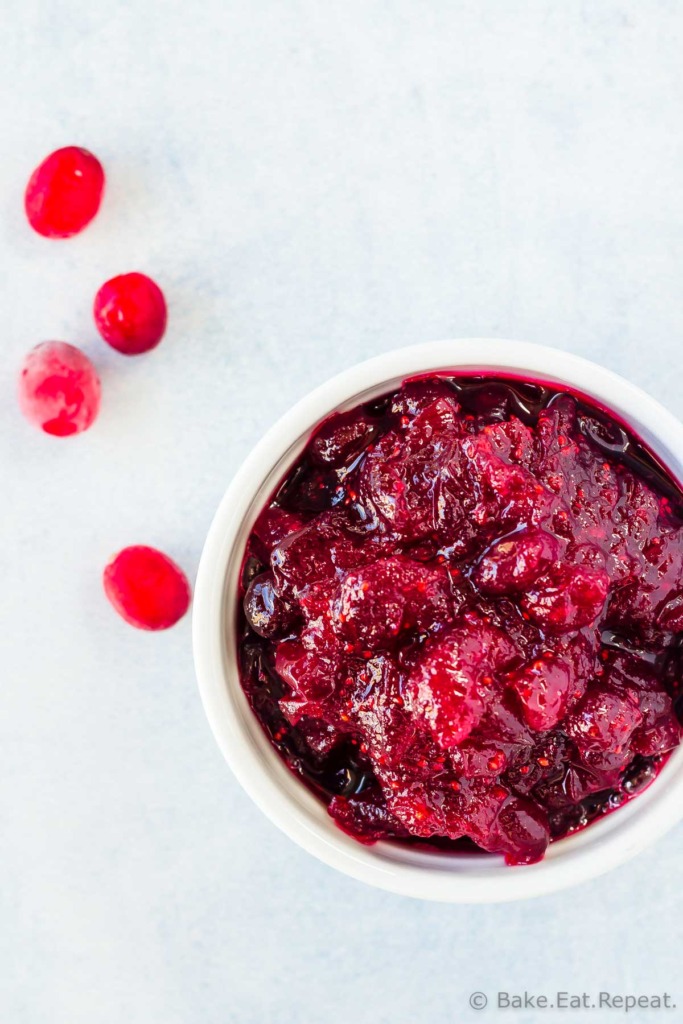 But I don't personally like cranberry sauce with my turkey so I haven't bothered with making it. And then I realized that's silly since everyone else in the family loves cranberry sauce!
So I finally made homemade cranberry sauce. And I'm told it's amazing. Well, at least this version is – my first attempt was so tart that it was a good thing I had a can ready as back-up!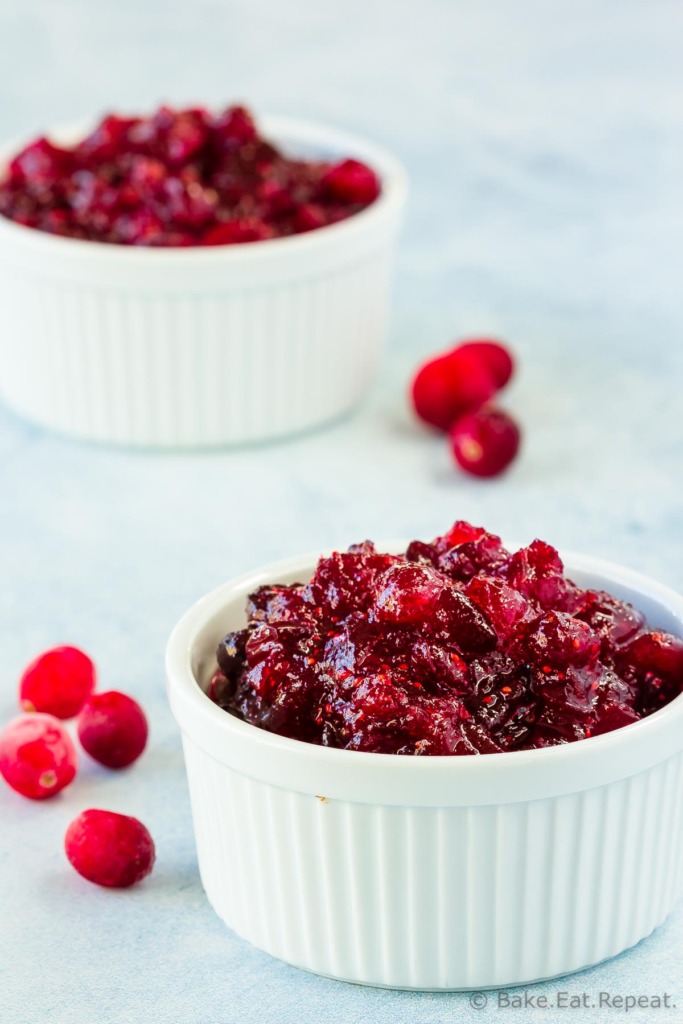 In fact, I even tried a bit of this cranberry sauce so I'd know what it tasted like before writing about it, and it actually is pretty good. I think I'll even have some with my turkey this year.
Which is not something that I ever thought I'd say.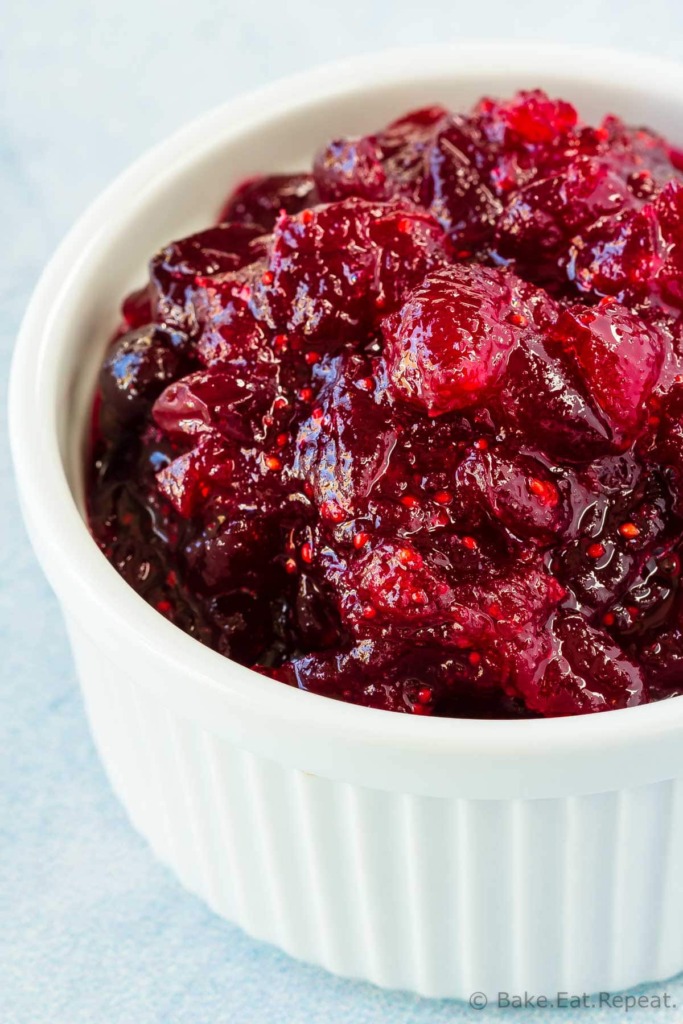 Can homemade cranberry sauce be frozen?
Yes you can freeze homemade cranberry sauce. It freezes very well.
Let it cool after making it, then freeze it in 2-3 half pint mason jars, or another airtight container, leaving a bit of headspace in the jar so the lid doesn't pop off with the expansion in the freezer. I like these plastic lids to use in the freezer with my mason jars, but the regular two piece lids will work just fine too.
You can freeze the cranberry sauce for up to 3 months. Defrost it in the refrigerator overnight.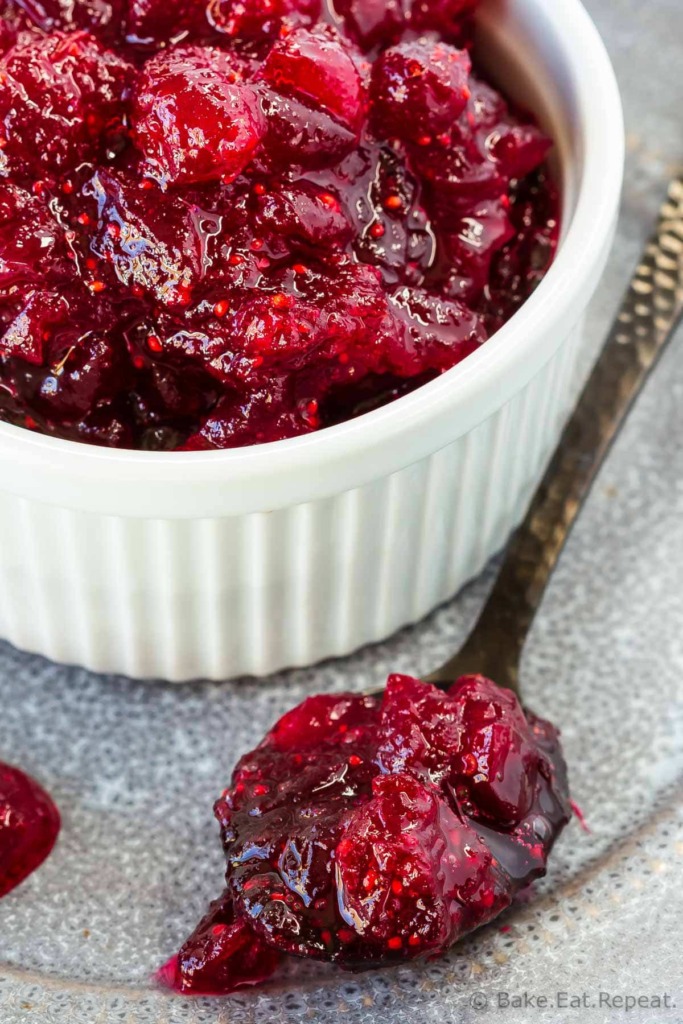 How long will homemade cranberry sauce keep in the refrigerator?
Homemade cranberry sauce will keep in the refrigerator for 10-14 days. Refrigerate it in a sealed container, or a couple of mason jars after making it. It will continue to thicken as it cools, and will keep well for up to two weeks.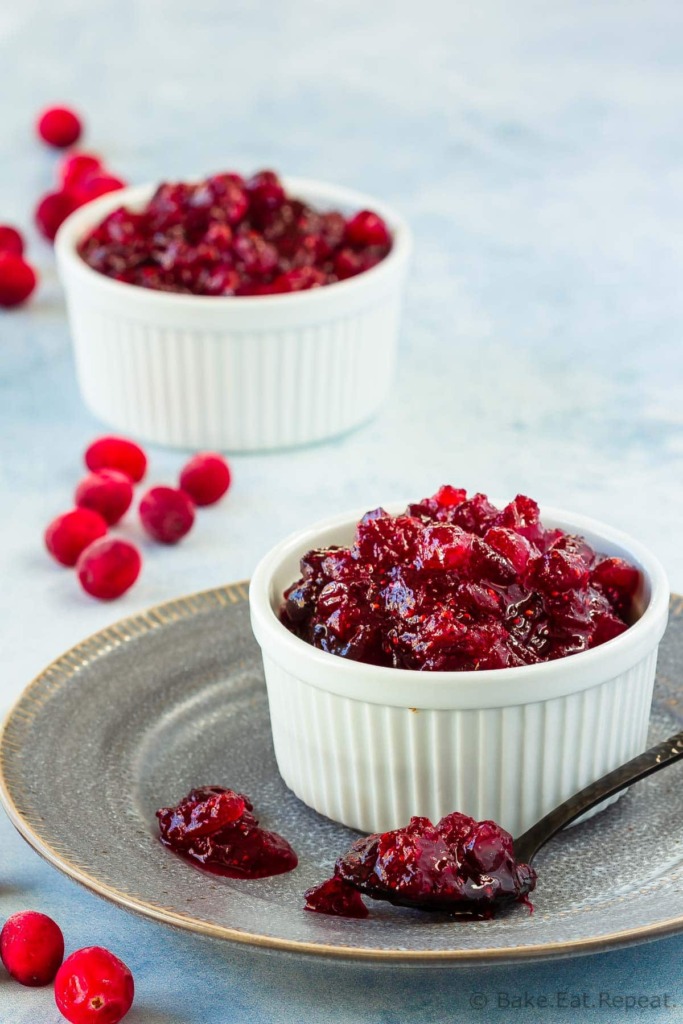 How do you make cranberry sauce less tart?
After you've cooked the cranberry sauce enough for the berries to burst, taste it to see if it is sweet enough for you. If it's still too tart, add more sugar, a tablespoon or two at a time, and cook it for another minute to dissolve the sugar. Repeat this until it's sweet enough for you.
The ratio of cranberries to sugar in this recipe is perfect for my family, but you may prefer it either more or less sweet, so taste it before letting it cool and add more sugar if you like.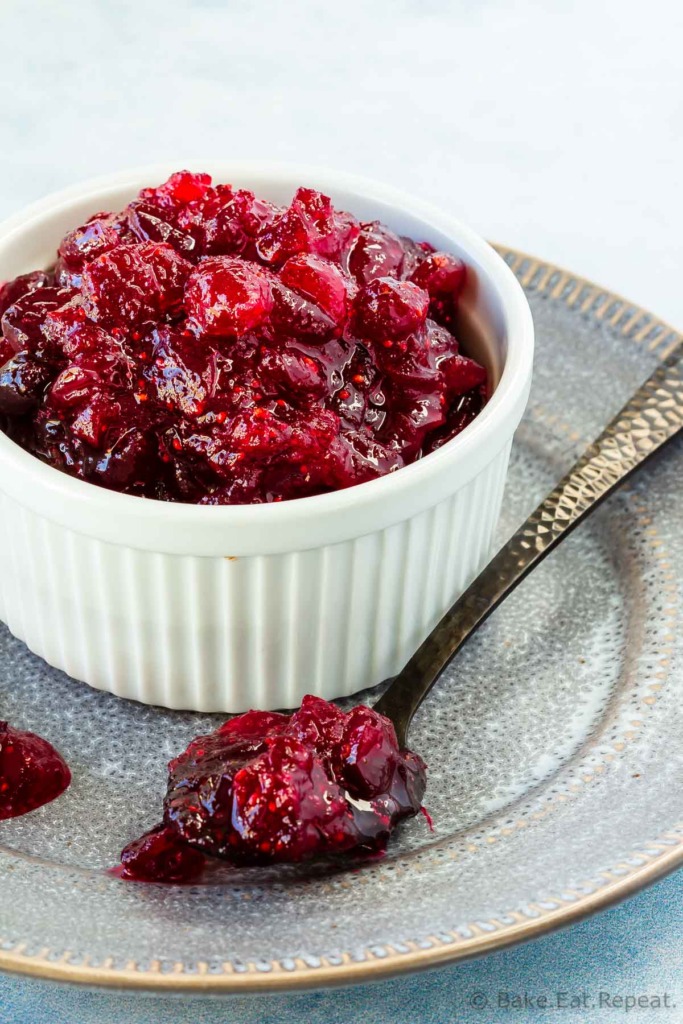 How to make this Easy Cranberry Sauce:
If you have a bowl and a microwave, you can make this homemade cranberry sauce. It's so easy that you won't ever want to buy the canned kind again.
I use orange zest in this recipe as we like the cranberry orange combination. If you prefer you could replace that with lemon zest instead. I love this microplane grater for zesting the orange.
You will want to cover the sauce as it's cooking in the microwave to avoid splattering while it's cooking, but don't cover it tightly with a lid as you want the steam to be able to escape.
Here are some more great cranberry recipes for you:
Yield: 2 1/2 cups
Easy Cranberry Sauce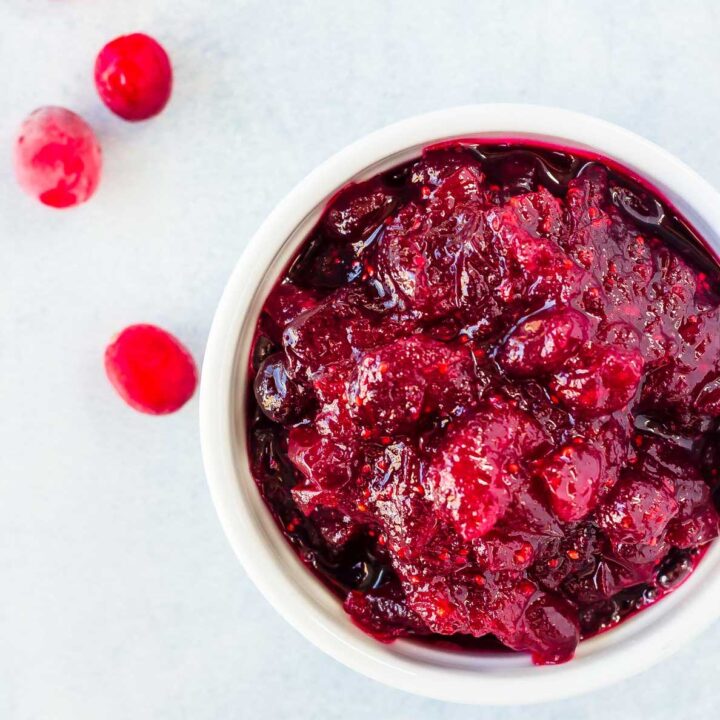 This easy cranberry sauce takes just ten minutes and three ingredients to make. Homemade is always better - and this recipe is almost as easy as too!
Ingredients
4 cups fresh or frozen cranberries
1 1/2 cups granulated sugar
2 tablespoons orange zest (from 1-2 medium oranges)
Instructions
In a large bowl, stir together the cranberries, sugar, and orange zest.
Cover the bowl loosely (just to avoid splattering, don't seal a lid on tightly) and microwave on high for 5 minutes, then give the sauce a quick stir.
Microwave on high for another 3-6 minutes, or until the cranberries burst.
Give the sauce another stir. If some of the berries are still whole, microwave for a couple more minutes until they all burst. The sauce will thicken as it cools.
Refrigerate in an airtight container, or mason jars, until you're ready to use it. It can also be frozen for up to 3 months.
Notes
The amount of cooking time really depends on your microwave, as all microwaves are different. It will also take a little longer if your berries are frozen instead of fresh. In my microwave this sauce takes 8-10 minutes, depending if the berries are fresh or frozen, but mine isn't that powerful so it may be done more quickly in yours, so keep an eye on it.
Source: Adapted from Christmas.
Recommended Products
This post contains affiliate links. As an Amazon Associate, I may receive a small commission from qualifying purchases.
Nutrition Information:
Yield:
serves 20
Serving Size:
2 tablespoons
Amount Per Serving:
Calories:

63
Total Fat:

0g
Saturated Fat:

0g
Trans Fat:

0g
Unsaturated Fat:

0g
Cholesterol:

0mg
Sodium:

0mg
Carbohydrates:

16.2g
Fiber:

0.5g
Sugar:

15.4g
Protein:

0g