These black bottom cupcakes are amazing – moist chocolate cupcakes with a creamy chocolate chip cheesecake filling! They're a family favourite here!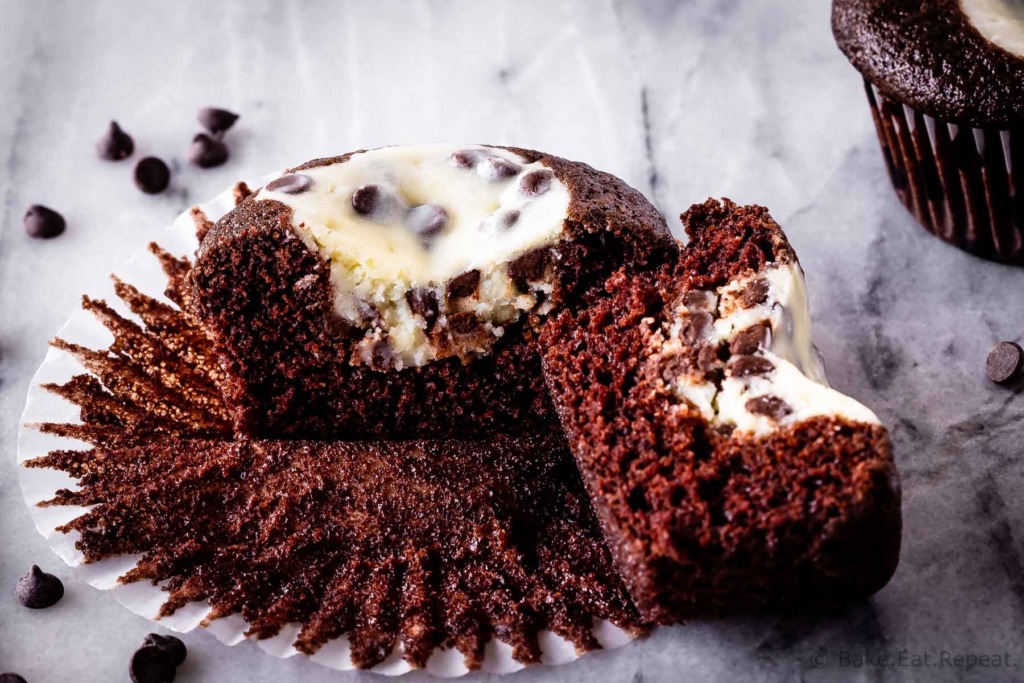 Have you ever had black bottom cupcakes? I think most people have. It's nothing new.
There's a bajillion recipes floating around for these cupcakes.
I first tried black bottom cupcakes when I was about 14. It was quite possibly the first cupcake I ever had where I genuinely loved it.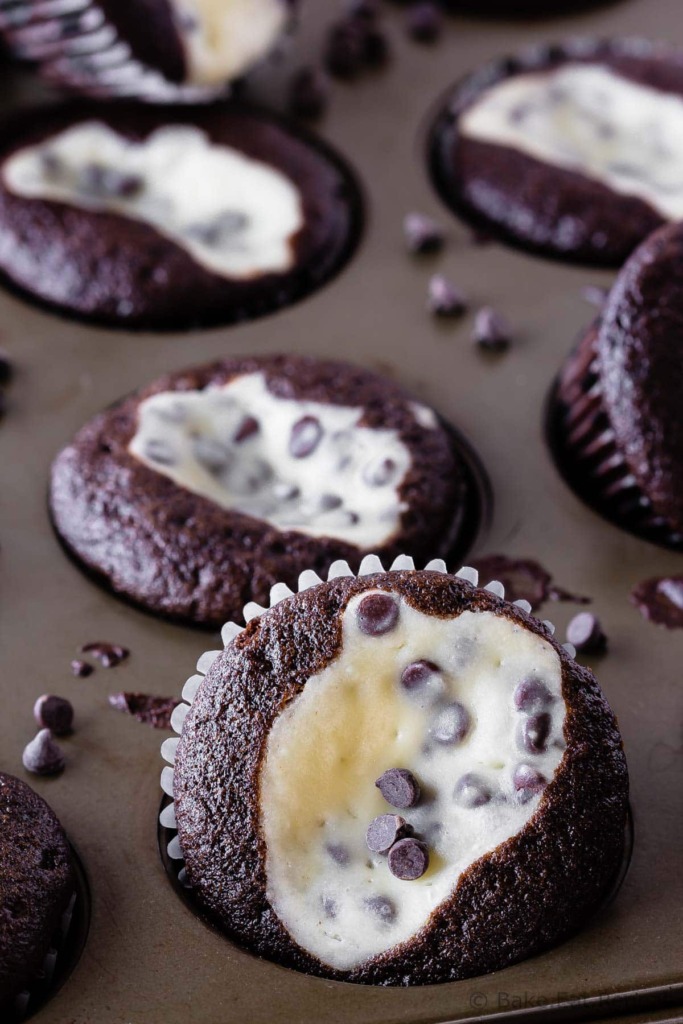 Cupcakes typically aren't my thing. They're just too sweet.
I like these chocolate covered strawberry cupcakes well enough – but they have whipped cream instead of buttercream frosting and I think that makes the difference. Not nearly as sweet, so I enjoy them.
But black bottom cupcakes fix that little problem because they don't need frosting.
So I really like them.
Ever since that first taste, I've always loved these chocolate cupcakes with a creamy cheesecake filling.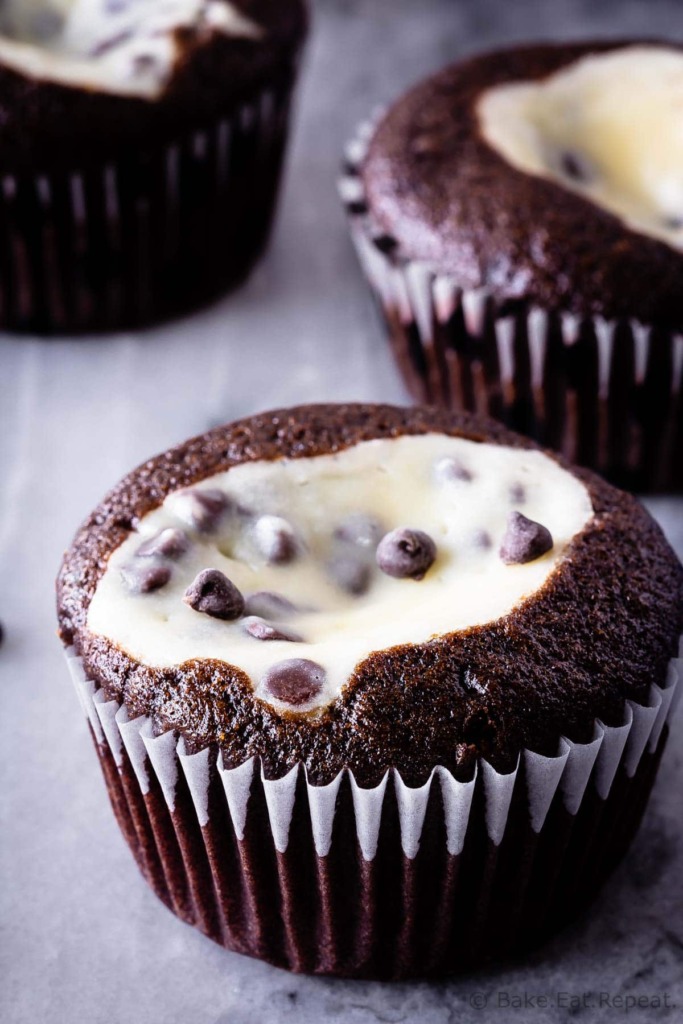 Most recipes for black bottom cupcakes call for less cupcake batter than my recipe does.
After making approximately 92 batches of these cupcakes though, I've decided that I like a little more chocolate and a little less cheesecake in each cupcake.
I always find with the traditional recipe for black bottom cupcakes that you either have cheesecake completely covering the cupcake instead of just in the middle of it, or you just don't use it all because there's simply too much of it.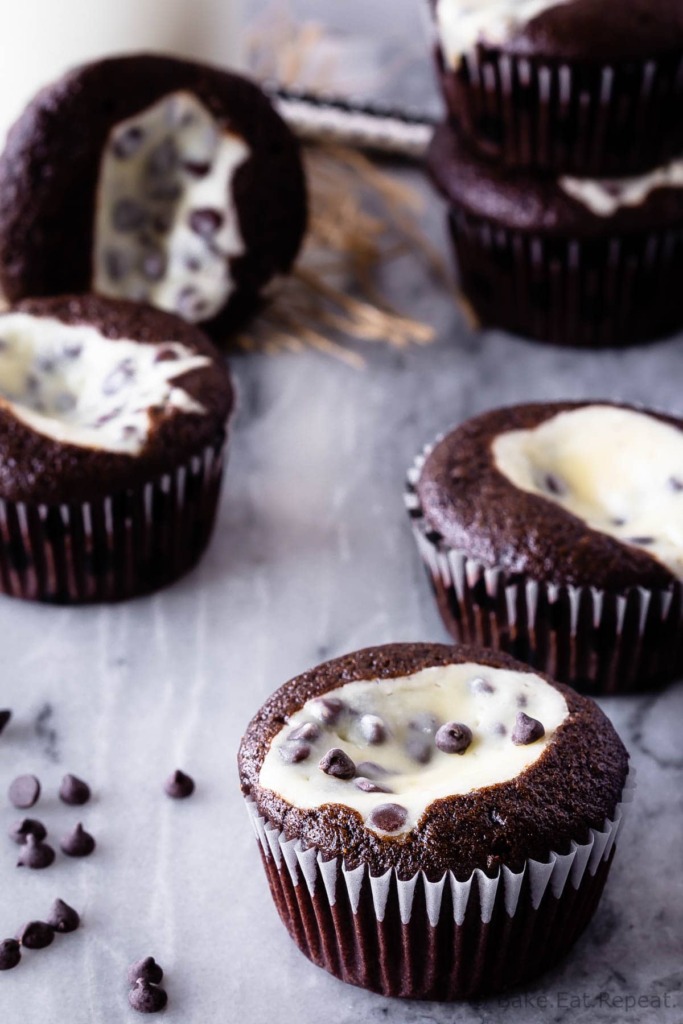 So I've increased the amount of cupcake batter so the proportions work out a little better.
Because of that, it may be a bit different than black bottom cupcakes you've had in the past.
Or, if you've never had one, you should probably make these ASAP. Because they are the best cupcakes.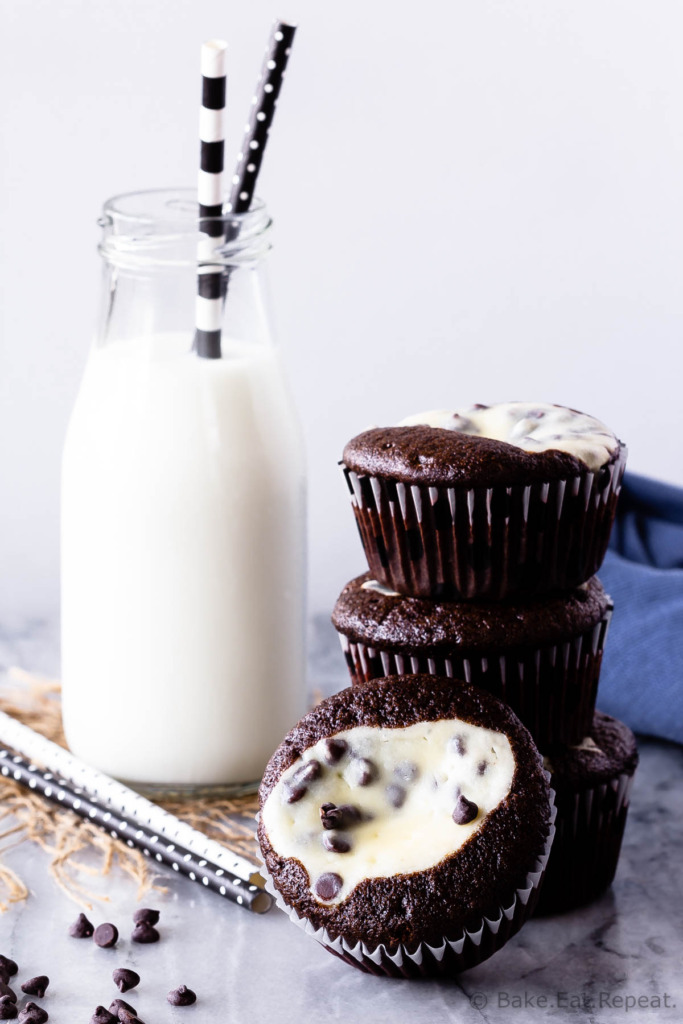 Do chocolate cream cheese cupcakes need to be refrigerated?
Because of the cream cheese filling in these black bottom cupcakes, you will want to refrigerate them.
They'll be okay at room temperature for a few hours, but I would recommend storing them in an airtight container in the refrigerator after they've cooled completely.
Put wax paper between layers of the cupcakes so they don't stick together.
We actually find that we prefer the taste of these cupcakes when they're cold anyways so it's not a problem to store them in the fridge.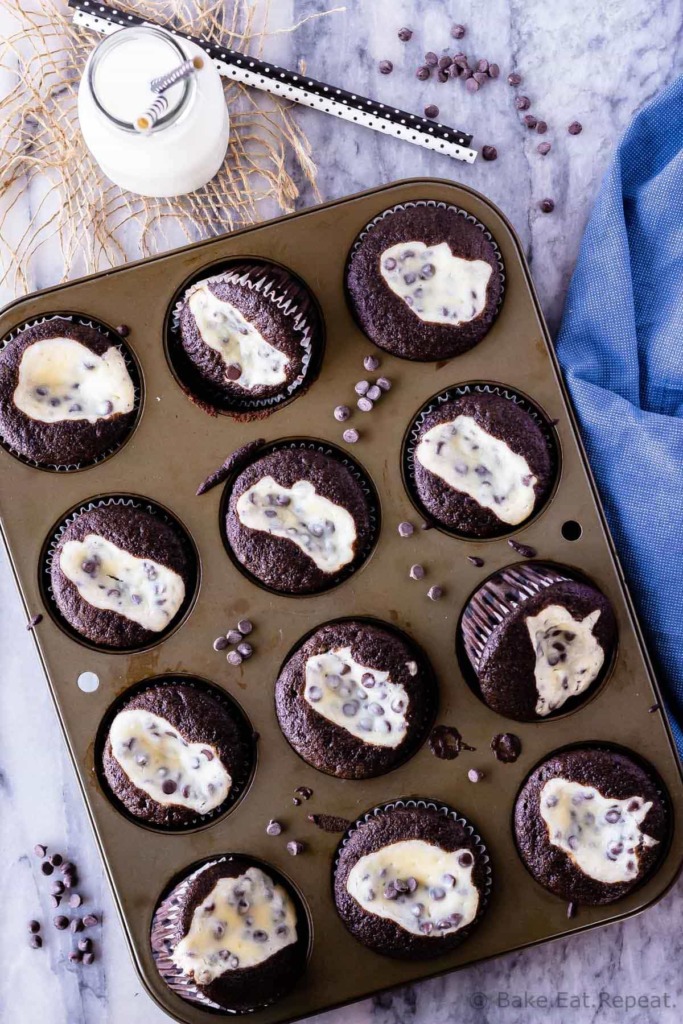 How do you cool cupcakes?
Let the cupcakes cool in the muffin tin for 15 minutes, then gently remove them from the pan and place them on a wire rack to cool completely.
You can also just place the muffin tin on a wire rack and let the cupcakes cool completely in the tin before removing them.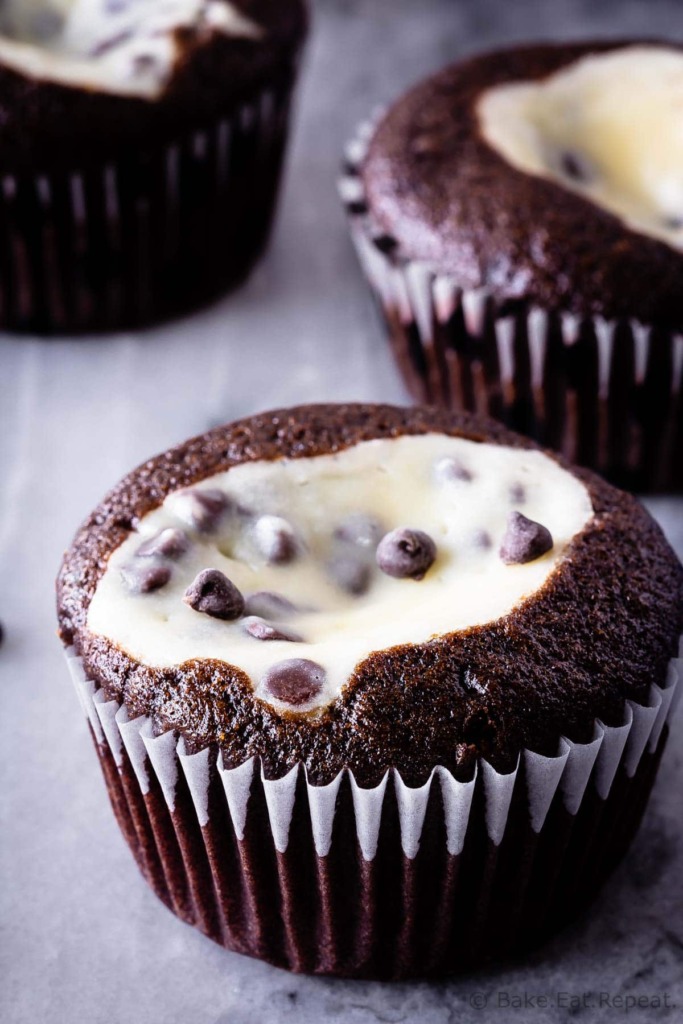 How to make Black Bottom Cupcakes:
I've found the cheesecake filling works best in these cupcakes if you don't over-mix it. So I mix it up with a spatula instead of with an electric mixer to avoid over-mixing, and then put it in the fridge to firm up while making the cupcake batter. This way it sinks into the middle of the cupcake rather than spreading across the top of it in a thin layer.
I like to use mini chocolate chips in the cheesecake filling, but you can certainly use regular sized ones instead if you prefer.
Make sure to bake these cupcakes as soon as you can after mixing up the chocolate batter as the baking soda starts working as soon as you mix it together with the vinegar in the wet ingredients. Don't fill the muffin tins and then leave them sitting on the counter for a half hour, or you won't get as much rise in the oven.
I do recommend using paper liners for these cupcakes, as they will stick a fair bit to the pan otherwise. If you don't have any, make sure to grease the pan really well. You will also want to let the cupcakes cool completely before trying to peel off the wrappers.
The cupcake batter for these black bottom cupcakes is the same as Wacky Cake, if you've ever had that. No eggs, milk, or butter, but still absolutely delicious!
Here are some more great dessert recipes for you: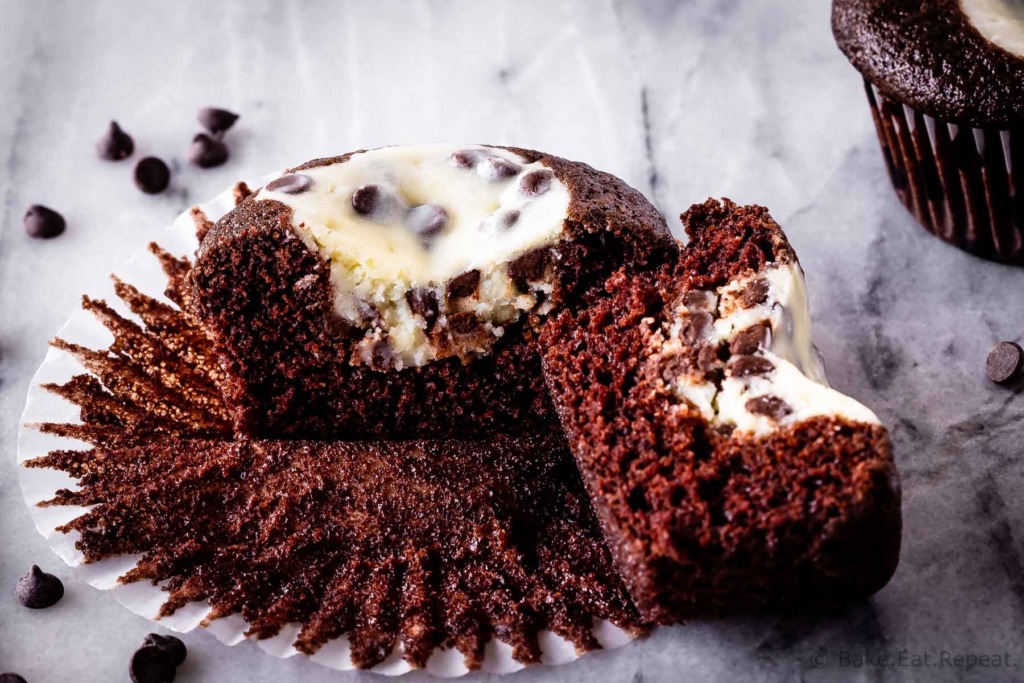 I've also shared this Black Bottom Cupcakes Recipe over on Food Fanatic.