Chocolate-y, decadent, delicious, and SO easy – you will LOVE this slow cooker chocolate pudding cake recipe! You will make it again and again!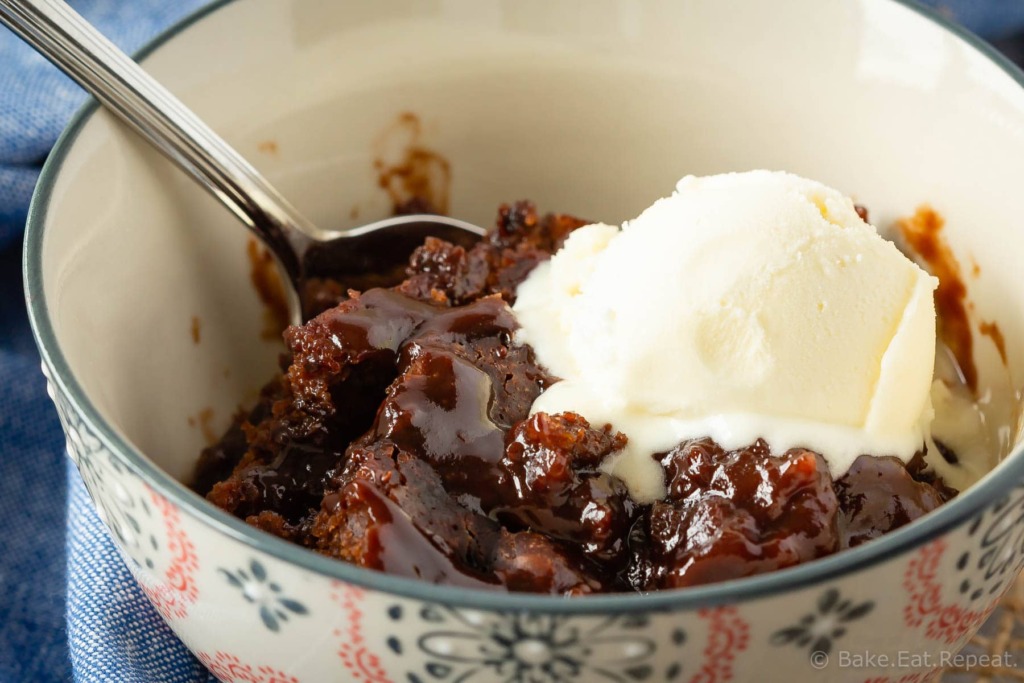 This slow cooker chocolate pudding cake is my absolute favourite dessert of all time. It's a little weird that I haven't shared it before now actually.
I made it a few weeks ago when we had some friends over for dinner and they asked if the recipe was on my site, assuming it was since I said it was my favourite….but it wasn't.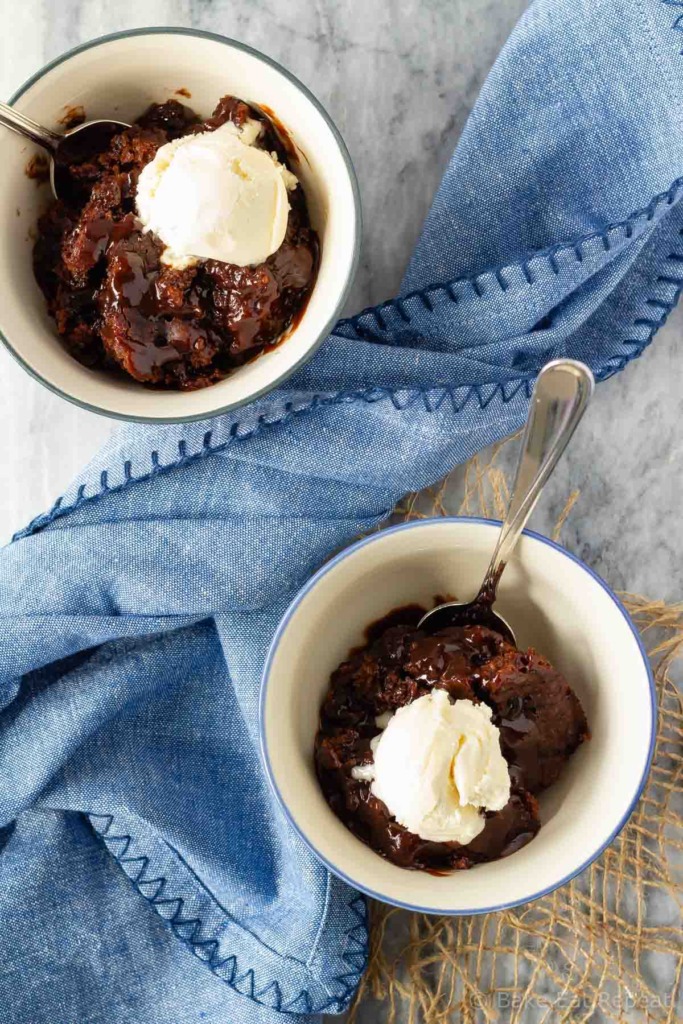 So I decided that I needed to remedy that little problem.
Because this slow cooker pudding cake is literally the first thing I think of making every time I want to make dessert. And it's the only dessert I ever request for a birthday or something when one of the kids wants to make me dessert.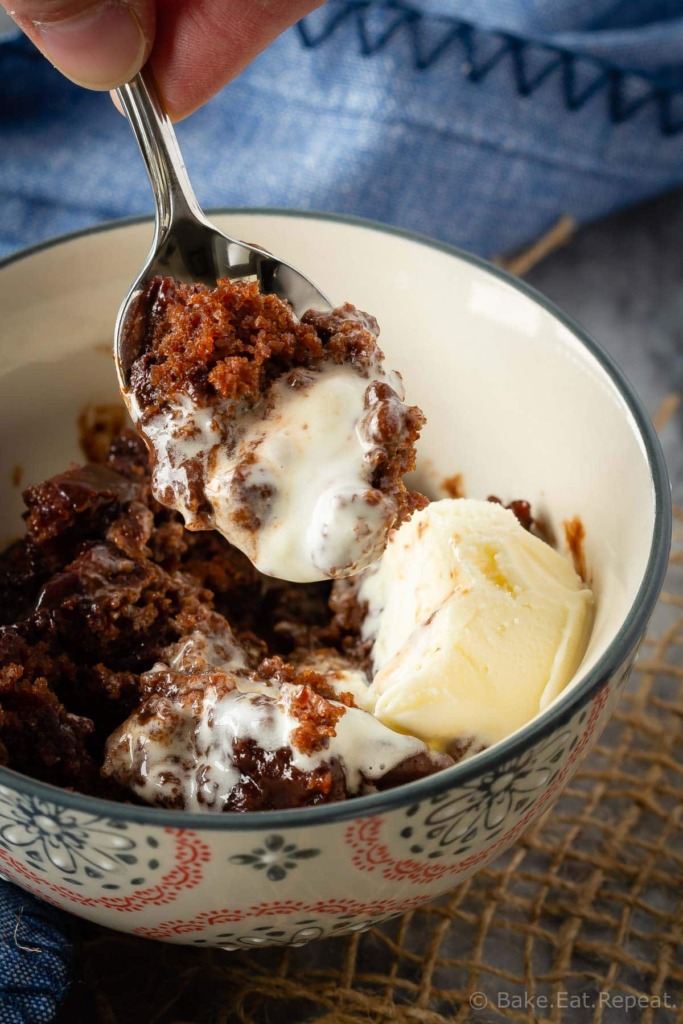 That's right. It's easy enough for your kids to make it.
Warm chocolate cake that magically bakes up with hot fudge pudding underneath it and is crazy easy to make? Yes please.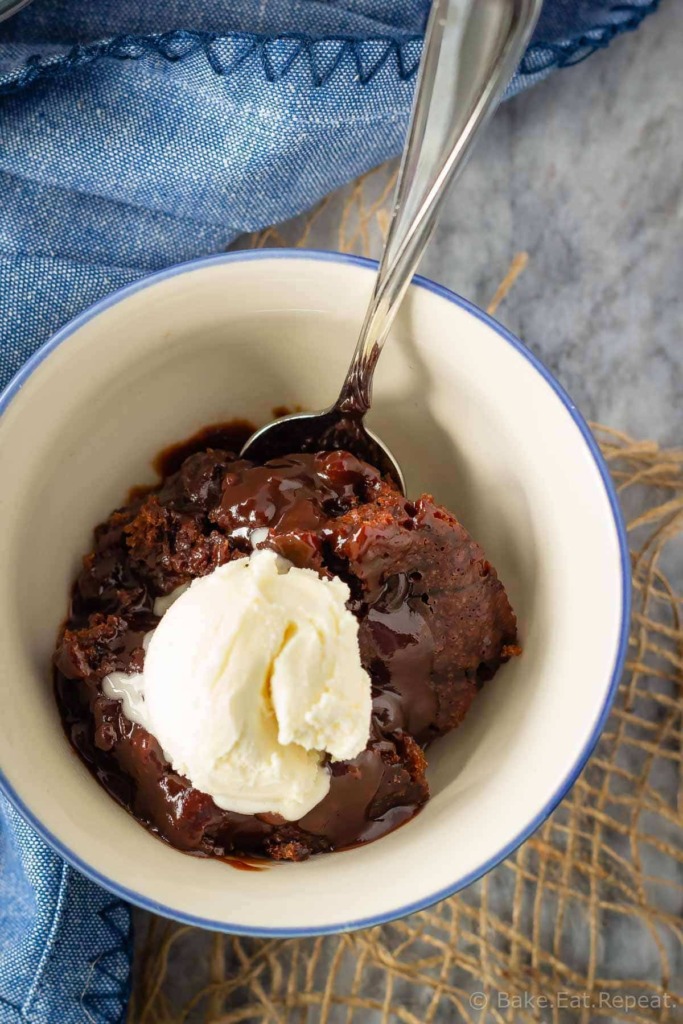 Can you reheat chocolate pudding cake?
This chocolate pudding cake actually reheats very well. You can reheat single portions in the microwave.
Or, if you have quite a lot of the pudding cake left, store the leftovers in the fridge in the crock of the slow cooker. Then when you want to reheat it, simply place it back in the slow cooker on the warm setting for about 2 hours, or until it is heated through.
The amount of time it takes will really depend on your slow cooker, as they are all a little bit different, but it took about 2 hours in mine. I would suggest starting it warming while you're making dinner and it should be good to go a few hours later when you're ready for dessert.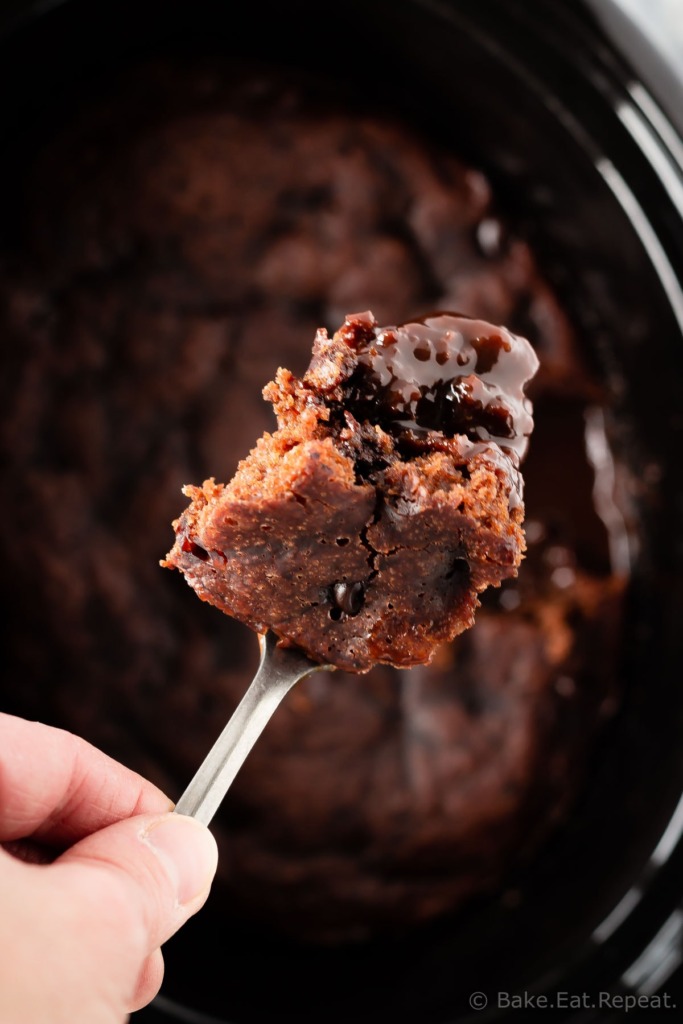 How to make Slow Cooker Chocolate Pudding Cake:
I have a 5 quart slow cooker which is what I make this chocolate pudding cake in. It would probably work fine in a slightly different sized slow cooker, but I haven't tested it in another size.
Make sure to spray the crock of your slow cooker with non-stick cooking spray before you add the cake batter to it.
After you pour the sauce on top of the cake batter, DO NOT stir it. Leave it as it is. It cooks up perfectly into a chocolate cake on top of chocolate pudding.
The cooking time will vary a little bit depending on the slow cooker you are using, as they all cook a little bit differently. It is done in my slow cooker at 2 hours but it may take a little longer in yours. When it's done cooking you can simply turn the slow cooker to warm until you are ready to serve it. I've had it on warm for 2-3 hours after cooking and it's still delicious.
Here are some more great dessert recipes for you: