This apple crisp French toast casserole can be made ahead of time to make breakfast a super simple affair! Simplify your holidays with this tasty casserole!
Watch how to make this Apple Crisp French Toast Casserole here:
Disclaimer: This post was sponsored by Egg Farmers of Canada and I have been compensated for my time. All opinions are, as always, my own.
We love eggs around here. It's one of those things that I always, always reach for when I need a quick and easy meal. Everyone loves them and they are so simple to cook, as well as being so versatile. I actually buy my eggs in giant flats instead of the usual carton of 12 just because we go through SO many of them. I'd be heading to the store several times a week to buy eggs if I didn't!
So I was very excited to be able to partner with Egg Farmers of Canada to bring you a holiday recipe that is simple and easy to make.
I love that Canada Grade A eggs are among the best in the world for quality and freshness – they actually travel from the farm to your kitchen in less than 5 days, regardless of where you shop!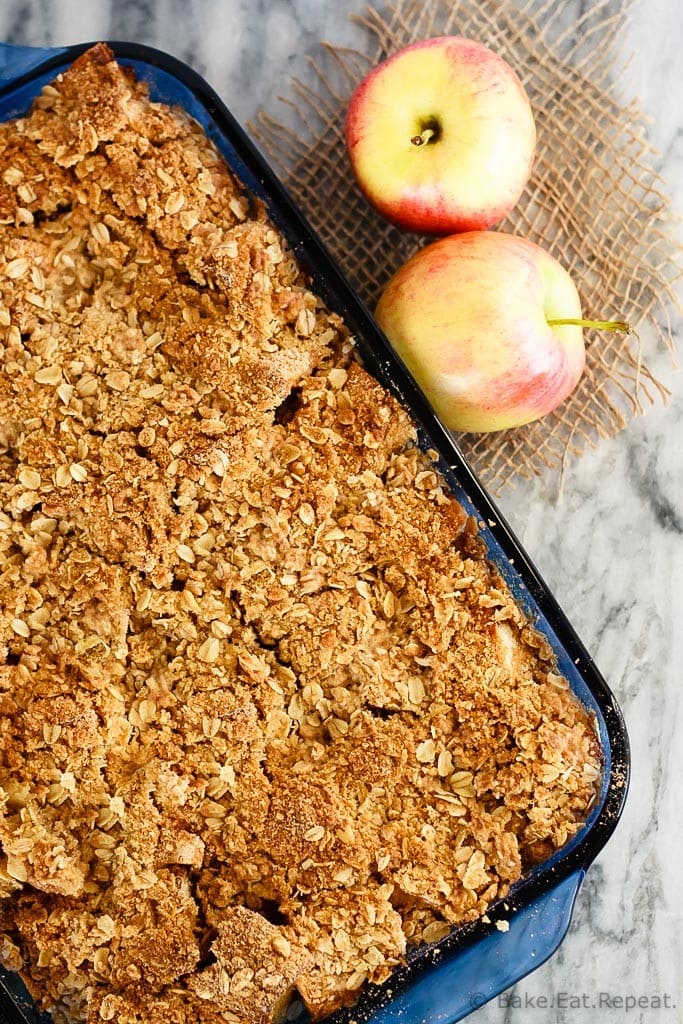 When I think of a Christmas morning meal, I always think of French toast. When I was growing up, we had French toast every Christmas morning. But before we started that little tradition, we used to have something called Christmas wife-saver every year. I'll be honest – I wasn't really a fan. I just could not get on board with this particular casserole (although, who knows, my tastes have changed – maybe I'd like it now!).
At any rate, I was a very happy camper when at some point my family started having French toast every Christmas morning instead. SO much better! And now French toast is often my go to plan for holiday meals.
I do, however, understand the appeal of a dish like the "wife-saver" casserole. Make it the night before and all you have to do in the morning is toss it in the oven. Such an easy way to have more time with your family.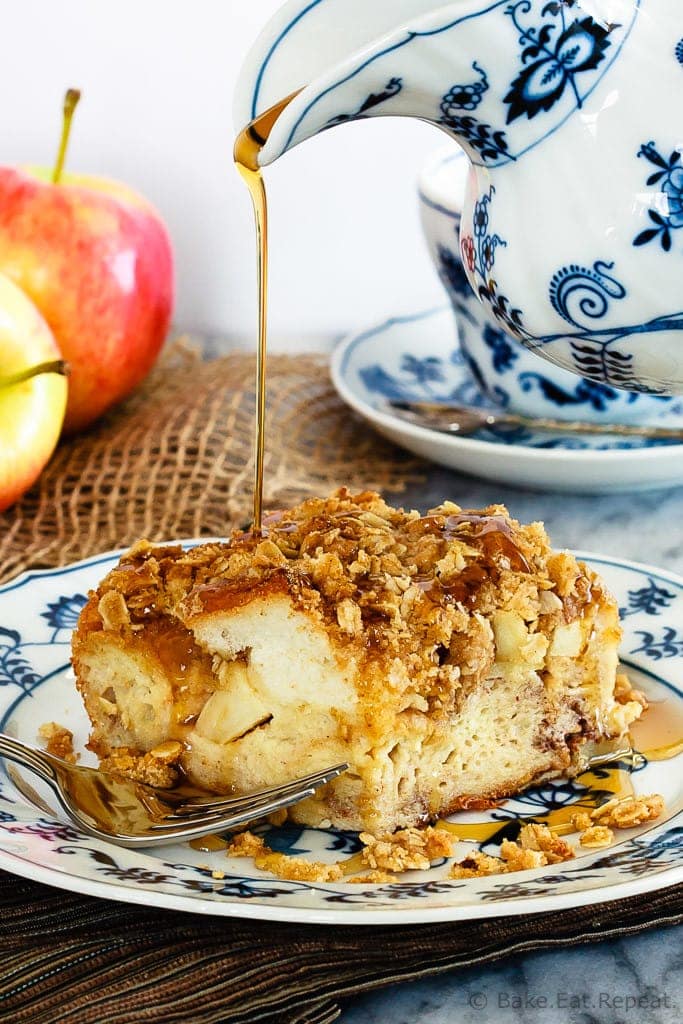 So today I have apple crisp French toast casserole for you. It's a make ahead casserole that tastes like French toast. And apple crisp. It's basically dessert for breakfast. That you can make ahead of time and therefore have no fuss at all on Christmas morning!
I love how easy this French toast casserole is to make, and my family loved having their French toast mixed with baked apples and a crunchy, crispy oatmeal topping. This breakfast dish is a perfect way to simplify your Christmas morning!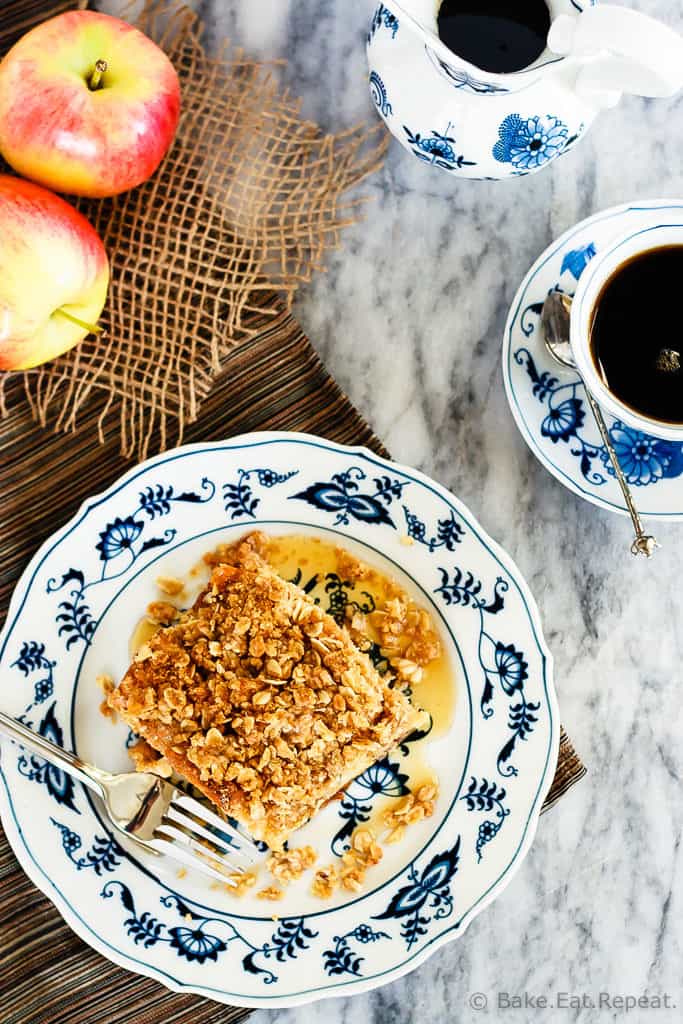 Follow along with Egg Farmers of Canada on Twitter, Instagram and Facebook for more ways to use eggs in your dishes to keep it simple this holiday season! #SimpleCheer
Yield: serves 10-12
Apple Crisp French Toast Casserole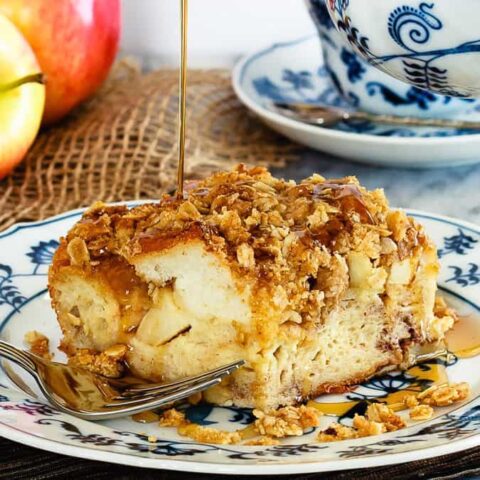 This apple crisp French toast casserole can be made ahead of time to make breakfast a super simple affair! Simplify your holidays with this tasty casserole!
Total Time
3 hours
15 minutes
Ingredients
For the French toast:
1/4 cup (57g) unsalted butter, melted
8 large eggs
2 cups (473mL) milk
1/2 cup (118mL) half and half (or heavy) cream
1/3 cup (73g) brown sugar, lightly packed
1 tablespoon (15mL) vanilla
1 1/2 teaspoons cinnamon
4 cups chopped apples (3-4 medium apples)
1 loaf French bread, cut into 2 inch cubes
For the topping:
1/2 cup (110g) brown sugar, lightly packed
1/2 teaspoon cinnamon
3/4 cup (63g) rolled oats
3/4 cup (107g) all-purpose flour
1/2 cup (114g) cold, unsalted butter
Instructions
Spread the melted butter over the bottom of a 9x13 inch casserole dish (3qt/3L dish).
In a medium bowl, whisk together the eggs, milk, half and half cream, brown sugar, vanilla and cinnamon until well combined. Set aside.
Spread 1/3 of the chopped apples in the prepared 9x13 dish. Cover these with half of the cubed bread. Repeat with 1/3 of the apples, the rest of the bread and then the rest of the apples.
Pour the egg mixture over top of everything, trying to cover all of the bread cubes with it. Press the bread down into the liquid to try and coat everything.
Cover the casserole with plastic wrap and refrigerate for 2 hours or overnight.
Prepare the topping. In a small bowl, mix together the brown sugar, cinnamon, rolled oats and flour until combined. Cut in the butter with a pastry cutter or two knives until the mixture resembles coarse crumbs.
Cover and refrigerate until you are ready to bake the casserole.
Preheat the oven to 350 degrees F.
Uncover the casserole and sprinkle the topping evenly over the whole thing.
Bake for 45-60 minutes, or until the topping is golden brown. If you like a softer, bread pudding-like texture, you will need less baking time then if you like a firmer texture. Serve warm with maple syrup.
Recommended Products
This post contains affiliate links. As an Amazon Associate, I may receive a small commission from qualifying purchases.
Nutrition Information:
Yield:
12
Serving Size:
one piece
Amount Per Serving:
Calories:

539
Total Fat:

18.8g
Saturated Fat:

10g
Cholesterol:

162mg
Sodium:

676mg
Carbohydrates:

76.9g
Fiber:

4.7g
Sugar:

20.9g
Protein:

17.1g