A quick and easy fix for your cinnamon roll craving, these cinnamon roll pancakes are a fantastic breakfast treat! Cinnamon rolls, but easier!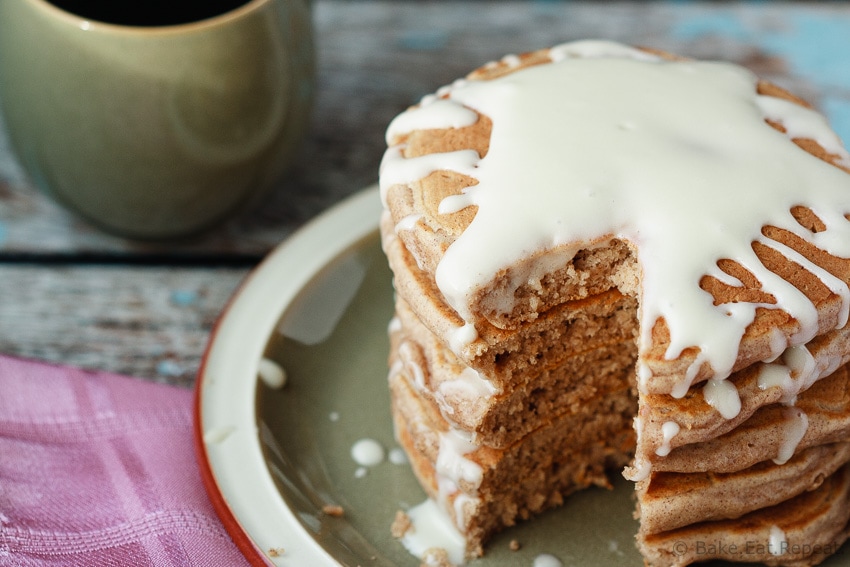 Have you ever had a cinnamon roll craving? I have. Plenty of times. That's totally normal right?
Cinnamon rolls are really just the best thing ever. I don't think I know anyone that doesn't love them. But….sometimes you want a cinnamon roll and there are none in sight. And they're not exactly a whip it up in a half hour breakfast treat. Closer to several hours to enjoy the next day. Which is still great, cinnamon rolls tomorrow – but it doesn't exactly help with that craving.
Cinnamon roll pancakes are the answer. These taste just like a cinnamon roll, but in pancake form. And they're way faster to make in a cinnamon roll emergency. Because those are a thing.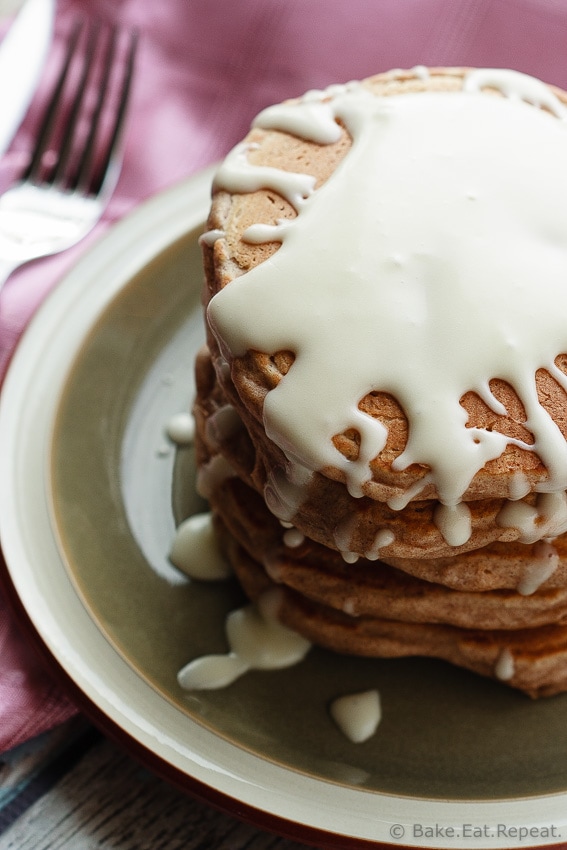 These are some of the best flavoured pancakes I've ever tried. We make pancakes on a fairly regular basis around here, but typically stick to the plain old buttermilk kind. Although these banana pancakes run a close second whenever there's some overripe bananas lying around. I think cinnamon roll pancakes are going to be joining the pancake rotation for our Sunday brunch though. They are that good.
Sweet, cinnamon filled, fluffy pancakes with a cream cheese glaze. They taste surprisingly similar to the real thing. But with a lot less time and effort.
They are quite sweet though, so if you want to cut down on the sweetness a bit, they are also delicious if you replace the sugar and maple syrup with a smaller amount of brown sugar. That makes for a cinnamon flavoured pancake without a sugar overload. And there's still the cream cheese glaze to sweeten them. If, however, you want a decadent cinnamon roll pancake that tastes exactly like the real thing – make them as written. They are absolutely fantastic and definitely worth it for a special breakfast treat!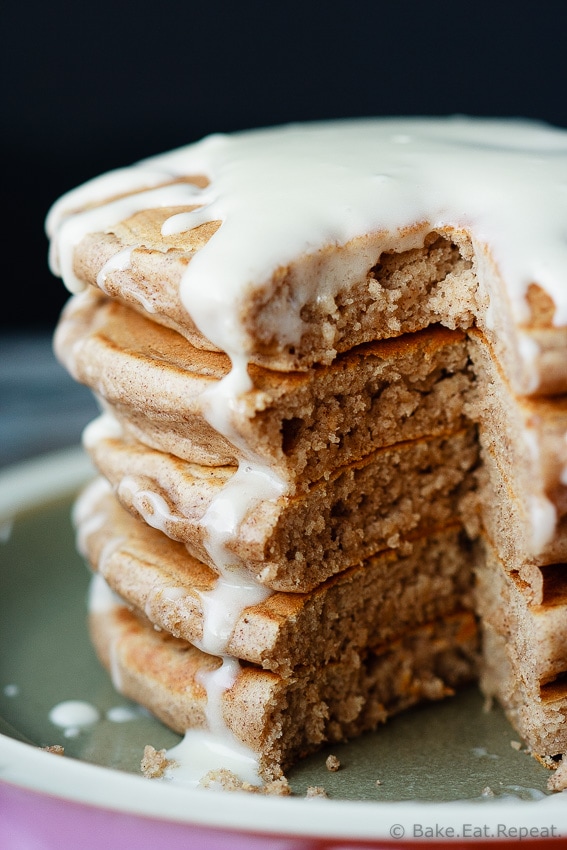 I've also shared this Cinnamon Roll Pancake recipe over on Food Fanatic.
Yield: 10-12 pancakes
Cinnamon Roll Pancakes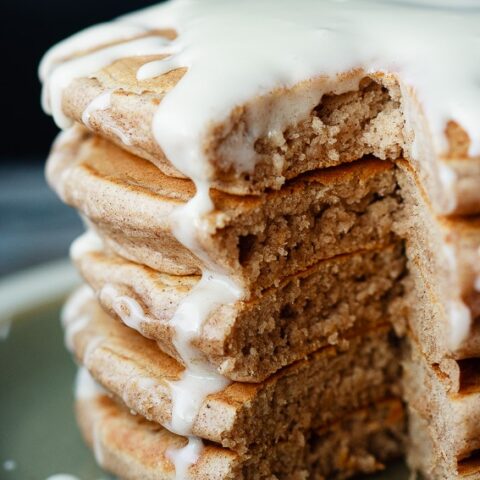 A quick and easy fix for your cinnamon roll craving, these cinnamon roll pancakes are a fantastic breakfast treat!
Ingredients
For the cream cheese glaze:
2 tablespoons unsalted butter, softened
2 ounces (1/4 package) cream cheese, softened
3 tablespoons milk
1/2 teaspoon vanilla
3/4 cups powdered sugar
For the pancakes:
1 1/2 cups all-purpose flour
2 tablespoons granulated sugar
1/2 teaspoon salt
2 1/2 teaspoons baking powder
1 tablespoon cinnamon
2 large eggs, lightly beaten
1 cup buttermilk
2 tablespoons maple syrup
1/4 cup unsalted butter, melted and cooled
1 tablespoon vanilla
Instructions
In a medium bowl, with an electric mixer, whip the butter and cream cheese together until smooth and creamy.
Add the milk, vanilla and powdered sugar and whip again until smooth and well combined.
Cover the bowl tightly with plastic wrap and set aside.
In a large bowl, whisk together the flour, sugar, salt, baking powder and cinnamon until well combined.
In another bowl, whisk together the eggs, buttermilk, maple syrup, butter and vanilla until well combined.
Add this mixture to the dry ingredients and mix. I usually use an electric mixer, but you can also just whisk it all together until it's combined.
Preheat a non-stick frying pan or electric griddle to medium heat. I don't use any oil, but if it's not a good non-stick pan you may need to lightly oil the pan to prevent the pancakes from sticking.
Drop the batter onto the hot pan by 1/4 cup spoonfuls and allow to cook until bubbles start forming on the top.
Flip and cook on the other side. Keep warm while cooking the rest of the pancakes.
Serve hot, drizzled with the cream cheese glaze.

Notes
This makes a very sweet pancake that tastes just like a cinnamon roll. If you'd like a less sweet version, omit the sugar and maple syrup from the pancake batter, and add 2 tablespoons of brown sugar instead. That will make a cinnamon flavoured pancake that isn't overly sweet.
Recommended Products
This post contains affiliate links. As an Amazon Associate, I may receive a small commission from qualifying purchases.
Nutrition Information:
Yield:
6
Serving Size:
2 pancakes
Amount Per Serving:
Calories:

396
Total Fat:

17g
Saturated Fat:

10g
Trans Fat:

0g
Unsaturated Fat:

6g
Cholesterol:

104mg
Sodium:

549mg
Carbohydrates:

51g
Fiber:

2g
Sugar:

24g
Protein:

9g
Nutrition Information is estimated based on ingredients used and may not be exact.