A quick and easy fix for your cinnamon roll craving, these cinnamon roll pancakes are a fantastic breakfast treat! Cinnamon rolls, but easier!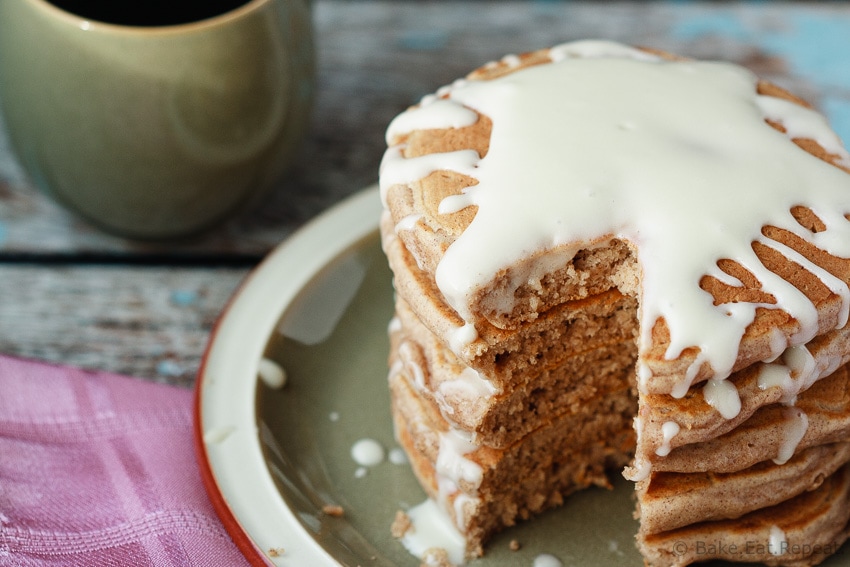 Have you ever had a cinnamon roll craving? I have. Plenty of times. That's totally normal right?
Cinnamon rolls are really just the best thing ever. I don't think I know anyone that doesn't love them. But….sometimes you want a cinnamon roll and there are none in sight. And they're not exactly a whip it up in a half hour breakfast treat. Closer to several hours to enjoy the next day. Which is still great, cinnamon rolls tomorrow – but it doesn't exactly help with that craving.
Cinnamon roll pancakes are the answer. These taste just like a cinnamon roll, but in pancake form. And they're way faster to make in a cinnamon roll emergency. Because those are a thing.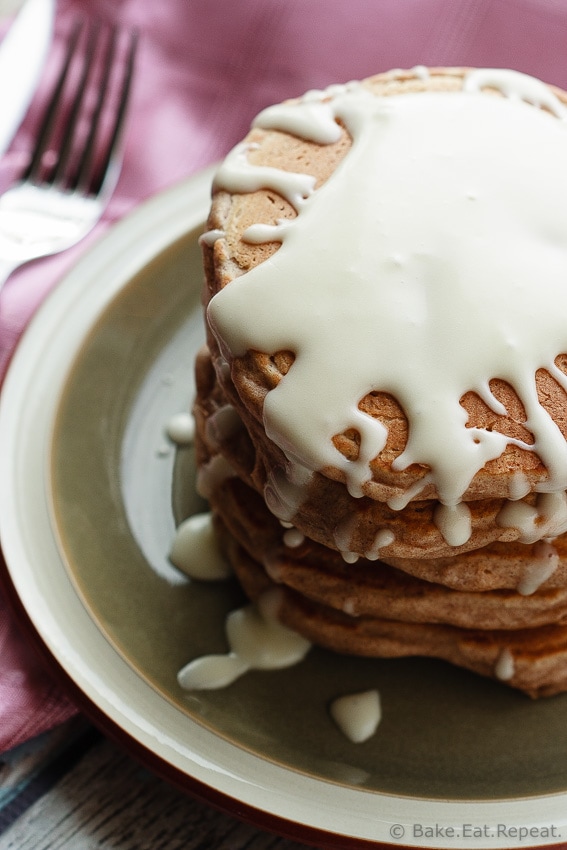 These are some of the best flavoured pancakes I've ever tried. We make pancakes on a fairly regular basis around here, but typically stick to the plain old buttermilk kind. Although these banana pancakes run a close second whenever there's some overripe bananas lying around. I think cinnamon roll pancakes are going to be joining the pancake rotation for our Sunday brunch though. They are that good.
Sweet, cinnamon filled, fluffy pancakes with a cream cheese glaze. They taste surprisingly similar to the real thing. But with a lot less time and effort.
They are quite sweet though, so if you want to cut down on the sweetness a bit, they are also delicious if you replace the sugar and maple syrup with a smaller amount of brown sugar. That makes for a cinnamon flavoured pancake without a sugar overload. And there's still the cream cheese glaze to sweeten them. If, however, you want a decadent cinnamon roll pancake that tastes exactly like the real thing – make them as written. They are absolutely fantastic and definitely worth it for a special breakfast treat!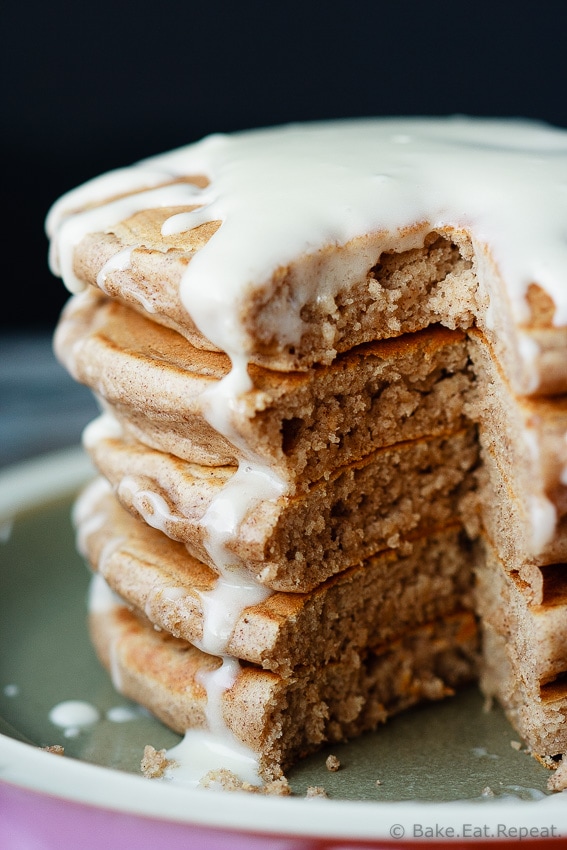 I've also shared this Cinnamon Roll Pancake recipe over on Food Fanatic.