Well, I never thought that I would enjoy oatmeal in a smoothie. It's not really my thing for breakfast, much as I would like it to be for the health benefits. I've tried, but I can't get past the texture.
So when people started shoving it in smoothies, I thought maybe that would be the way I could manage it in the morning. Texture shouldn't be an issue when it's all blended up right? Wrong. The first time I tried it, I thought it was the most horrible drink I'd ever had. Absolutely awful. The texture was still an issue.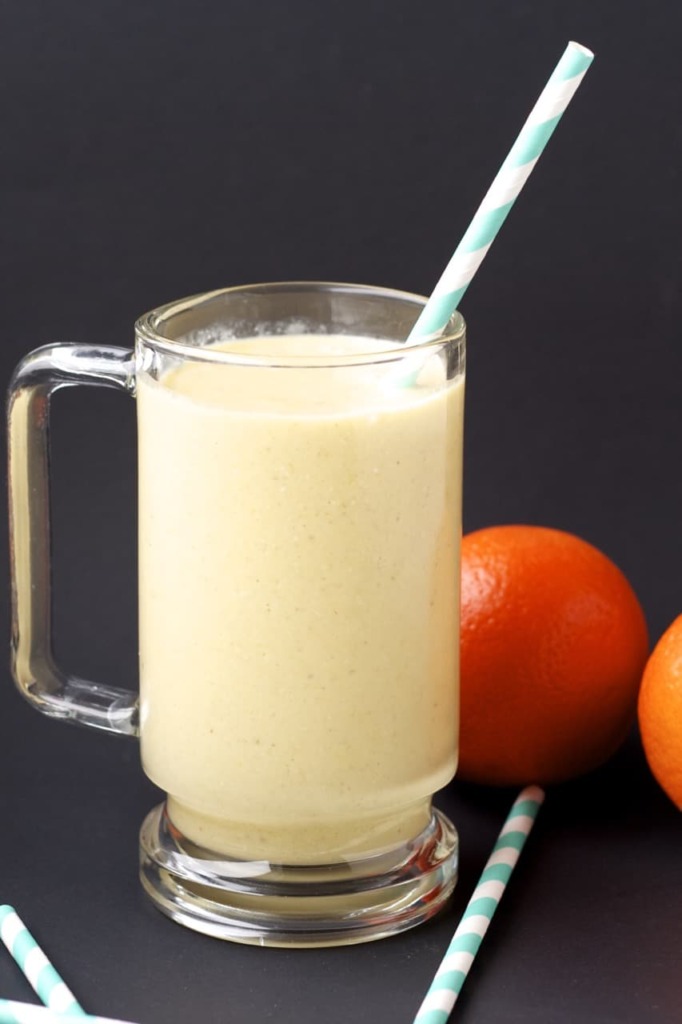 It was obviously a bad recipe.
Because this smoothie? It tastes like an Orange Julius. It. Was. Awesome. The trick to a good oatmeal smoothie, it turns out, is to process the oats first and then add everything else to it. There was still a little more texture to it then a regular smoothie, but not enough to bother me. And if it didn't bother me, it's unlikely to bother anyone else in the world – cause like I said, I'm not an oatmeal fan!
My three year old and I thoroughly enjoyed this smoothie for lunch. It's definitely very filling, it kept me full all afternoon without snacking at all. That's something, since I'm usually raiding the pantry around 3:30, just like the kids! I don't really blame them when they come home starving, I'm usually hungry around 3pm too.
Not after having this orange smoothie for lunch! It's super filling, as well as being very refreshing, healthy, and full of Vitamin C. Which comes in handy when you're fighting yet another cold. I felt healthier just by drinking this. It might be making a daily appearance just to try and ward off the sickness that is running rampant around here!
If you're looking for a quick and easy meal that's also very healthy, try out this orange oatmeal smoothie. It's full of fibre from the oatmeal, vitamin C from the fruit, and some protein from the Greek yogurt.
And it tastes delicious. I know what my breakfast will be!