This 30 minute chicken noodle soup is perfect with either chicken or turkey, is super fast and easy to make, and will be a family favourite for sure!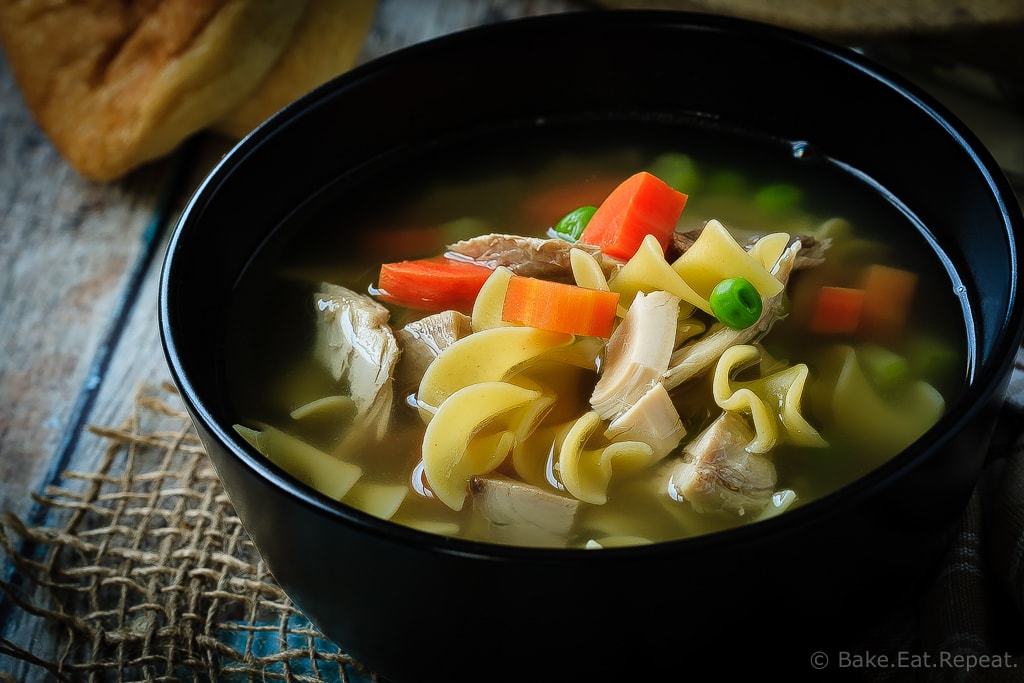 Or turkey noodle soup.  I'm not picky, I'll make soup out of whichever leftovers I have, it's all good!
But the recipe I use for either of them is the same so I'll just go with chicken noodle soup since it's a bit more common (I think).
This is the soup I make every single time I cook a whole turkey and end up with never ending leftovers.
Don't get me wrong, I adore turkey leftovers.  But when you always buy the biggest turkey you can find in order to have said leftovers, and only have a family of five….there's a lot of leftovers.  Even when we invite people to join us for the turkey dinner part, there's still boatloads of leftovers.  And even though I would happily eat the turkey dinner night after night for a week until it's gone, other people in this house don't agree with me that that's a terrific plan.  It's baffling.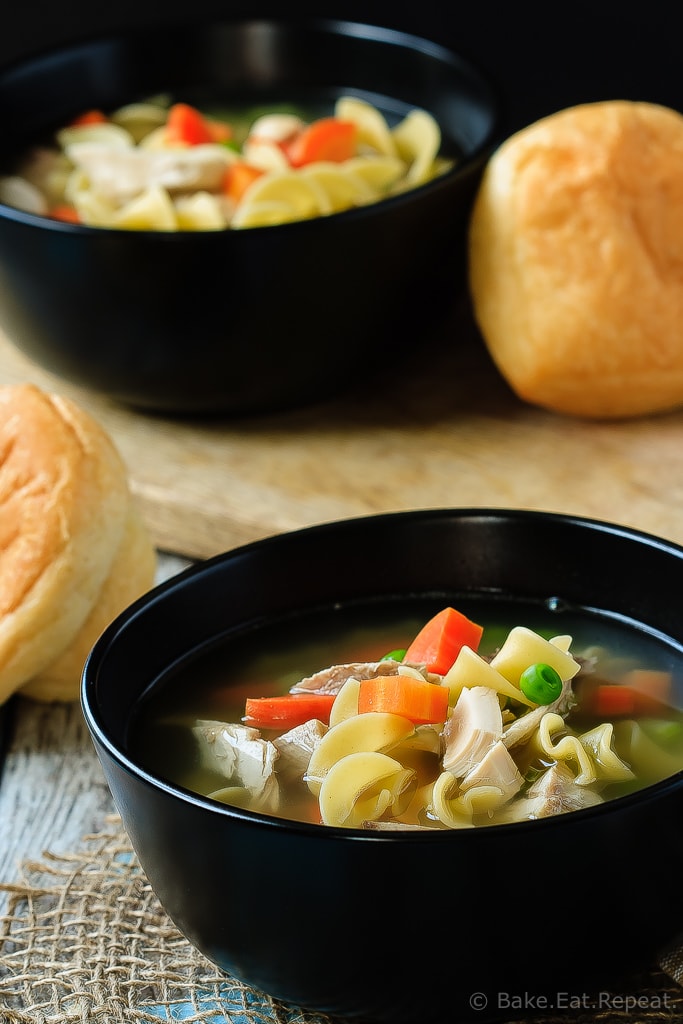 So soup.  Chicken noodle soup.  Turkey noodle soup.  They're both delicious – especially when you start with homemade chicken stock (or turkey stock, obviously).  Which you definitely made from the bones of the turkey or chicken that you have leftovers from, right?
This is one of those meals that I am so happy I found my go-to recipe for.  I have tried a lot of chicken noodle soup recipes, and they were all good, just never perfect.  This one is perfect – for us at least!  You can obviously adapt it to your tastes, changing up the veggies or noodles to have your favourites in there.
I make this with my homemade chicken stock, which is full of flavour, so I don't add any more seasoning into the soup besides some salt and pepper when serving it.  So if you're using a different chicken broth, make sure you like the flavour of it, or you won't be happy with the soup!
We love this 30 minute chicken noodle soup – one of our favourite recipes to make with leftover chicken (or just because it's cold and we want soup – I've included instructions for making it without pre-cooked chicken as well).  It's a perfect meal for 30 Minute Thursday this month – quick, easy and a family favourite.
Scroll down to below the recipe for more 30 minute meals from my friends!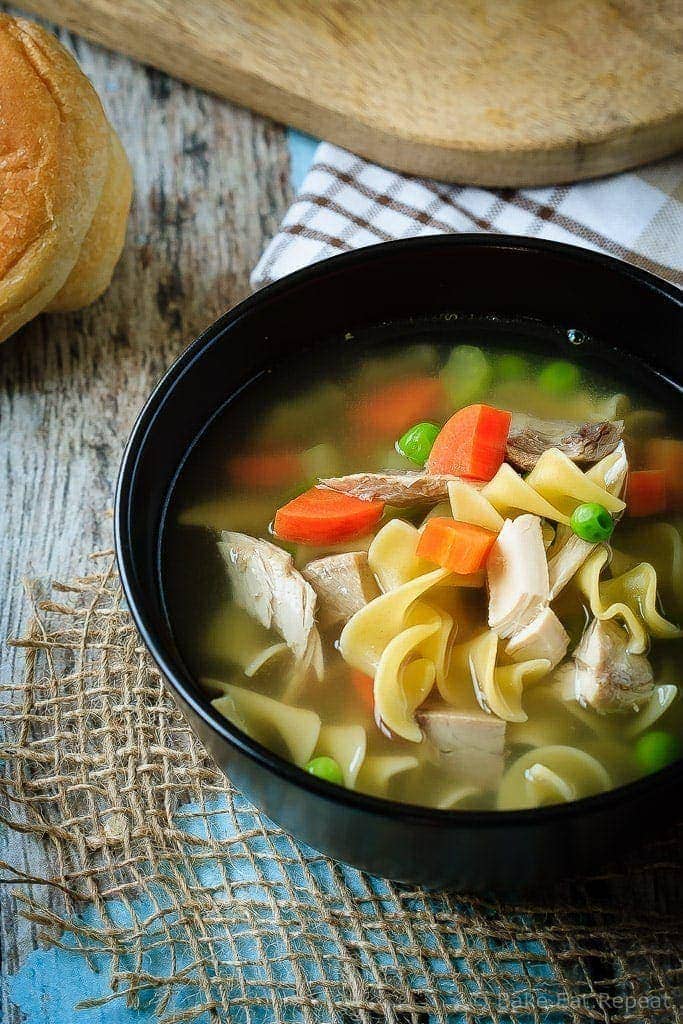 Yield: serves 4-6
30 Minute Chicken Noodle Soup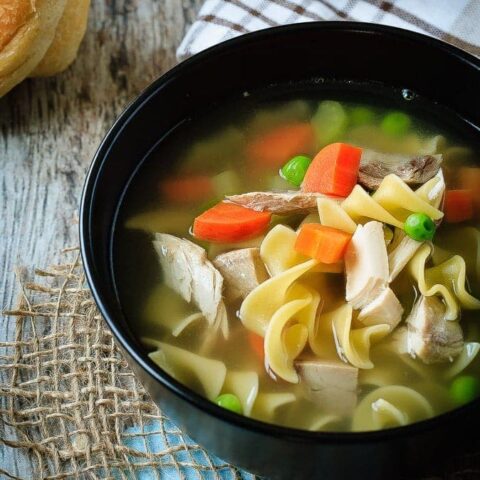 This 30 minute chicken noodle soup is perfect with either chicken or turkey, is super fast and easy to make, and will be a family favourite for sure!
Ingredients
2 celery ribs, chopped
2 medium carrots, chopped
2 cups (4.5 oz, 130g) broad egg noodles
1 cup frozen peas
2 cups cooked chicken (or turkey), chopped
salt and pepper to taste
Instructions
Bring the chicken stock to a simmer over medium high heat on the stove.
Add the celery and carrots and simmer for 5 minutes, until the vegetables are starting to soften.
Add the egg noodles and cook according to package instructions, usually about 6-10 minutes, until they are tender.
Add the peas and cooked chicken and heat through, about 2 minutes.
Add salt and pepper to taste and enjoy.
Notes
If you don't have cooked chicken on hand, you can use 2 small chicken breasts instead. Start by bringing the stock to a simmer on the stovetop, add the chicken breasts and cook them at a high simmer for about 20 minutes or until they are cooked through. Remove them from the stock, chop or shred them, and then proceed with the rest of the recipe. It will take closer to 35-40 minutes to have the soup ready then.
I make this soup with homemade chicken stock. If you are using a store bought stock, make sure it's one that you like the taste of as there isn't any other seasoning added to it, other then salt and pepper to taste.
Source: Slightly adapted from Smitten Kitchen.
Recommended Products
This post contains affiliate links. As an Amazon Associate, I may receive a small commission from qualifying purchases.
Nutrition Information:
Yield:
6
Serving Size:
1
Amount Per Serving:
Calories:

259
Total Fat:

9g
Saturated Fat:

2g
Trans Fat:

0g
Unsaturated Fat:

6g
Cholesterol:

63mg
Sodium:

352mg
Carbohydrates:

25g
Fiber:

3g
Sugar:

5g
Protein:

19g
Nutrition Information is estimated based on ingredients used and may not be exact.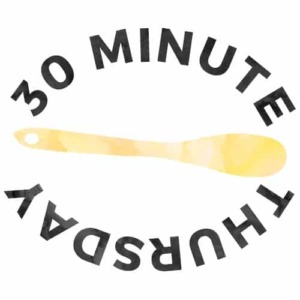 Garlic Parmesan Pasta with Spinach and Mushrooms from Pumpkin 'N Spice
Creamy Avocado Vegetable Burritos from Kristine's Kitchen
Creamy White Bean Pasta with Sweet Potato & Kale from She Likes Food
30 Minute Tuscan Chicken Skillet from Sweet Peas & Saffron
Chestnut, Mushroom and Butternut Squash Baked Risotto from Floating Kitchen
Maple Apple Pork Chops Skillet from Savory Nothings
Healthier Skillet Chicken Parmesan from The Recipe Rebel