This easy slow cooker butternut squash soup is so thick and creamy and full of flavour. It's easy to make, freezes well, and the leftovers make the perfect lunch!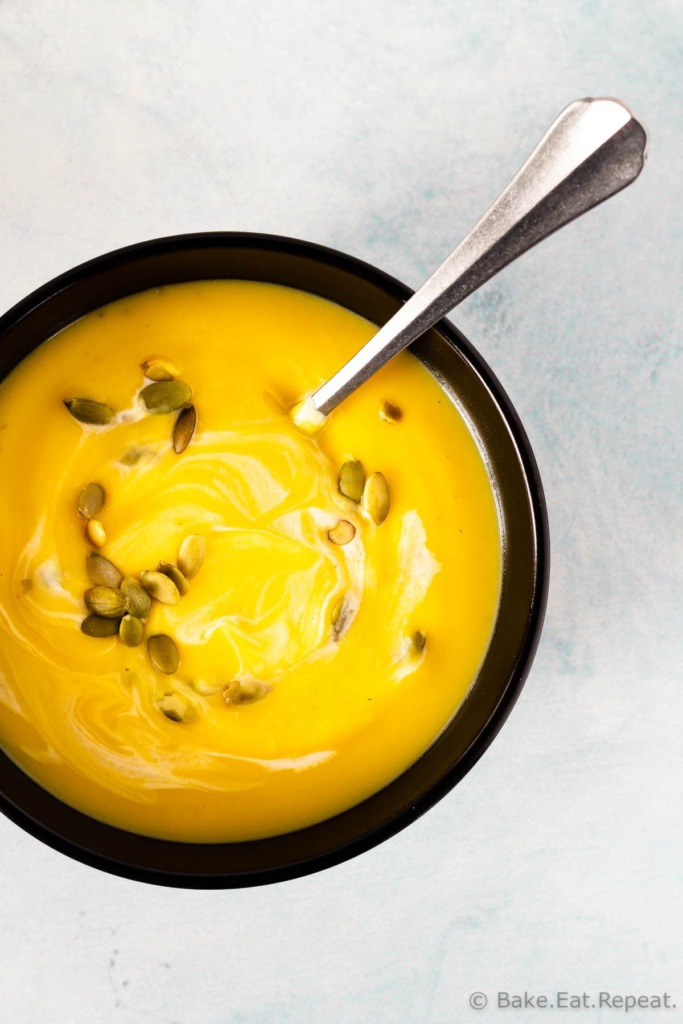 If you are looking for a super easy, dump and go, butternut squash soup recipe with a ton of flavour, this is the soup for you!
I loved this slow cooker butternut squash soup. It had so much flavour, and the only thing that made it take any time at all to make was peeling the butternut squash. And really, that's not very hard. Just takes a few minutes.
And I think you could even avoid that step if you wanted, because I'm sure I've seen peeled and chopped butternut squash in the grocery store.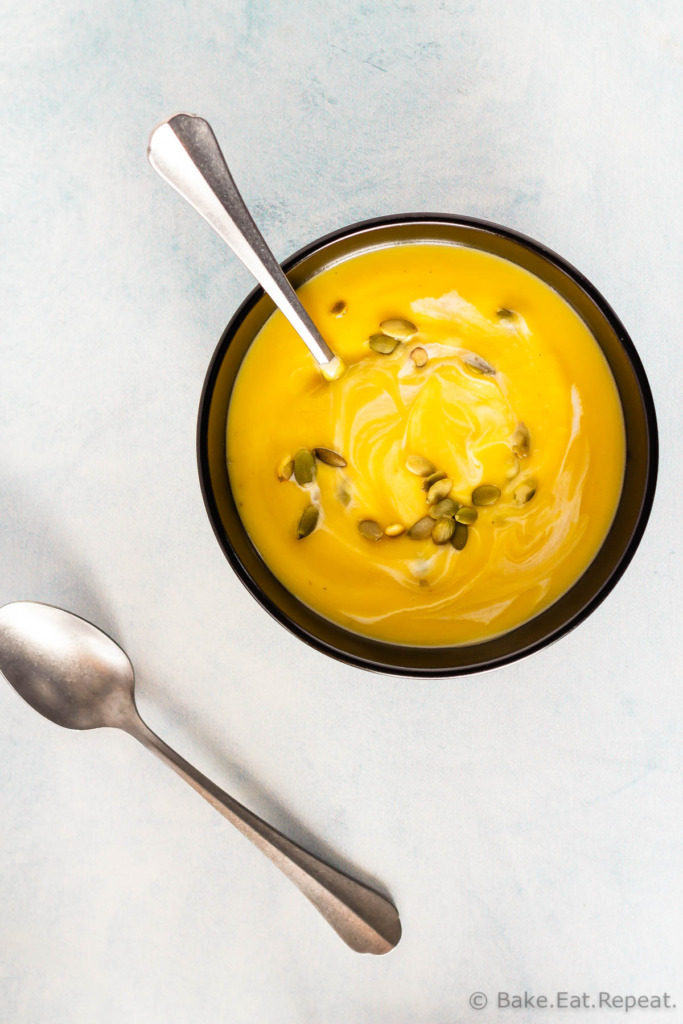 But even with peeling and chopping the butternut squash myself, I think this soup only took about 10 minutes to get into the slow cooker. As far as prep time goes that isn't half bad.
And once everything is in the slow cooker there's nothing left to do. Except turn it on of course. I've forgotten that step before.
Don't be like me, it's super irritating to ruin dinner in that way.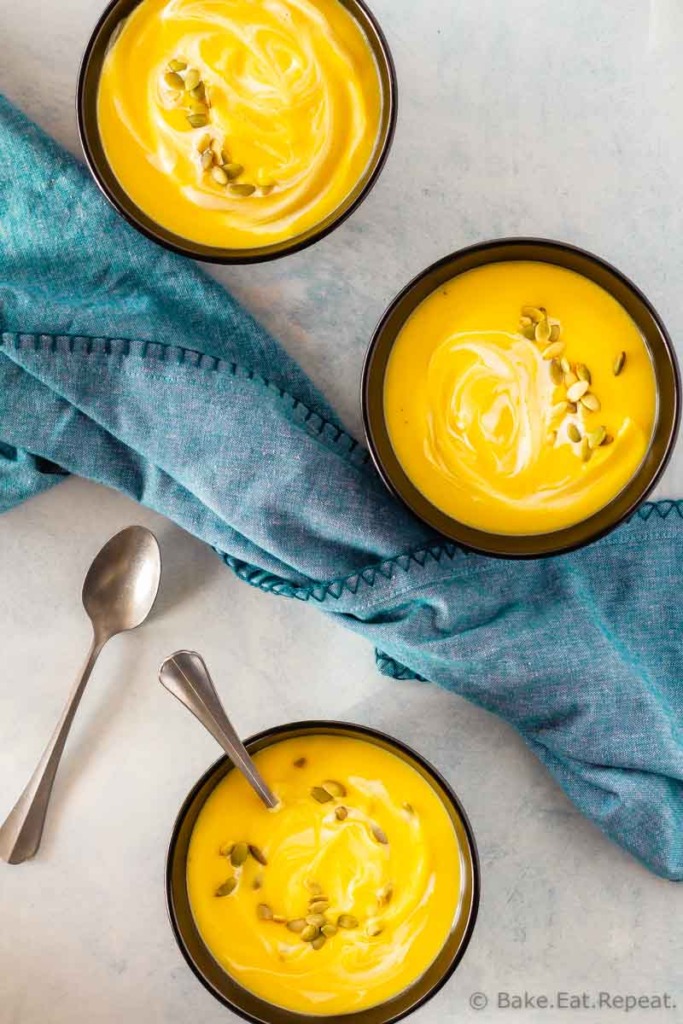 What goes well with butternut squash soup?
This soup is quite rich and flavourful, so we liked it as a side dish rather then a main course.
It goes really well with roasted chicken and vegetables. Keep it super simple and pick up a rotisserie chicken and steam some broccoli and you have a really easy but fantastic meal!
It makes a great lunch with one of these homemade cream biscuits on the side too.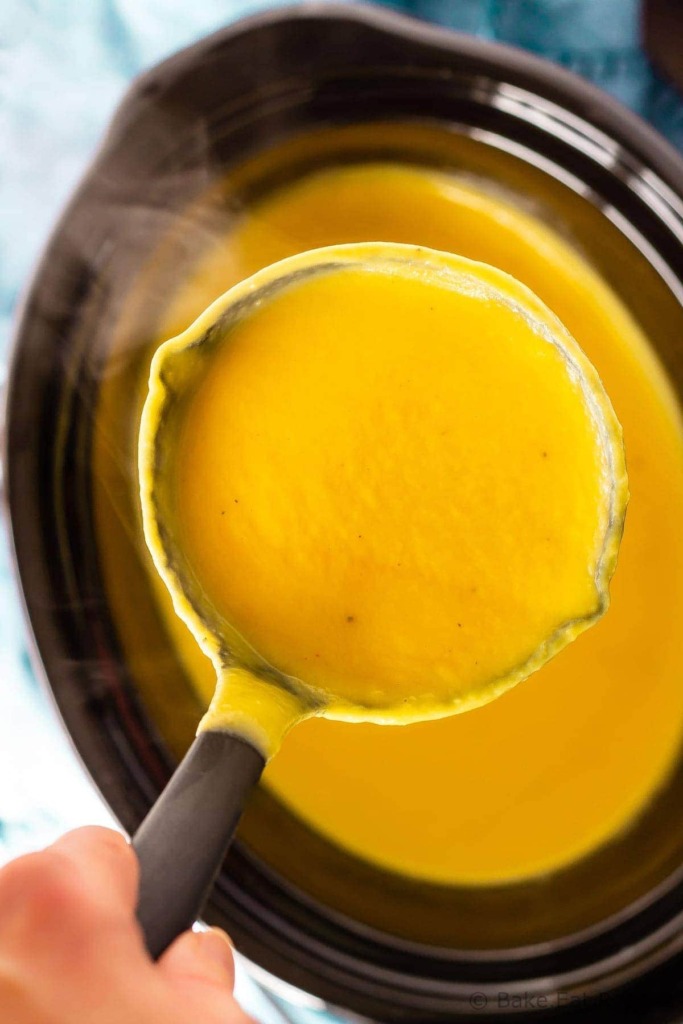 Should I peel butternut squash for soup?
Butternut squash does need to be peeled before using it in soup. The peel is quite thin so I find the easiest way to peel it is to cut off the ends, slice it in half lengthwise, and then scoop out the seeds and use a vegetable peeler to peel each half.
If you'd like, you can roast the squash, or cook it in the Instant Pot first (same directions as for this Instant Pot Spaghetti Squash), but I did find it easier to just peel the squash first, rather then have two cook times.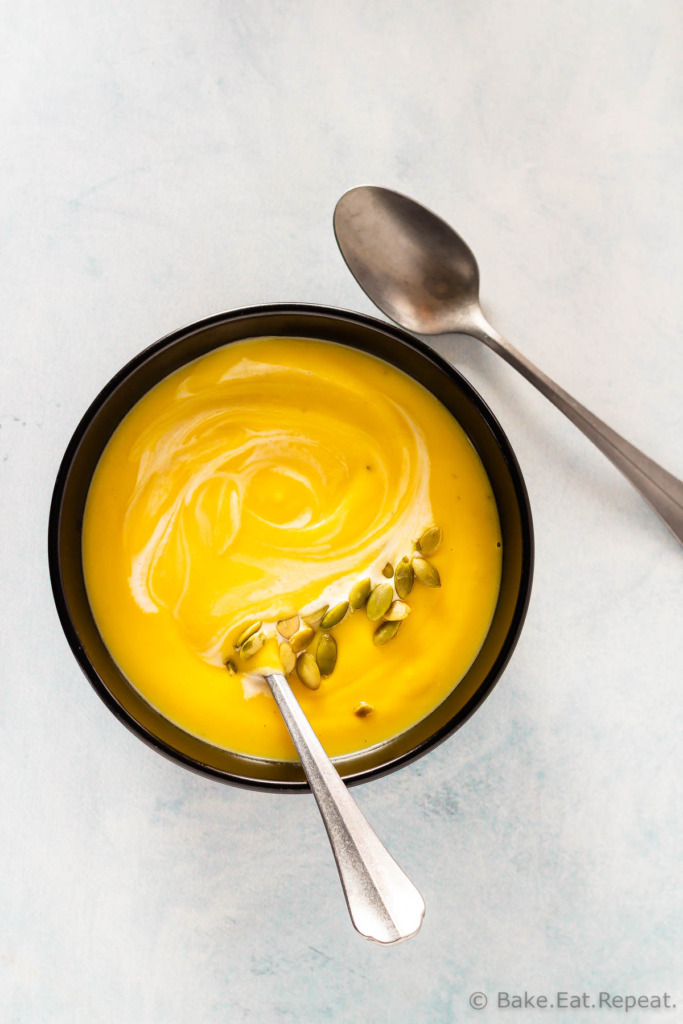 Does butternut squash soup freeze well?
Butternut squash soup freezes very well. After making it, just let it cool completely and then freeze it in a freezer safe container or a large freezer ziplock bag, laid flat to freeze. Reheat it on low in the slow cooker, or on low heat on the stove or in the microwave.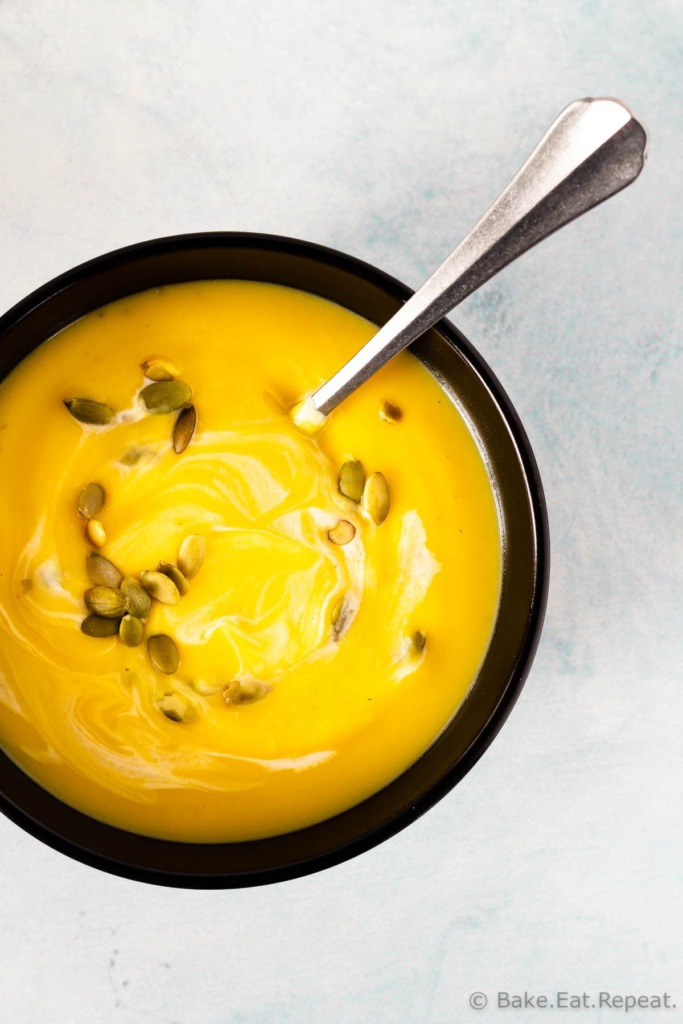 How to make Slow Cooker Butternut Squash Soup:
This soup is so easy to make, the hardest part is peeling the butternut squash. And that's not hard. It's very literally a dump and go slow cooker recipe. Throw everything into the slow cooker, cook on low for 6-8 hours (or high for 3-4 hours), puree, and stir in some cream. So easy.
I've also made this soup with 2% milk instead of the heavy cream and it was still delicious, just slightly thinner. If you want to lighten it up and use a lower fat alternative to heavy cream, go right ahead, it will still be great with half and half cream or milk. I think that coconut milk would also work very well here if you'd like a dairy free alternative.
If you have an immersion blender, that's the best way to puree the soup, as there's no transferring of hot liquids to a blender. But a blender will work just fine if that's what you have!
You can also make this soup in the Instant Pot – find the instructions for Instant Pot Butternut Squash Soup here.

Here are some more great soup recipes for you: