This easy to make, slow cooker Thai pumpkin soup is a bit spicy, a bit creamy, and absolutely amazing. The perfect meal for a cold fall day!
Watch how easy this Slow Cooker Thai Pumpkin Soup is to make here: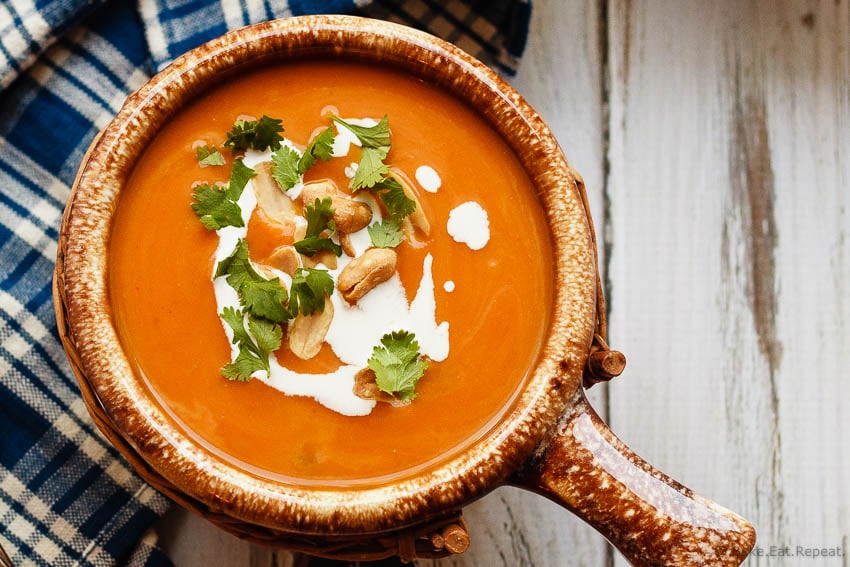 Now I'll just start by saying that I know next to nothing about Thai food.  So don't tell me this soup is inauthentic – I know that.  Or maybe it is authentic.  I have no idea.
What I do know is that this Thai pumpkin soup is fantastic.  After having it for either lunch or supper (or both) for 3 days in a row, I was still rather sad when it was all gone.
It does have some Thai red curry paste in it, so I figure I can call this Thai soup because of that.  Right?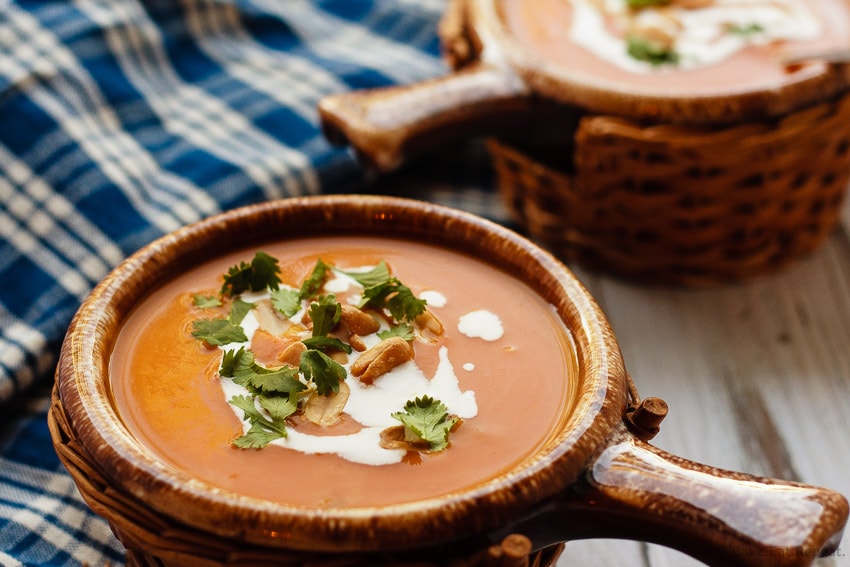 This Thai pumpkin soup is a little bit spicy but not so much your mouth is on fire, and a bit creamy (but not really because it's coconut milk, not cream in it).  It is super easy to throw together which makes it the perfect light meal for those cold fall nights.
My whole family enjoys this Thai pumpkin soup.  Even the kids – although they prefer theirs without the cilantro!
If you've never tried pumpkin soup, you should probably make this version happen sometime soon – it's the perfect fall meal!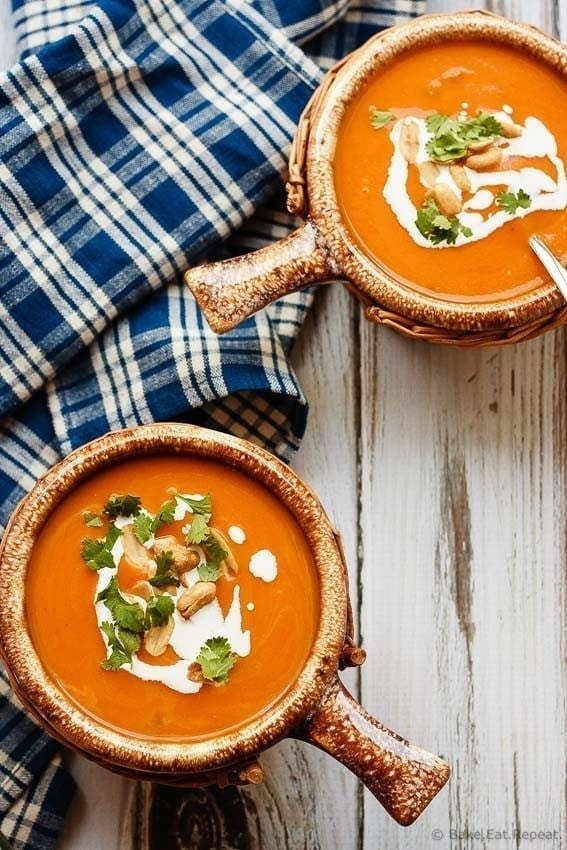 Tips for perfect Slow Cooker Thai Pumpkin Soup:
Slow Cooker Thai Pumpkin Soup
---
Bake.Eat.Repeat.
Yield: serves 6
This easy to make, slow cooker Thai pumpkin soup is a bit spicy, a bit creamy, and absolutely amazing. The perfect meal for a cold fall day!
15 minPrep Time
6 hrCook Time
6 hrTotal Time
Ingredients
1 small onion, diced
1 red pepper, diced
2 cloves garlic, minced
1/2 teaspoon ground ginger
1 1/2 tablespoons Thai red curry paste
3 cups pumpkin puree (canned or homemade)
5 cups chicken (or vegetable) broth
juice of 1 lime
1/2 teaspoon sriracha sauce
1/2 teaspoon salt
1/4 teaspoon pepper
1 can (400 mL, 13.5 fl oz) coconut milk (light or regular)
1/3 cup chopped cilantro, plus more for garnishing
1/2 cup peanuts, for garnishing
Directions
In a large non-stick skillet over medium heat, saute the onion, red pepper, garlic, ginger and curry paste until softened and fragrant, about 2-3 minutes. Add to the slow cooker, along with the pumpkin puree and chicken broth. Cook on high for 3-4 hours, or low for 6-8 hours. Use an immersion blender to puree the soup until it is completely smooth.
Stir in the coconut milk (reserving a bit for garnishing if desired), lime juice, sriracha, salt, pepper and cilantro and turn the slow cooker down to low for an additional 20-30 minutes. Serve with more cilantro, coconut milk and peanuts on top. This soup keeps well in the fridge in an airtight container for up to 5 days.
Notes
7.8.1.2
160
https://bake-eat-repeat.com/slow-cooker-thai-pumpkin-soup-recipe/
This post contains affiliate links, meaning that if you make a purchase through these links, I may receive a small commission.