These raspberry lemon sweet rolls are easy to make and are perfect for brunch. Topped with a sweet, lemon cream cheese glaze, they are absolutely delicious!
These raspberry lemon sweet rolls make the perfect brunch dish. They're easy to make and taste absolutely fantastic.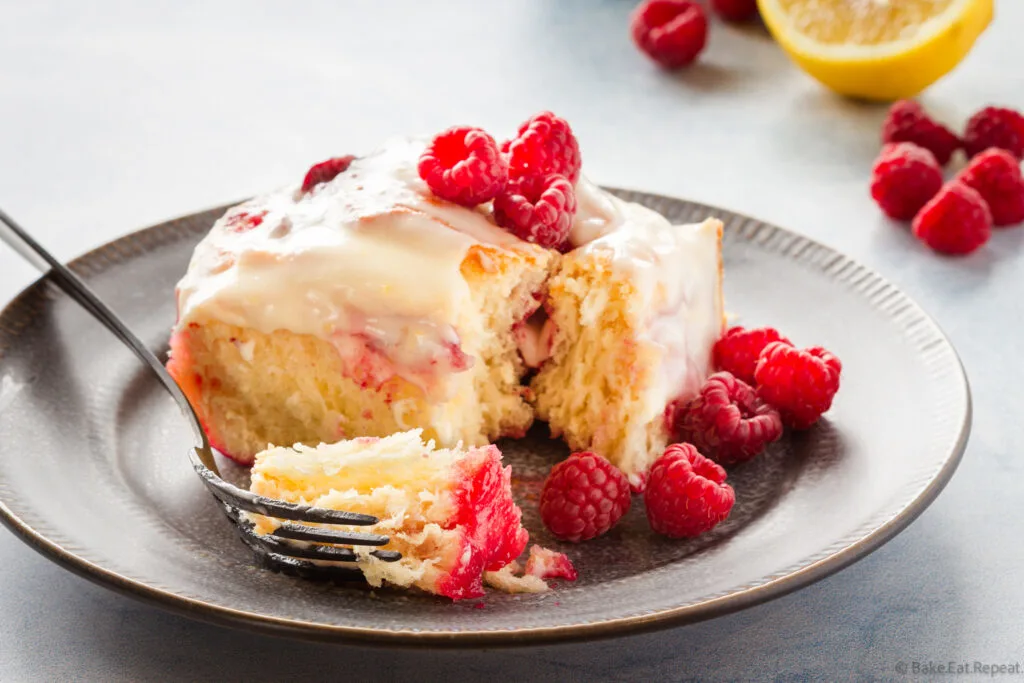 If you've never made sweet rolls, they are really very easy. The dough is one of the easier yeast doughs to make, and is very quick and easy to mix up, especially if you have a stand mixer to knead it.
Once the dough rises for a couple of hours, it takes just minutes to shape the rolls and put them in the baking dish to rise again. You can even toss them in the fridge at this point for up to two days if you want to make them ahead of time.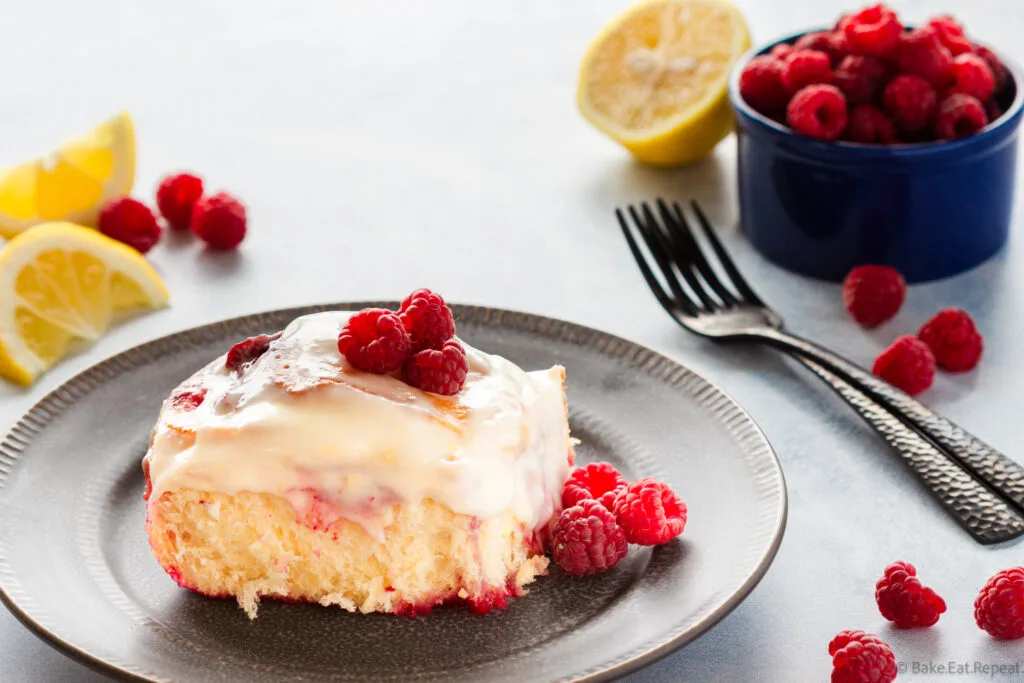 They're so easy and tasty. My kids have all made these on their own, and they've turned out beautifully every time.
You should definitely try these raspberry lemon sweet rolls the next time you need a tasty brunch recipe!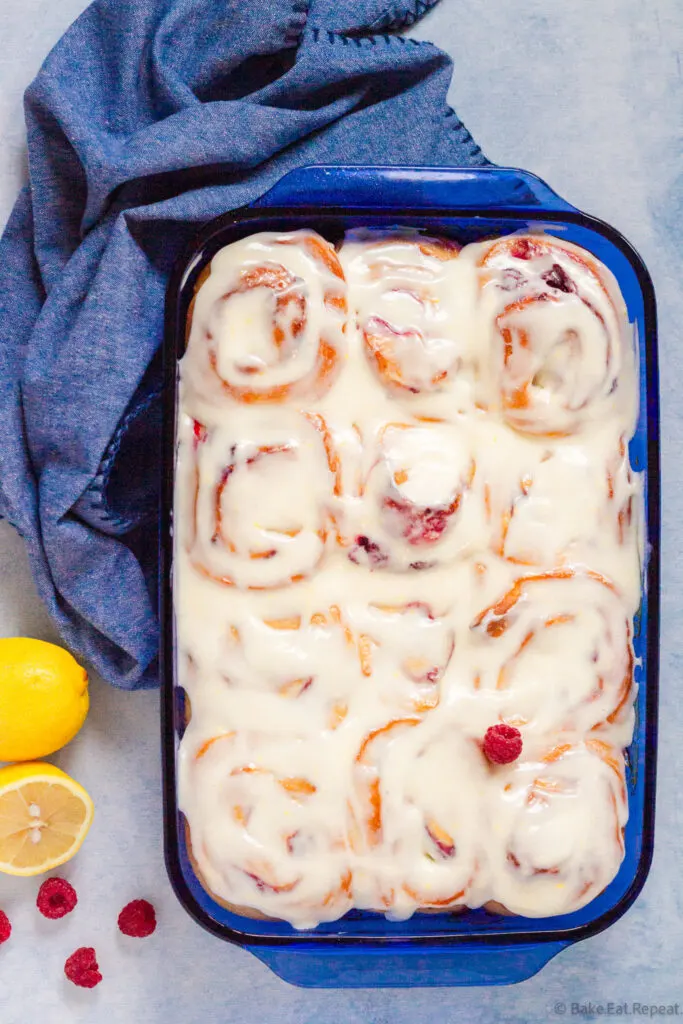 What are sweet rolls made of?
Sweet rolls use an enriched yeast dough that has butter, eggs, milk, and sugar added to it for a sweeter, richer tasting bread dough.
The richer dough is then filled with a sweet filling, usually butter and sugar and whatever flavour you want, and then rolled up and sliced into rolls to bake.
Sweet rolls are usually topped with frosting or a glaze of some sort as well.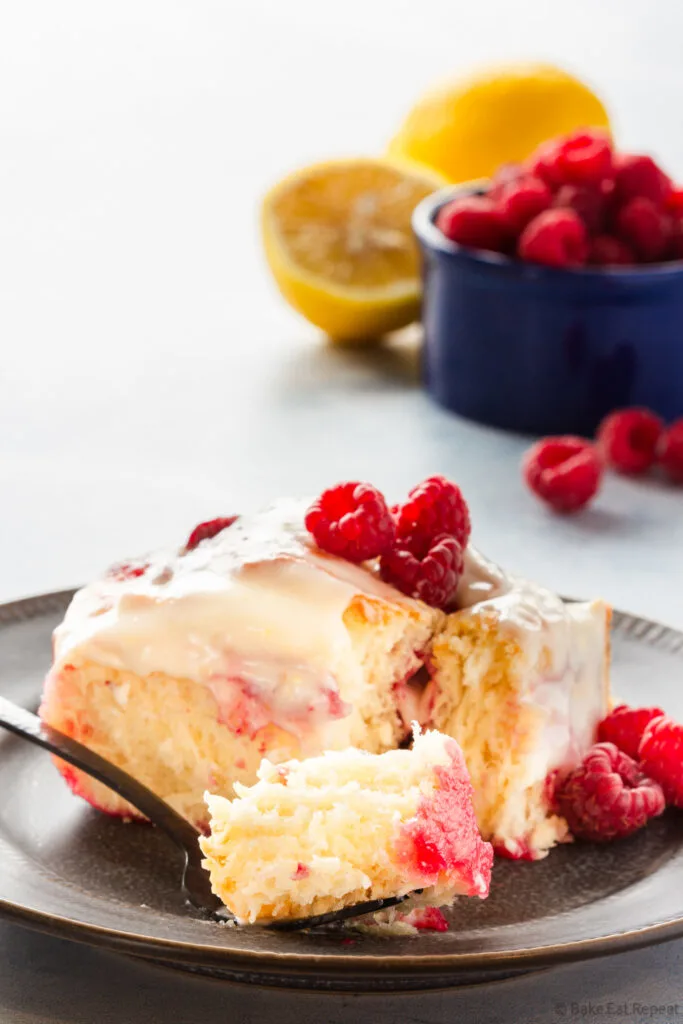 Should you refrigerate sweet rolls?
It depends on the sweet roll. Some don't need to be refrigerated, and can just be stored at room temperature, tightly covered.
For these raspberry lemon sweet rolls, I recommend storing them, tightly covered, in the refrigerator.
This is because of the cream cheese glaze. With cream cheese in the glaze, they should be kept in the refrigerator for food safety reasons. You can still reheat them in the microwave, even with the glaze, if you prefer to enjoy them warmed up.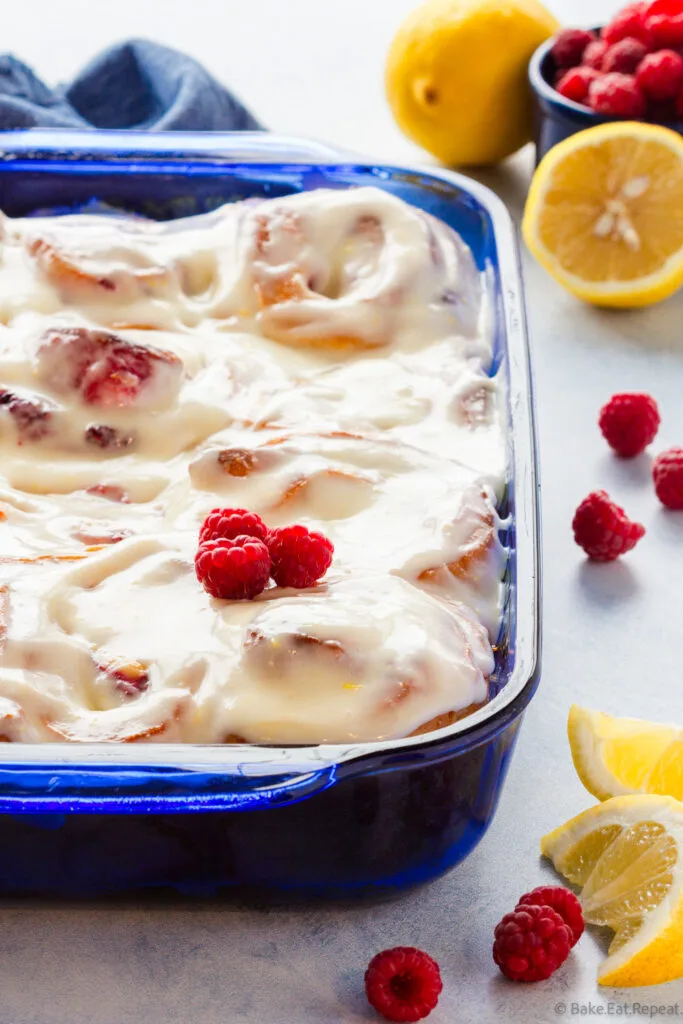 Can you make these raspberry lemon sweet rolls ahead of time?
Yes, you can make these sweet rolls ahead of time. I recommend making the dough and letting it rise, and then shaping the rolls and putting them into the baking dish.
At this point, you can tightly cover the pan, and place it in the refrigerator for up to 2 days.
When you are ready to bake the rolls, you will need to take them out of the refrigerator, and let them rise at room temperature for 3-4 hours before proceeding with baking.
This longer rise time is because the rolls are cold, they need to come to room temperature, and then rise, so it takes about twice as long as if you let them rise right after shaping them.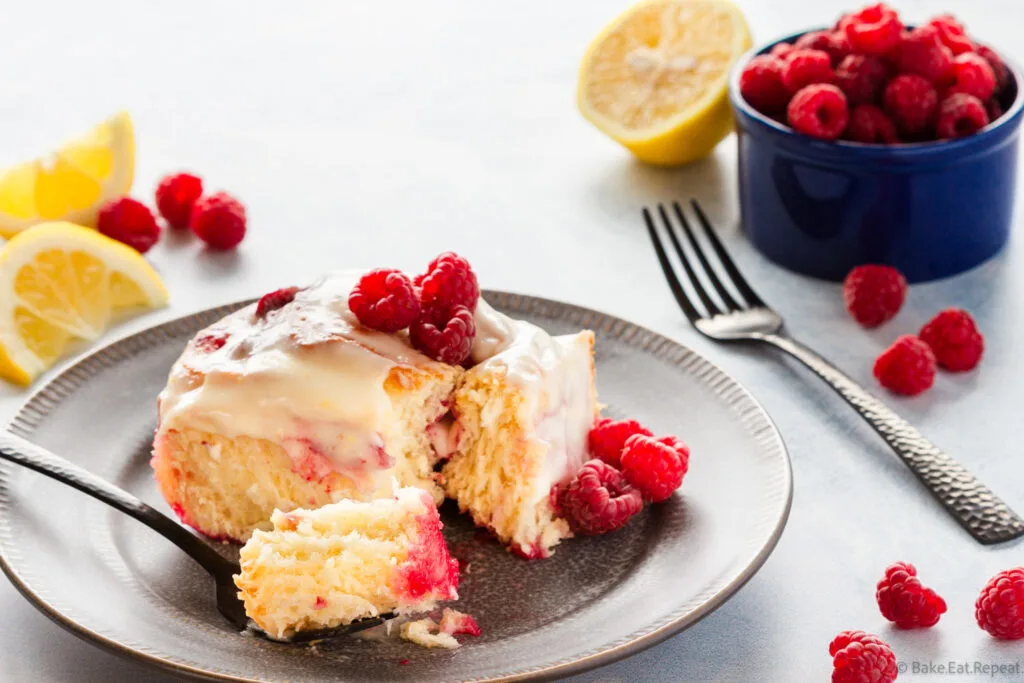 How to make Raspberry Lemon Sweet Rolls:
Use fresh lemon juice for this recipe. The bottled juice doesn't have the same flavour, and the lemon zest is important for this recipe anyways.
When you stir the filling together, it will look a little curdled and weird. This is okay, it will taste fine, so don't worry about it!
Try not to over flour the dough. You want the dough to clear the sides and bottom of the bowl when it's kneading, but not to have any dry spots. It should be smooth and tacky, but not overly sticky or dry. If it's too dry, add a little more water to the dough, if it's too sticky, add a little more flour, 1-2 tablespoons at a time.
Here are some more great sweet roll recipes for you: