These Instant Pot pork tacos with a mango strawberry salsa are so quick and easy to make and they taste fantastic! The whole family will love them!
These easy Instant Pot pork tacos with a mango strawberry salsa were a big hit with my family. But that's generally the case with both tacos, and any meal involving fruit salsa here, so no surprise that we enjoyed these!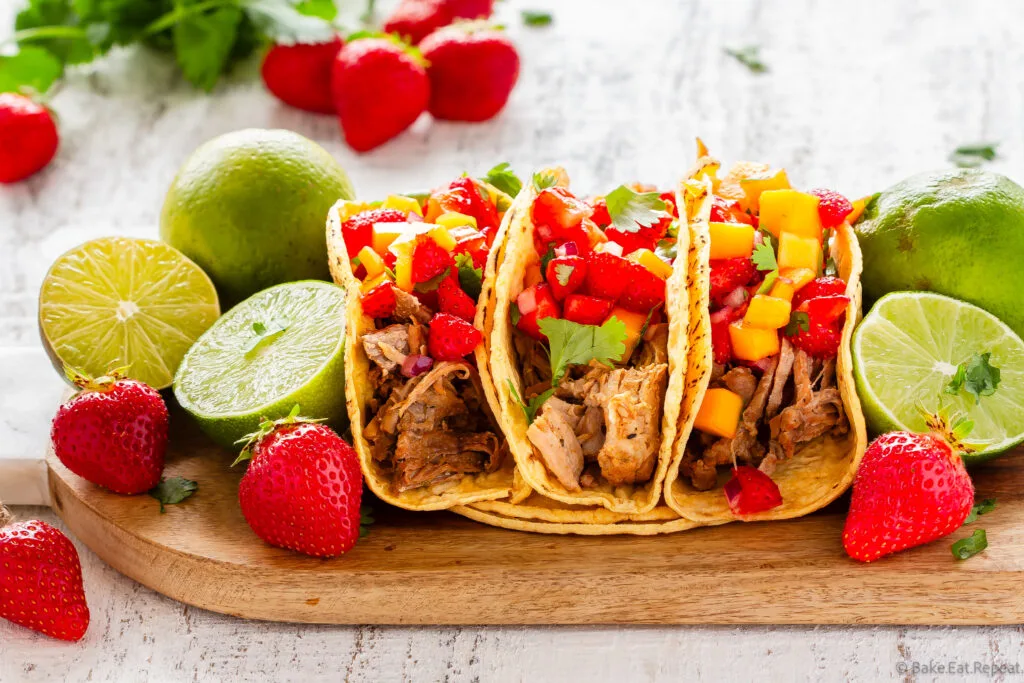 The tender, seasoned pork is super quick to get into the Instant Pot. Simply trim the pork roast and cut it into 3″ pieces, then add it to the Instant Pot with some onion, garlic, seasonings, and orange and lime juice.
It cooks for quite awhile, as it needs 15 minutes per pound of cook time at high pressure, so 45 minutes to an hour of cook time depending on the size of your roast. But as that cook time is all hands off, it's a very easy meal to make.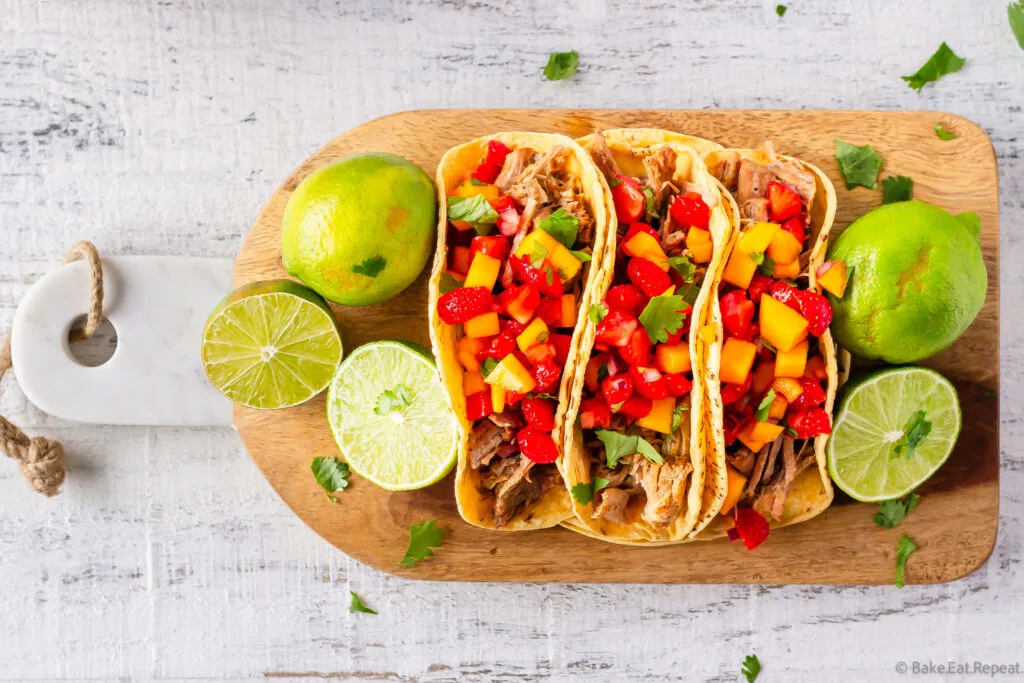 All you need for toppings on these tacos is some tasty strawberry mango salsa. This fruit salsa mixes up in just a few minutes while the pork is cooking, and it's the perfect accompaniment to the tender, shredded pork.
We loved these Instant Pot pork tacos, and will definitely be making them often!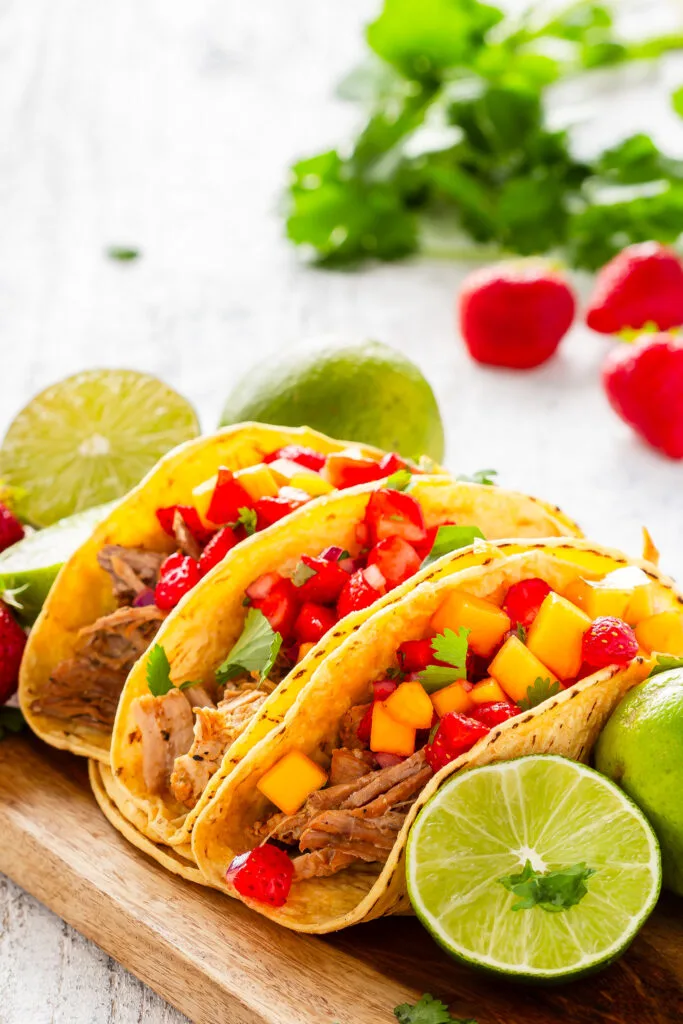 What kind of pork is used in tacos?
For these pork tacos, you want to use a roast that isn't too lean, so opt for a butt or shoulder roast. You can trim the excess fat on it, but you don't need to go too crazy trying to remove all the fat.
If you use a pork loin roast, or a similarly lean cut, these tacos will likely be a bit dry. The fattier cuts are much better for this recipe, so you will want to stick with one of those.
Can these pork tacos be made ahead of time?
You can prep the meat for these tacos ahead of time, and freeze it until you are ready to cook it. Freeze the pork with the seasonings and the onion and garlic, but leave out the orange and lime juice.
When you want to cook it, you can cook the pork in the Instant Pot either thawed or still frozen. Just add the orange and lime juice and cook at high pressure.
If you are cooking the meat while it's still frozen you will just need to increase the cook time. You can find instructions for that in the notes of the recipe card.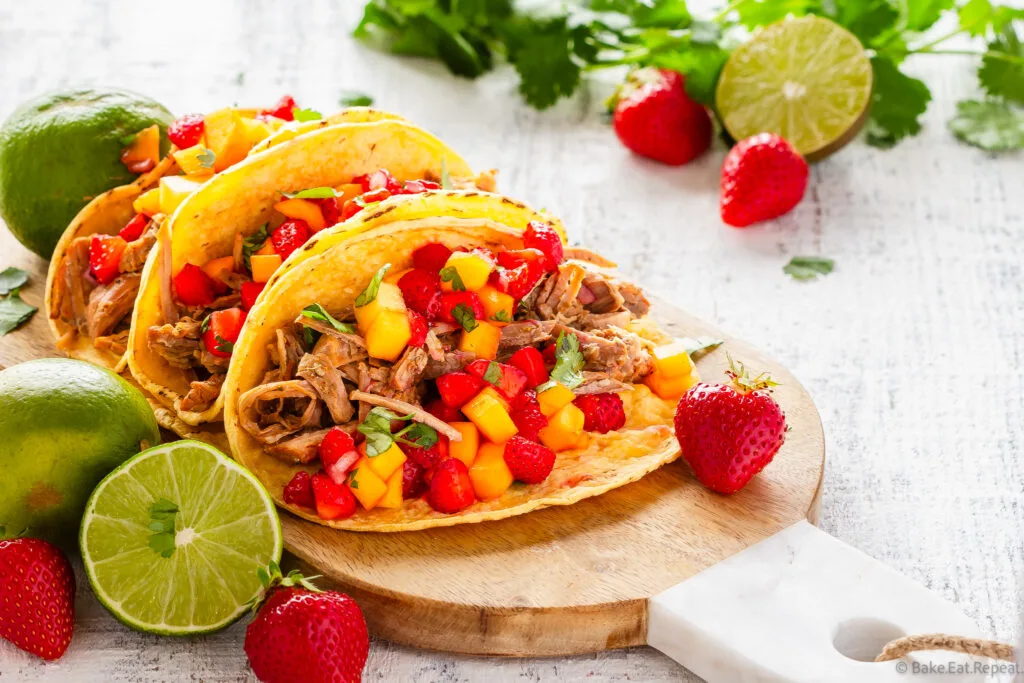 How to make Instant Pot Pork Tacos with Mango Strawberry Salsa:
The salsa can be made a little bit ahead of time and refrigerated. Don't prep it hours ahead though, as the fruit gets a bit soft and it isn't quite as good.
Serve these tacos in corn or flour tortillas, whichever you prefer.
You can prep the meat ahead of time and freeze it for later. I've included instructions for this in the recipe card.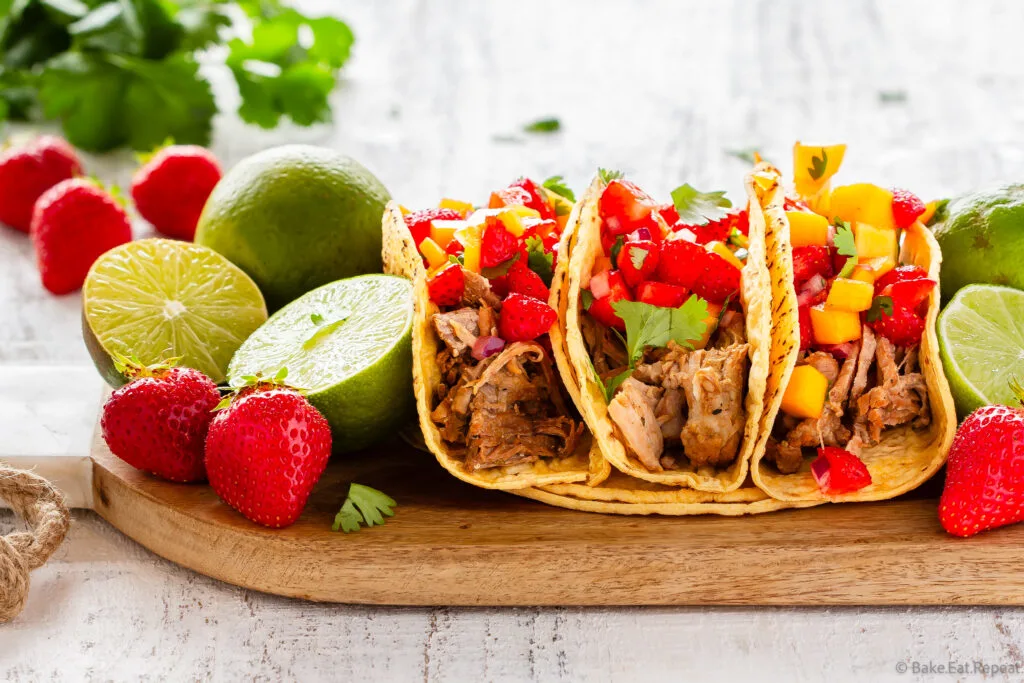 Here are some more great taco recipes for you: