These lemon strawberry cream puffs make the best dessert! Crisp cream puff pastries filled with lemon curd, lemon cream, and strawberries! They're amazing!
These lemon strawberry cream puffs are so delicious, and so easy to make!
Cream puffs are one of those desserts that a lot of people are intimidated by. They seem fancy and special and way too hard to make at home.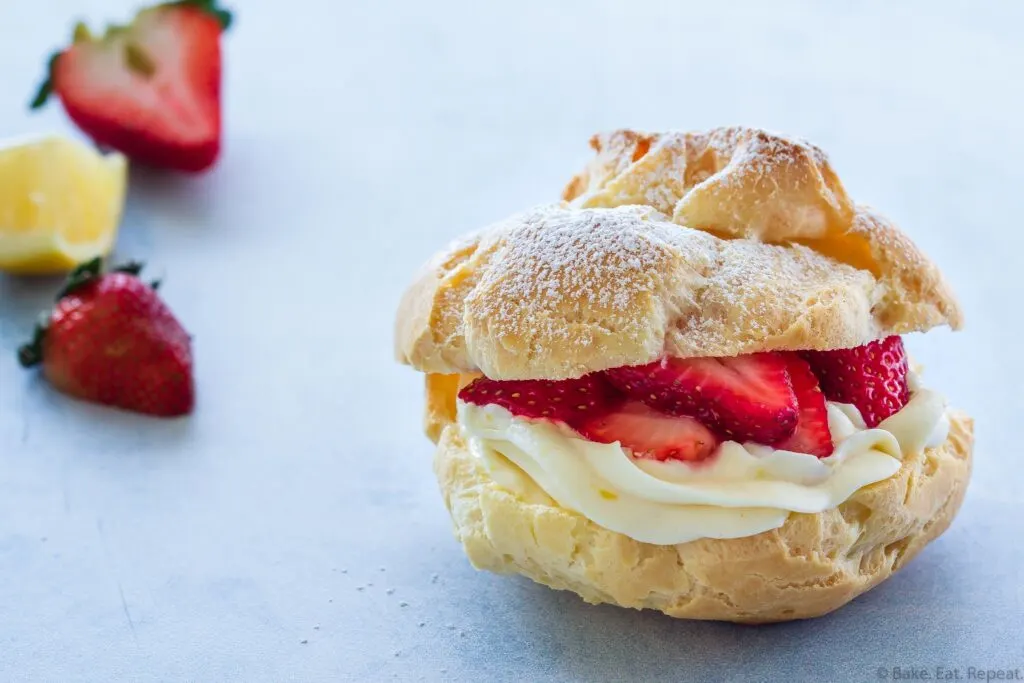 But they are actually so simple to make. The pastry dough only has a few ingredients, and it mixes up quickly on the stovetop. Then all you have to do is mound or pipe the dough onto a baking sheet and bake.
Don't get too hung up on making them all the exact same shape and size. They're delicious either way.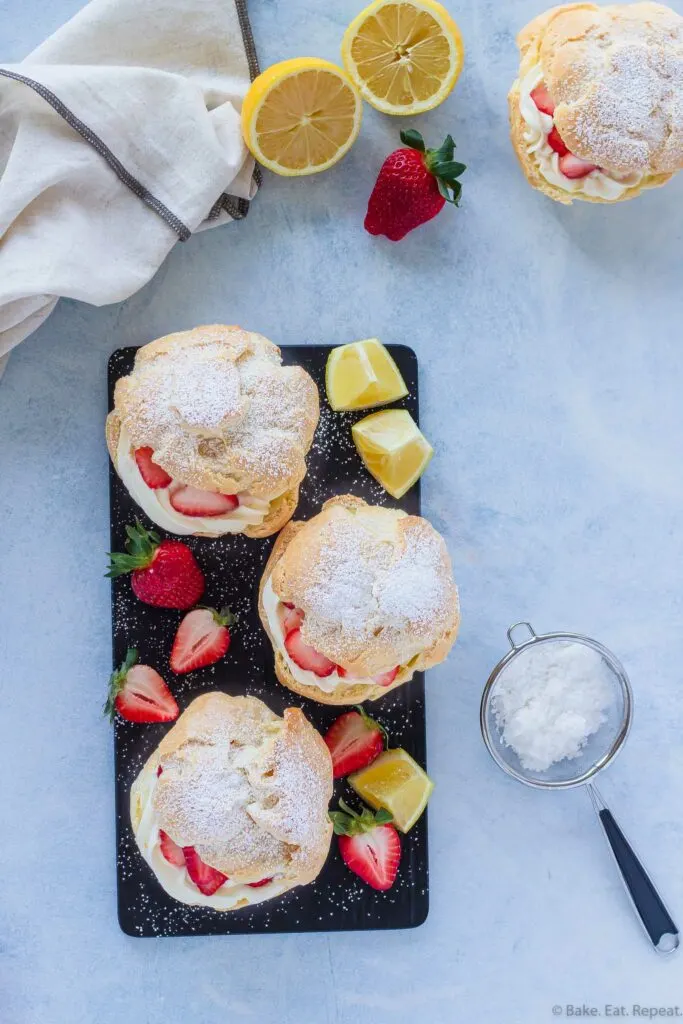 But I like to use an ice cream scoop to portion out the dough for these large cream puffs as they end up being about the same size that way, and it's way faster than a piping bag is.
If you have a bunch of peaks and odd looking shapes on the pastry dough you can smooth them down with a little water before baking them.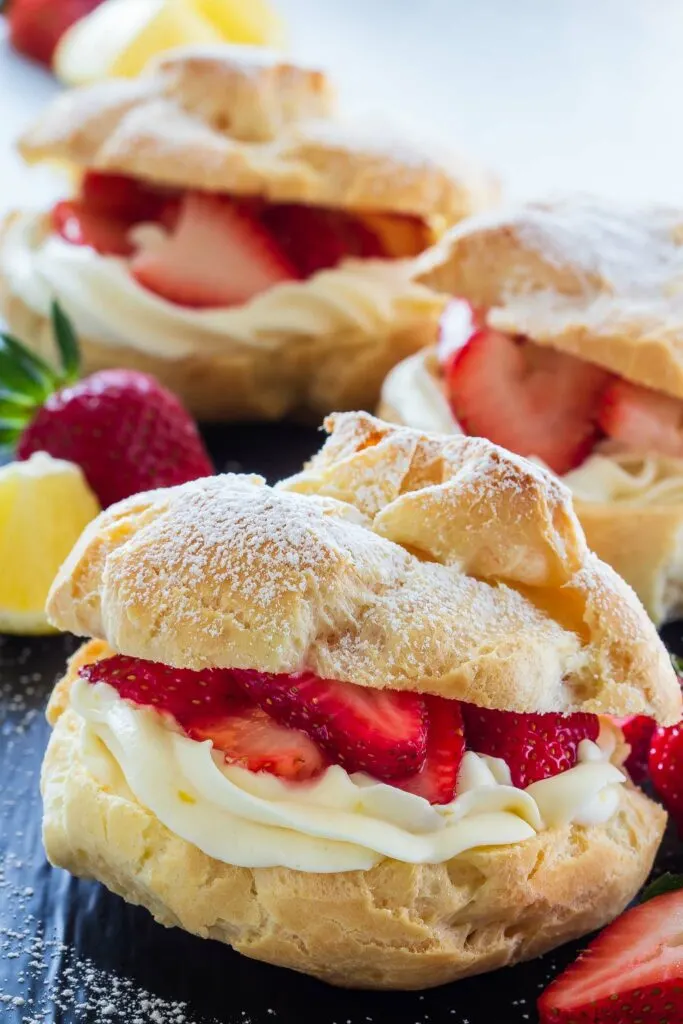 Cream puffs are typically filled with pastry cream. I'll admit, I'm not a huge fan of pastry cream myself, although my kids all love it so I'll probably make cream puffs filled with it at some point for them. But these strawberry lemon cream puffs are filled with lemon curd, a lemon cream, and sliced strawberries.
They're also enormous. I know you usually can eat cream puffs by picking them up and digging in, but I will warn you that will be messy with these. Doable, but messy. The kids all did it, I used a fork and knife. Either way, they're absolutely delicious and you should definitely make them ASAP!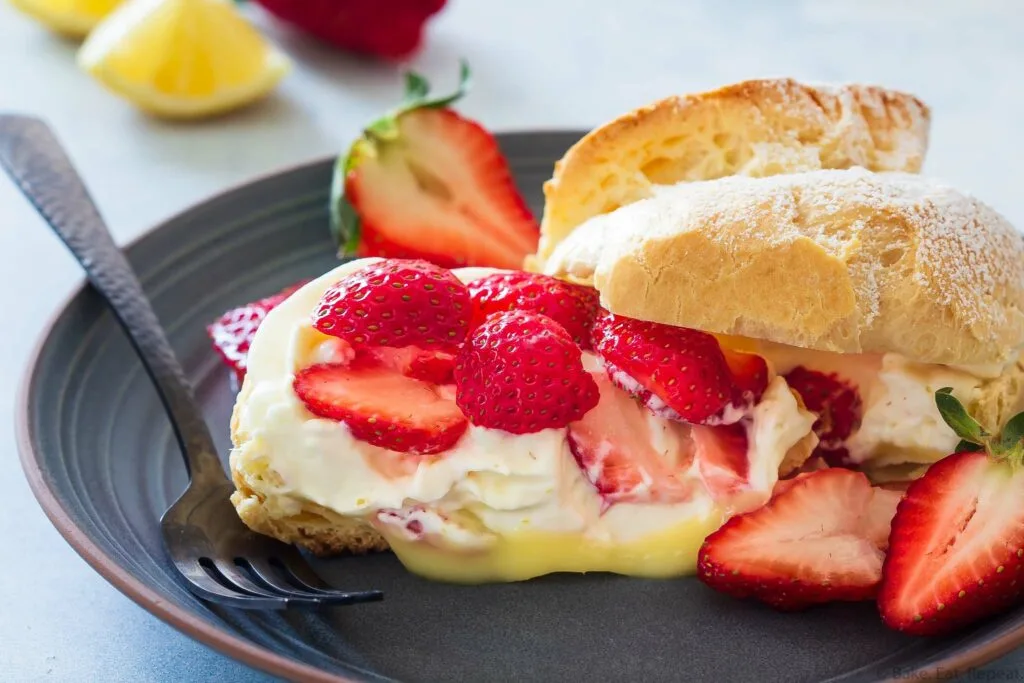 How do you keep cream puff shells crispy?
Cream puff shells do tend to get a bit soggy past the day that they're made. But you can still make them ahead of time.
If you want to make these lemon strawberry cream puffs ahead of time, you can make all the components separately and keep them in the fridge. Then when you are ready to assemble them, re-crisp the cream puff shells by placing them in a 350F oven for about 5 minutes.
Let the shells cool completely before assembling the cream puffs.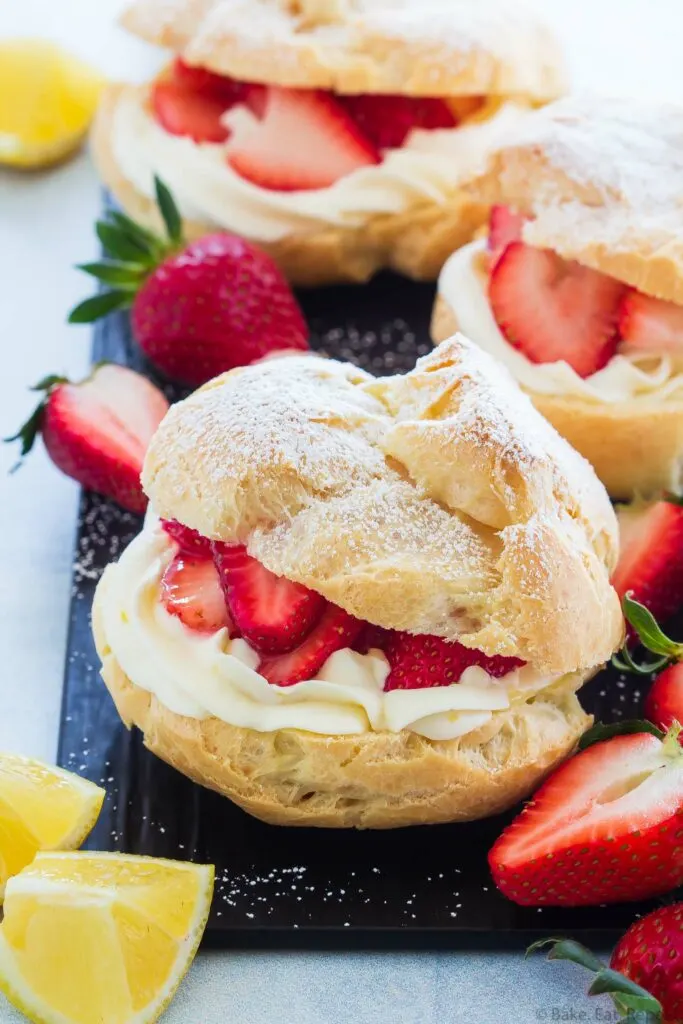 Why are my cream puffs doughy inside?
Cream puffs can end up doughy inside for two reasons. Either you didn't bake them long enough, or you didn't let them dry out.
Bake the cream puffs until a toothpick inserted inside one comes out without any wet batter on it. At this point, you need to make a small slit in the side of each pastry with a sharp knife to allow steam to escape.
Then turn off the oven and prop it open with a wooden spoon, leaving the cream puffs inside for 30-45 minutes to dry.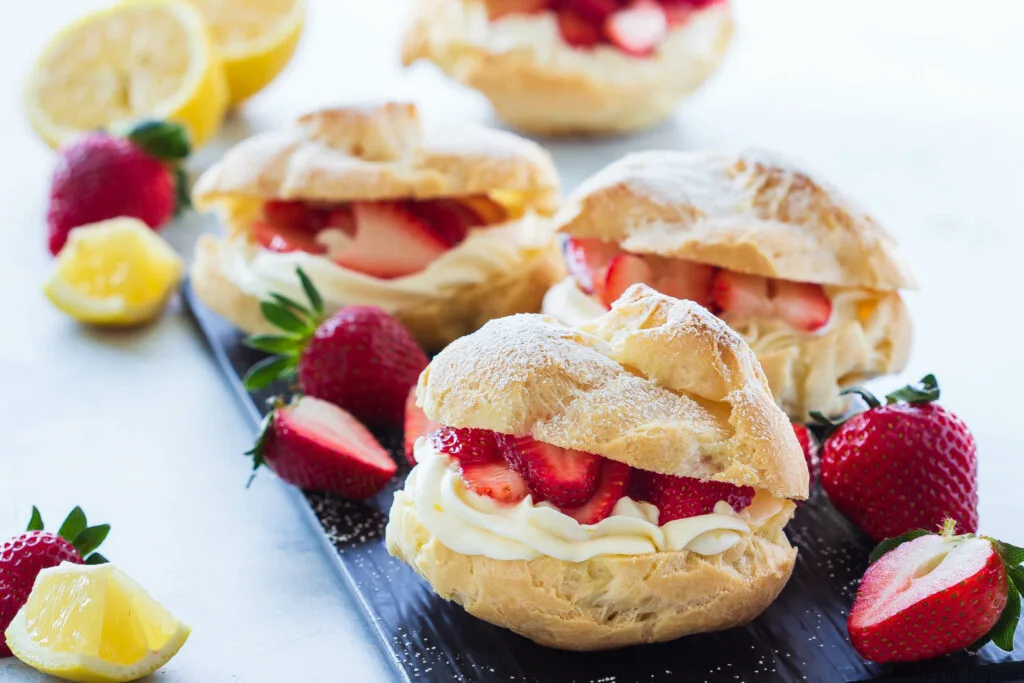 How to make Lemon Strawberry Cream Puffs:
You can portion out the cream puff dough using an ice cream scoop or a piping bag. Smooth down any peaks on the dough with a bit of water before baking.
To keep the insides of the cream puffs from being doughy, you need to poke the baked pastries with a sharp knife, then leave them in a turned off and propped open oven for a half hour to dry out a bit.
These cream puffs are best the day they are made, but will keep for up to two days, assembled, in the fridge. You can also keep all the components separate for a day or two before serving. The cream puffs will lose a bit of their crispness though.
The recipe looks like a lot of steps, but they are all easy. The lemon curd, lemon cream, and strawberries can all be prepared ahead of time and kept in the fridge.
Here are some more great dessert recipes for you: