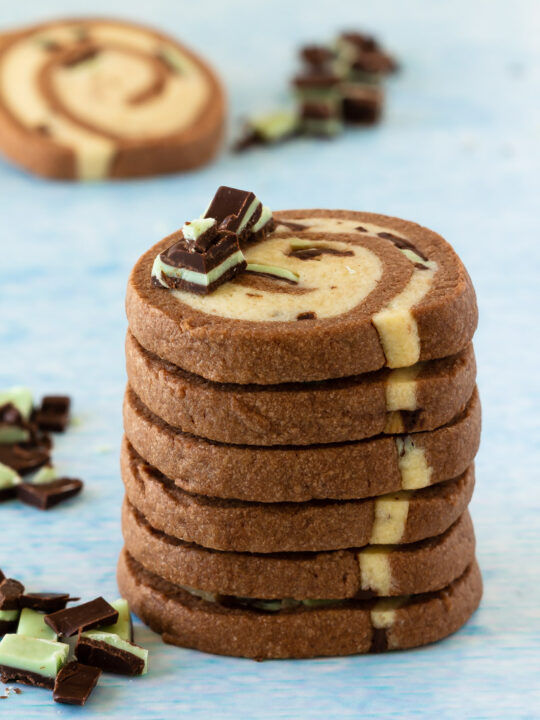 These peppermint pinwheel cookies are perfect for Christmas! Chocolate and peppermint swirled sugar cookies that are so easy to make!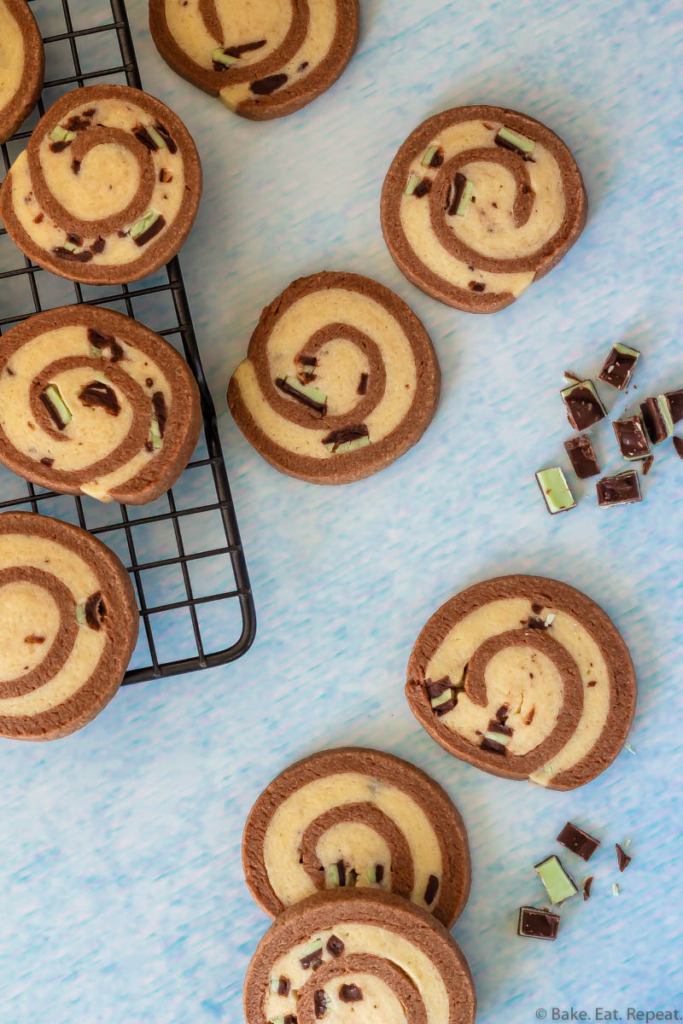 Christmas isn't complete without these peppermint pinwheel cookies.
Every year it's one of the first cookies my kids request when I ask them which Christmas cookies we absolutely NEED to make.
And I kind of agree with them.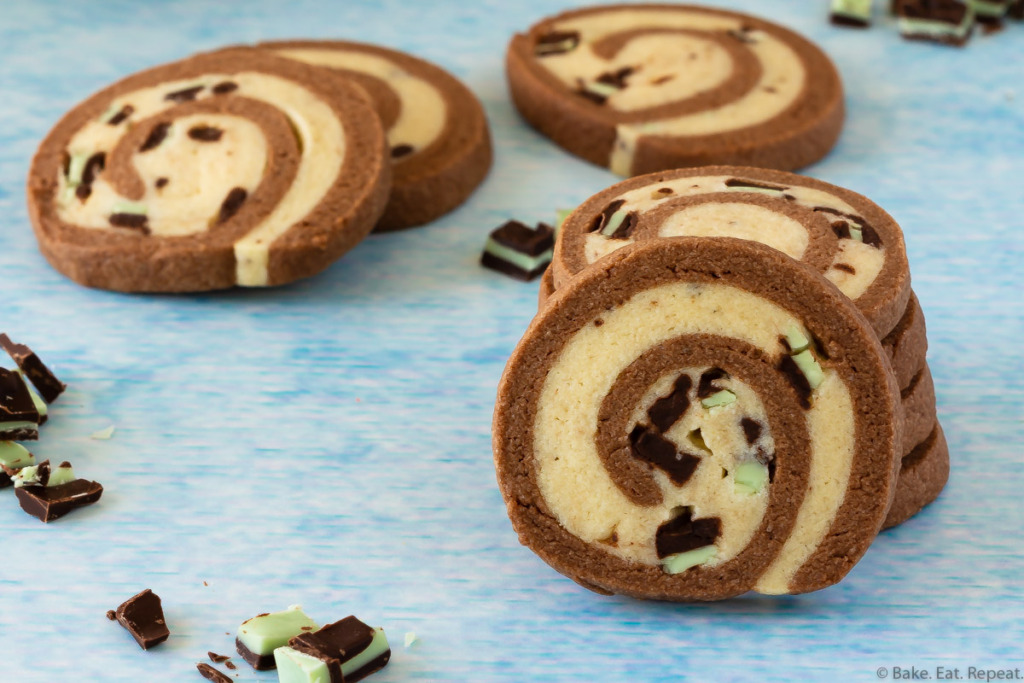 You just can't go wrong with peppermint and chocolate. It's one of my favourite combinations.
These peppermint pinwheel cookies will continue to be made every single Christmas for a long time I think. They're delicious!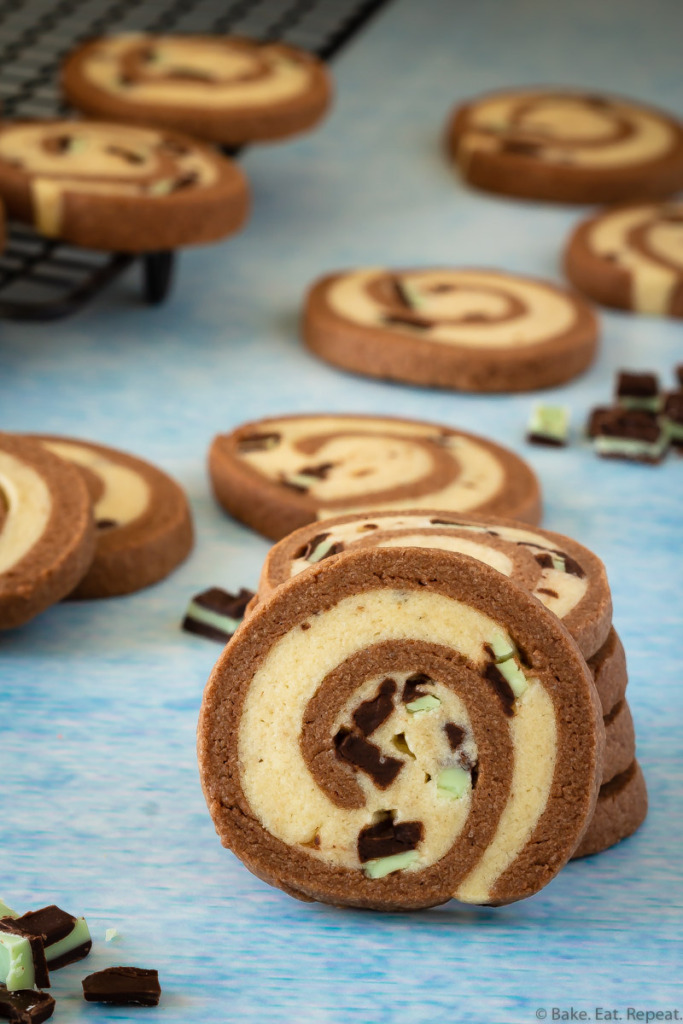 What are pinwheel cookies?
Pinwheel cookies look fancy, but are really very easy to make.
They are basically just sugar cookies, but with colour and/or flavour added to half the dough.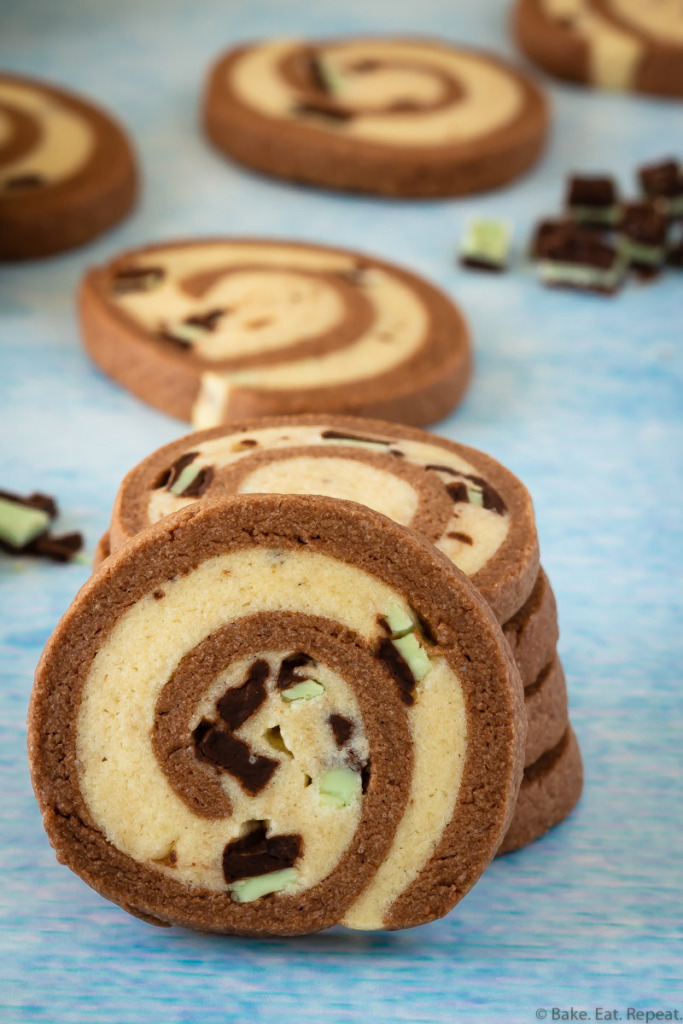 Roll out each half of the dough into a rectangle, place the two rectangles together, and roll them up into a swirled log.
Then all you need to do is chill the dough before slicing it and baking the cookies.
So there's a few steps, but they are really very easy to make!
How thick should I slice my pinwheel cookies?
I slice these peppermint pinwheel cookies about 1/4″ thick.
Any thinner than that and they tend to go a bit crunchy instead of staying soft and chewy in the middle with crisper edges.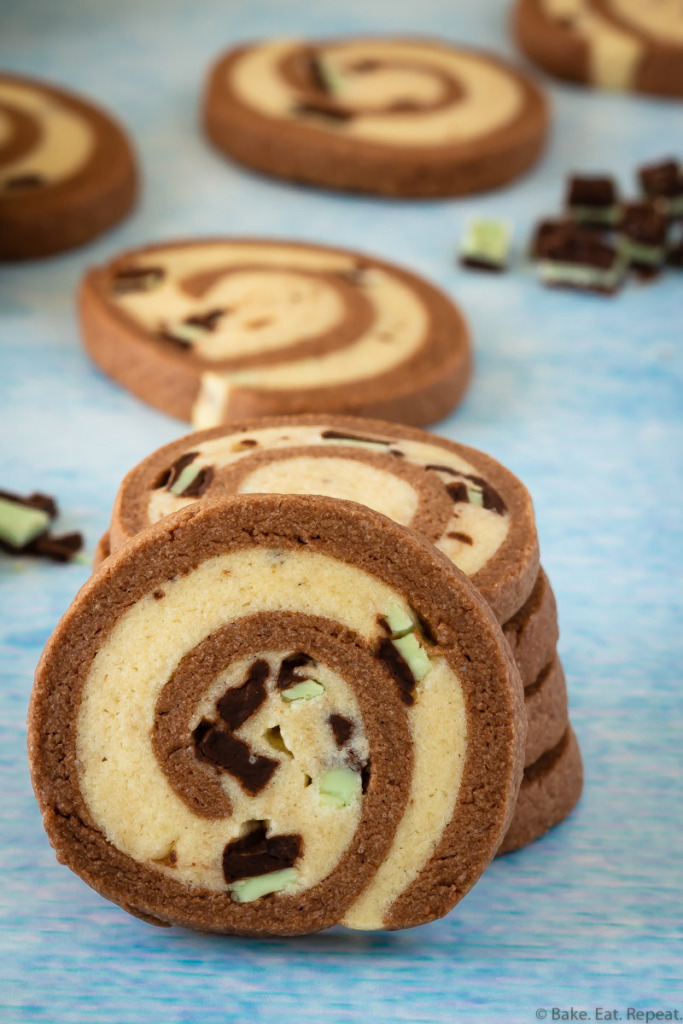 How to make Peppermint Pinwheel Cookies:
After rolling out both pieces of cookie dough into a rectangle, stack them on top of each other and then trim the edges to make a rectangle with smooth sides. This just makes it easier to roll the dough up into an even cylinder.
Make sure to chill the rolled up cookie dough for at least two hours (or overnight) before slicing and baking the cookies. They will spread more in the oven, and be more difficult to slice evenly, if you try to slice and bake immediately.
If you can't find Andes mint chocolates, mint chocolate chips are a good substitution.
Here are some more great Christmas cookies for you: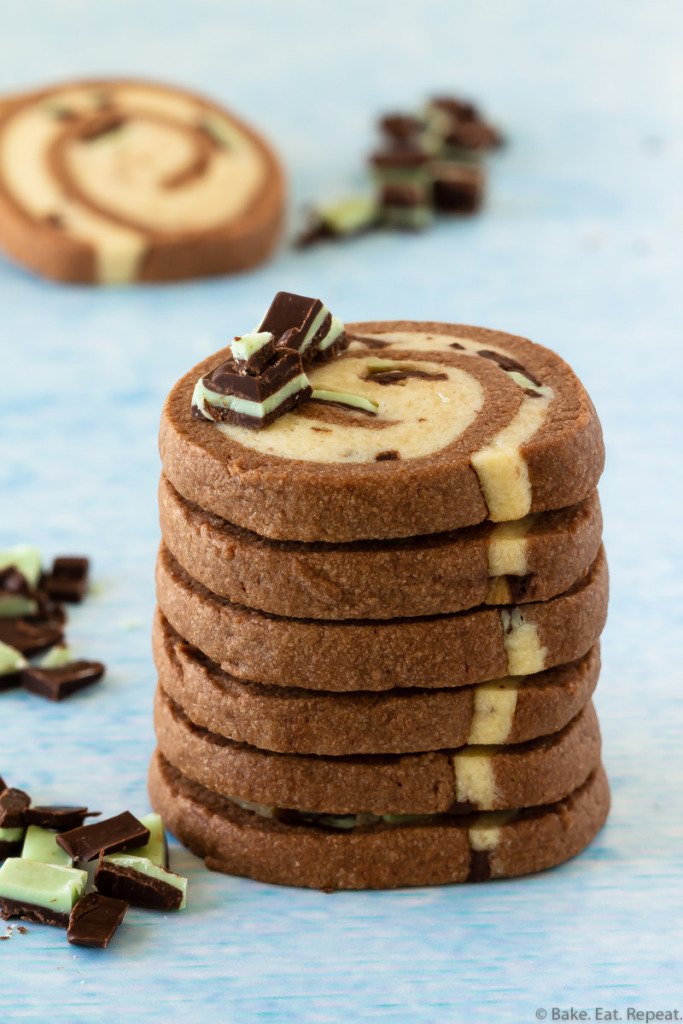 Yield: 36 cookies
Peppermint Pinwheel Cookies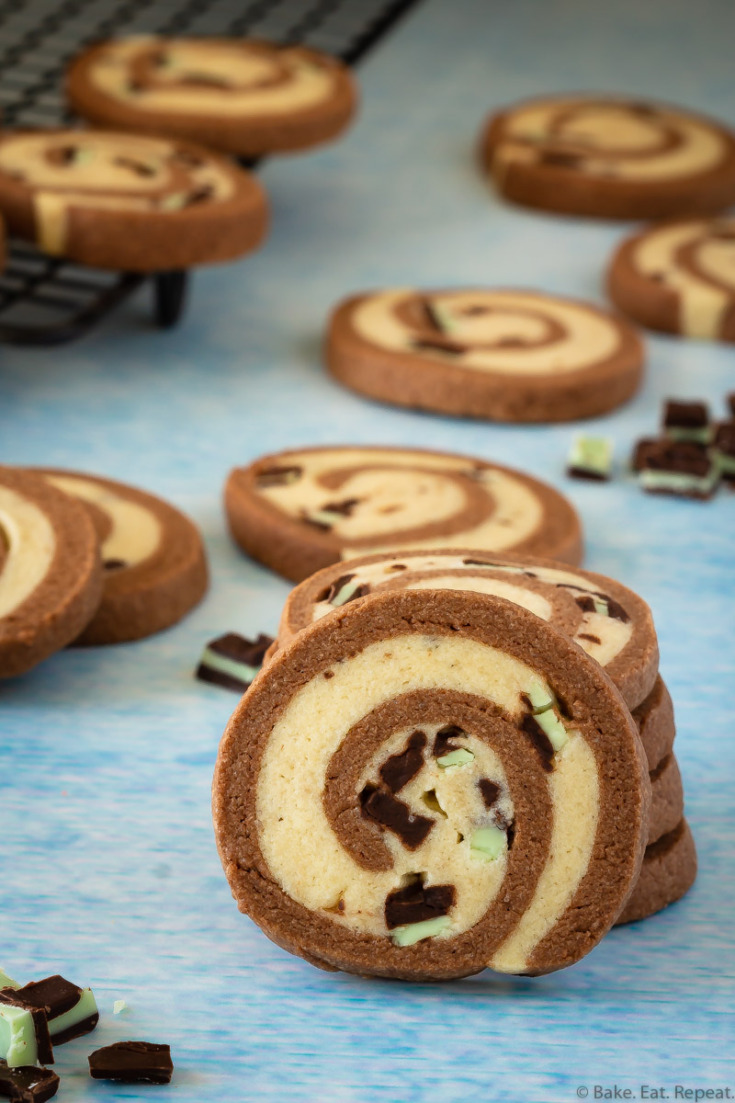 These peppermint pinwheels are made of chocolate and peppermint cookie doughs swirled together for the perfect slice and bake Christmas cookie!
Total Time
2 hours
40 minutes
Ingredients
3/4 cup unsalted butter, softened
1 cup granulated sugar
2 large eggs
1 teaspoon vanilla
1/2 teaspoon baking powder
1/4 teaspoon salt
2 3/4 cups all-purpose flour
2 ounces semi-sweet chocolate, chopped
1/2 cup layered mint chocolates (such as Andes chocolates), chopped
1/4 teaspoon peppermint extract
Instructions
In a large bowl, or in the bowl of a stand mixer, cream together the butter and sugar until smooth.
Add the egg and vanilla and mix until well combined.
Add the baking powder, salt and flour and mix well.
In a small microwave safe bowl, melt the semi-sweet chocolate.
Microwave at 50% power for 30 second increments, stirring after each 30 seconds, until just about melted. Continue to stir the chocolate until it is fully melted, making sure not to overheat it or it will seize.
Divide the dough into two equal pieces, and add the melted chocolate to one half.
Mix until the chocolate is completely incorporated into the dough.
To the other half of the dough, add the chopped layered mint chocolates and the peppermint extract. Mix until well combined.
Roll out each piece of dough into a 10 by 14 inch rectangle between two pieces of wax paper.
Peel off the top pieces of wax paper, and using the bottom piece, invert one rectangle of peppermint dough on top of one rectangle of chocolate dough.
Remove the top piece of wax paper, and trim the edges to get an even rectangle of dough with straight edges.
Use the bottom piece of wax paper to help roll up the two layers of dough, starting from the long side, into a tight cylinder.
Wrap the roll of cookie dough tightly in plastic wrap, and refrigerate for 2 hours, or overnight.
Preheat the oven to 350 degrees F.
Unwrap the dough roll and slice it into 1/4 inch slices.
Place the slices about 2 inches apart on a parchment lined cookie sheet.
Bake for 11-14 minutes until the edges are firm.
Allow the cookies to cool for 5 minutes on the cookie sheet and then transfer them to wire racks to cool completely.
Cookies will keep in an airtight container at room temperature for 7 days, or can be frozen for up to 3 months.

Notes
If you can't find the Andes layered mint chocolates, mint chocolate chips are a good substitute.
Recommended Products
This post contains affiliate links. As an Amazon Associate, I may receive a small commission from qualifying purchases.
Nutrition Information:
Yield:
36
Serving Size:
1
Amount Per Serving:
Calories:

119
Total Fat:

6g
Saturated Fat:

3g
Trans Fat:

0g
Unsaturated Fat:

2g
Cholesterol:

21mg
Sodium:

29mg
Carbohydrates:

16g
Fiber:

0g
Sugar:

8g
Protein:

2g
Nutrition Information is estimated based on ingredients used and may not be exact.