These peppermint pinwheels are made of chocolate and peppermint cookie doughs swirled together for the perfect slice and bake Christmas cookie!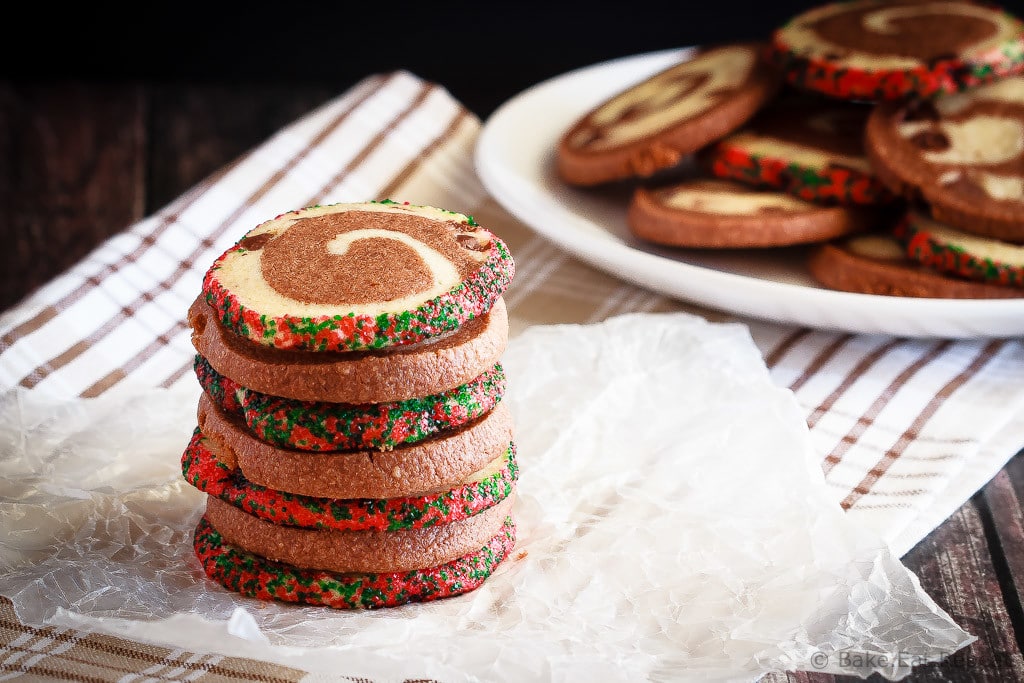 More cookies today!  Because it's the Christmas season and, well, it just seems like the thing to do.  Lots and lots of baking.
There's just so many amazing Christmas treats.  I think that's the problem with making so many of these things only once a year.  You end up with this list a mile long of all the things you want to have for Christmas and the result is way too much baking!  It's a good thing there's always so many places to bring all the treats to and give them away so that I don't end up with Christmas baking in my freezer in June!
This peppermint pinwheel cookie recipe is not an old favourite like my whipped shortbread one is.  I actually found this one in a magazine that I randomly grabbed off the shelf at the library as I was walking by a few years ago.  I think I actually only tried one recipe out of that magazine, but it has stuck around as a new family favourite every Christmas!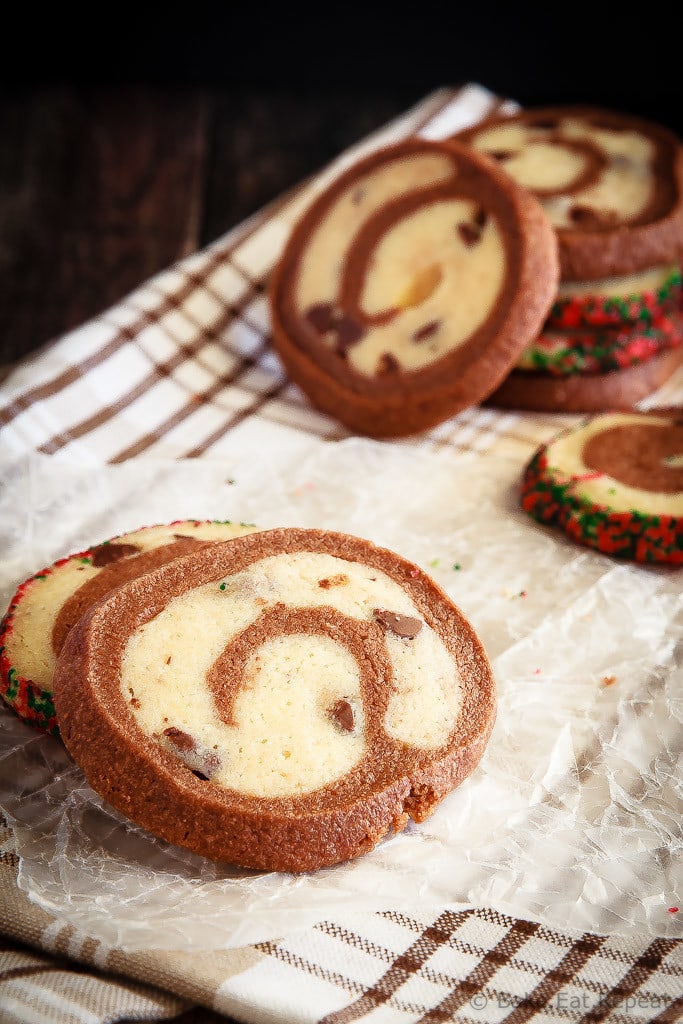 You just can't go wrong with peppermint and chocolate. It really is one of my favourite combinations ever – if mint chocolate is an option you better believe it's the one I'm taking.  Although that's maybe obvious with the over abundance of mint chocolate things around here – homemade mint thins, chewy chocolate mint chip cookies, and chocolate mint popcorn to name a few!
These cookies do take a bit of time but all the steps are very simple. Mix the dough up, divide it in half and flavour each portion, chill, roll it out and form it into swirly logs, then chill again, slice, and bake.  You can definitely let the dough chill overnight and then slice and bake the next day if you want to break it up a bit though.
I could eat these peppermint pinwheels all year long (peppermint isn't a seasonal thing in my world!), but they remain one of those cookies that is relegated to Christmas at my house.  And maybe that's part of what makes them special, along with the whole long list of Christmas treats.  Everything is more special when you only have it once a year!
If you love the peppermint and chocolate combo, you will definitely love these peppermint pinwheels.  So if you would like your Christmas treat list to get just that little bit longer this year – try them out!  They'll probably stick and become a favourite for you too!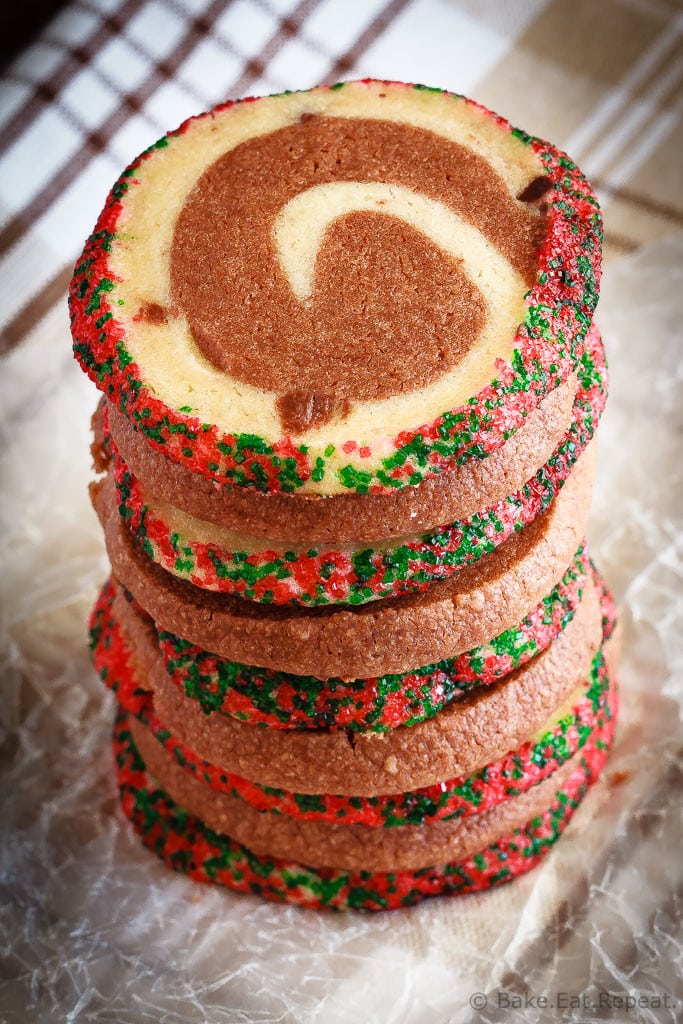 Updated Dec 12/16, originally posted Dec 10/14.
Yield: 36 cookies
Peppermint Pinwheels
These peppermint pinwheels are made of chocolate and peppermint cookie doughs swirled together for the perfect slice and bake Christmas cookie!
Ingredients
1 cup unsalted butter, softened
1 cup granulated sugar
1 large egg
1 teaspoon vanilla
1 teaspoon baking powder
1/4 teaspoon salt
2 1/4 cups all-purpose flour
2 ounces semi-sweet chocolate
1/2 cup layered mint chocolates (such as Andes chocolates), chopped
1/4 teaspoon peppermint extract
Instructions
In a large bowl, or in the bowl of a stand mixer, cream together the butter and sugar until smooth. Add the egg and vanilla and mix until well combined. Add the baking powder, salt and flour and mix well.
In a small microwave safe bowl, melt the semi-sweet chocolate. Microwave at 50% power for 30 second increments, stirring after each 30 seconds, until just about melted. Continue to stir the chocolate until it is fully melted, making sure not to overheat it or it will seize. Divide the dough into two equal pieces, and add the melted chocolate to one half. Mix until the chocolate is completely incorporated into the dough.
To the other half of the dough, add the chopped layered mint chocolates and the peppermint extract. Mix until well combined.
Divide both the chocolate dough and the peppermint dough into two pieces each. Wrap each of the 4 pieces of dough tightly in plastic wrap and refrigerate for at least 1 hour, or until it is easy to handle.
Roll out each piece of dough into a 9 by 6 inch rectangle between two pieces of wax paper. Peel off the top pieces of wax paper, and using the bottom piece, invert one rectangle of peppermint dough on top of one rectangle of chocolate dough. Remove the top piece of wax paper, and use the bottom one to help roll up the two layers of dough, starting from the long side, and pinch the edges to seal. Repeat with the other two dough rectangles. If you want, you can roll the logs in sprinkles to coat the edges of the cookies. Wrap each roll in plastic wrap and refrigerate for 2 hours, or overnight, until firm.
Preheat the oven to 375 degrees F. Unwrap the dough rolls and cut into 1/4 inch slices. Place about 2 inches apart on an ungreased cookie sheet. Bake for 8-10 minutes or until the edges are firm. Allow to cool for 5 minutes on the cookie sheet and then transfer to wire racks to cool completely. Cookies will keep in a sealed container at room temperature for 7 days, or can be frozen for up to 3 months.
Notes
You can use either baking chocolate or chocolate chips for the chocolate, but I prefer to use baking chocolate as it melts better. If you can't find the Andes layered mint chocolates (I sometimes have a really hard time finding them!), mint chocolate chips are a good substitute (that's actually what's shown in the photos here because I couldn't find the Andes ones this year!). The prep time does not include chilling time.
Source: Slightly adapted from Better Homes and Gardens.
Nutrition Information:
Amount Per Serving:
Calories:

262
Total Fat:

1g
Carbohydrates:

54g
Protein:

7g