These light and sweet whipped shortbread cookies, with a cherry on top, are so quick and easy to make. Christmas cookie perfection!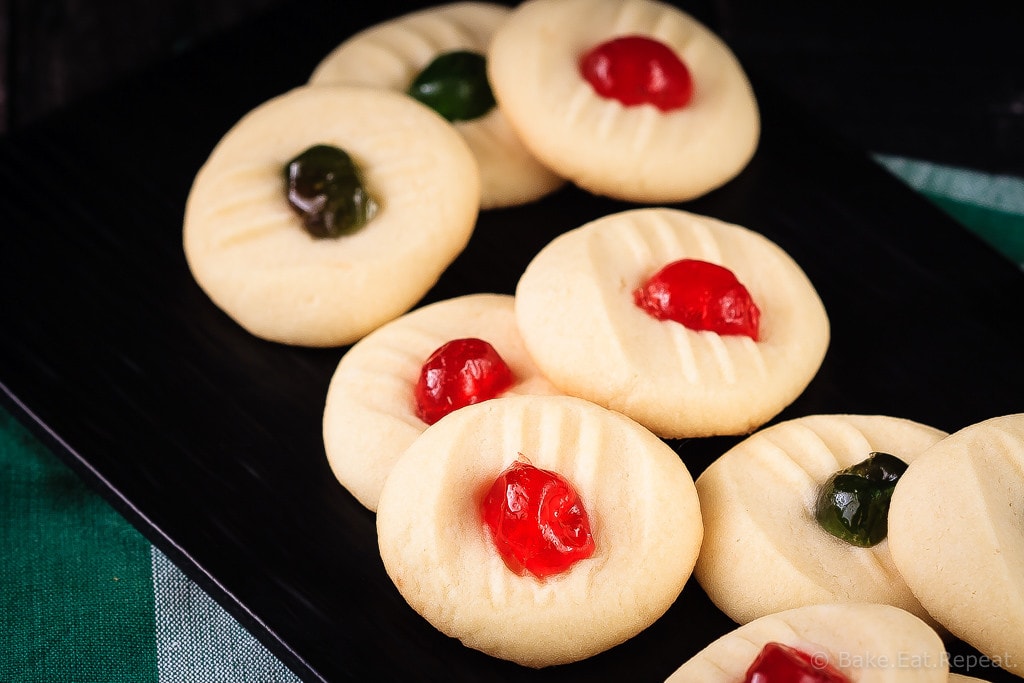 It's almost Christmas time – which means it's time to make some whipped shortbread cookies!
I absolutely love Christmas baking. The only problem is that as the years pass, I am starting to have too many favourites!
We have to pick and choose every year now.
Especially since I do love to bake, and there's all my childhood favourites, all my husband's childhood favourites, and I have this need to try new things every year too.
That makes for far too many cookies.
So not everything gets made, or we'd have Christmas baking in the freezer all year long.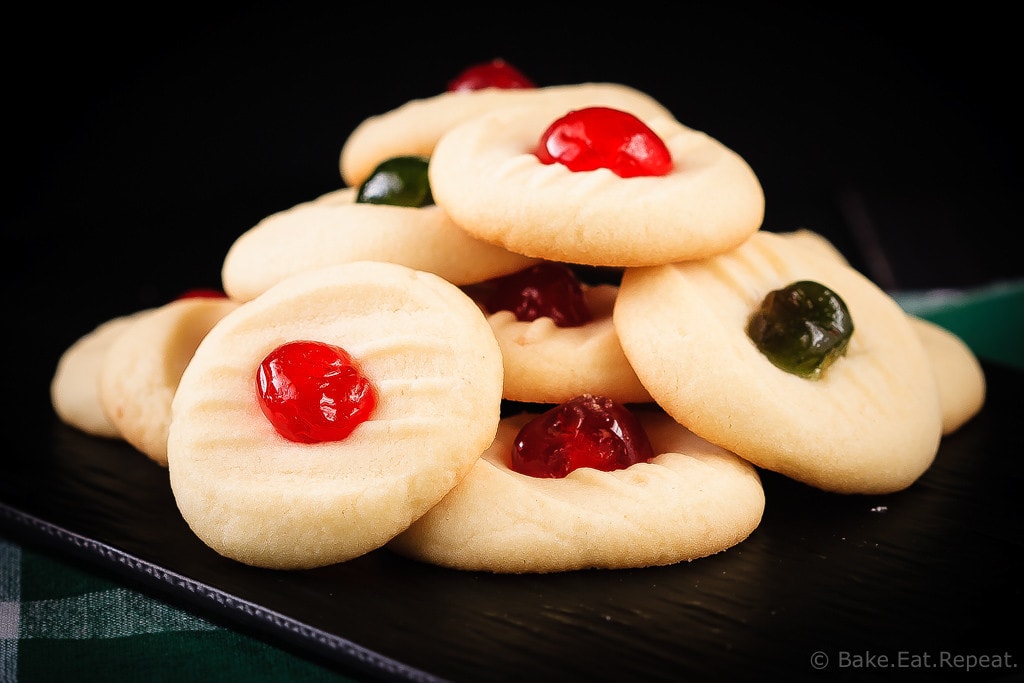 These whipped shortbread cookies get made every single year though. Without fail.
They're my absolute favourite Christmas cookie – and I don't even like candied cherries that much, so if they're not your thing either, don't let them stop you from making these!
Oddly enough, even though this is my mom's recipe, it's virtually identical to the one my mother-in-law makes.
So it's on both mine and my husband's list.
Basically, they're the perfect Christmas cookie.
Whipped shortbread were the only cookie that my whole family would always make together every year when I was growing up.
I think we'd usually make a double or triple batch because they were everyone's favourite!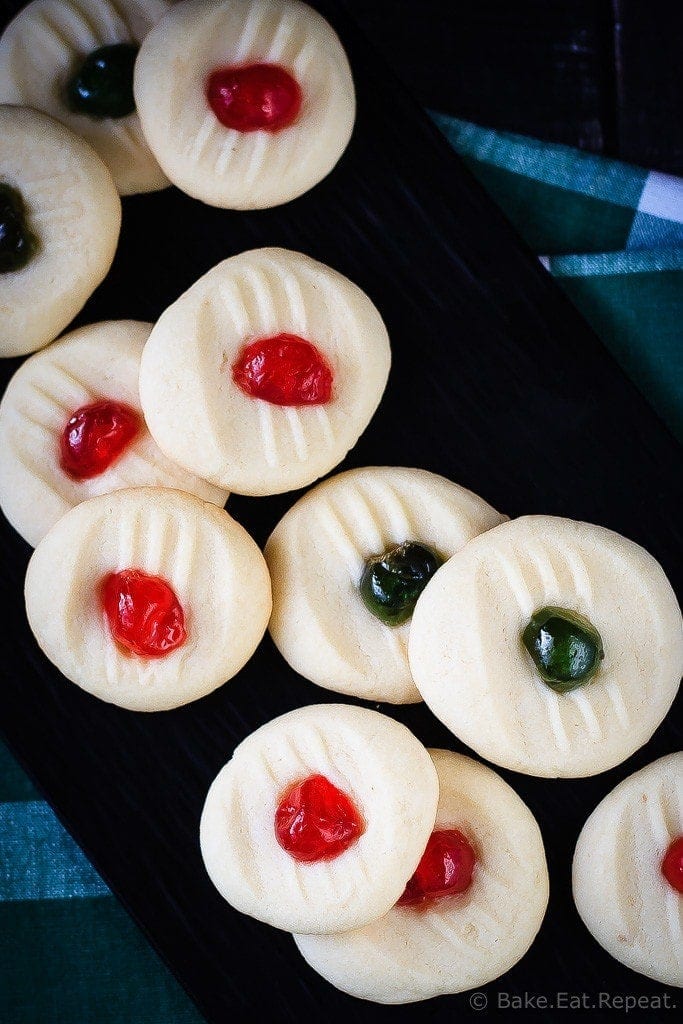 We'd all have jobs. Dad would mix the dough and roll it into little balls, I'd press each one down with a fork, and my sister and brother would stick the cherries on top.
I figured I had the best job because I never liked touching the sticky cherries. My son agrees with me on that and won't help with that part.
Evidently my mom got stuck with cleanup? I don't remember.
I do remember that making whipped shortbread equated to Christmas being just around the corner.
If you've never tried whipped shortbread, add this one to your "new Christmas cookies to try" list.
Maybe you'll find a new family favourite too!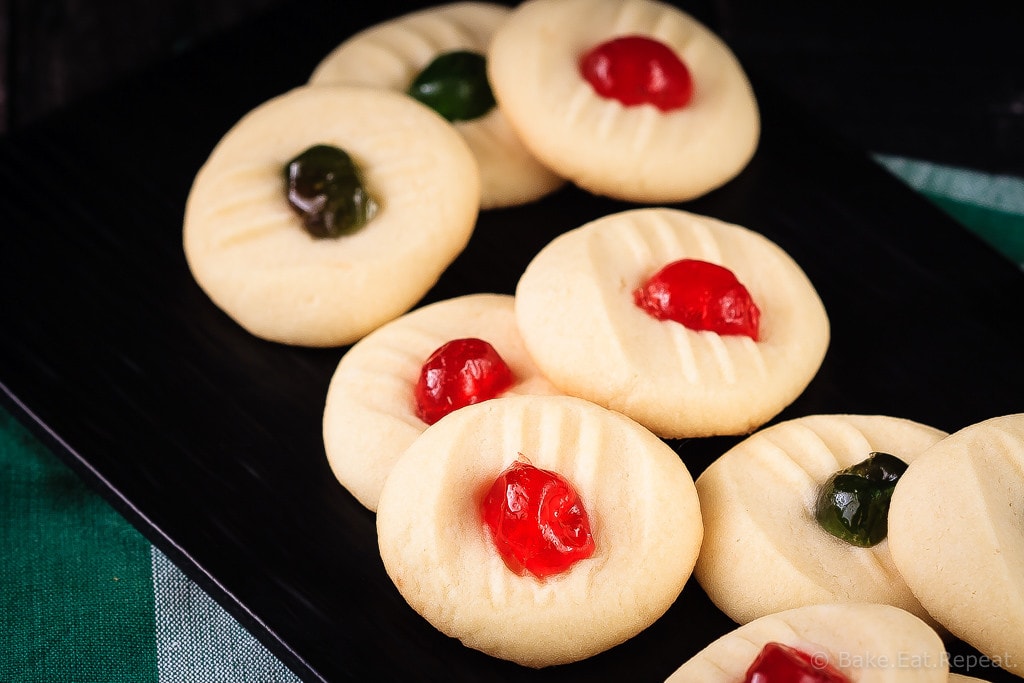 Why is it called shortbread?
It's called shortbread because of the large amount of butter in the cookies.
The term short means crumbly, like pastry should be.
So shortbread cookies are buttery cookies that are a bit crumbly.
Don't expect a chewy cookie – shortbread cookies are crisp, lightly sweet, and a bit crumbly.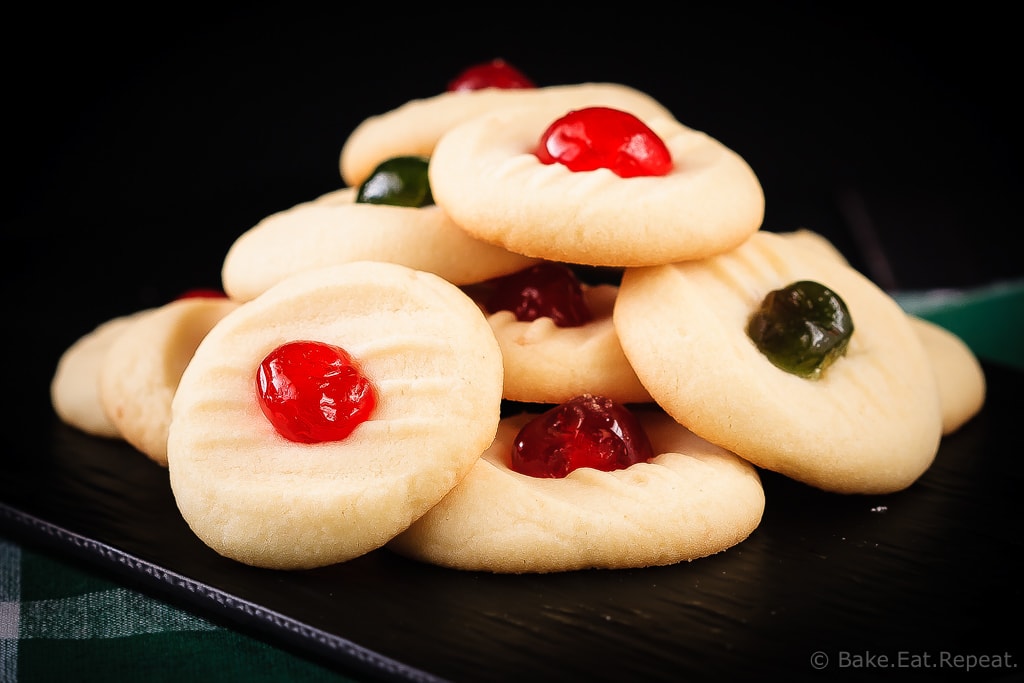 What does shortbread taste like?
There is a lot of butter in shortbread, but not as much sugar as you might expect, like sugar cookies.
Shortbread has a buttery, lightly sweet taste. They are not overly sweet.
If you like your cookies really sweet, you might prefer sugar cookies to shortbread.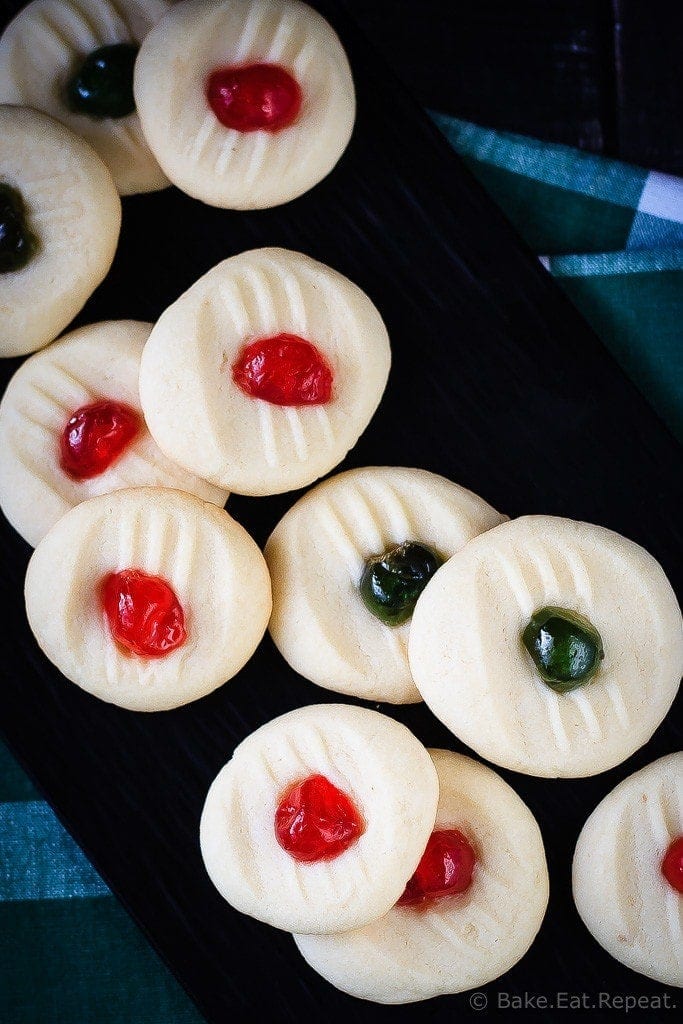 Can you freeze shortbread cookies?
Yes, I freeze my whipped shortbread cookies all the time.
Place the cooled cookies in an airtight container with wax paper in between the layers of cookies to prevent them sticking together and freeze for up to 3 months.
They defrost very quickly at room temperature, and are very good even when they're still cold.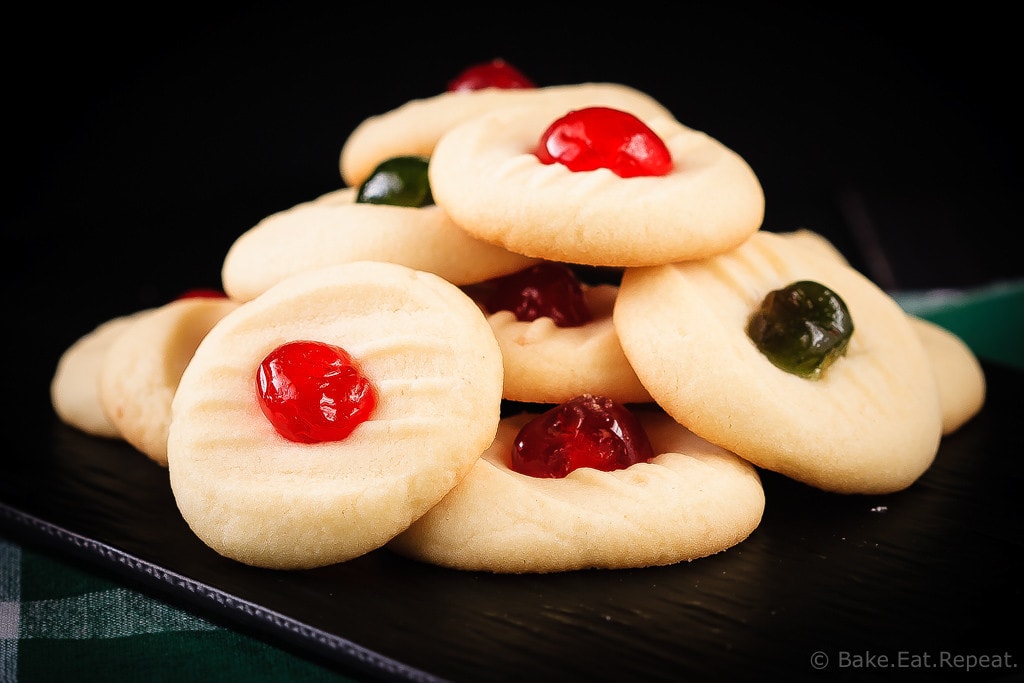 How to make Whipped Shortbread Cookies:
You can use a stand mixer, food processor or electric hand mixer to make these cookies – I've used all three with good results.
Make sure you whip the dough well. It will be crumbly at first and then will come together into a ball – this takes 2-3 minutes of whipping in a stand mixer or food processor, and 4-5 minutes with an electric hand mixer. It takes longer than most cookie doughs to mix but the cookies will be difficult to roll into balls if you don't whip the dough long enough.
If candied cherries don't appeal to you, you can make them without or put something else (chocolate, nuts, sprinkles, whatever you like) on top, but keep in mind that the cookies themselves aren't super sweet.
If you have a cookie press, these cookies can also be shaped with one of those instead of rolling the dough into balls and pressing it down with a fork.

Here are some more fantastic Christmas cookie recipes for you: