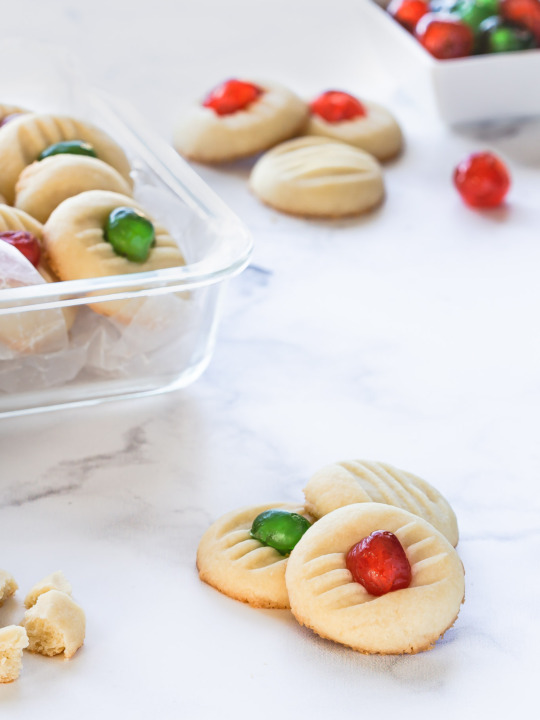 These lightly sweet, whipped shortbread cookies, topped with a cherry, are easy to make and melt in your mouth – they're perfect for Christmas!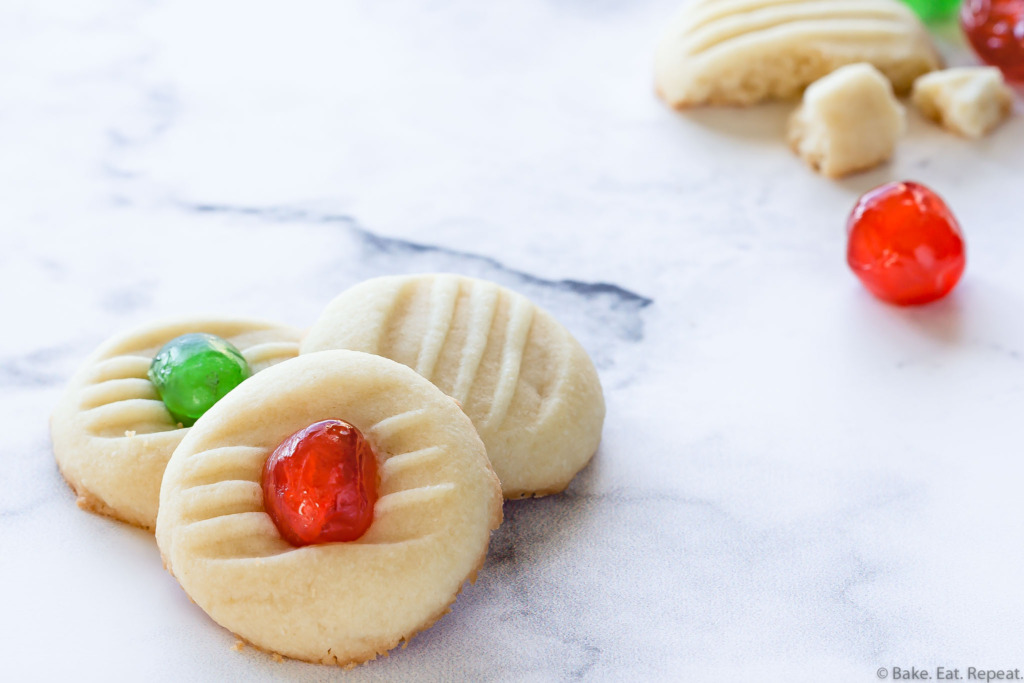 These whipped shortbread cookies are my favourite Christmas cookie. Actually they're my entire family's favourite Christmas cookie.
They're not overly sweet, just a crisp, buttery cookie, topped with candied cherries to add some sweetness, and to make them nice and Christmas-y looking.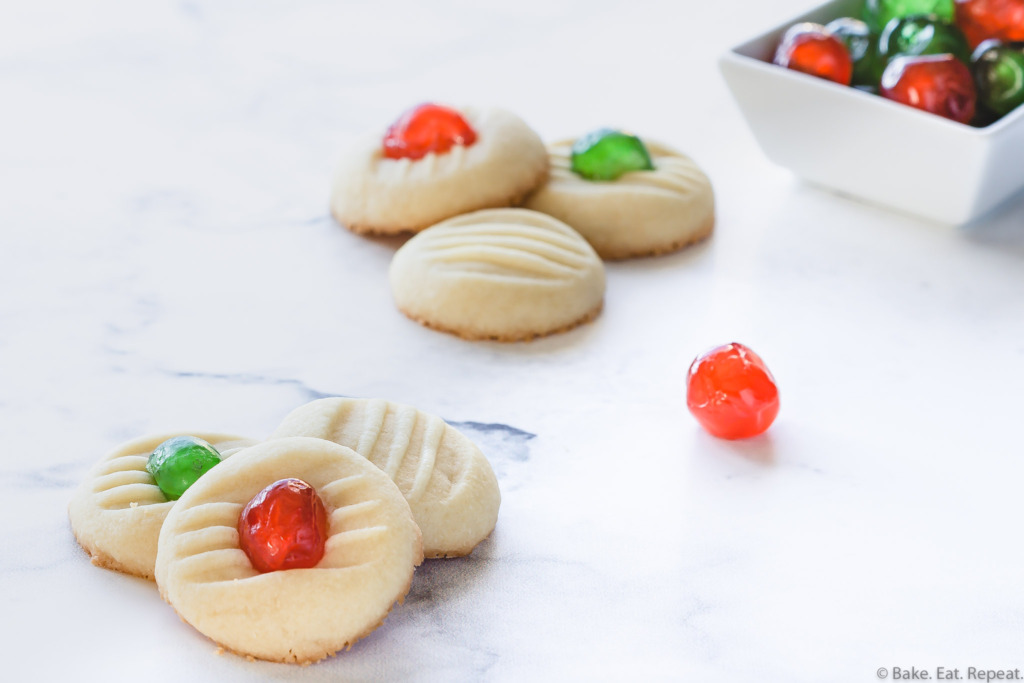 We make at least a double batch every year, and they're still the first Christmas cookie to disappear.
If you've never made whipped shortbread cookies, you need to try this recipe! They're so easy to make, and everyone loves these tasty, melt in your mouth cookies!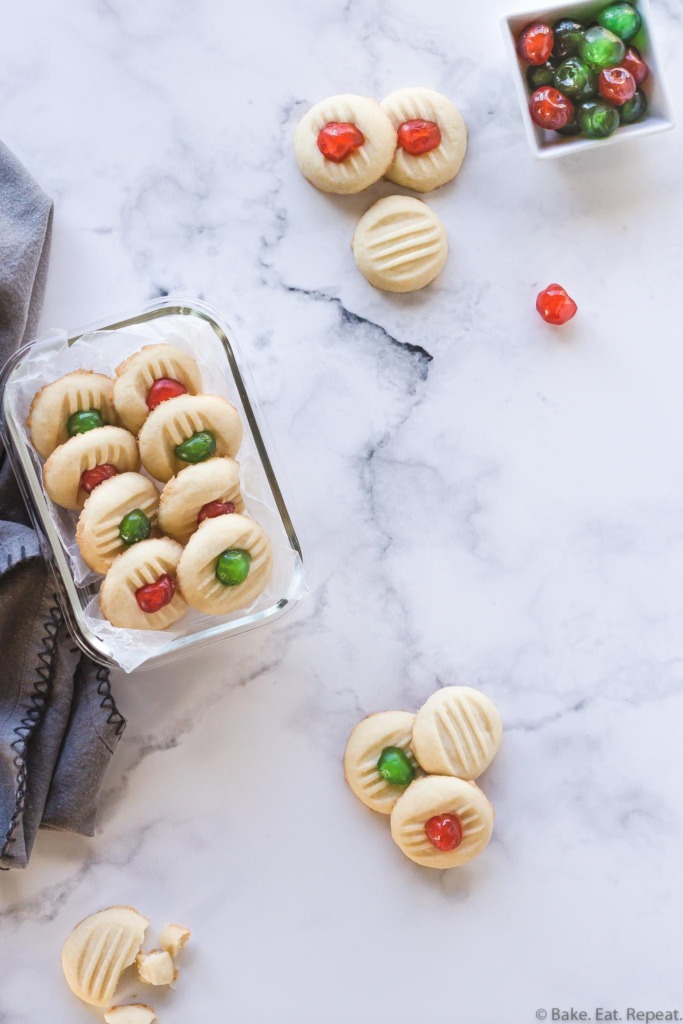 Why is it called shortbread?
It's called shortbread because of the large amount of butter in the cookies.
The term short means crumbly, like pastry should be.
So shortbread cookies are buttery cookies that are a bit crumbly. Don't expect a chewy cookie – shortbread cookies are crisp, lightly sweet, and a bit crumbly.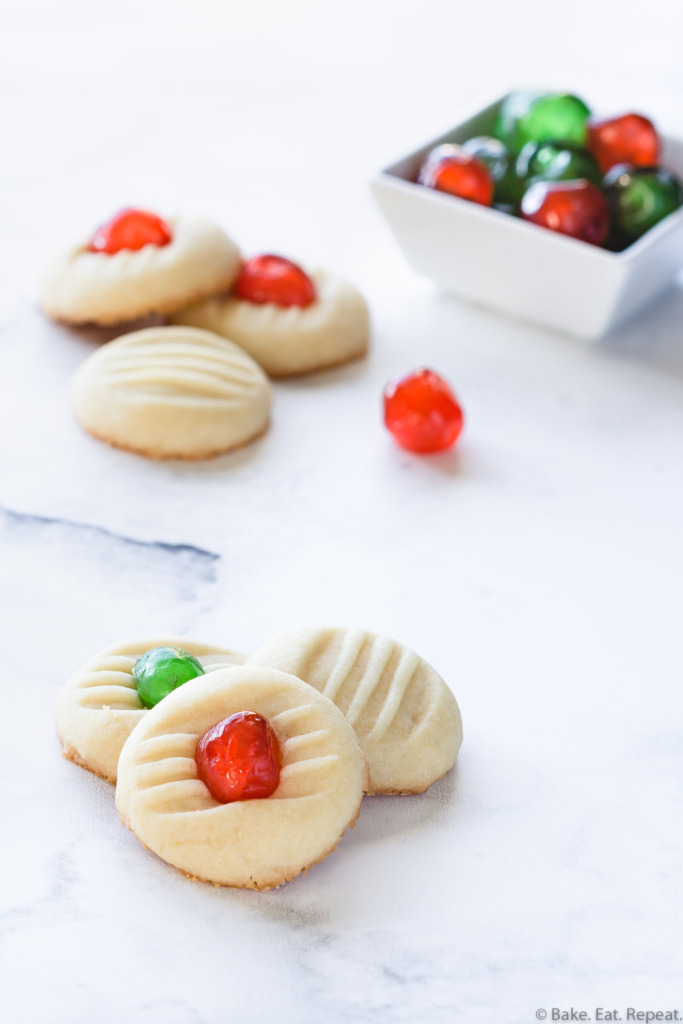 What does shortbread taste like?
There is a lot of butter in shortbread, but not as much sugar as you might expect, like sugar cookies.
Shortbread has a buttery, lightly sweet taste. They are not overly sweet.
If you like your cookies really sweet, you might prefer sugar cookies to shortbread.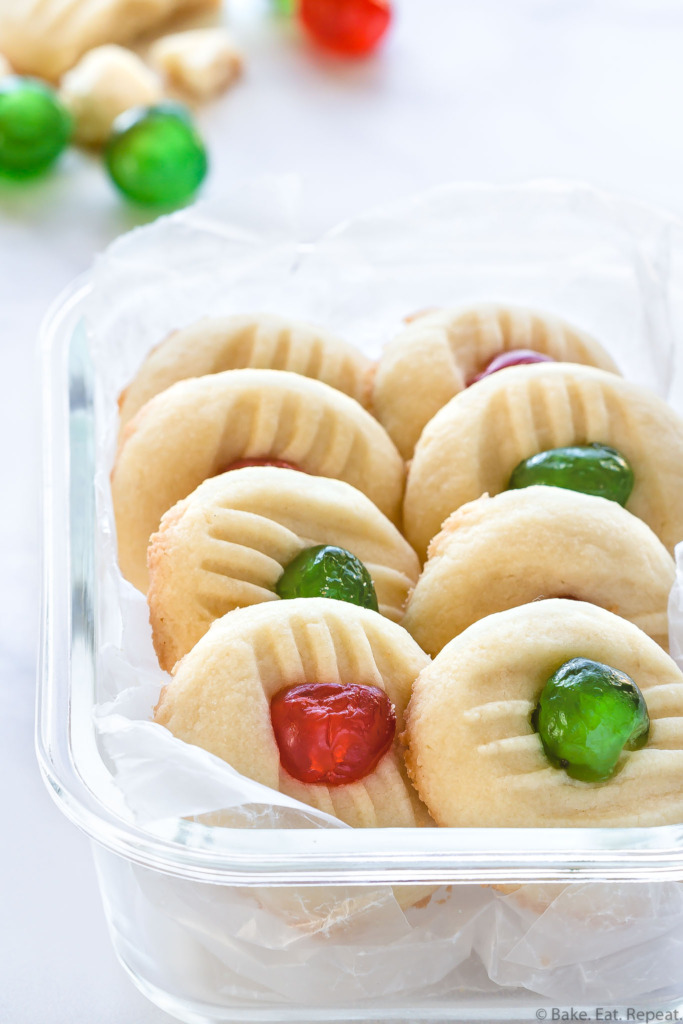 Can you freeze shortbread cookies?
I freeze my whipped shortbread cookies every year.
Place the cooled cookies in an airtight container with wax paper in between the layers of cookies to prevent them sticking together, and freeze for up to 3 months.
They defrost very quickly at room temperature, and are very good even when they're still cold.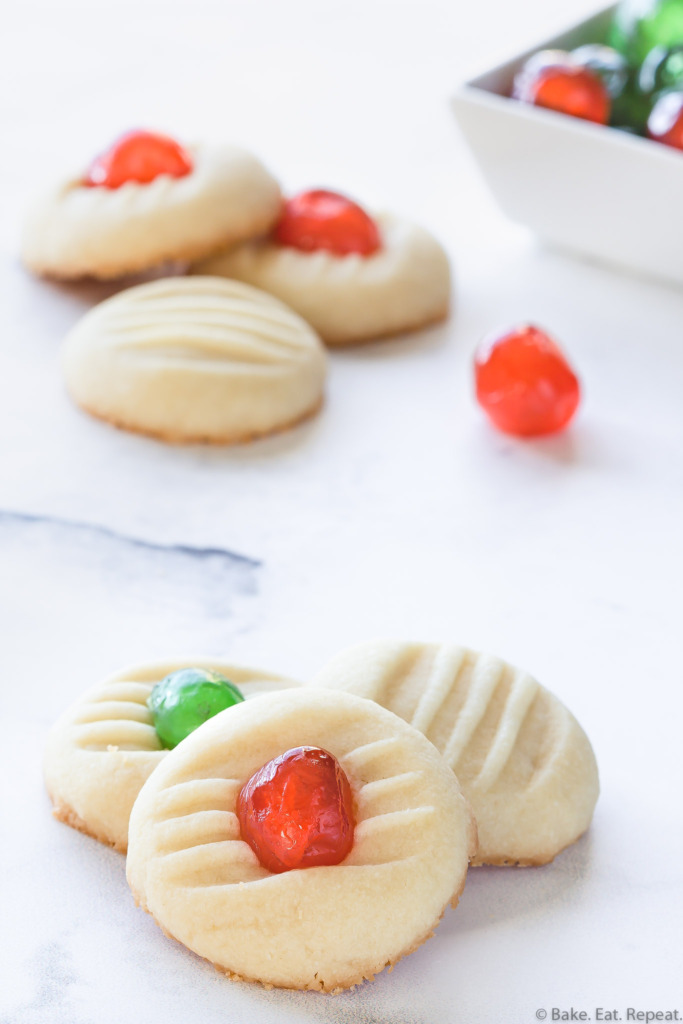 How to make Whipped Shortbread Cookies:
You can use a stand mixer, food processor or electric hand mixer to make these cookies – I've used all three with good results.
Make sure you whip the dough well. It will be crumbly at first and then will come together into a ball – this takes 2-3 minutes of whipping in a stand mixer or food processor, and 4-5 minutes with an electric hand mixer. It takes longer than most cookie doughs to mix but the cookies will be difficult to roll into balls if you don't whip the dough long enough.
If candied cherries don't appeal to you, you can make them without or put something else (chocolate, nuts, sprinkles, whatever you like) on top, but keep in mind that the cookies themselves aren't super sweet.
If you have a cookie press, these cookies can also be shaped with one of those instead of rolling the dough into balls and pressing it down with a fork. It may depend on the cookie press, but mine makes the cookies quite small, so the bake time is only about 8 minutes instead of 12-14 minutes.
I have recipes for 4 other flavours of whipped shortbread cookies. You can find them here: 5 Tasty Whipped Shortbread Cookies
Here are some more great Christmas cookie recipes for you: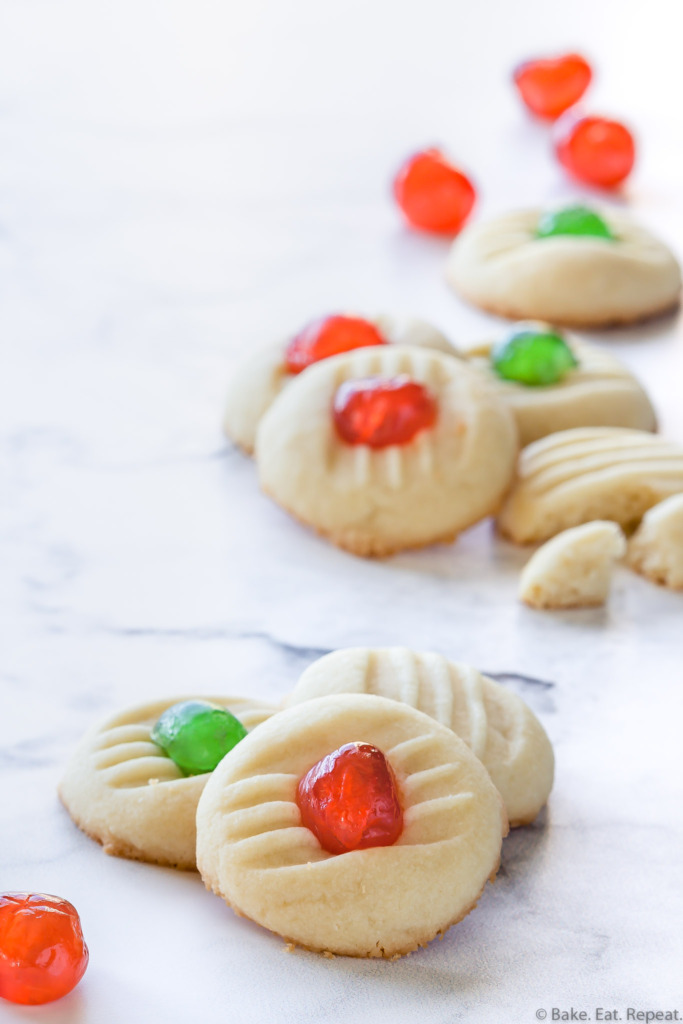 Yield: 30 cookies
Whipped Shortbread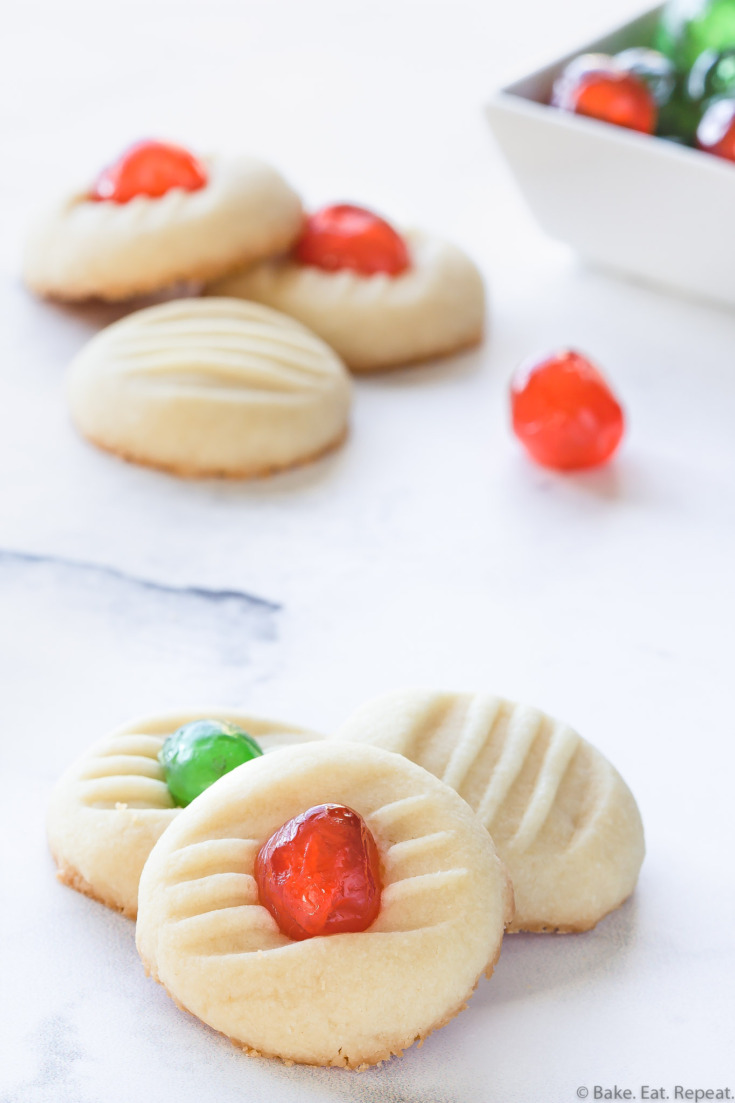 These lightly sweet, whipped shortbread cookies, topped with a cherry, are easy to make and melt in your mouth - they're perfect for Christmas!
Ingredients
1 cup (0.5 lb, 227g) unsalted butter, softened
1/4 cup (1.4oz, 40g) corn starch
1 1/2 cups (7.5oz, 213g) all-purpose flour, sifted
1/2 cup (2oz, 57g) powdered sugar, sifted
1/2 teaspoon (2.5mL) vanilla
15 candied cherries, sliced in half
Instructions
Preheat the oven to 350 degrees F. Slice the candied cherries in half. In a large bowl, or the bowl of a stand mixer, cream the butter until smooth and fluffy.
Add the corn starch, flour, powdered sugar, and vanilla, and whip until light and fluffy. Make sure to whip the dough until it comes together into a ball and isn't crumbly at all (see Notes).
Roll the dough into small balls, about 1 tablespoon each, and place them about 2 inches apart on an ungreased cookie sheet.
Dip a fork into a small bowl of flour and press the cookies down with it to flatten them. Make sure to dip the fork into the flour and shake off the excess before flattening each cookie so that it doesn't stick.
Place half a cherry in the middle of each cookie, pressing it down lightly.
Bake for 12-14 minutes.
Allow to cool on the cookie sheet for 5 minutes before removing to a wire rack to cool completely.
Store cookies in an airtight container at room temperature for 7 days, or freeze for up to 3 months.
Notes
Be sure to measure the flour correctly for these cookies. I use the dip and sweep method to measure my flour (fluff up the flour in the bin first, then scoop with your measuring cup and level it off with a knife or flat edge). I also measure my powdered sugar and cornstarch this way. I've included the weights as well, so you can use a kitchen scale instead if you have one.
When whipping the dough, be sure to keep whipping until the dough has come together into a ball and is light and fluffy. It will be crumbly at first but will be smooth after whipping it for 2-3 minutes in a stand mixer or food processor, or 4-5 minutes with an electric mixer.
If candied cherries aren't your thing, chunks of chocolate are good, or sprinkles, or nothing at all - the cookies are great on their own too!
Source: My mom has been making this recipe for as long as I can remember!
Recommended Products
This post contains affiliate links. As an Amazon Associate, I may receive a small commission from qualifying purchases.
Nutrition Information:
Yield:
30
Serving Size:
1 cookie
Amount Per Serving:
Calories:

93
Total Fat:

6.2g
Saturated Fat:

3.9g
Cholesterol:

16mg
Sodium:

44mg
Carbohydrates:

8.9g
Fiber:

0.2g
Sugar:

2.8g
Protein:

0.7g