Chewy chocolate mint chip cookies that are coloured green for a perfect St. Patrick's Day treat – or any time really!  These cookies are always welcome!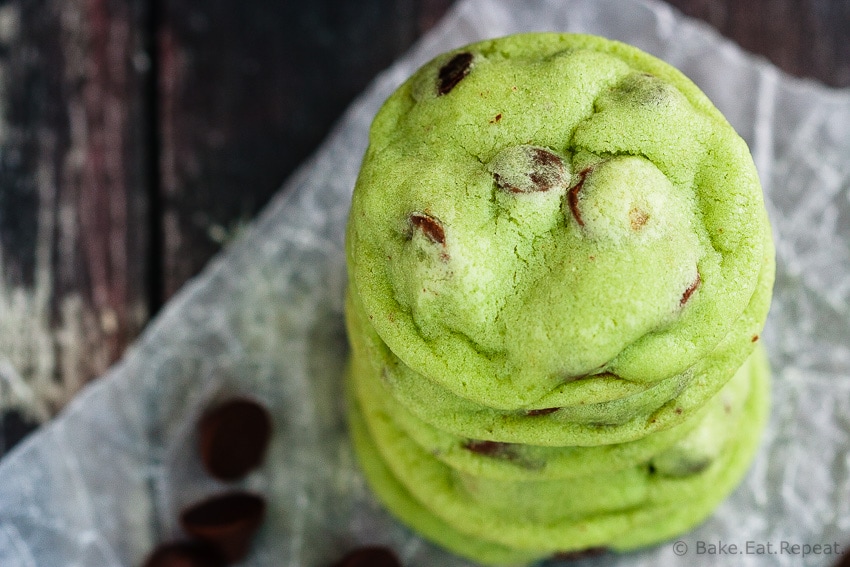 I finally got around to making a St. Patrick's Day treat for you!  Nothing all that exciting I'll admit.  Just chewy chocolate mint chip cookies.  I just wasn't feeling all that creative I guess.
Also, I like mint chip cookies.  And I had never made my kids anything green for St. Patrick's Day.  I know, what kind of mother am I, right?!  So I felt the need to make myself them some minty green cookies.
I also had some of those mint filled chocolate chips calling my name and begging to be used.  Have you seen these things yet?  I don't think we have them in Canada yet, but I picked them up last time I was in the States.  If you can get them, use them, they're so good.  I'm going to be sad when my bag is all gone!  If you can't get them, regular mint chocolate chips would work just fine.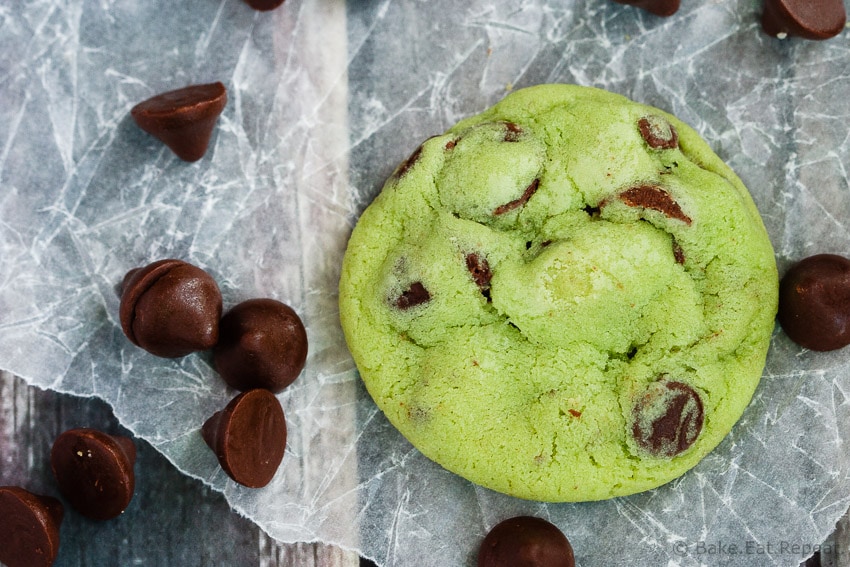 You can't really go wrong when it comes to mint and chocolate, anyways.  Right?  They pretty much belong together.  And these cookies are pretty amazing, and definitely will not last long around here.  So you should probably go make some.  Immediately.
Chocolate.  Mint.  Chewy chocolate mint chip cookies.  You know you want them.
There isn't even any chilling time with these cookies, so you could be biting into a warm, pepperminty, melty chocolate chip cookie in half an hour.  You don't even need to make them green if you don't want to.  But you know you want to.  It's fun!
Go make these cookies.  They're so good.
I'll stop now.  But seriously, so good, go make them.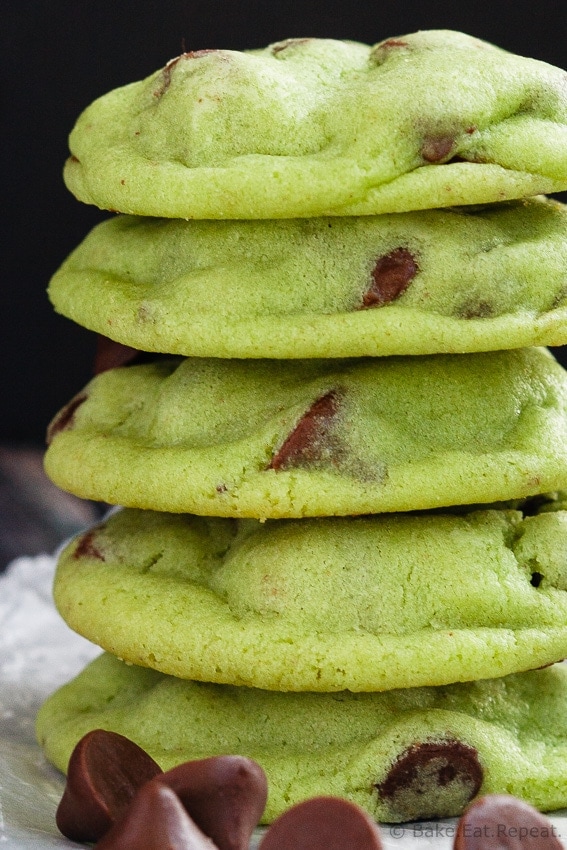 *Recipe republished and photos updated from March 4, 2015.


Yield: 24 cookies
Chewy Chocolate Mint Chip Cookies
Chewy chocolate mint chip cookies that are coloured green for a perfect St. Patrick's Day treat - or any time really! These cookies are always welcome!

Prep Time 20 minutes

Cook Time 10 minutes

Total Time 30 minutes
Ingredients
1/2 cup butter, softened
1/2 cup granulated sugar
1/2 cup brown sugar, lightly packed
1 large egg
1/2 teaspoon peppermint extract
15-20 drops green food colouring (optional)
1 1/2 cups all-purpose flour
1/4 teaspoon salt
1/2 teaspoon baking powder
1/2 teaspoon baking soda
1/2 cup semi-sweet chocolate chips
1/2 cup mint filled chocolate chips (or mint chips)
Instructions
Preheat the oven to 350 degrees F.
In a large bowl or the bowl of a stand mixer, cream the butter, sugar and brown sugar together until light and fluffy.
Add the egg, peppermint extract, and food colouring (if using), and cream until smooth.
In another bowl whisk together the flour, salt, baking powder and baking soda.
Add this to the butter mixture and mix until well combined. Stir in the chocolate chips and mint filled chips.
Form the dough into tablespoon sized balls (or use a tablespoon sized cookie scoop) and place 2 inches apart on a baking sheet.
Bake for 9-10 minutes, just until the edges start to brown lightly.
Do not overbake them or they will be crispy rather than chewy. They still look underbaked when you take them out but will firm up as they cool.
Let them cool on the pan for about 5 minutes and them move to a wire rack to cool completely.
Cookies will keep for 7 days in a sealed container at room temperature.
Recommended Products
This post contains affiliate links. As an Amazon Associate, I may receive a small commission from qualifying purchases.
Nutrition Information:
Yield:
24
Serving Size:
1 cookie
Amount Per Serving: Calories: 141Total Fat: 6gSaturated Fat: 3gTrans Fat: 0gUnsaturated Fat: 2gCholesterol: 18mgSodium: 95mgCarbohydrates: 22gFiber: 1gSugar: 14gProtein: 1g

Nutrition Information is estimated based on ingredients used and may not be exact.