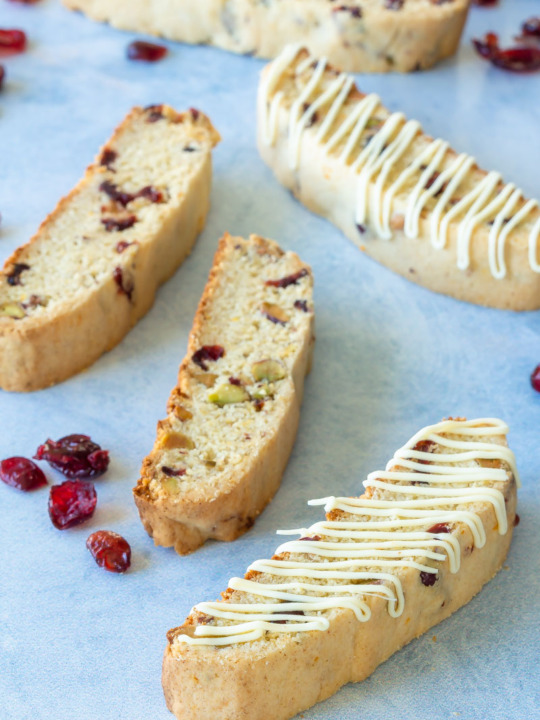 This cranberry pistachio biscotti is super easy to make and is the perfect treat to have with your morning tea or coffee!
This cranberry pistachio biscotti is absolutely delicious!
And it's perfect for Christmas, with red cranberries and green pistachios throughout the crunchy cookies.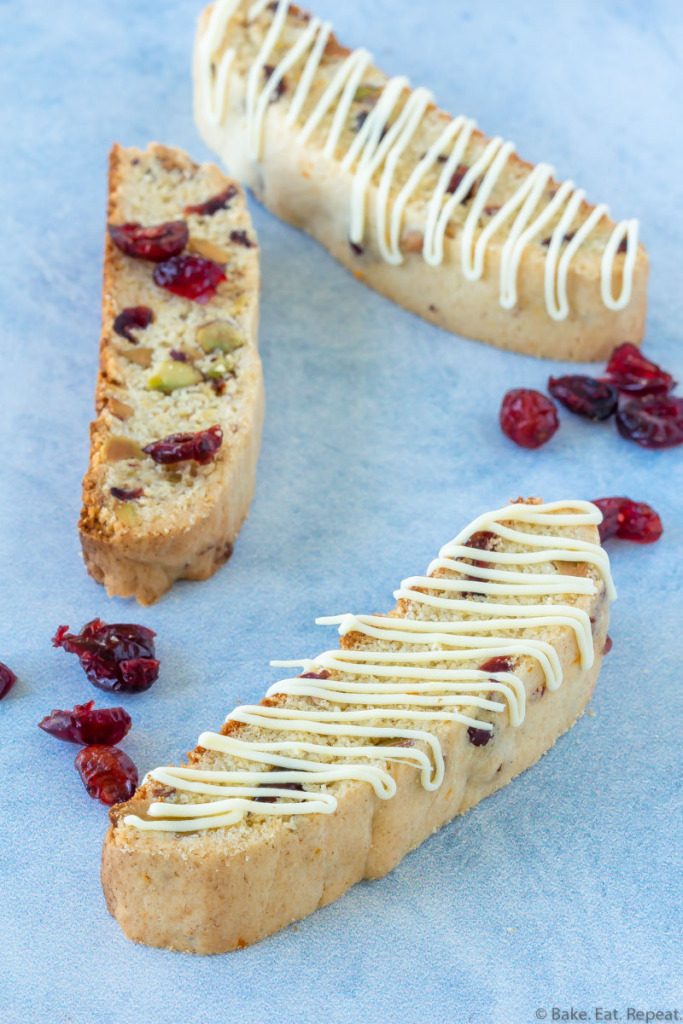 If you've never made homemade biscotti before, I highly recommend it.
It's so easy to make, and homemade biscotti is so much better than the kind you can buy at the store.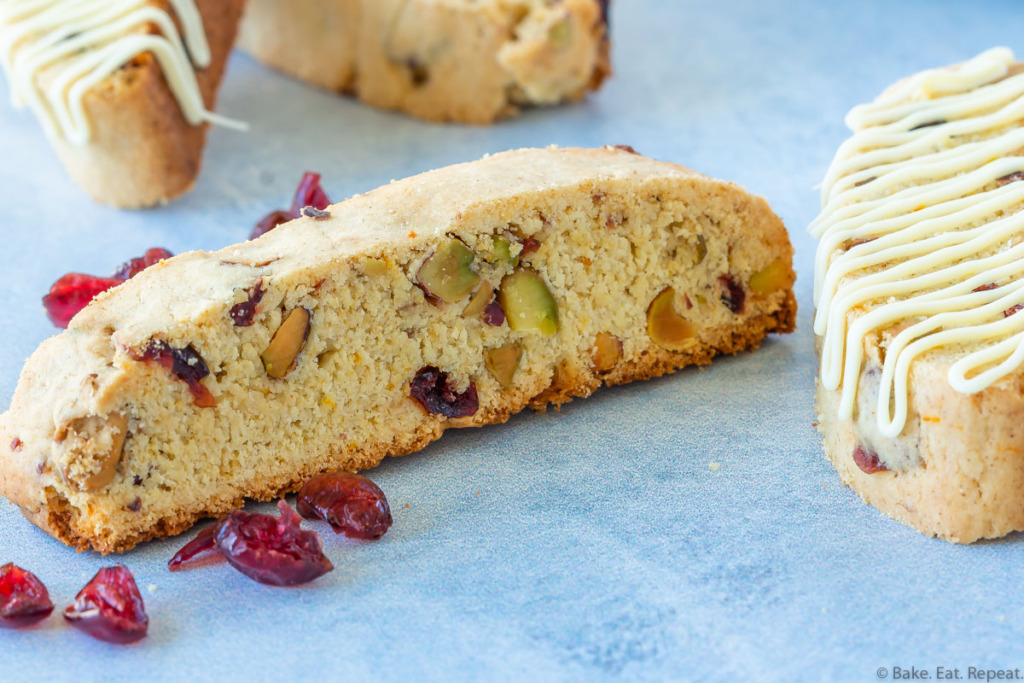 Perfectly crunchy, with a hint of cinnamon, this cranberry pistachio biscotti is the perfect morning treat with a cup of tea or coffee.
It's definitely not going to last long here!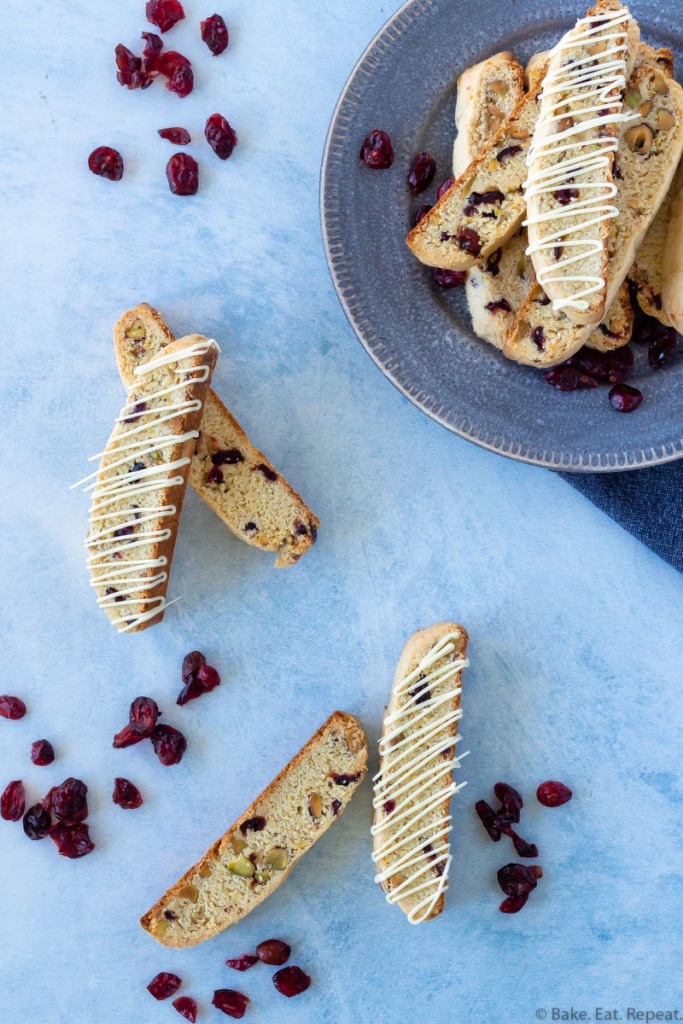 Should biscotti be crunchy?
Biscotti are Italian cookies that are baked twice.
They are crunchy cookies that are perfect for dipping in tea or coffee.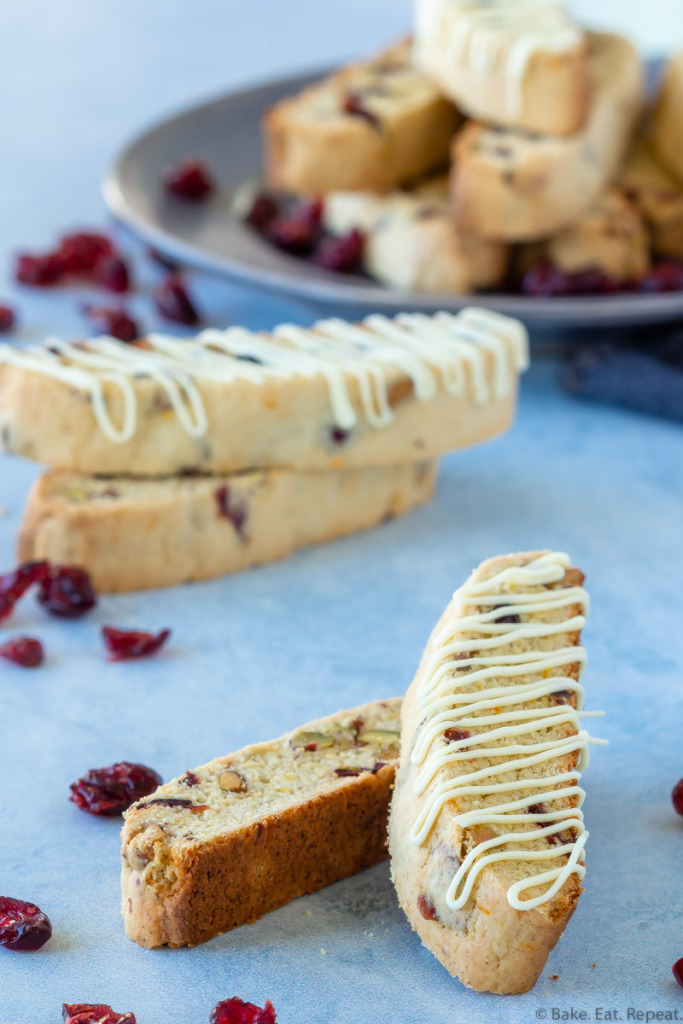 They are supposed to be crunchy, but not so much so that they're hard to bite into if you aren't dunking them in a drink!
Making them at home is the best way to get perfectly crunchy biscotti that aren't rock hard and difficult to eat!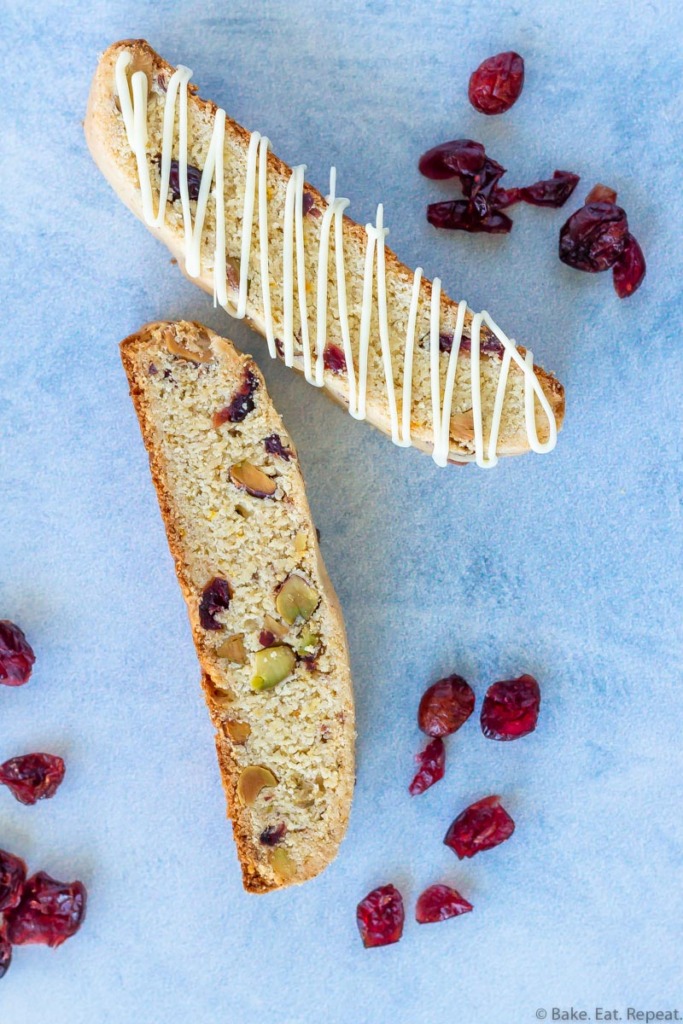 How long can you keep biscotti?
Biscotti keeps well in an airtight container for up to 2 weeks at room temperature.
You can also freeze them for up to 3 months.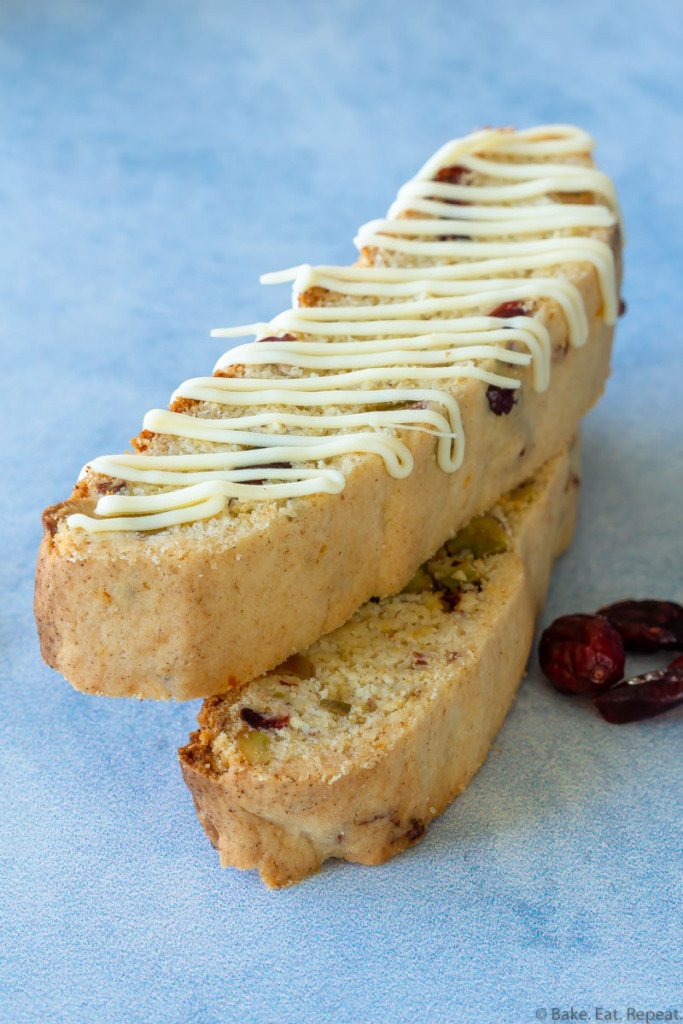 Should biscotti be hard or soft?
After the first bake, the logs of biscotti dough will be very lightly browned and firm to the touch, but not hard.
After cooling for 6-8 minutes, the logs are sliced into individual biscotti and baked again.
This second bake cooks the biscotti so that it has a crunchy texture, which makes it the perfect cookie for dunking in your tea or coffee.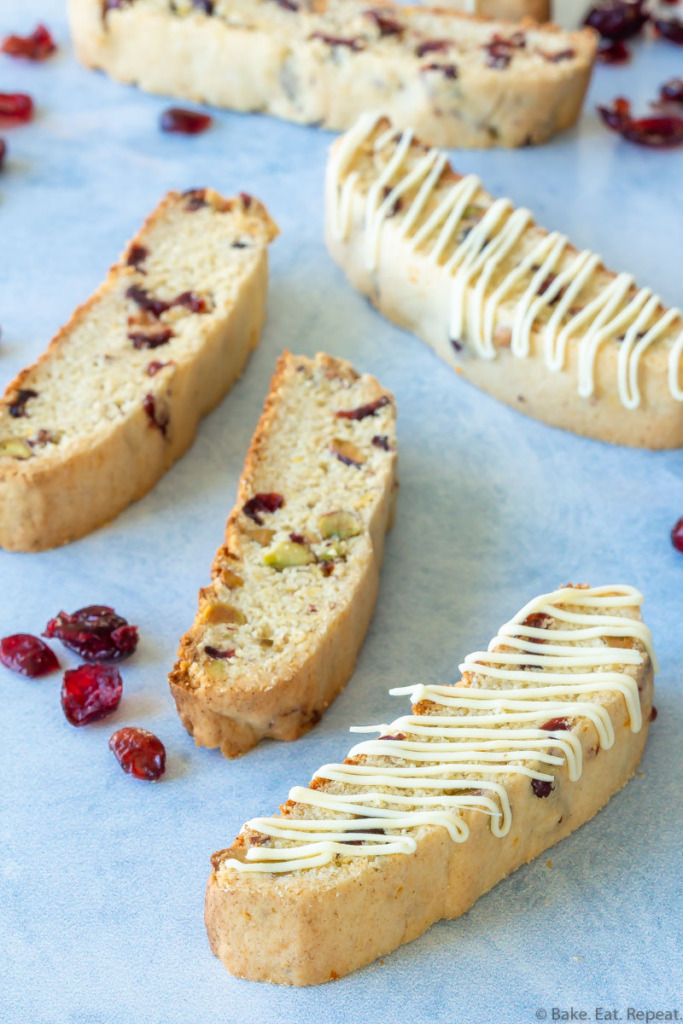 How to make Cranberry Pistachio Biscotti:
Let the biscotti cool after the first bake for 6-8 minutes before slicing them into individual cookies to bake again.
Use a long serrated knife to slice the biscotti. This will work best, especially with the cranberries and pistachios in the dough.
The white chocolate drizzle is optional. We liked these biscotti either way, so go with your preference.
Here are some more great cookie recipes for you: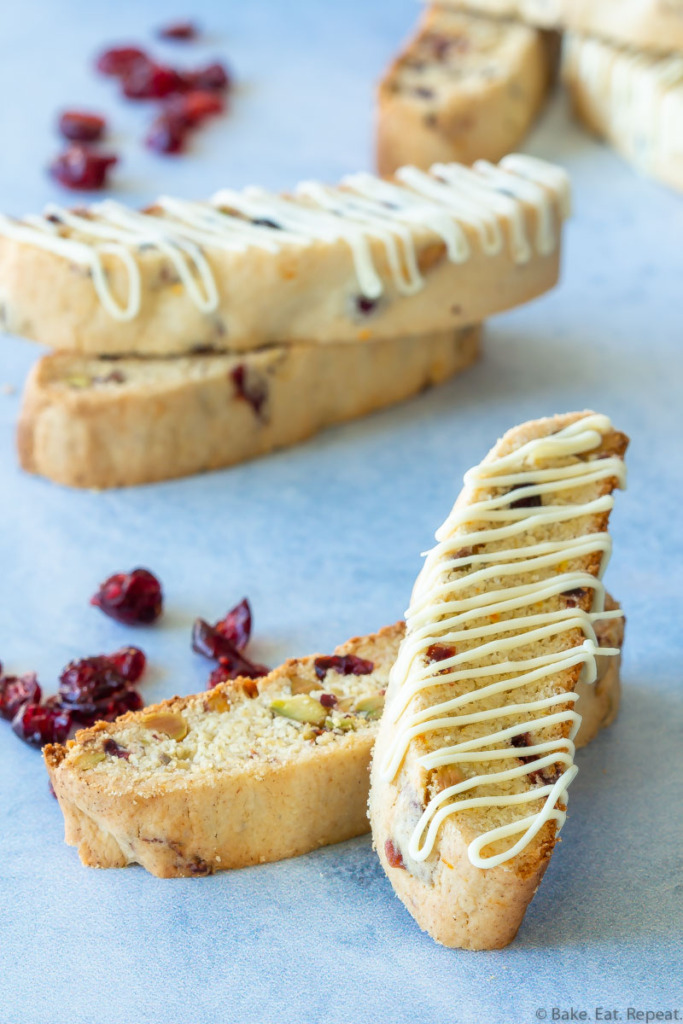 Yield: 24 biscotti
Cranberry Pistachio Biscotti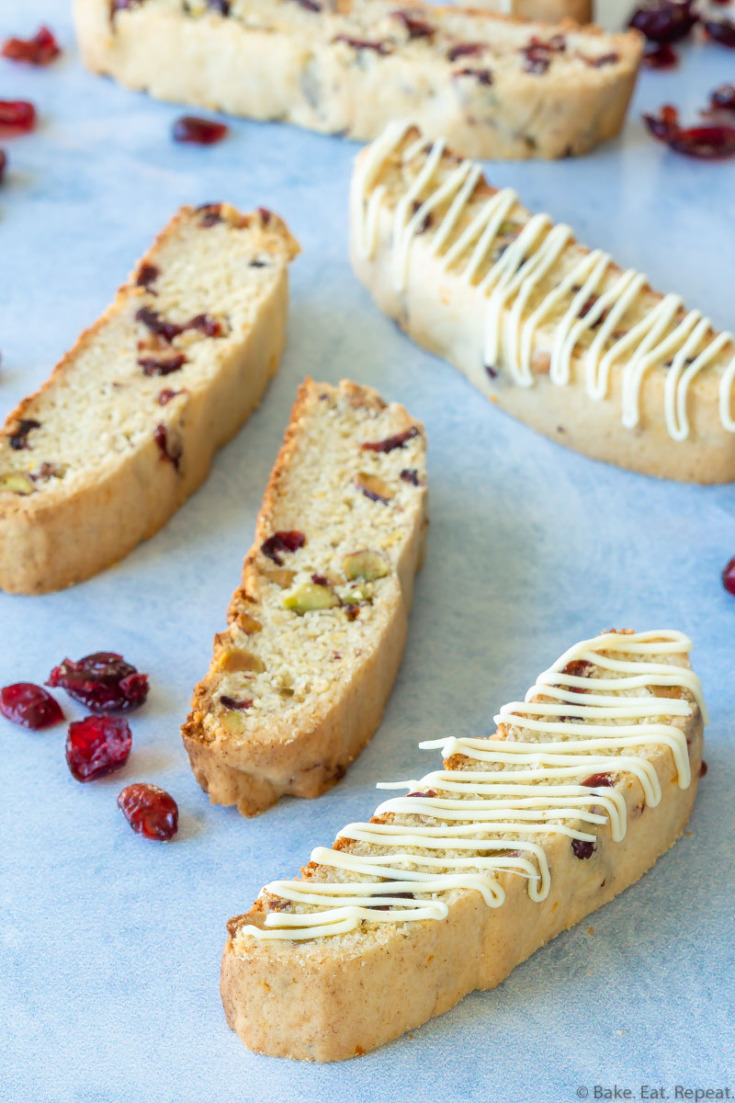 This cranberry pistachio biscotti is super easy to make and is the perfect treat to have with your morning tea or coffee!
Ingredients
1/2 cup unsalted butter, softened
3/4 cup granulated sugar
2 large eggs
1 teaspoon vanilla
2 teaspoons orange zest
2 1/4 cups all purpose flour
1 1/2 teaspoons baking powder
1/2 teaspoon ground cinnamon
1/4 teaspoon salt
2/3 cup dried cranberries
2/3 cup pistachios
1/4 cup chopped white chocolate, melted (optional, for drizzling on top of the biscotti)
Instructions
Preheat the oven to 350 degrees F.
Line a baking sheet with parchment paper and set aside.
In the bowl of a stand mixer using the paddle attachment, or with an electric mixer, cream together the butter and sugar until light and fluffy.
Add the eggs, vanilla, and orange zest, and mix until well combined.
Add the flour, baking powder, cinnamon, and salt and mix well.
Mix in the dried cranberries and the pistachios.
Divide the dough in half, and form each piece into an 8"x4" log, about 1" high.
Bake for 25-27 minutes. Decrease the oven temperature to 325F.
Remove them from the oven and let them cool for 6-8 minutes.
Slice the logs of dough into individual biscotti, about 3/4" thick, using a serrated knife.
Place the biscotti back on the baking sheet, cut side down, and bake for another 15 minutes at 325F.
Let them cool completely.
If desired, drizzle melted white chocolate on the cooled biscotti.
Store in an airtight container at room temperature for up to 2 weeks, or freeze for up to 3 months.

Notes
If you are adding a white chocolate drizzle to your biscotti, I find the easiest way to melt it is in the microwave at 50% power for 2-3 minutes, stirring every 30 seconds until the chocolate is almost melted. Once it's close, just keep stirring until it's completely smooth and then drizzle it over top of the cooled biscotti.
Source: Adapted from a recipe given to me by my friend Nicole W.
Recommended Products
This post contains affiliate links. As an Amazon Associate, I may receive a small commission from qualifying purchases.
Nutrition Information:
Yield:
24
Serving Size:
1 biscotti
Amount Per Serving:
Calories:

151
Total Fat:

7g
Saturated Fat:

3g
Trans Fat:

0g
Unsaturated Fat:

3g
Cholesterol:

26mg
Sodium:

76mg
Carbohydrates:

21g
Fiber:

1g
Sugar:

11g
Protein:

3g
Nutrition Information is estimated based on ingredients used and may not be exact.