This microwave peanut brittle takes just six ingredients and ten minutes to make. No thermometers, no difficulty, and the result is perfect peanut brittle!
I have always really enjoyed treats like peanut brittle over the holidays. It's just one of those things that is perfect for adding to that cookie tray at Christmas time.
But I had never made it before.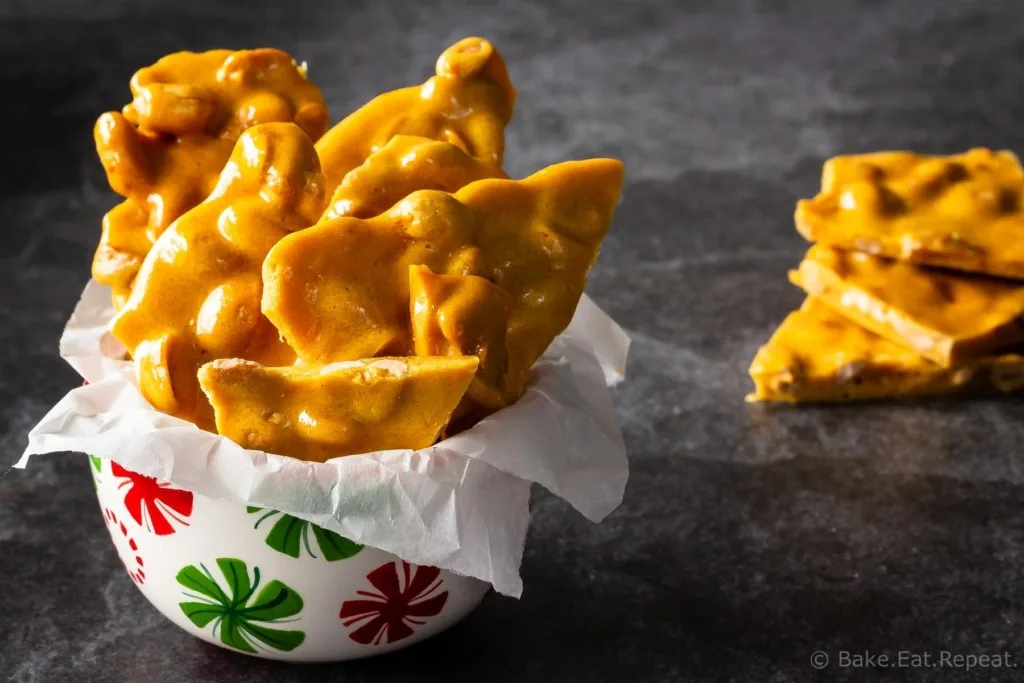 I will admit, I get slightly intimidated by candy making. There's the whole candy thermometer, and melted sugar sticking to everything, and I just don't know enough about it to feel super confident in the results.
I am happy to say that that changed when a family friend gave me this microwave peanut brittle recipe this year.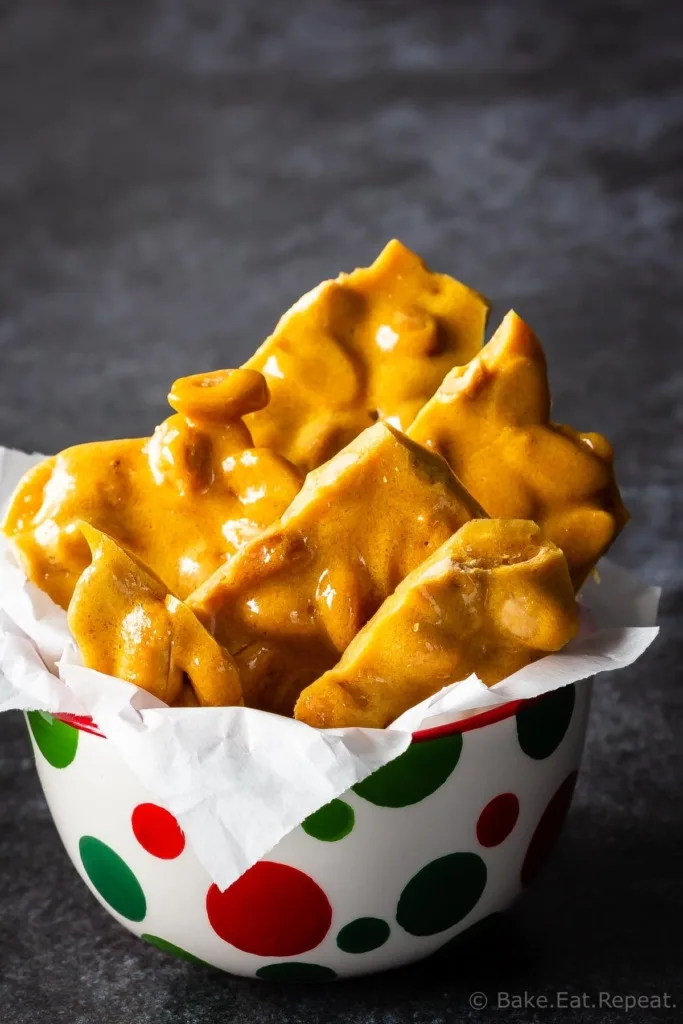 She has gifted this peanut brittle to my parents at Christmas for as long as I can remember, and even after moving out I would always look for it when visiting so I could steal a few pieces. It's delicious.
Turns out, it's also really easy to make. No candy thermometers, nothing tricky about it at all. A bowl and a microwave is really all you need.
So if you're looking for a great edible gift to give this Christmas, look no further.
This microwave peanut brittle is so fast and easy to make. And everyone loves to receive a tin of homemade candy at Christmas!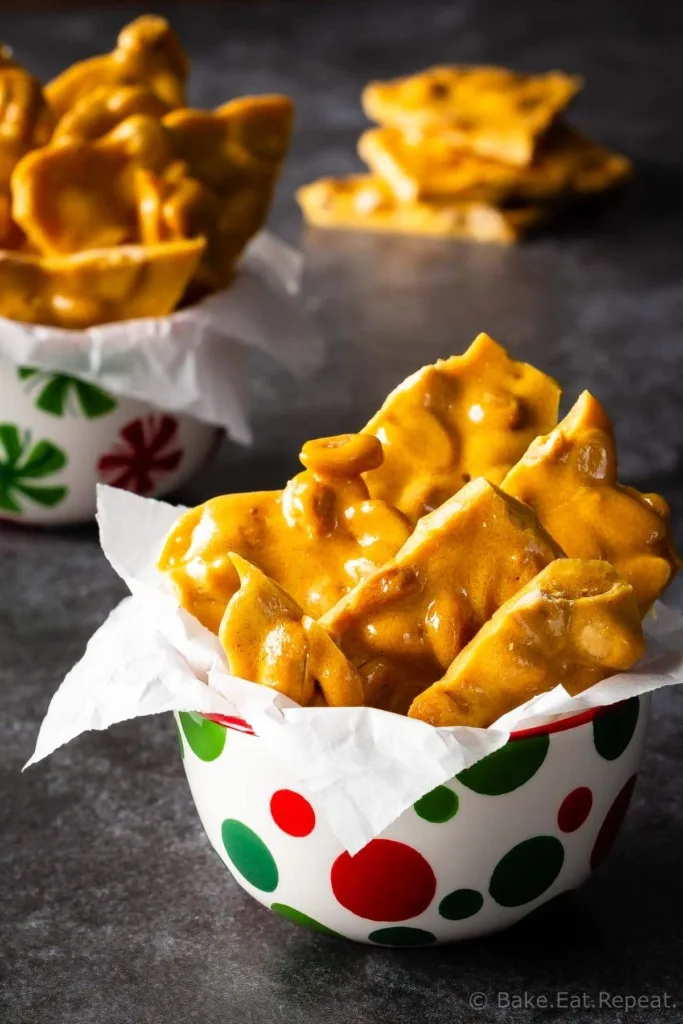 What does baking soda do to peanut brittle?
Adding baking soda to the candy gives the peanut brittle a porous, delicate texture.
When you add baking soda to the mixture it reacts with the acidity in the sugar, forming carbon dioxide bubbles. This results in a lighter texture that is much easier to break and chew then it would be if you left the baking soda out.
It's also the reason you don't want to try to spread the candy around once you pour it onto the baking sheet. Besides the fact that it starts to harden very quickly and is almost impossible to spread, it will also lose some of those bubbles and have a harder texture if you mess with it too much!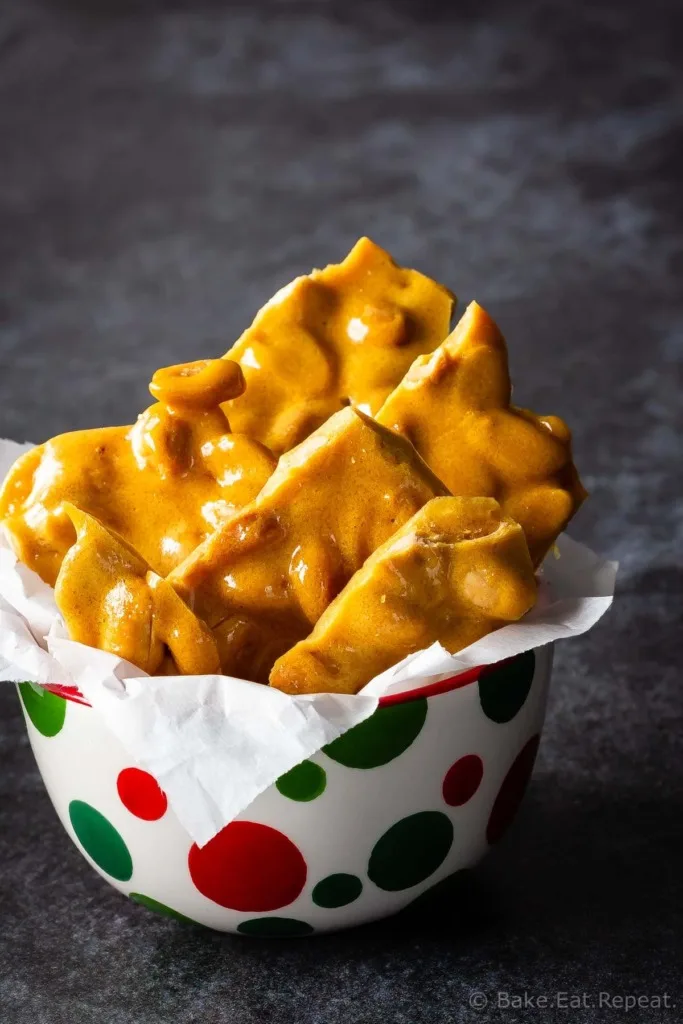 Why is my peanut brittle too hard?
Peanut brittle can end up too hard when the temperature gets too high during the cooking process.
With a microwave peanut brittle recipe like this one, you may need to adjust the cooking times based on your microwave.
I have an 800 watt microwave. If yours is a different wattage you may need to adjust the cooking time or the power level.
For my microwave, 9 minutes at 100% power is perfect, but if yours is more powerful, you may want to start with 8 minutes total cooking time and see how it turns out, adjusting from there.
The candy should be a golden brown colour when it's finished.
How long will peanut brittle last?
If you store your peanut brittle in an airtight container at room temperature, it will last for up to two months. But it will likely disappear well before that.
In my house I think it lasted two days.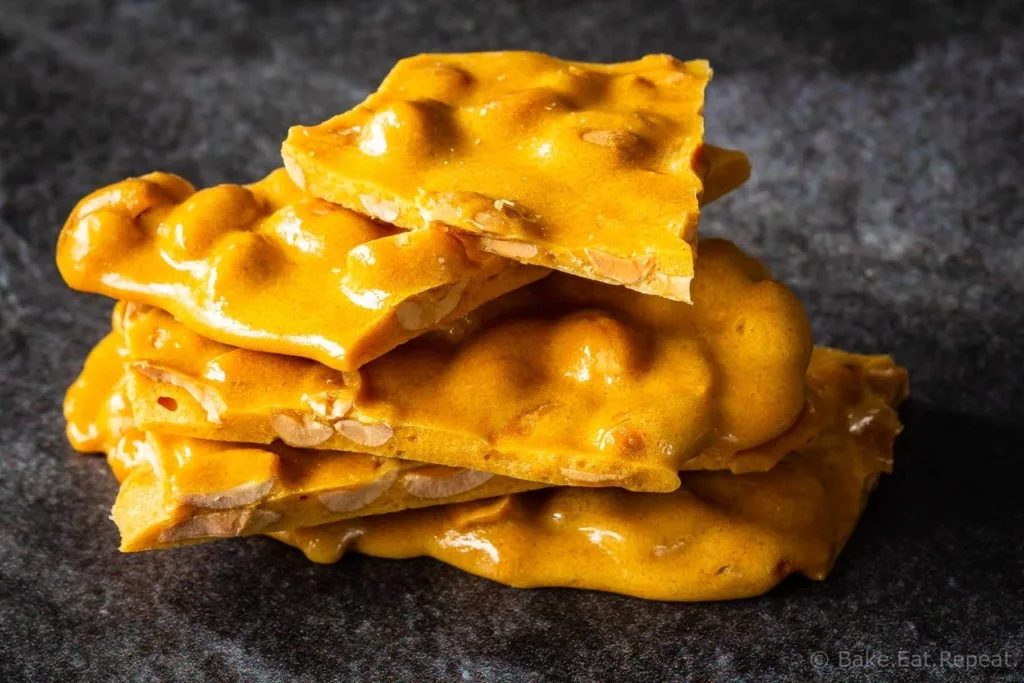 How long does it take for peanut brittle to harden?
This microwave peanut brittle starts to harden almost immediately once you finish cooking it and stirring in the baking soda.
It will be completely hardened and ready to break into pieces in just 30 minutes.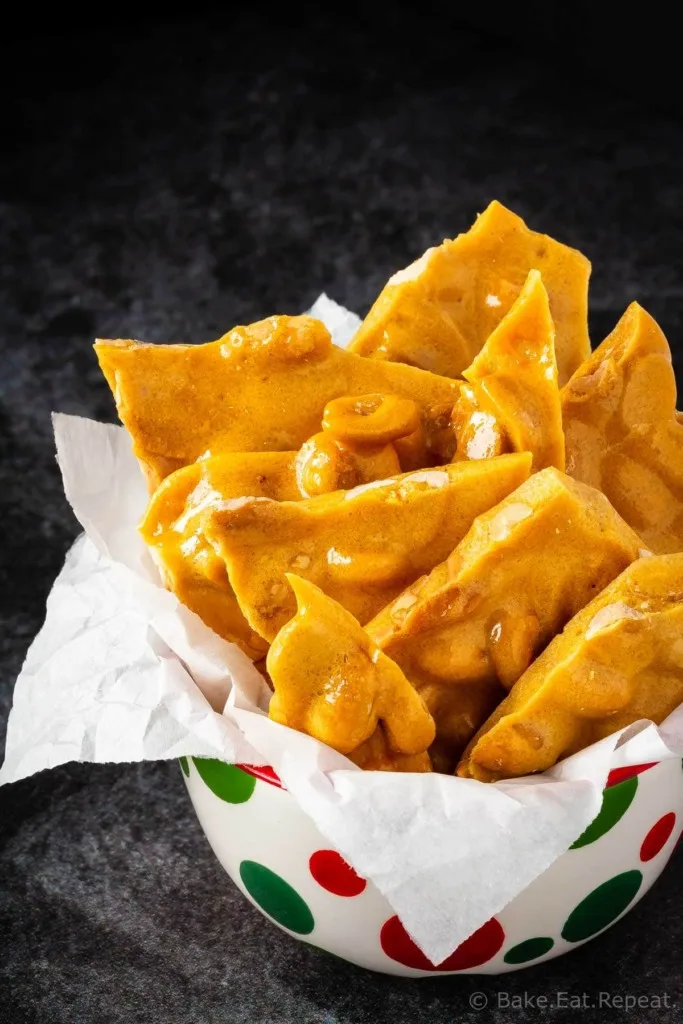 How to make Microwave Peanut Brittle:
The first time you make this peanut brittle, you will want to watch the candy and make sure your bowl is big enough and it's not bubbling over the top. I can't even imagine cleaning that mess up in the microwave! It does bubble up quite a bit while it's cooking so make sure you have a big enough bowl.
The candy should be a golden brown colour when it is finished. You may need to adjust the cooking times a little bit based on your microwave. I have an 800 watt microwave and cook this peanut brittle for 4 minutes, then 4 minutes, then 1 minute. If yours is a different wattage you may want to increase or decrease the cooking time accordingly by a minute or two (I'd adjust the second cook time).
Work quickly after you stir in the baking soda to transfer the peanut brittle to the prepared baking sheet. It will start hardening almost immediately.
Your bowl will look like it will never come clean after you make this microwave peanut brittle. Don't worry, just soak your cooled bowl in hot soapy water and it will come clean quite easily!
Here are some more great recipes for you that are perfect for gift giving: