This cranberry, pumpkin seed and salted caramel bark is a super quick and easy homemade treat to make – and everyone will love it!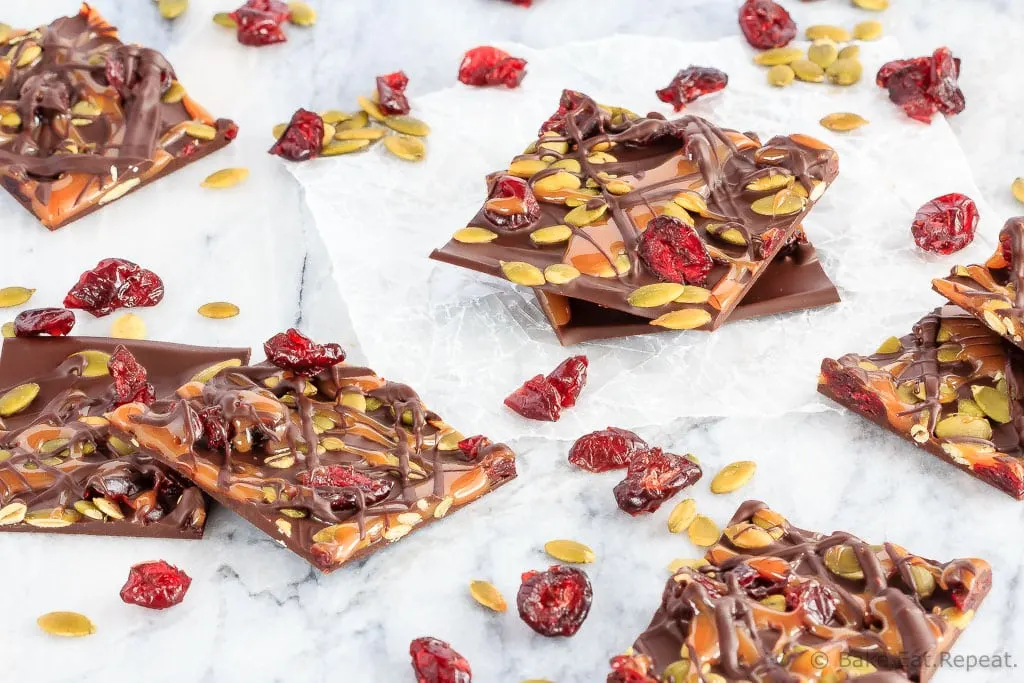 Isn't this cranberry, pumpkin seed and salted caramel bark so pretty? I love how colourful it is with the red cranberries, green pumpkin seeds and orange (brown?) caramel all over a dark chocolate background.
It's food art. My kind of art – there's chocolate involved.
This bark is seriously so simple to make. All you have to do is melt some dark chocolate, spread it out in a thin layer on some parchment paper, and then sprinkle it with dried cranberries and roasted pumpkin seeds. Drizzle some salted caramel sauce haphazardly over top of everything, finish with another drizzle of dark chocolate just for kicks, and it's done.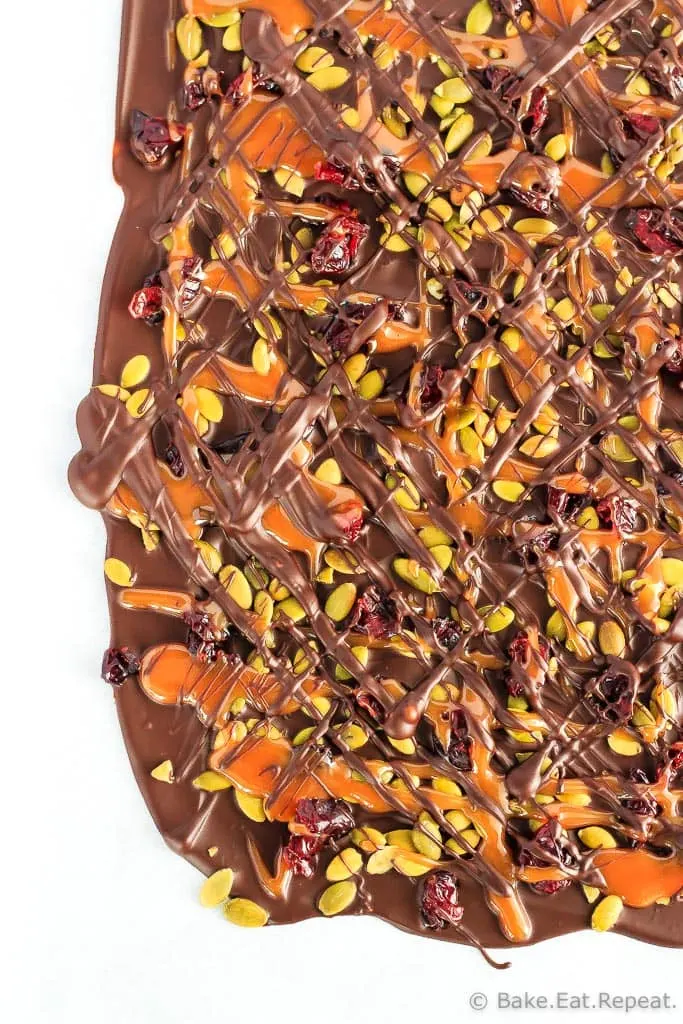 So easy, so tasty – and kinda fun.
I think pistachios would also work really well in this bark if you don't care for pumpkin seeds. Well, any nut really, but pistachios are green so then you would still have that red and green festive combination happening. Wouldn't want to lose the prettiness factor we have going on here!
I think that I'll probably be making this more often then just for Christmas though. It's such a great little treat to have stashed away in the freezer for when those random chocolate cravings hit. Because it's totally normal to always have some form of chocolate hidden away in the freezer right?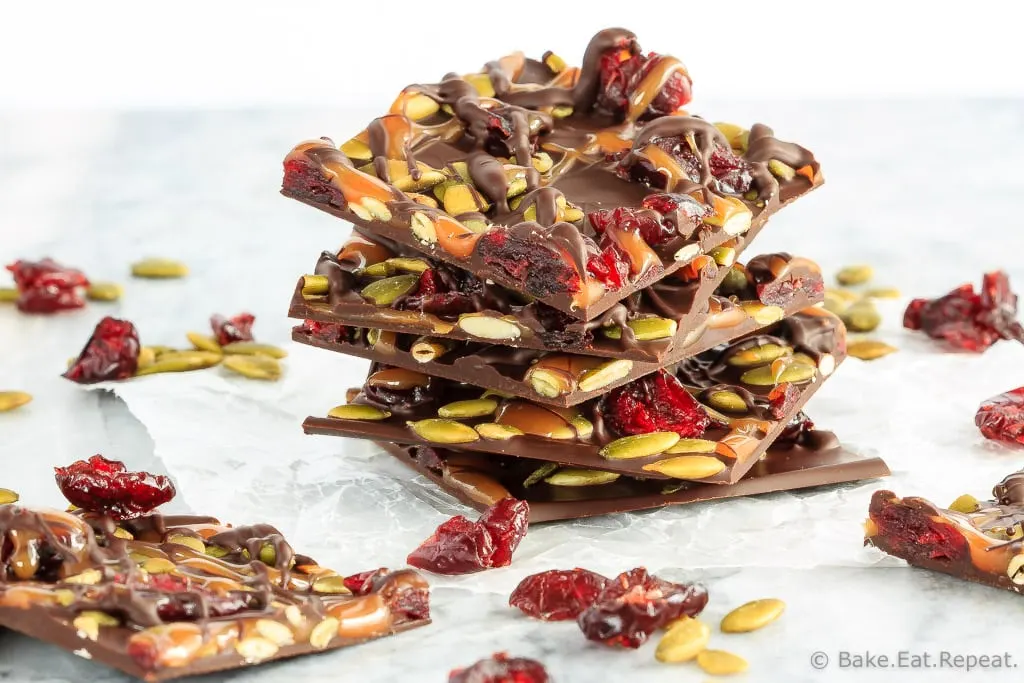 Of course it is. Everyone needs chocolate available to them at all times.
This cranberry, pumpkin seed and salted caramel bark is the perfect chocolate treat for a mid-afternoon craving, or to add to your holiday cookie plate.
Whatever you use it for, it definitely isn't going to last long. Good thing it's so easy to make!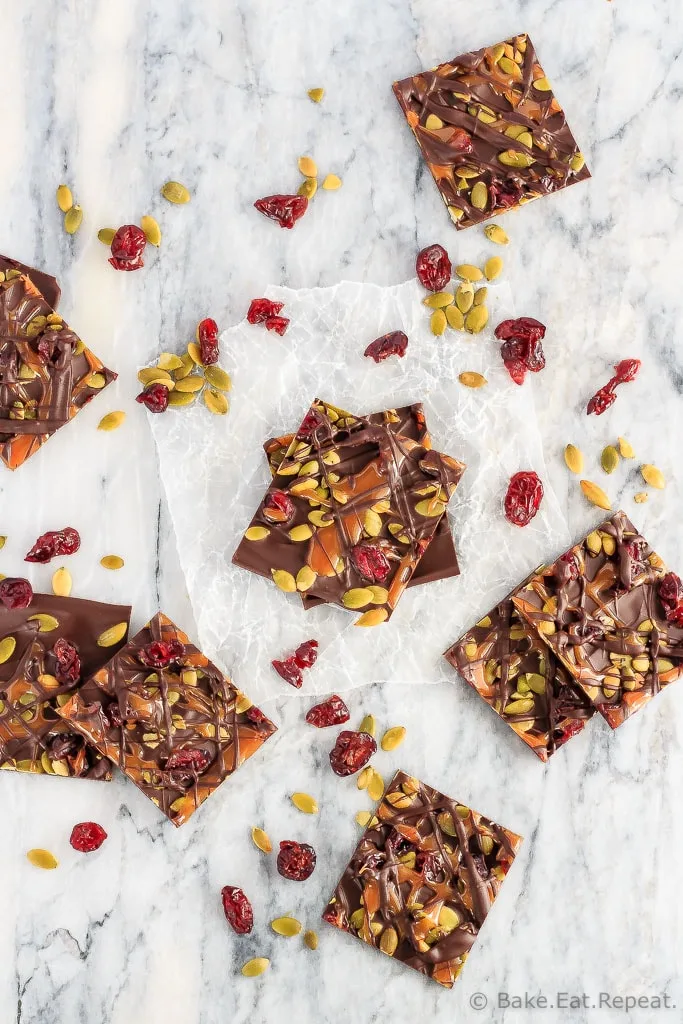 Tips for perfect Cranberry, Pumpkin Seed and Salted Caramel Bark:
make sure to line your cookie sheet with parchment paper or wax paper to spread the melted chocolate on so that it comes off easily once it's set
use a bar of good quality chocolate for this recipe, not chocolate chips, as they won't melt as nicely as the chopped chocolate does – I like this brand
I like the pumpkin seeds in this, but you could easily replace them with pistachios or some other nut if you like
I used my homemade salted caramel sauce for this, but you could definitely use a store bought version if you prefer – just make sure it's a caramel sauce that needs to be heated up to be runny as it will be very messy if it doesn't set at all!
here are a few more great chocolate treats for you: Salted Caramel Pretzel Bark, Peppermint Brownie Truffles, and Chocolate Mint Popcorn
I've also shared this Cranberry, Pumpkin Seed and Salted Caramel Bark over on Food Fanatic.

This post contains affiliate links, meaning that if you make a purchase through these links, I may receive a small commission.