These no bake oatmeal raisin energy balls, made with healthy California Raisins, take just minutes to mix up for the perfect healthy snack.
Disclaimer: This post has been sponsored by California Raisins and I have been compensated monetarily. All opinions are, as always, my own.
I am always looking for new snack recipes to make for my kids. Mostly because they are always hungry. Always.
It feels like I make a batch of some kind of snack food, and it's gone before I can turn around. I don't even know how they go through it so quickly, but again – always hungry.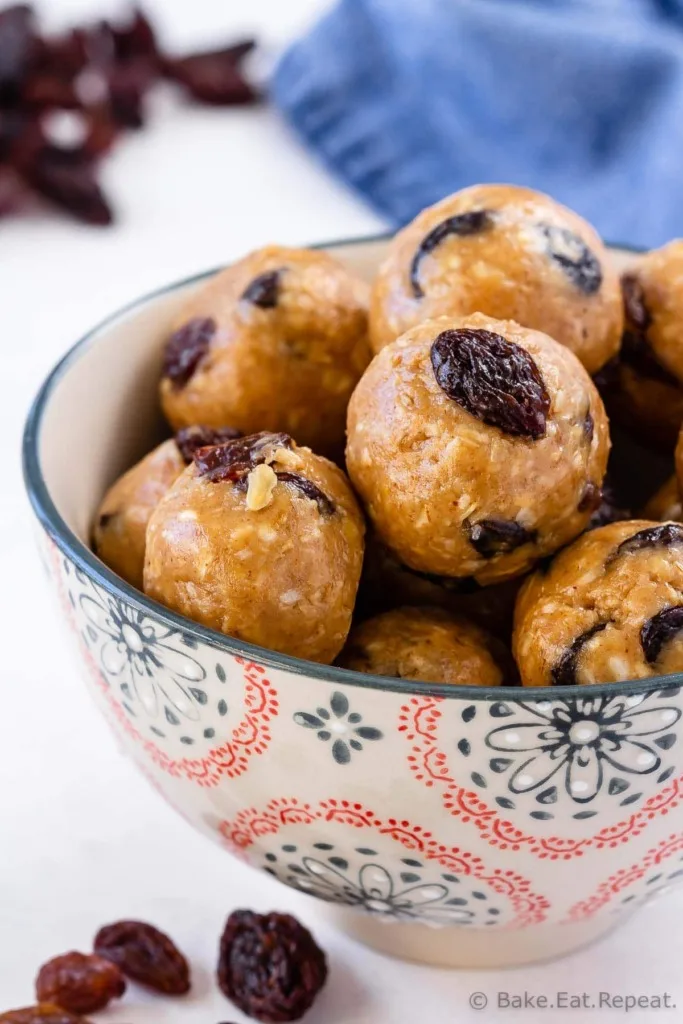 At any rate, tasty, healthy snacks are important around here.
My kids went crazy for these oatmeal raisin energy balls.
Which was fantastic because they were incredibly easy to make, they're a healthy option, and they store well in the fridge or freezer so that I can easily have a batch on hand at all times.
You know, as long as the kids don't know they're in there. Because then they disappear in no time.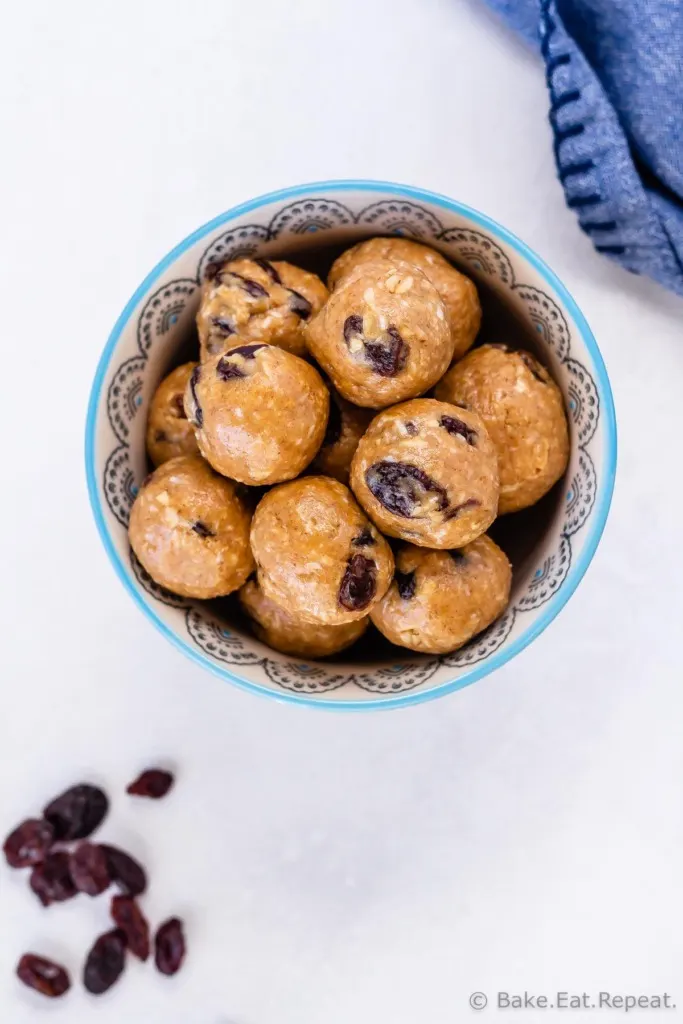 Are energy balls good for you?
Energy balls are the perfect healthy snack. They are filled with healthy fats and fibre, and they have no refined sugar.
Adding a superfood like California Raisins to these energy balls helps to sweeten them naturally while keeping them healthy.
These oatmeal raisin energy balls make the perfect healthy, on-the-go snack!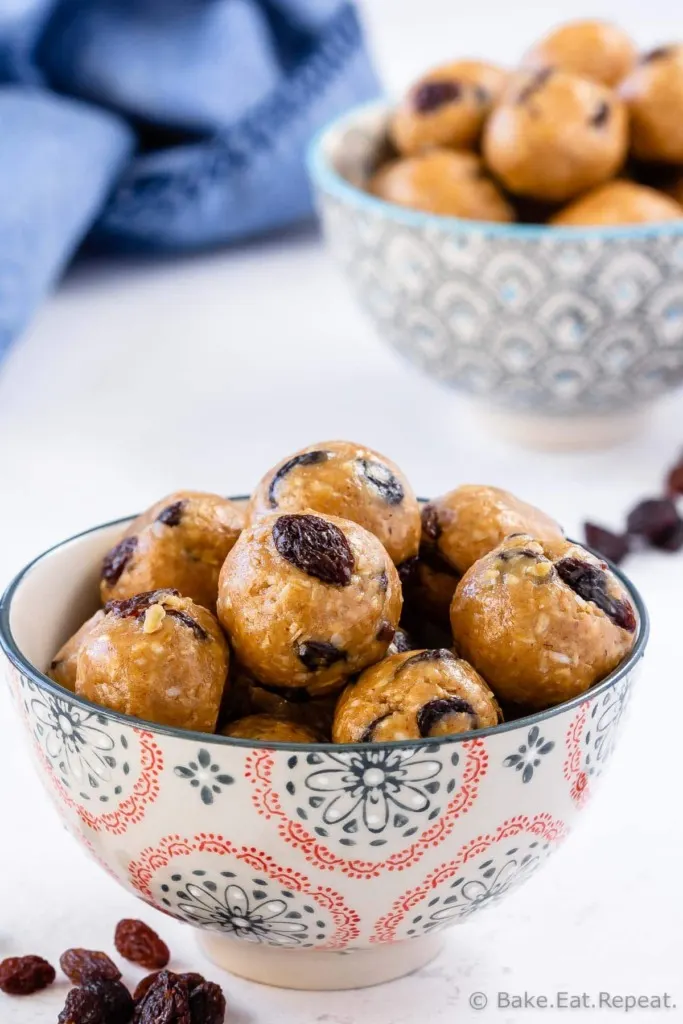 What are the benefits of eating raisins?
Raisins are naturally sweet with no added sugar, and are a source of fibre and potassium, with no fat or cholesterol. They are also a very versatile addition to many different recipes, both savoury and sweet.
Are you looking for some recipes to incorporate raisins into your diet? Here are some of our favourites: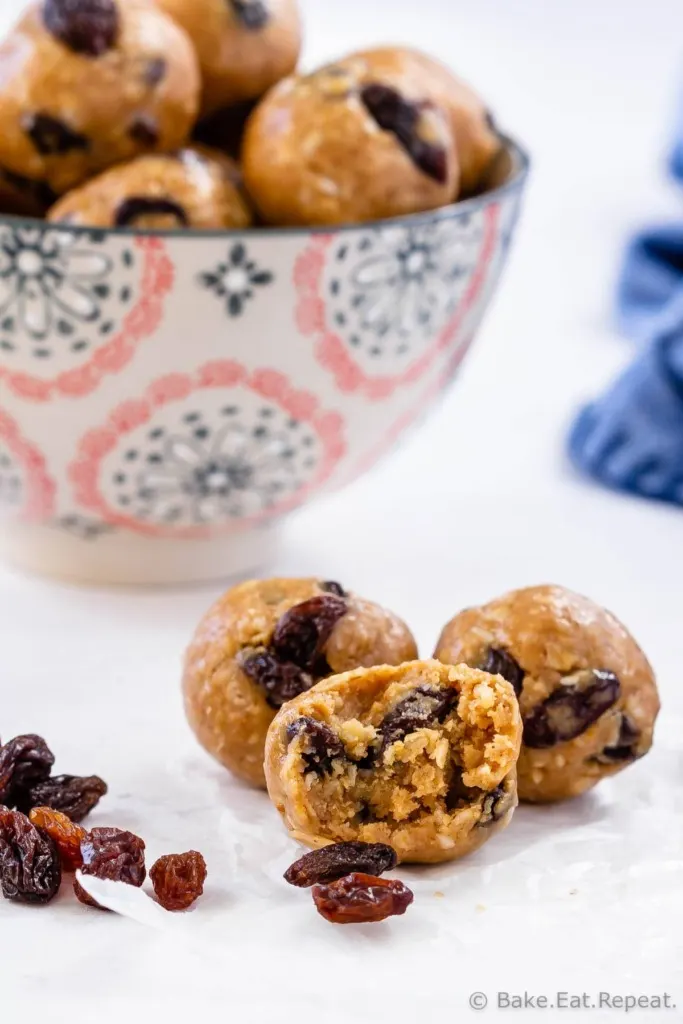 What are good healthy snacks for school?
I am constantly on the lookout for good healthy snacks for school to pack in my kid's lunches. Dried fruit makes a regular appearance in their lunches as they all like it. California Raisins are at the top of that list as they have no added sugar, which I love.
My kids also love snacks like these oatmeal raisin energy balls in their lunches. Some other great options include yogurt, cheese strings, fruit, or other homemade snacks.
Here are some of my kid's favourite snack recipes (added bonus – all of these are great with raisins too!):

How to make Oatmeal Raisin Energy Balls:
These energy balls are easiest to make in a food processor. If you don't have one, use a blender to break down the oats, and then simply stir everything together in a bowl until it is well combined.
Energy balls are one of the easiest healthy snacks to make. Toss everything in a food processor and mix, then roll the dough into balls and chill. It doesn't get much easier than that, and everyone will love them.
I use peanut butter in these energy balls, but you can easily replace it with another nut butter if you prefer.
The best raisins in the world come from California, so I highly recommend using California Raisins for this recipe if you can. I made these oatmeal raisin energy balls several times, using two different kinds of raisins to compare, and the California Raisins definitely won.