These devilled eggs take just minutes to make and everybody loves them. You can even make them up to two days in advance!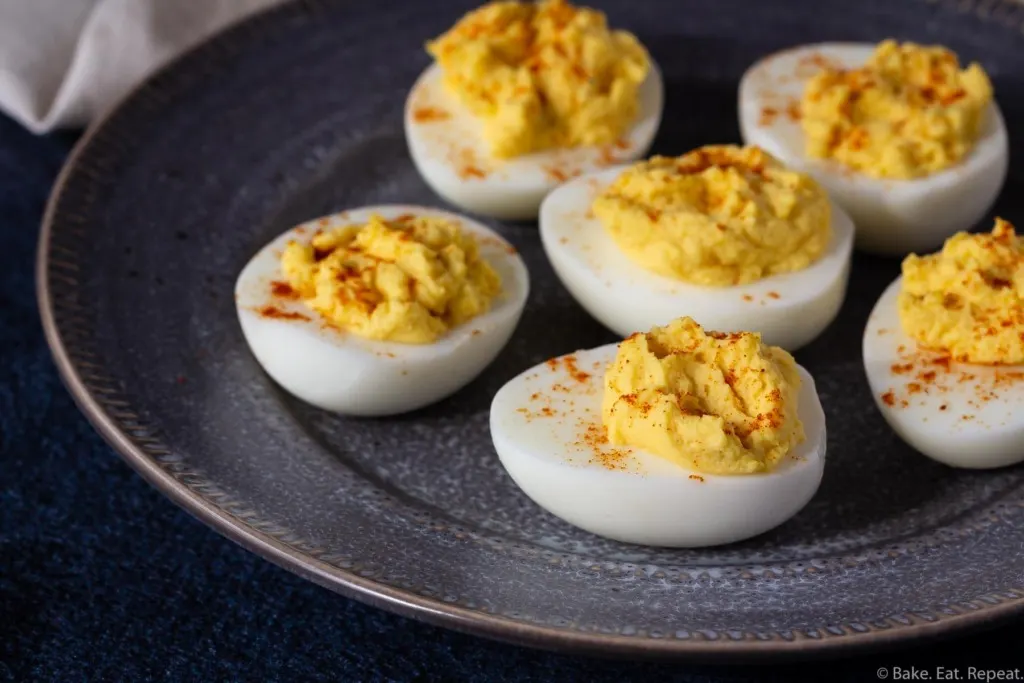 Who loves devilled eggs? Or deviled eggs if you prefer. However you spell it, they are amazing. Definitely one of my favourite appetizers.
They are so easy to make, only take a few ingredients, and they disappear pretty much immediately when you put them out for a group of any size. Even with just my family here we went through a batch in no time at all.
Devilled eggs are just so tasty, they're hard not to eat when they're sitting in front of you!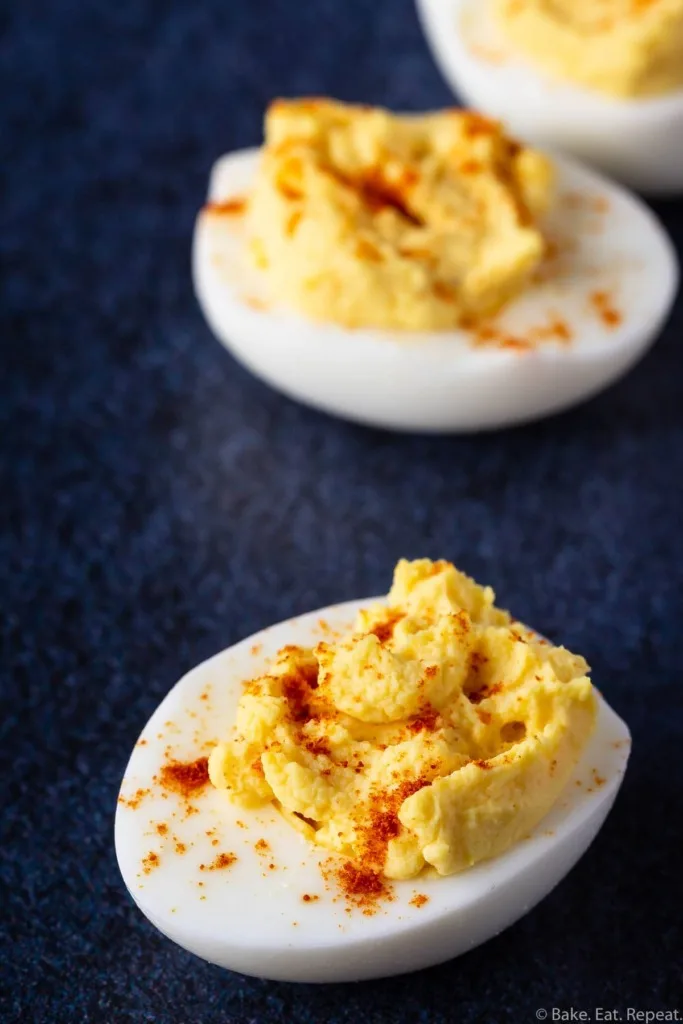 I've tried a few different recipes for devilled eggs, and this is my favourite. It's the one my sister-in-law always makes for family gatherings and they're amazing.
Lucky for me, she shared her recipe, so now we can all have the best devilled eggs ever!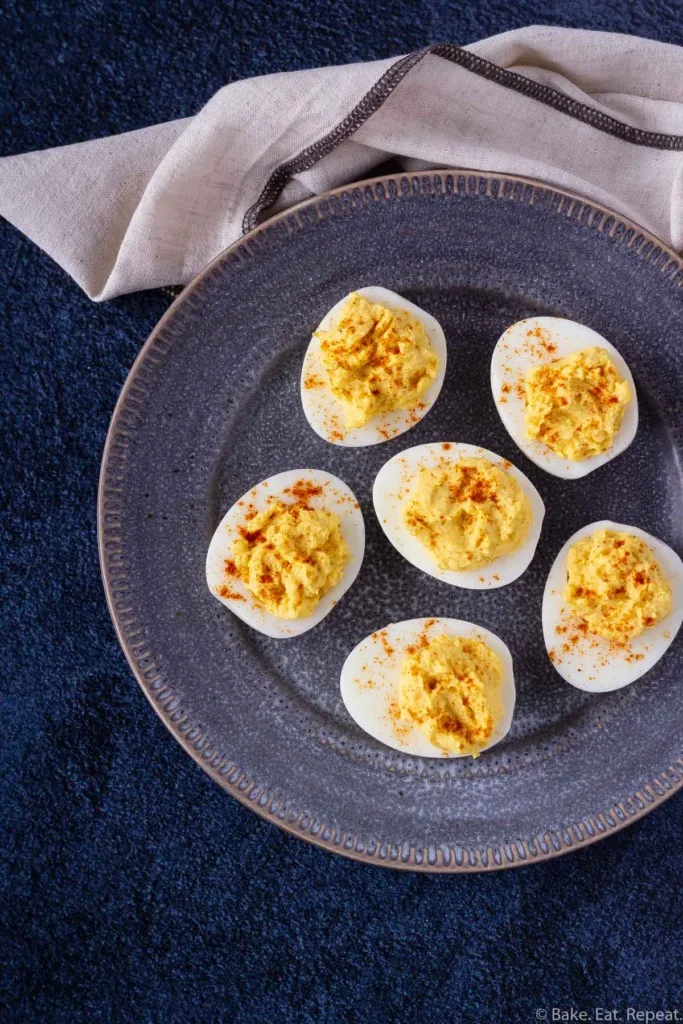 What is the easiest way to hard boil eggs?
I find the easiest way to hard boil eggs is in the Instant Pot. Instant Pot hard boiled eggs are very hands off, they only take 4 minutes of cook time, and you can fit a dozen eggs in at once (or you can if you have an 8 quart pot!).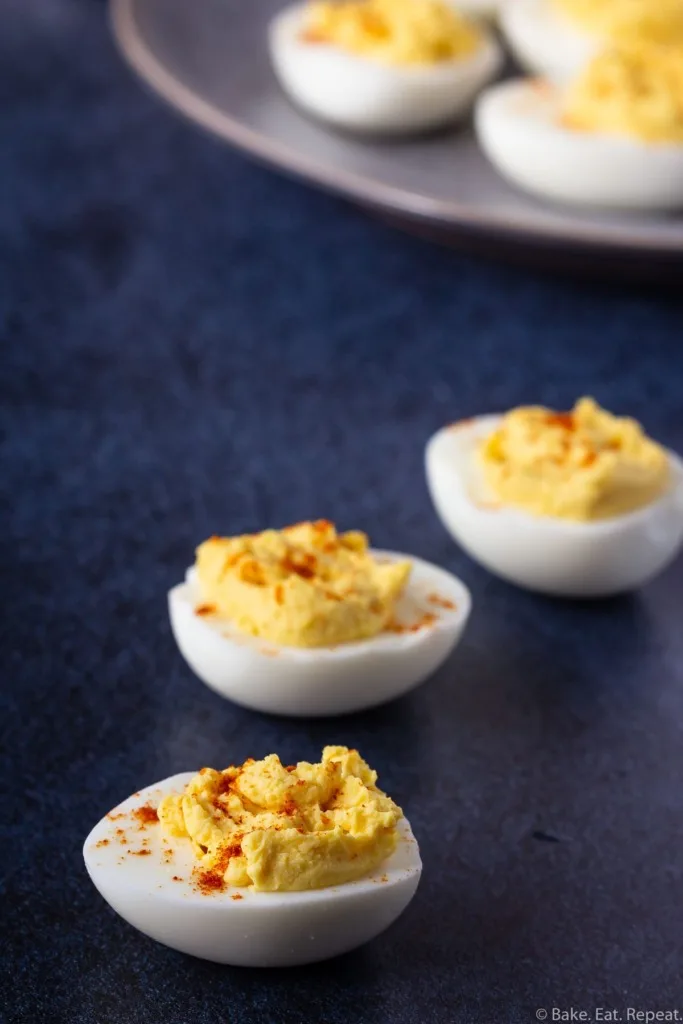 How long do you boil an egg to hard boil it?
If you don't have an Instant Pot, then it's still easy to hard boil eggs on the stove, it just takes a bit longer and you have to pay a little more attention to them.
To hard boil eggs on the stove, place the eggs in the saucepan and cover them with cold water. Put the pan on the stove over high heat and bring it to a full rolling boil. Once it's at a full boil, turn off the heat and put the lid on the pot.
Let the eggs sit for 12 minutes to hard boil them. Remove them from the pot and immediately place them in ice water to cool completely.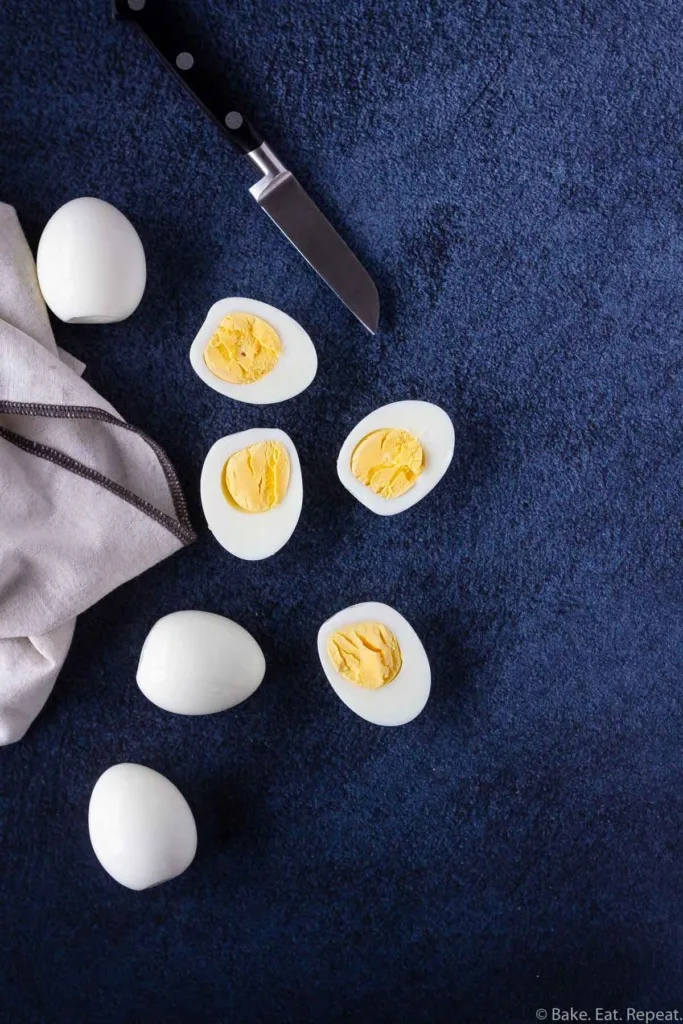 How do you peel an egg without the shell sticking?
After hard boiling eggs, make sure to put them in ice water immediately to cool completely before peeling them. It helps with peeling the eggs if you crack the shell a bit before placing the egg in ice water.
I usually tap the bottom of the egg on the counter and then put it in ice water to cool. When the ice water can get under the shell while the egg cools it helps prevent the egg white from sticking to the shell as you peel it.
It also helps to peel them once they're cool, rather than placing them in the fridge with the peels on. If you put hard boiled eggs in the fridge unpeeled, and try to peel them later, the shells are more likely to stick. Instead, store them in the fridge already peeled.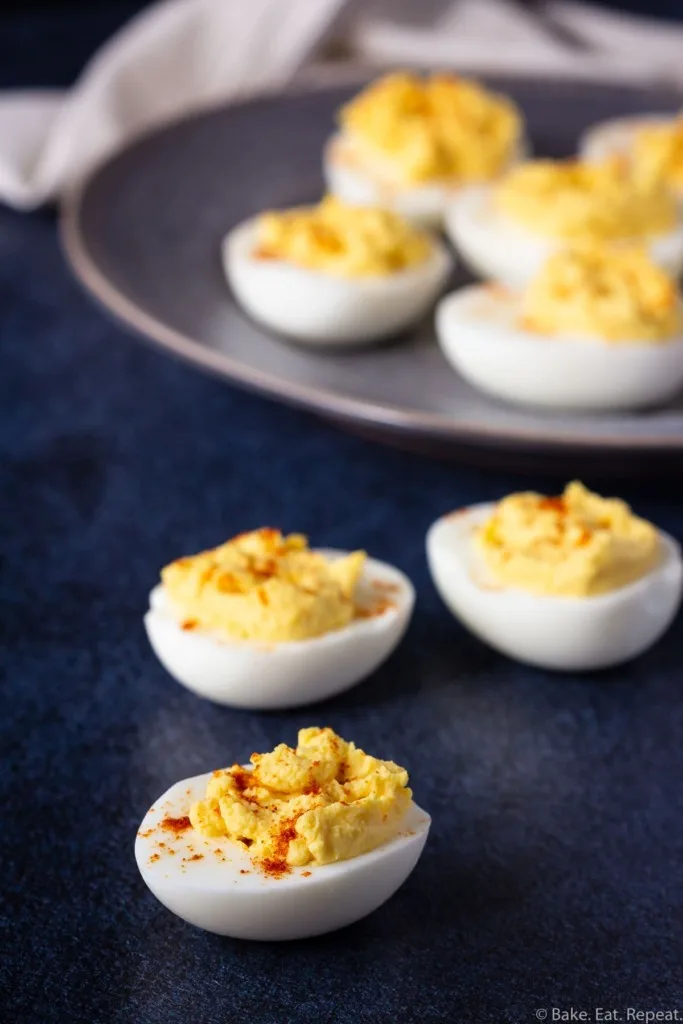 How far ahead can I prepare devilled eggs?
Devilled eggs are a great appetizer to make ahead as they can be prepared up to two days ahead of time. Just make sure to keep them covered in the fridge until you are ready to serve them.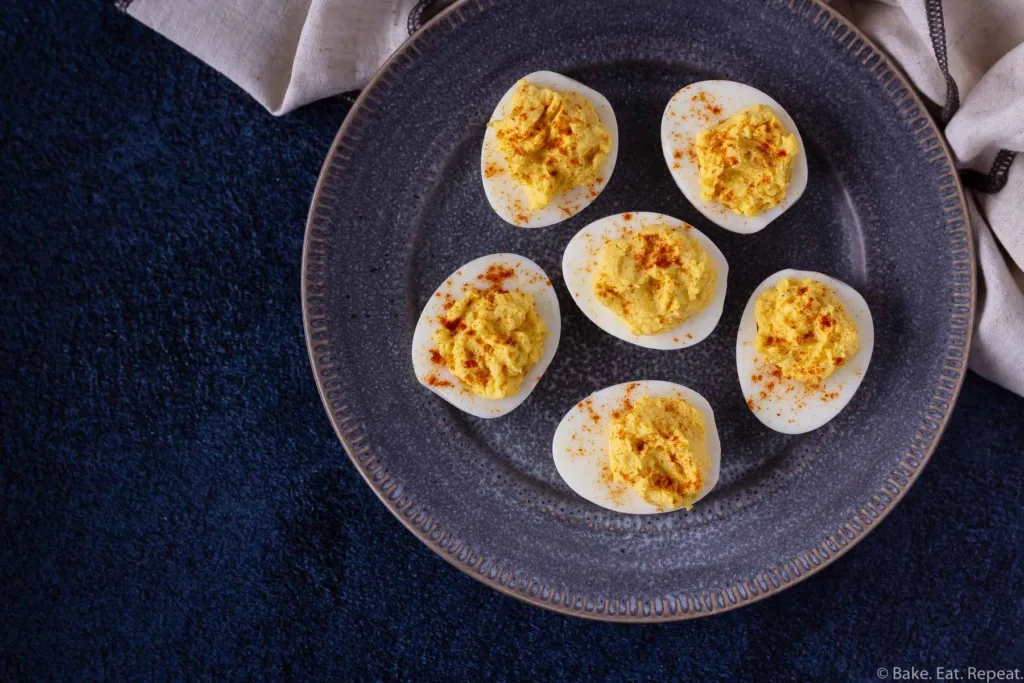 How long do devilled eggs keep?
Devilled eggs will keep well in the fridge in an airtight container for up to 4 days.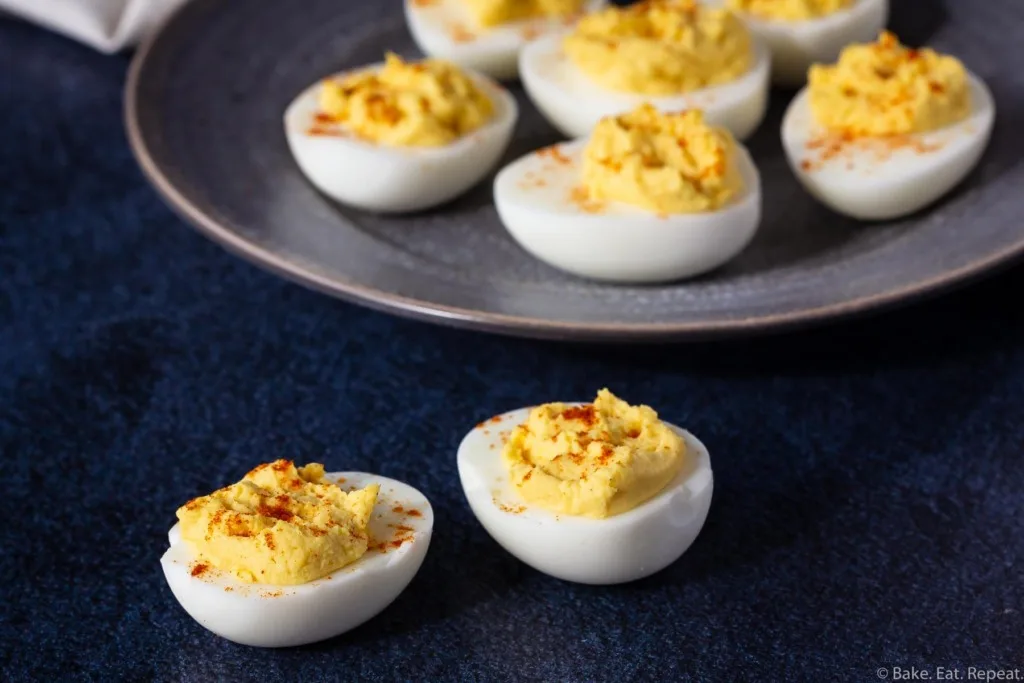 How to make Devilled Eggs:
Hard boil your eggs and let them cool completely in an ice water bath before making devilled eggs.
You can boil your eggs the day before making the devilled eggs if you like, just make sure to peel them before refrigerating as they peel better if done right after cooling rather than the next day.
You can just mash the filling with a fork, but I like to use an electric mixer to whip the filling so it's completely smooth. It's not necessary though, just a personal preference.
If you want the devilled eggs to look pretty, you can pipe the filling into the egg whites with a piping bag and a large star tip. I can't usually be bothered with this and just use two spoons to fill the egg whites, but it's an option!
This recipe can easily be doubled or tripled if you want to make a large batch of devilled eggs.
Here are some more great appetizer recipes: