These marbled chocolate orange scones with a sweet orange glaze make the perfect sweet treat with your morning coffee!
If you're looking for a fantastic scone recipe to have as a treat with your morning coffee, look no further. These marbled chocolate orange scones with a sweet orange glaze are amazing.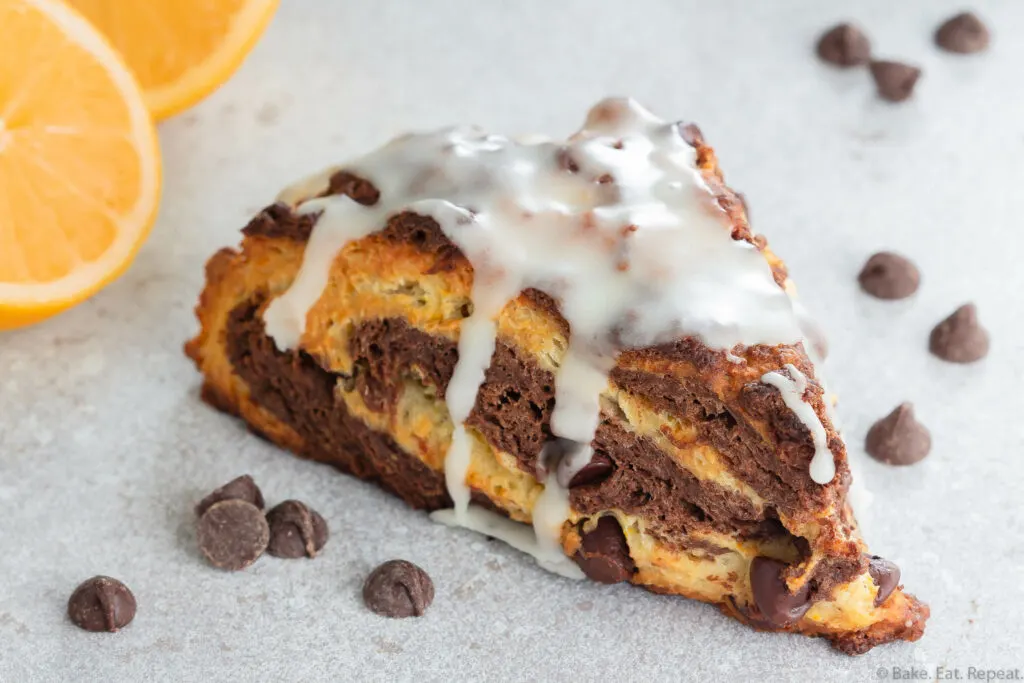 They're easy to make, although they do take just a little longer to mix up than your typical scone recipe, as there are two doughs to make rather than just one. But the doughs are quite similar so they do mix up quickly.
Sweet orange dough and rich chocolate dough are marbled together in this tender scone for the perfect combination. Drizzled with a sweet orange glaze, they are absolutely delicious and the best way to enjoy your morning coffee!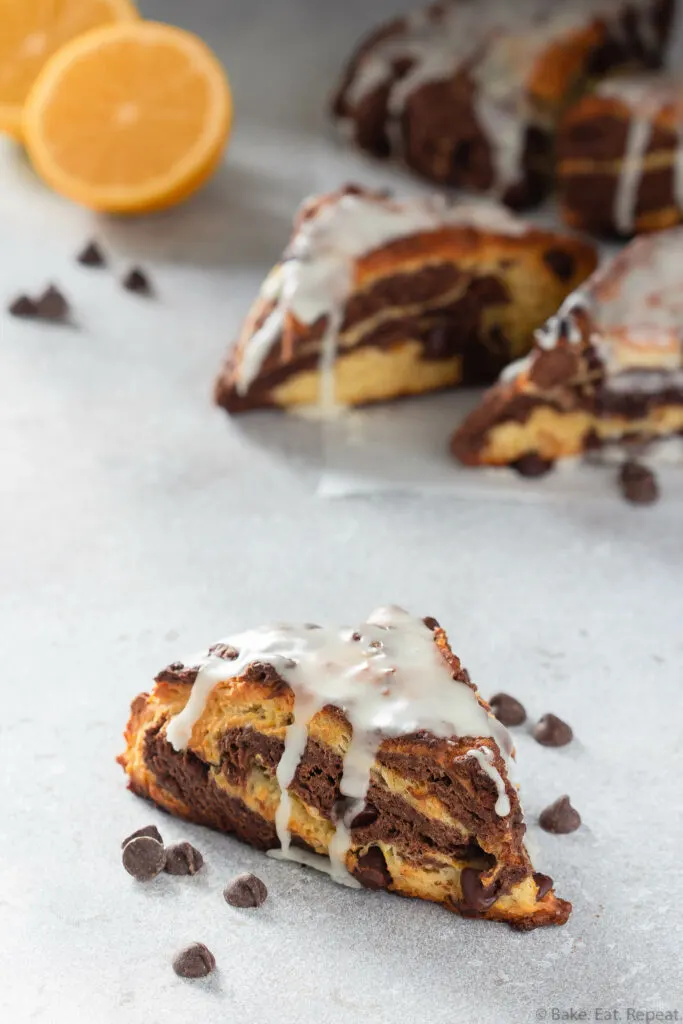 Should you chill scones before baking?
The key to good scones is using very cold ingredients. You want your milk and butter to be very cold when you're making the dough, and the butter should be cold when the scones go into the oven.
Since the butter warms up as you are working with the dough and shaping the scones, you should always chill the dough before baking it. I like to freeze my scones for 20-30 minutes while the oven warms up before baking them.
This freeze time allows the butter to firm up again and then when it melts in the oven you end up with flaky, airy pockets in the scone. Chilled dough gives you better scones, so don't skip this step!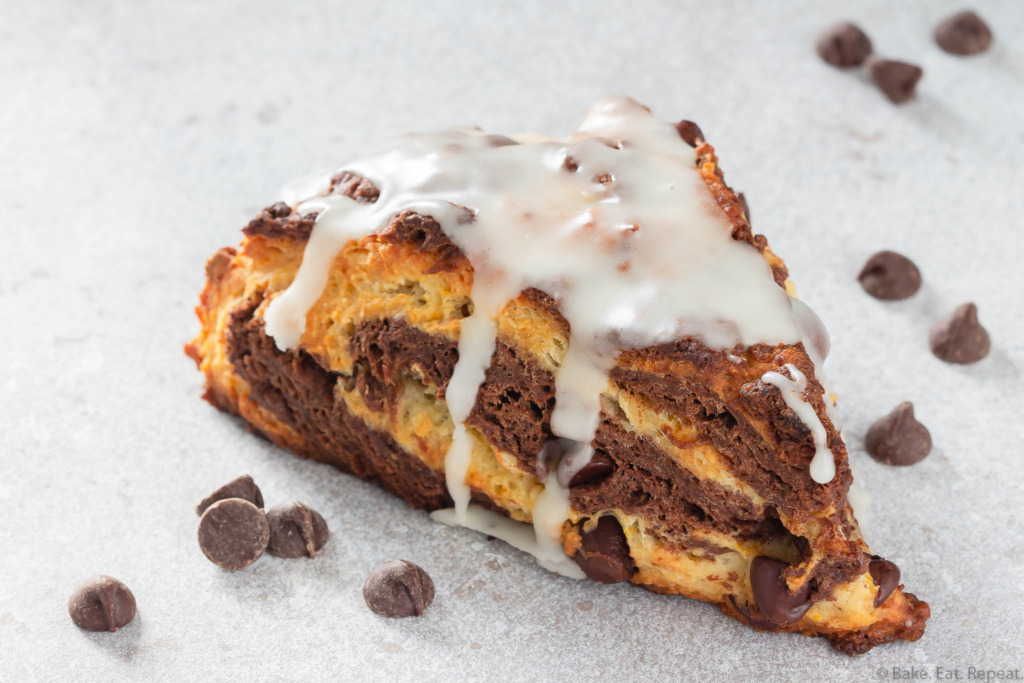 What makes scones moist?
A good scone should not be super dry and crumbly and impossible to eat without multiple cups of coffee! Using an egg, lots of butter, and either milk, buttermilk, or cream in the scone dough helps to keep it moist and tender.
You also want to avoid over working the dough. If you work the dough too much, gluten will start to develop, and the scones will be tough.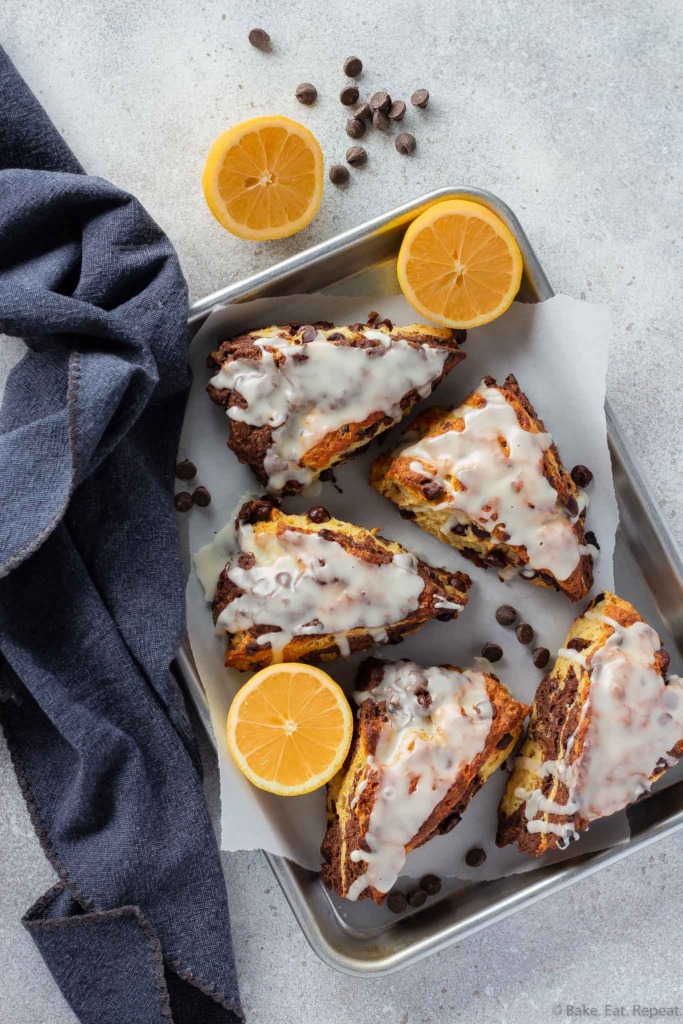 For tender, melt in your mouth scones, work the dough as little as possible.
Stir until the dry ingredients are moistened, and then lightly knead the dough in the bowl just until it comes together into a ball. It's okay if there are a few dry bits still, it will all come together in the oven!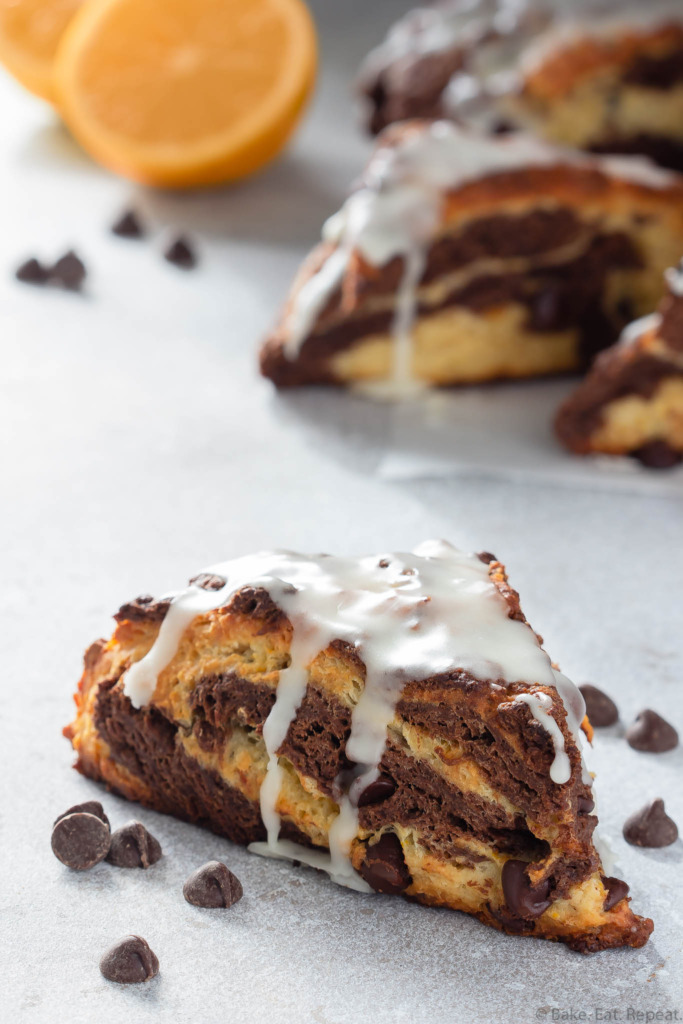 How do you make marbled chocolate orange scones?
These chocolate orange scones use two types of dough for a marbled effect. To make these, mix together the two types of dough separately and break each one into about 8 pieces.
Then pile all the pieces of dough on a baking sheet, alternating between the two types. Press them all together, kneading once or twice to bring it all together, and then press the marbled dough out into a thick circle.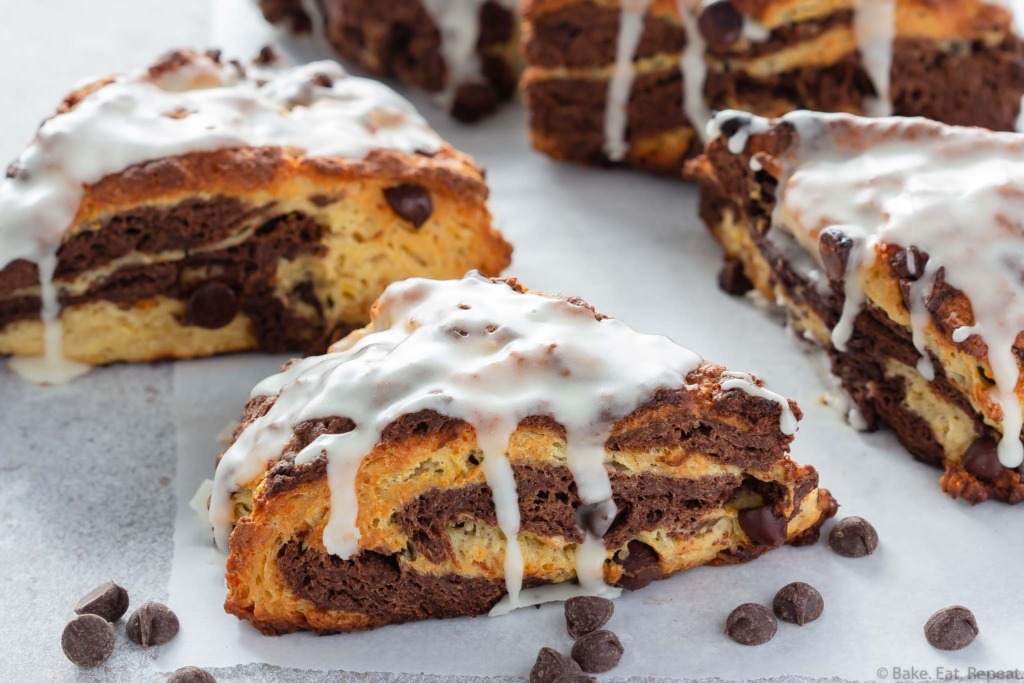 How to make Chocolate Orange Scones:
You can cut in the butter with a pastry blender, but I prefer to grate the butter first and freeze it so that it stays as cold as possible when making the dough. Then you can simply stir it into the dry ingredients.
Don't skip the chilling step for the dough before baking. Scones bake much nicer when the dough has been chilled first.
Buttermilk also works well in this dough if you happen to have some on hand instead of 2% milk.
Here are some more great scone recipes for you: