The easiest way to get perfect, juicy turkey every time! This lemon rosemary brined turkey is an easy recipe that always turns out perfectly juicy turkey!
Thanksgiving is this weekend! So that means turkey time – one of the best meals of the year. Well, at least here in Canada it's this weekend. I know my American friends won't be celebrating for a while yet, but you can just tuck this recipe away for future reference because it's amazing.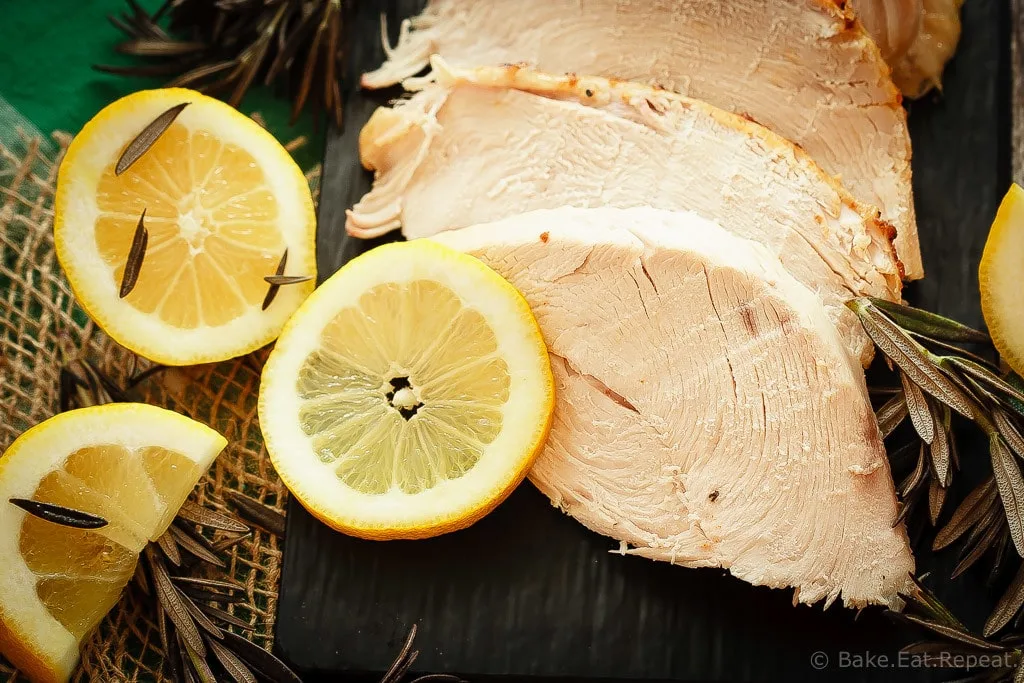 Have you ever roasted a turkey? Is it one of those things that you love to make, or that you're a little bit scared to try? I feel like a lot of people are kind of scared to try making a turkey, but if that's you, trust me you can do it. It's really one of the easier things to cook, and I honestly believe that anyone can make a perfect turkey.
I think maybe one of the reasons people are scared to try making turkey is the fear of ruining Thanksgiving dinner by putting a Griswold's turkey on the table. But that's not going to happen. It's easy. I promise. And even if that DID happen, it would be something funny to recount every year – I mean everyone is picturing that scene in the movie now and grinning right?! But really, it won't happen. I'm not even sure it's possible to dry out a turkey that much.
Especially if you use this recipe for lemon rosemary brined turkey. I absolutely swear by this recipe. It's the only way I ever cook a turkey. I wholeheartedly believe that adding the extra step of brining the turkey makes the whole roasting a turkey process a little more foolproof. I've made this recipe 10-15 times now and it has always resulted in perfectly juicy turkey. Not once has it been dry.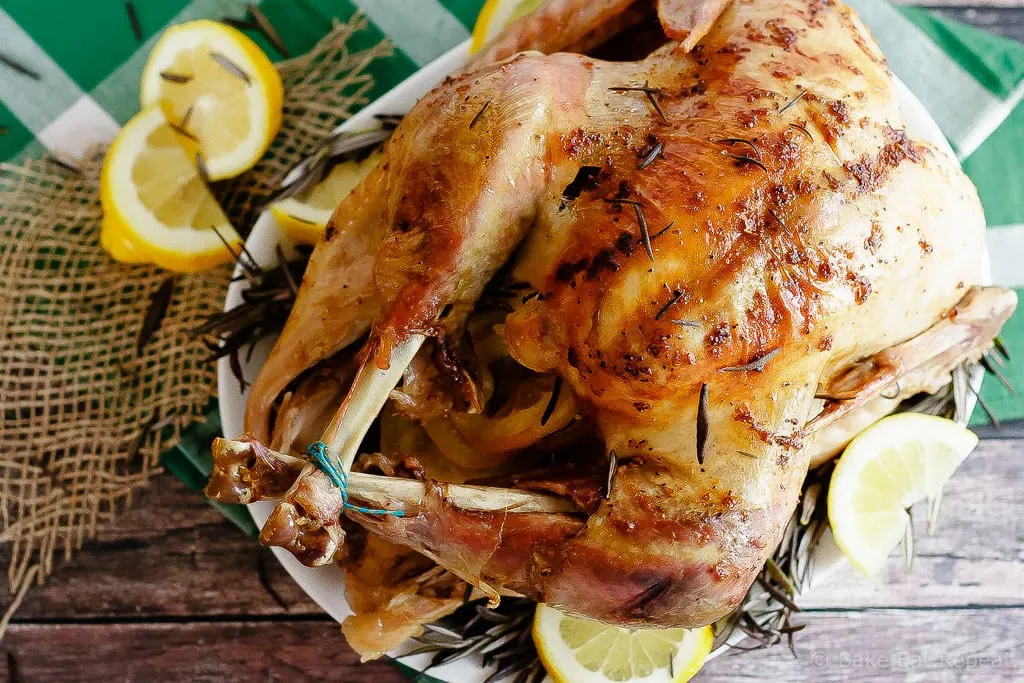 Even when you overdo it a bit, it's still juicy and wonderful. I've overdone a number of turkeys over the years where the cook time should be 3.5 hours based on the weight and for whatever reason when I've checked at 3 hours it's been done for a while. Still tastes fantastic. I will always brine my turkeys. Not a lot more effort for basically a guaranteed perfect turkey.
Plus – it helps with defrosting the turkey. I've always found it a little annoying that everything you read on defrosting turkeys says to stick it in the fridge overnight. It takes 3-4 days to defrost a turkey fully in the fridge, so I don't know what size turkeys those things are referring to but they must be a good deal smaller then any turkey I've ever had.
The beauty of this lemon rosemary brined turkey is that you can defrost it for a couple days in the fridge, basically just enough that it's not completely solid, and then since you're submerging it in a brine solution for 18-36 hours, it will be completely defrosted when you go to roast it. No more pulling the turkey out of the fridge Thanksgiving morning only to discover that it's still partially frozen!
So don't be scared of making the turkey. It's easy, I promise. Just make this lemon rosemary brined turkey this year. It's basically foolproof!
How to make Lemon Rosemary Brined Turkey:
You need to plan ahead as this turkey needs to sit in the brine solution for 18-36 hours before cooking it. And it's best to have the turkey at least partially defrosted before brining, which takes 3-4 days in the fridge.
You can rinse the turkey off before roasting it if you like, but I've never found it necessary to do so.
An instant read thermometer is best for determining if your turkey is done. It should be 170F in the breast, or 180F in the thigh. Let the turkey rest for 10-15 minutes before carving it after removing it from the oven.
Here are some great side dishes to serve with your turkey: