The easiest way to get perfect, juicy turkey every time!  This lemon rosemary brined turkey is an easy recipe that always turns out perfectly juicy turkey!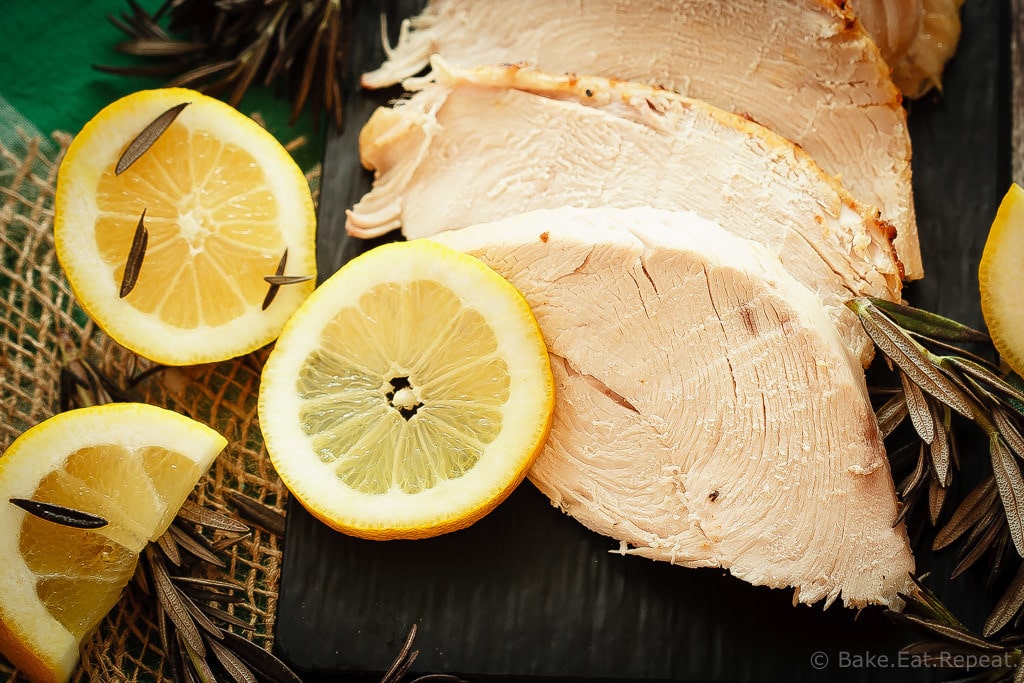 Thanksgiving is this weekend!  So that means turkey time – one of the best meals of the year.  Well, at least here in Canada it's this weekend.  I know my American friends won't be celebrating for a while yet, but you can just tuck this recipe away for future reference because it's amazing.
Have you ever roasted a turkey?  Is it one of those things that you love to make, or that you're a little bit scared to try?  I feel like a lot of people are kind of scared to try making a turkey, but if that's you, trust me you can do it.  It's really one of the easier things to cook, and I honestly believe that anyone can make a perfect turkey.
I think maybe one of the reasons people are scared to try making turkey is the fear of ruining Thanksgiving dinner by putting a Griswold's turkey on the table.  But that's not going to happen.  It's easy.  I promise.  And even if that DID happen, it would be something funny to recount every year – I mean everyone is picturing that scene in the movie now and grinning right?!  But really, it won't happen.  I'm not even sure it's possible to dry out a turkey that much.
Especially if you use this recipe for lemon rosemary brined turkey.  I absolutely swear by this recipe.  It's the only way I ever cook a turkey.  I wholeheartedly believe that adding the extra step of brining the turkey makes the whole roasting a turkey process a little more foolproof.  I've made this recipe 10-15 times now and it has always resulted in perfectly juicy turkey.  Not once has it been dry.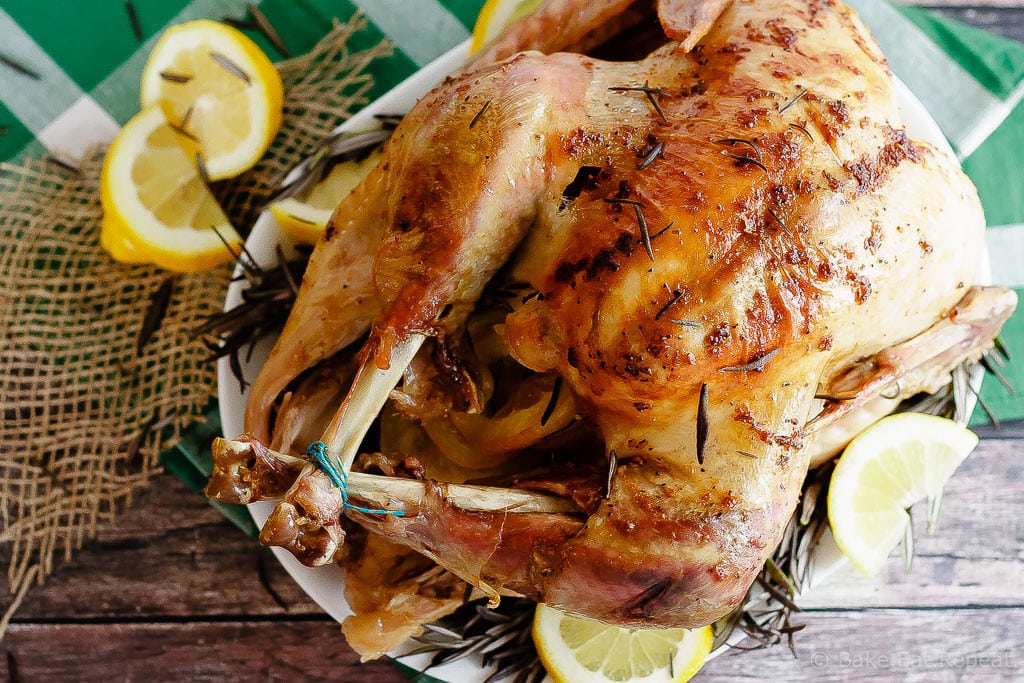 Even when you overdo it a bit, it's still juicy and wonderful.  I've overdone a number of turkeys over the years where the cook time should be 3.5 hours based on the weight and for whatever reason when I've checked at 3 hours it's been done for a while.  Still tastes fantastic.  I will always brine my turkeys.  Not a lot more effort for basically a guaranteed perfect turkey.
Plus – it helps with defrosting the turkey.  I've always found it a little annoying that everything you read on defrosting turkeys says to stick it in the fridge overnight.  It takes 3-4 days to defrost a turkey fully in the fridge, so I don't know what size turkeys those things are referring to but they must be a good deal smaller then any turkey I've ever had.
The beauty of this lemon rosemary brined turkey is that you can defrost it for a couple days in the fridge, basically just enough that it's not completely solid, and then since you're submerging it in a brine solution for 18-36 hours, it will be completely defrosted when you go to roast it.  No more pulling the turkey out of the fridge Thanksgiving morning only to discover that it's still partially frozen!
So don't be scared of making the turkey.  It's easy, I promise.  Just make this lemon rosemary brined turkey this year.  It's basically foolproof!



Yield: serves 16-20
Lemon Rosemary Brined Turkey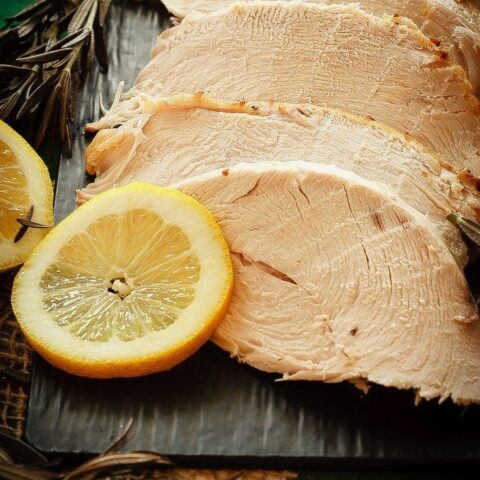 The easiest way to get perfect, juicy turkey every time! This lemon rosemary brined turkey is an easy recipe that always turns out perfectly juicy turkey!

Prep Time 15 minutes

Cook Time 3 hours

Brining Time 18 hours

Total Time 21 hours 15 minutes
Ingredients
1 10-15 pound (4.5-7kg) turkey
For the brine:
8 quarts (7.5 L) water
1 cup sugar
1 cup kosher salt
2 lemons, sliced
4 bay leaves
6 sprigs fresh rosemary
For roasting the turkey:
4 cloves garlic, minced
1 teaspoon paprika
1/2 teaspoon pepper
1/4 cup melted butter
Instructions
In a large clean bucket (or large container) stir together the water, sugar and salt until the sugar and salt are completely dissolved.
Add the lemon slices, bay leaves, rosemary and turkey.
The turkey should be fully submerged although it may float a bit.
Place the bucket in the refrigerator and let the turkey soak in the brine for at least 18 hours and up to 36.
The day you roast the turkey, preheat the oven to 350 degrees F.
Take the turkey out of the brine and place it in a roasting pan, reserving the lemon slices and herbs.
In a small bowl, stir together the garlic, paprika, pepper and butter until combined.
Rub this mixture all over the turkey, inside and out, with your hands or a basting brush.
Stuff the lemon slices and rosemary sprigs inside the cavity and tie the turkey's legs together with kitchen twine.
Roast the turkey for 2.5-4 hours, basting every half hour or so with the juices in the pan.
The turkey is done when a thermometer placed in the thickest part of the thigh reads 180 degrees F (82C), or in the breast reads 170 degrees F (77C).
Let the turkey rest for 15 minutes before carving it.
Notes
If your turkey is frozen, move it from the freezer to the fridge 2-3 days before you start brining. So that's 3-5 full days before you plan to roast the turkey. I've let the turkey soak in the brine solution for anywhere from 18 hours to almost 48, and haven't noticed a difference in how it cooks. Usually I base it on how frozen my turkey is - letting it soak longer will help it defrost if you forgot to take it out as early as planned - but aim for about 24 hours. I've also made this without the rub - I like it but if you don't want to bother, it's still fantastic without it.

The cooking time is based on a number of factors including the size of your turkey, the kind of roasting pan you use, whether you stuff the bird or not, the accuracy of your oven, etc. The best way to know if your turkey is finished is with an instant read thermometer, but you can plan on 2.5-3 hours for a 10 pound turkey, and 3.5-4 hours for a 15 pound turkey. I always roast my turkey with the lid of the roasting pan on, but you can also just tent it with foil if you don't have a lid (this could also affect the cooking time!).

Source: From Today's Parent
Recommended Products
This post contains affiliate links. As an Amazon Associate, I may receive a small commission from qualifying purchases.
Nutrition Information:
Yield:
20
Serving Size:
1
Amount Per Serving: Calories: 706Total Fat: 27gSaturated Fat: 9gTrans Fat: 0gUnsaturated Fat: 17gCholesterol: 377mgSodium: 6043mgCarbohydrates: 11gFiber: 0gSugar: 10gProtein: 97g

Nutrition Information is estimated based on ingredients used and may not be exact.