Tender cheese tortellini in a creamy white sauce, this one pot turkey mushroom tortellini is a family favourite – plus it's ready in 30 minutes!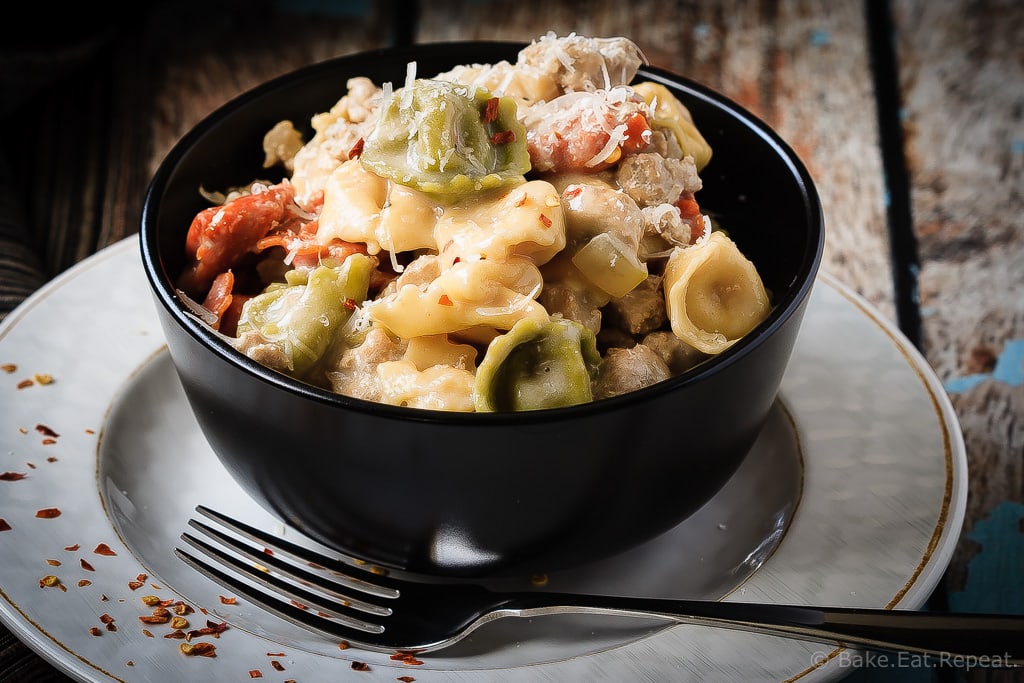 It's comfort food time here today.  Pasta in a creamy sauce with mushrooms involved.  That's my definition of comfort food.
And this one pot turkey mushroom tortellini is on the table in 30 minutes which makes it even better.  Anytime I can make a meal that everyone in the family loves, and only takes 30 minutes to make, it's a winner.  Even the kids wanted to take the leftovers of this for lunch which screams to me that they liked it.  Usually they're much happier with sandwiches at school and my husband and I do the leftovers for lunch thing.
Of course, my 5 year old didn't actually eat most of the tortellini that I sent him for lunch, but I'm not even going to worry about that.  At least he wanted to bring it!  And he ate it at supper.  So it's a winner.
I've made this one pot turkey mushroom tortellini quite a few times now.  It's one of those meals that I can easily throw together at the last minute.  I usually have ground turkey and tortellini in the freezer and mushrooms in the fridge, so when I don't know what to make for supper at 4pm, this is a meal I can toss together.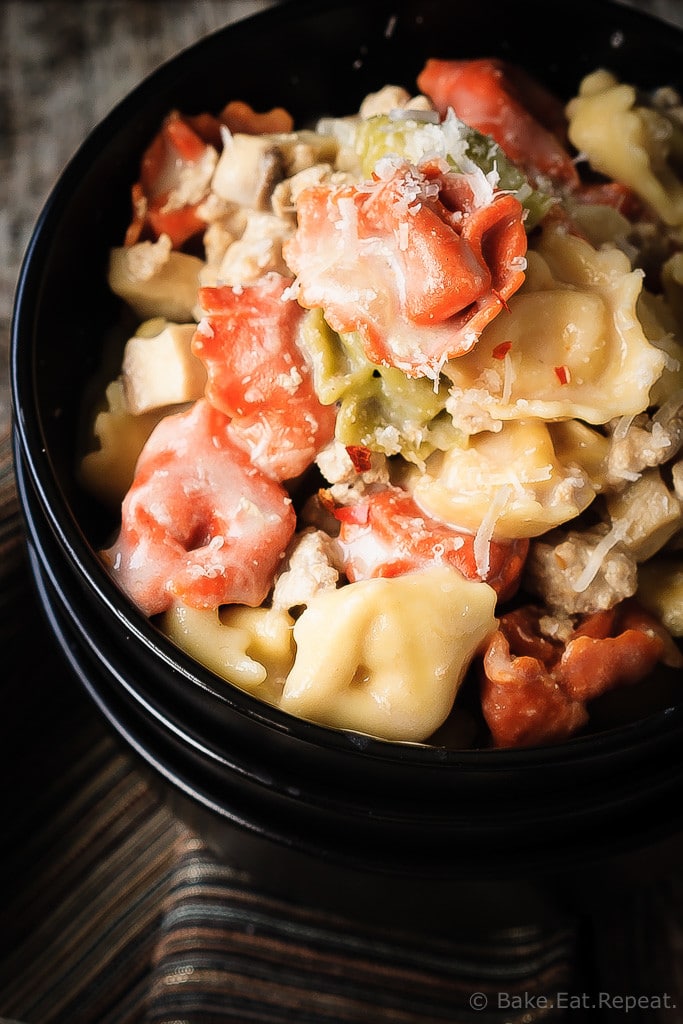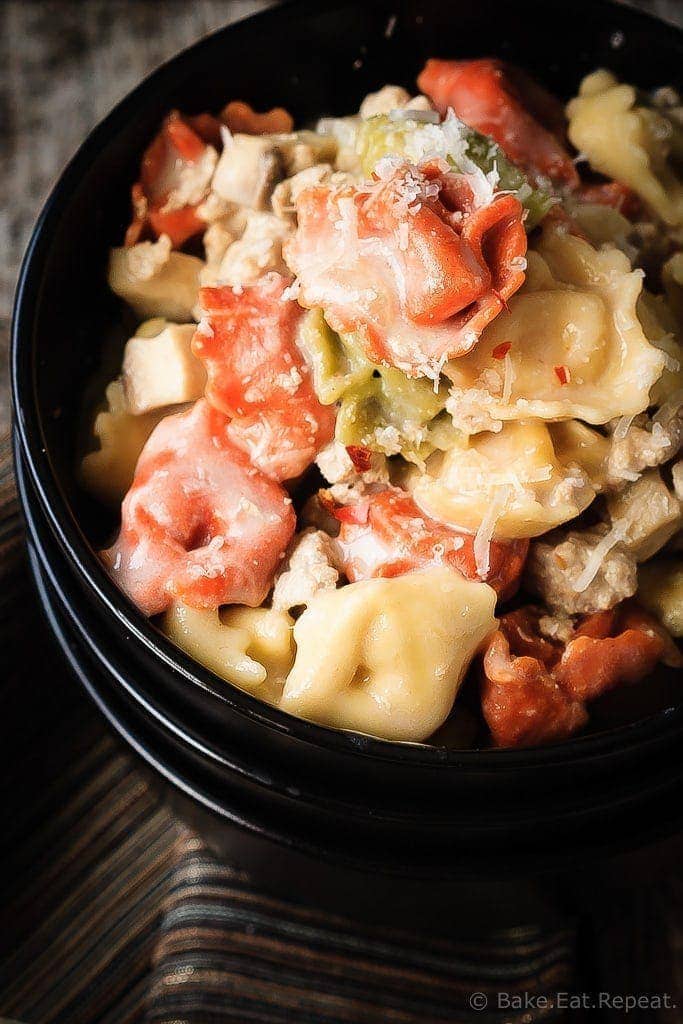 Those kinds of meals usually become favourites around here.  Something that's easy to make, I usually have what we need for it, and everyone eats it?  Yeah, those get made over and over again.  Obviously.
So if you're looking for a new comfort food family favourite, give this one pot turkey mushroom tortellini a try tonight!  30 minutes to creamy pasta with turkey and mushrooms.  That your family will actually eat.
Also, it's the first Thursday of the month, so that means 30 Minute Thursday today!  Scroll down to below the recipe to find a list of other 30 minute meals from my blogging friends that will help make your menu planning a bit easier this month.  You can also find past 30 Minute Thursday posts here.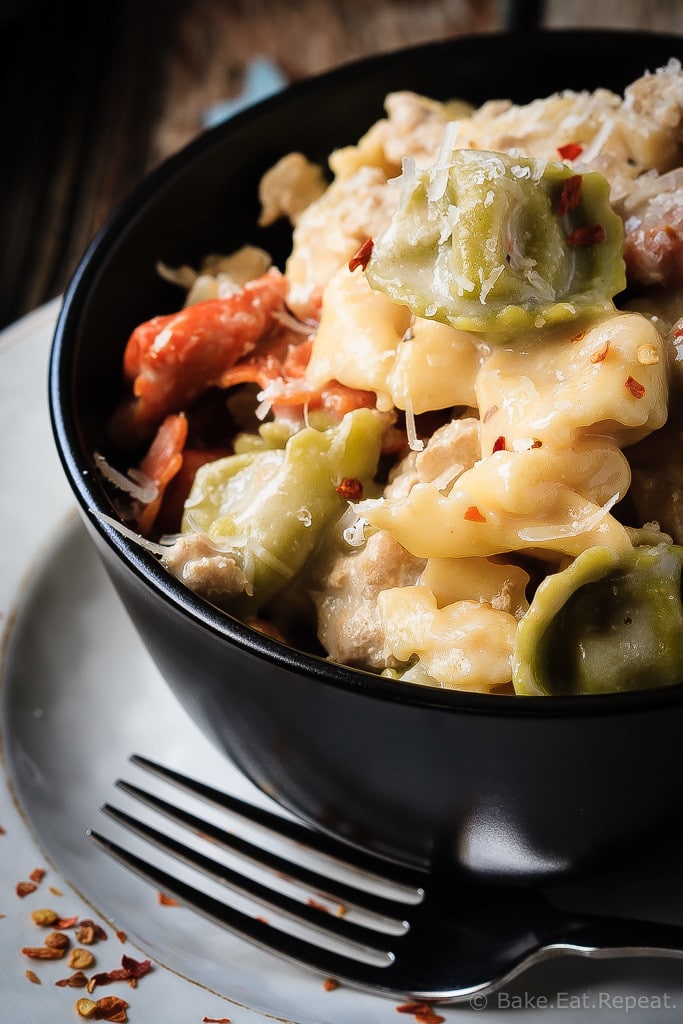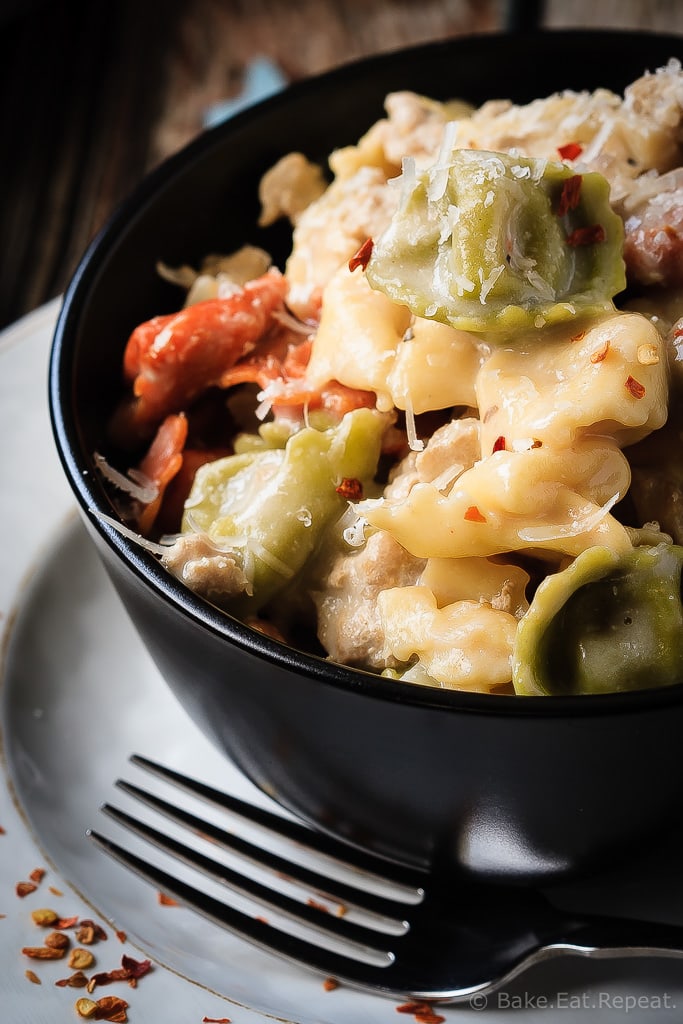 Yield: serves 6
One Pot Turkey Mushroom Tortellini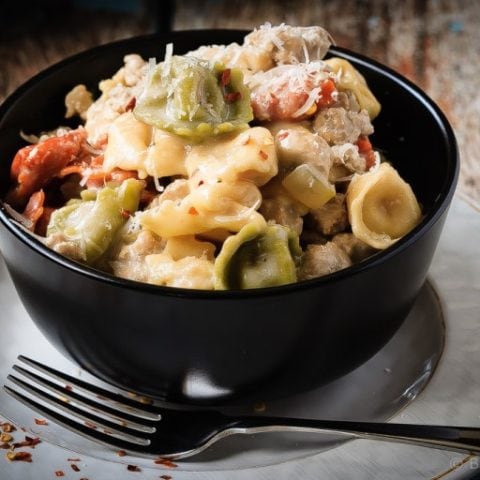 Tender cheese tortellini in a creamy white sauce, this one pot turkey mushroom tortellini is a family favourite - plus it's ready in 30 minutes!

Prep Time 10 minutes

Cook Time 20 minutes

Total Time 30 minutes
Ingredients
1 pound (450g) ground turkey
1 cup chopped mushrooms
2 cloves garlic, minced
1 stalk celery, chopped
1/4 cup all purpose flour
1/2 teaspoon salt
1/2 teaspoon pepper
1/4 teaspoon onion powder
1/4 teaspoon dried thyme
1 teaspoon curry powder
2 cups chicken broth
2 cups milk
4 cups (1lb, 450g) cheese tortellini
1 1/2 cups frozen peas, thawed
Instructions
In a large non-stick skillet, over medium heat, cook the turkey, breaking it up and stirring it for 2-3 minutes or until most of it is browned.
Add the mushrooms, garlic and celery and continue cooking for another 1-2 minutes until the turkey is completely browned (no pink remaining) and the vegetables have softened.
Add the flour, salt, pepper, onion powder, thyme and curry powder and stir to combine.
Slowly pour in the chicken broth and milk while stirring constantly.
Bring the mixture to a boil and then add the tortellini.
Reduce the heat to a simmer (medium low heat) and let it cook, stirring often, for 12-15 minutes, or until the tortellini is tender and the sauce has thickened.
Stir in the peas and heat through.
Notes
You can also add in 1/2 teaspoon red chili flakes to this (same time as the rest of the seasonings) and it's fantastic. My kids don't like it being spicy though so we just sprinkle them on our individual servings. So if you like a little heat, add that in!
Recommended Products
This post contains affiliate links. As an Amazon Associate, I may receive a small commission from qualifying purchases.
Nutrition Information:
Yield:
6
Serving Size:
1
Amount Per Serving: Calories: 525Total Fat: 21gSaturated Fat: 7gTrans Fat: 0gUnsaturated Fat: 11gCholesterol: 119mgSodium: 919mgCarbohydrates: 50gFiber: 4gSugar: 4gProtein: 35g

Nutrition Information is estimated based on ingredients used and may not be exact.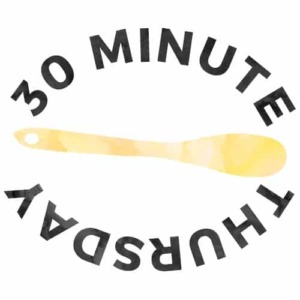 Turkey, Apple & Brie Panini by Pumpkin 'N Spice
5 Ingredient One Pot Pasta with Chicken Sausage by Kristine's Kitchen
Kale and Quinoa Salad Stuffed Portobello Mushrooms with Apples and Pecans by Floating Kitchen
Cheeseburger Macaroni: 30 Minute Thursday by My Kitchen Craze
Mediterranean Salmon Sheet Pan Dinner by Sweet Peas & Saffron
One Pot Teriyaki Chicken Zoodles by Life Made Sweeter
One-Pot Basil Sausage Caprese Pasta by Whole and Heavenly Oven
One Pot Sun-Dried Tomato Chicken Bacon Pasta by Savory Nothings