This gherkin and caramelized onion dip makes the perfect appetizer or snack – easy to make, and so tasty, you'll never want to buy chip dip again! Plus, a great giveaway from Maille Canada!
Watch how easy this Gherkin and Caramelized Onion Dip is to make here: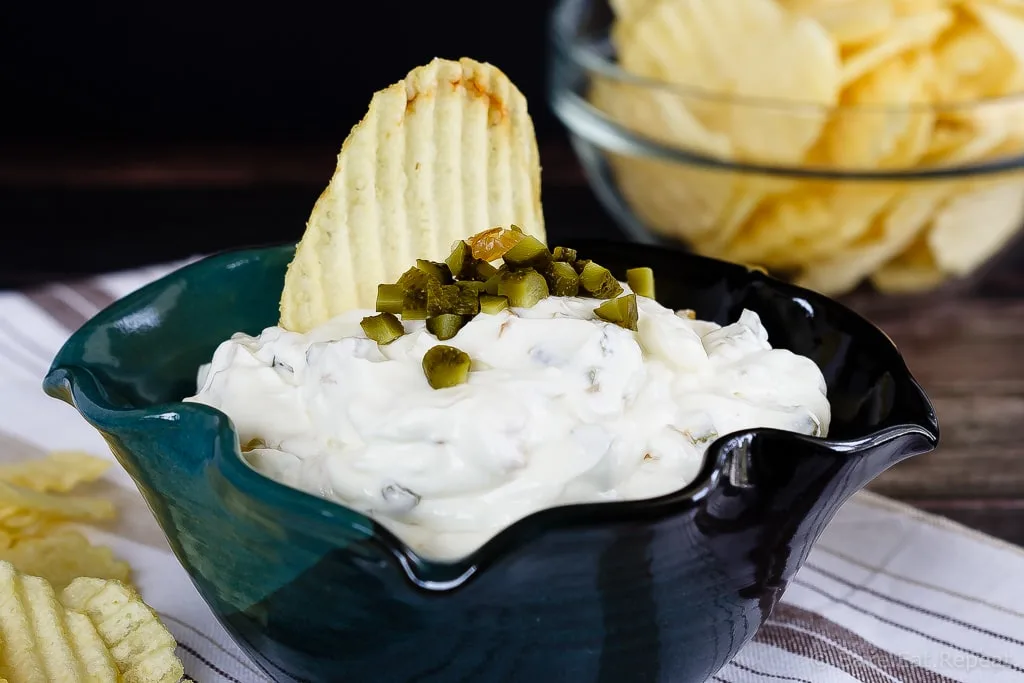 Fun food today! Because chip dip is just plain fun. I don't know why, it just is. Because that's what you serve at parties maybe?
In my mind, chip dip goes with playing cards. That's when it always seemed to make an appearance in my house.
When lots of people were around, and generally when we were playing cards. Family gatherings + cards = chip dip.
So obviously it's fun food. That's just math.
My favourite kinds of chip dip have always been French onion and dill pickle.
So when I had the opportunity to come up with a recipe using Maille's new Gherkins with Caramelized Onions, chip dip was clearly my first idea.
Pickles and caramelized onions all in one dip? That's my idea of the perfect snack!
Granted, there's no dill in these pickles, so it's not dill pickle. But that's okay, because these gherkins have so much flavour.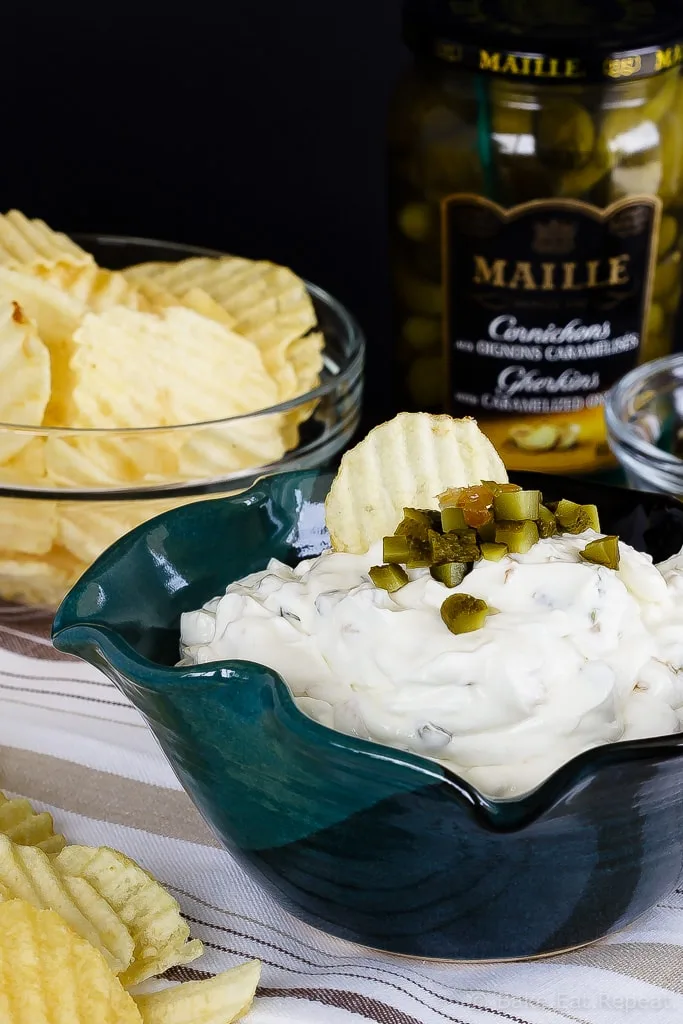 I've actually never loved gherkins, I always thought they were a little too sweet.
But these new gherkins with caramelized onions? Seriously, so good. I had to rush to get my recipe testing done before my family and I devoured them all!
They're amazing.
So even if you don't typically grab the gherkins off the pickle tray, you should probably try these ones.
I know I'll be getting them again.
And I will likely be making this gherkin and caramelized onion dip with them fairly often.
We ate far too much of this the day I made it. Although, when does anyone ever have chip dip and not eat far too much? Is it even possible to stop after only a little bit?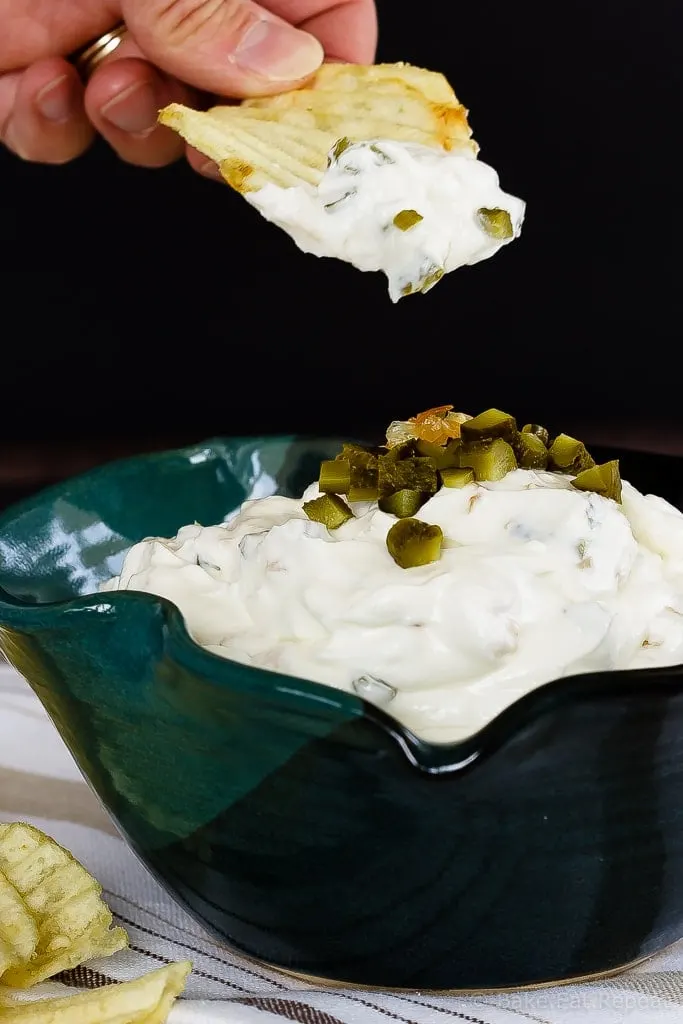 If you can, don't tell me – I'd like to go on believing that everyone lacks self control around chip dip!
If you're looking for an easy snack to make, try this gherkin and caramelized onion dip.
It's super easy to make – caramelize some onions, mix a few things together and chill the dip for a few hours. That's it.
And then you have a happy family. Because chip dip is fun!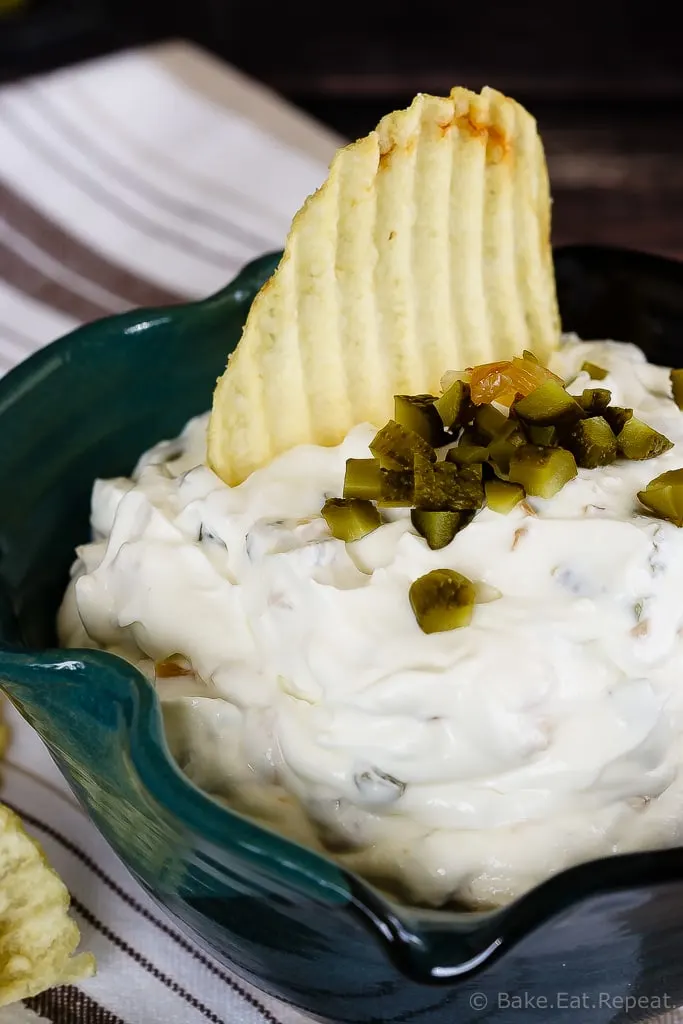 Disclaimer: This post was sponsored by Maille Canada and I have been compensated for my time and provided with product for recipe testing purposes.