These Cajun shrimp and sausage foil packets are easy to make, have easy clean-up, and are perfect for a quick weeknight meal, or for a meal while camping.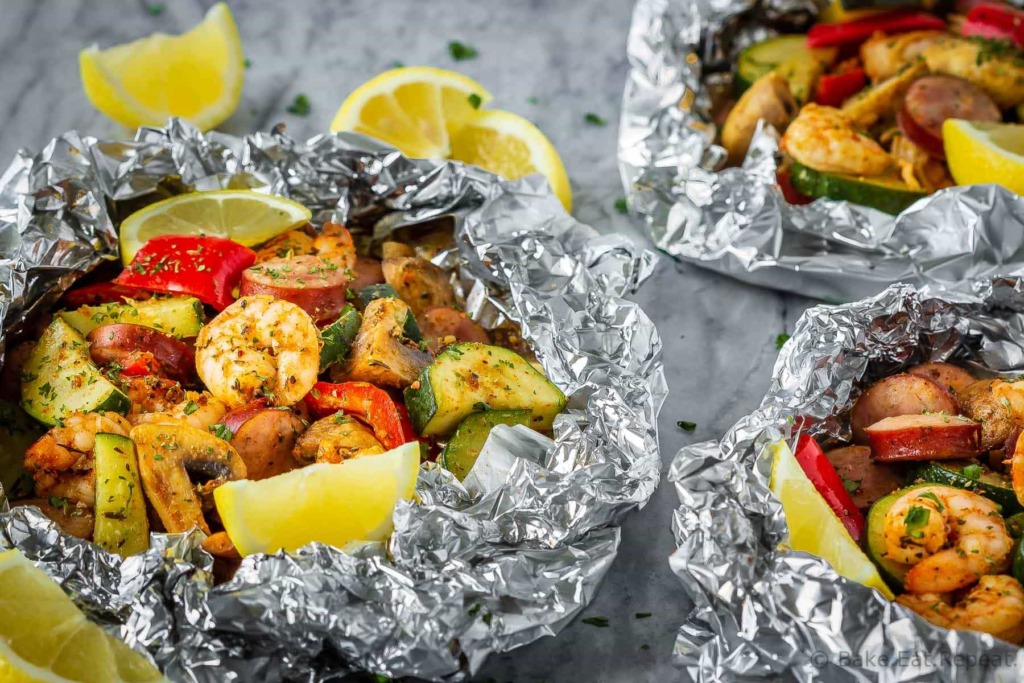 Disclaimer: This post has been sponsored by The Wild Mountain Music Festival and I have received monetary compensation. All opinions are, as always, my own.
These easy as can be, Cajun shrimp and sausage foil packets just might be my new favourite meal. Tasty, no dishes, ready in under a half hour, can be made up ahead of time, and the kids all gobbled it up. That, my friends, is the perfect meal.
Of course, I did make it slightly differently for the kids, since they're not really fond of spicy food, so Cajun seasoning is a little much for them. But the beauty of foil packet meals like this is that they can be made individually and cater to everyone's tastes without a lot of hassle. I used seafood seasoning for the kids, Cajun seasoning for the adults, and no red peppers for my daughter because she's crazy – and everyone was happy.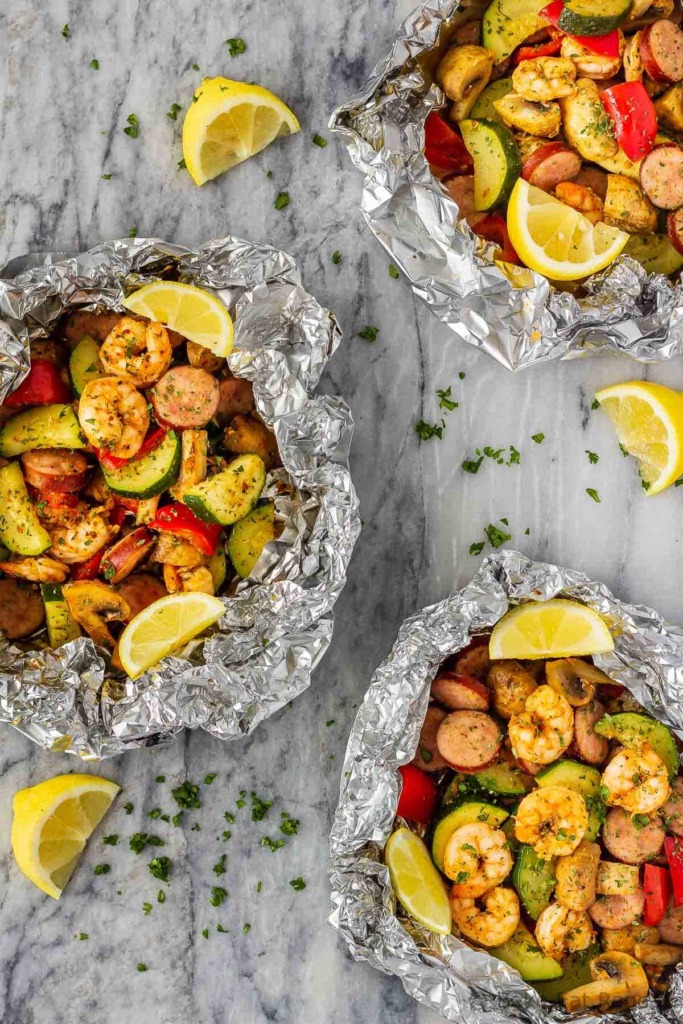 We are hoping to do some camping this year with the kids – they're quite upset about the fact that they're the only kids at school that haven't ever gone camping (I take leave to doubt that!) – and these Cajun shrimp and sausage foil packets will be making an appearance when we do. They can be made a day ahead of time and then just tossed on the BBQ for 10-15 minutes when you're ready to eat. They make the perfect camping meal as the little camping BBQ will work just fine for these – and there's no dishes afterwards either!
Unfortunately we are already busy the weekend that The Wild Mountain Music Festival is going on – or we might have made that their first camping experience. Music festivals and camping just go together don't they? And this one looks perfect for families, with a kids' area for crafts, and drop-in programming also included. Plus the music lineup includes something for everyone, even the kids!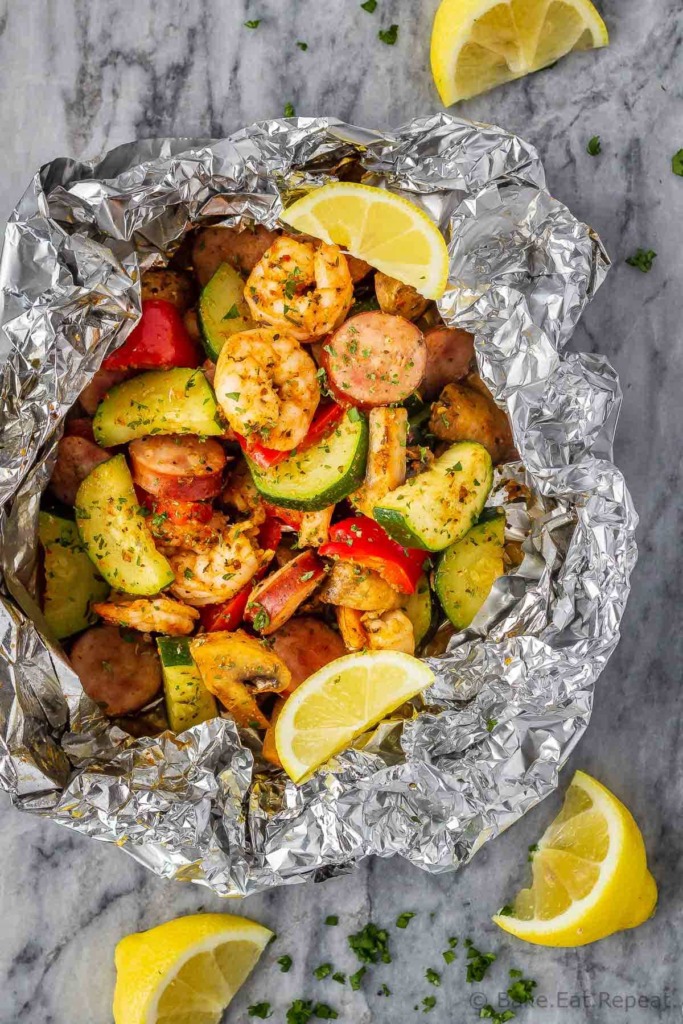 And if you're going to go camping and enjoy some music, there's no better place then in the picturesque Alberta Rockies – the festival is just outside of Hinton and the views of the mountains in Jasper National Park are amazing. I'm pretty sure Jasper is where we want to try and get some camping in….although I might be too late this summer – it's probably all booked up already!
If you're wanting to head to the mountains to camp but are like me and haven't booked anything yet, you could always head to The Wild Mountain Music Festival and camp there. You can find tickets here – or, if you're an Alberta resident, you can enter the draw below the recipe for a free festival pass that I'm giving away to one lucky reader.
If camping isn't your thing though, these Cajun shrimp and sausage foil packets can be made at home too for a super fast weeknight meal. Toss them on the grill, or bake them in the oven – either way they're fantastic!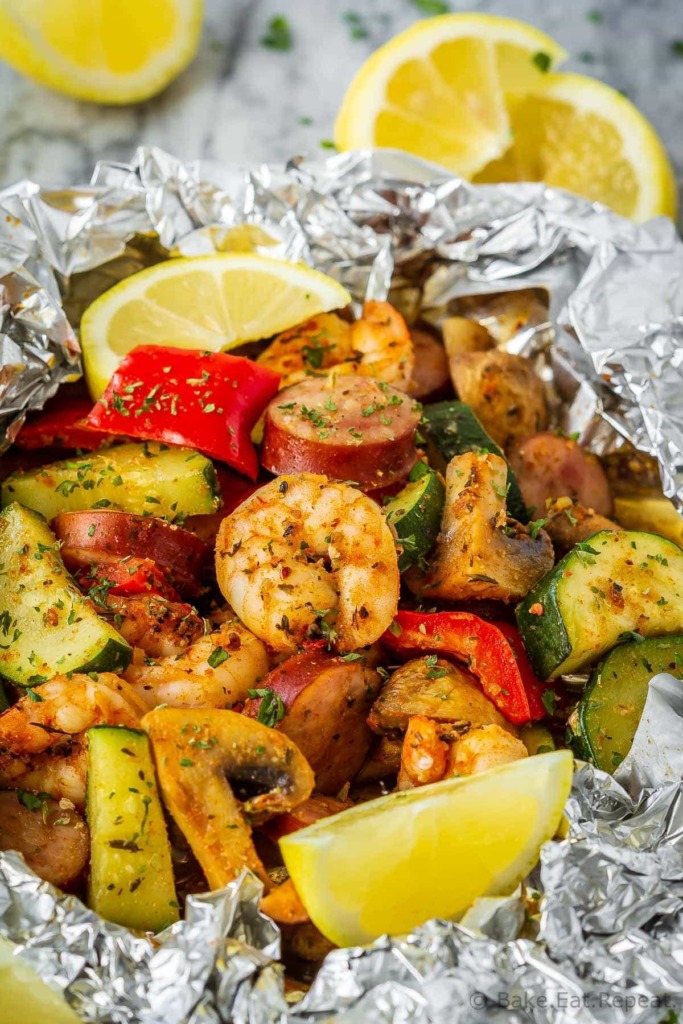 Tips for perfect Cajun Shrimp and Sausage Foil Packets:
This post contains affiliate links, meaning that if you make a purchase through these links, I may receive a small commission. I am a participant in the Amazon Services LLC Associates Program, an affiliate advertising program designed to provide a means for us to earn fees by linking to Amazon.com and affiliated sites.