This marbled chocolate pumpkin bread is quick and easy to make and full of flavour. The perfect treat to have with your morning coffee!
Pumpkin bread always disappears quickly at my house, and this marbled chocolate version was no exception.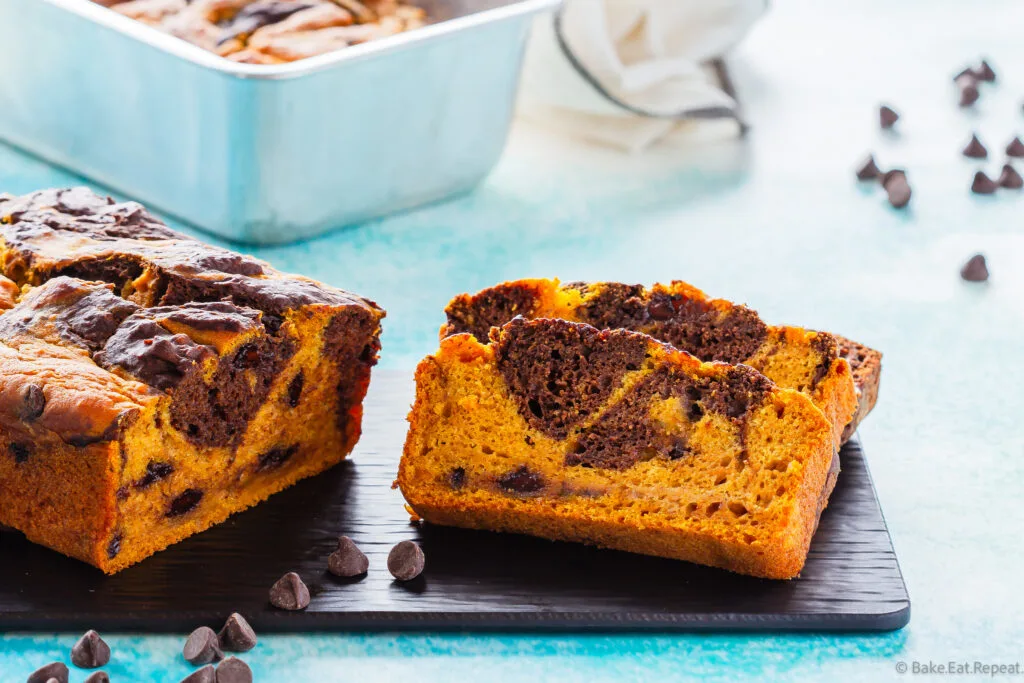 I think it disappeared in less than two days. But it was very tasty so that isn't a surprise at all.
Pumpkin and chocolate go so well together, so this marbled chocolate pumpkin bread was absolutely delicious. And so easy to make that I know I'll be making this again and again.
Easy and delicious, it's the perfect treat for a fall morning!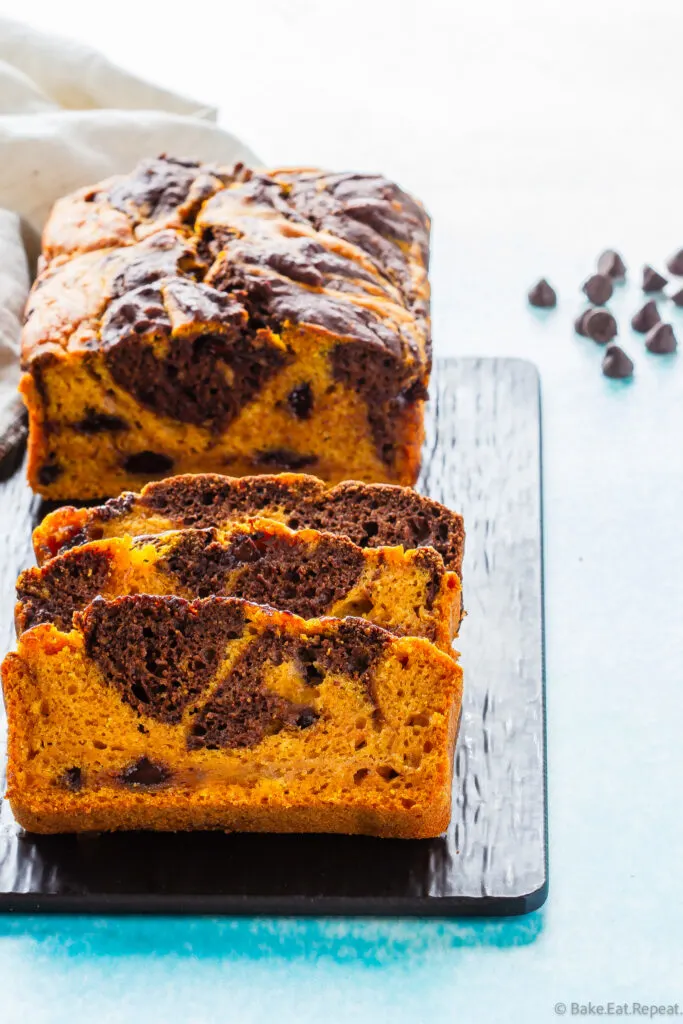 Should pumpkin bread be refrigerated after baking?
No, you do not need to refrigerate pumpkin bread after baking it. It will keep well at room temperature for 3-5 days.
If you want to make sure it stays moist, you will want to cover it tightly, or store it in an airtight container. The top of the bread will get soft and sticky if you keep it in an airtight container though, so keep this in mind.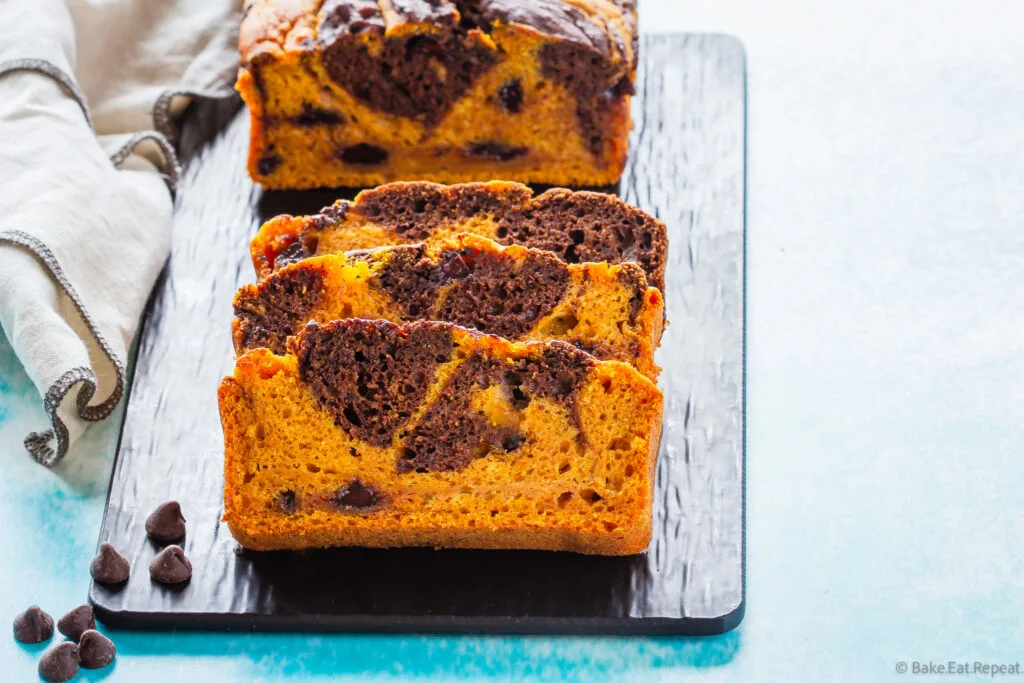 I prefer to store it just lightly covered instead, so that the top doesn't get sticky. It will dry out a bit stored this way, but it is always gone in 2-3 days at my house, so it's always fine. It stays perfectly moist for that long, and the top doesn't get overly sticky.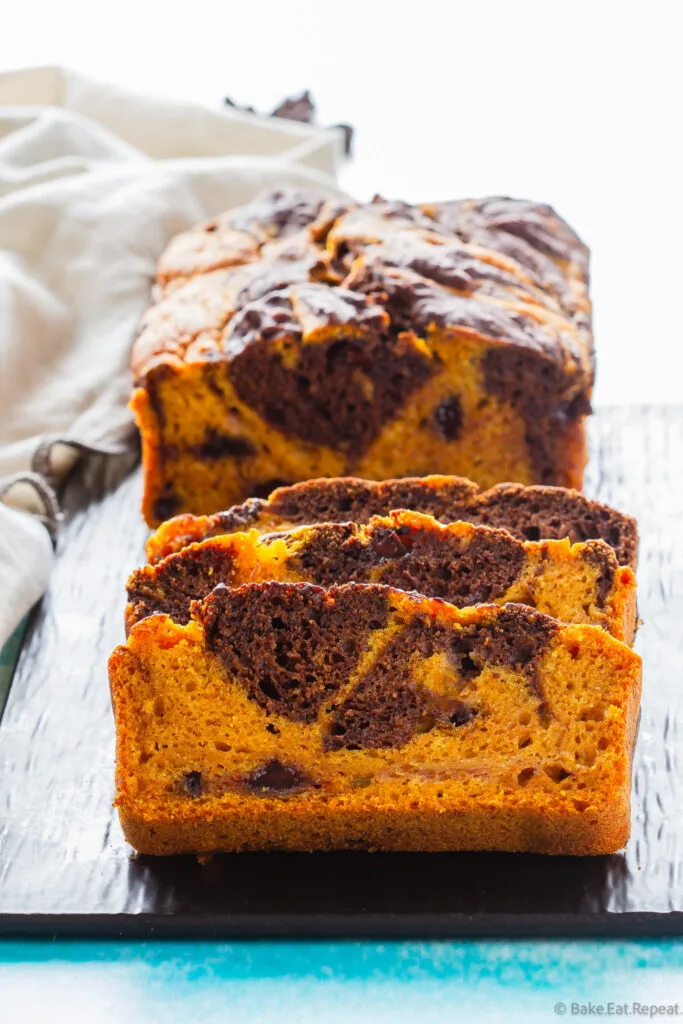 Can I freeze pumpkin bread?
Yes, you can definitely freeze pumpkin bread. I do it all the time.
Just let the bread cool completely after baking it, and then either place it in a large ziplock bag, or in an airtight container.
You can freeze it for up to 3 months. It will defrost in a few hours at room temperature.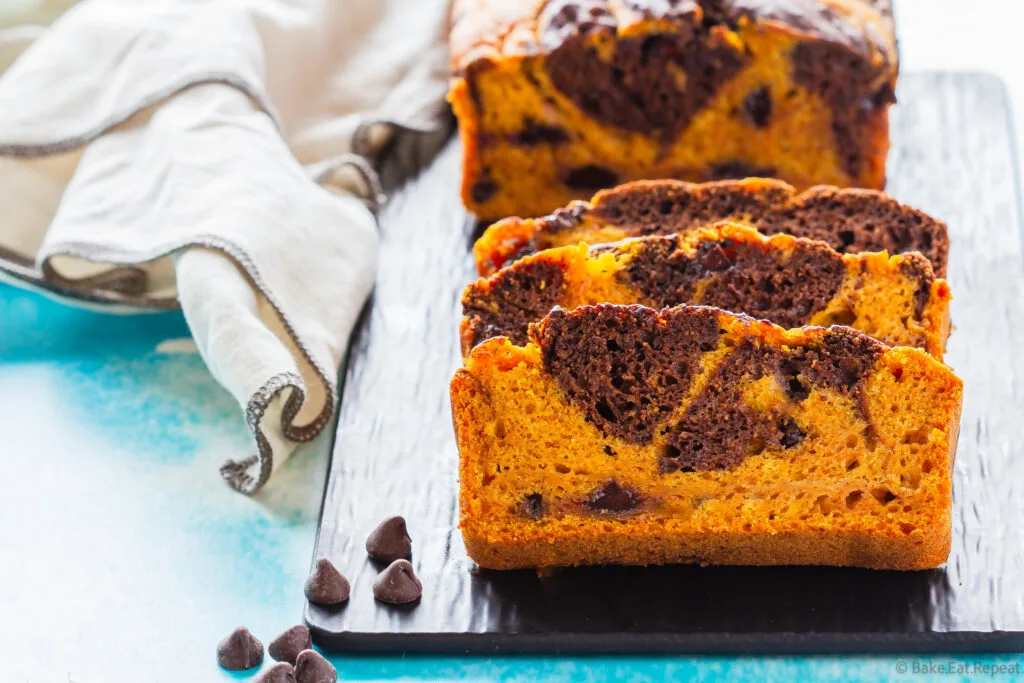 How to make Marbled Chocolate Pumpkin Bread:
Make sure the bread is cooked all the way through before removing it from the oven. Test with a toothpick, it should come out clean when inserted in the middle of the bread.
Let the bread cool in the pans for about 10 minutes before turning it out on a wire rack to cool completely.
The marbled effect is achieved by adding the two batters to the pan by alternating spoonfuls, and then swirling a butter knife through them both.
Here are some more great pumpkin recipes for you: