These lemon coconut muffins make the perfect breakfast or snack. Easy to make, they fre1eze well, and everyone loves them. Perfect for breakfast on the go!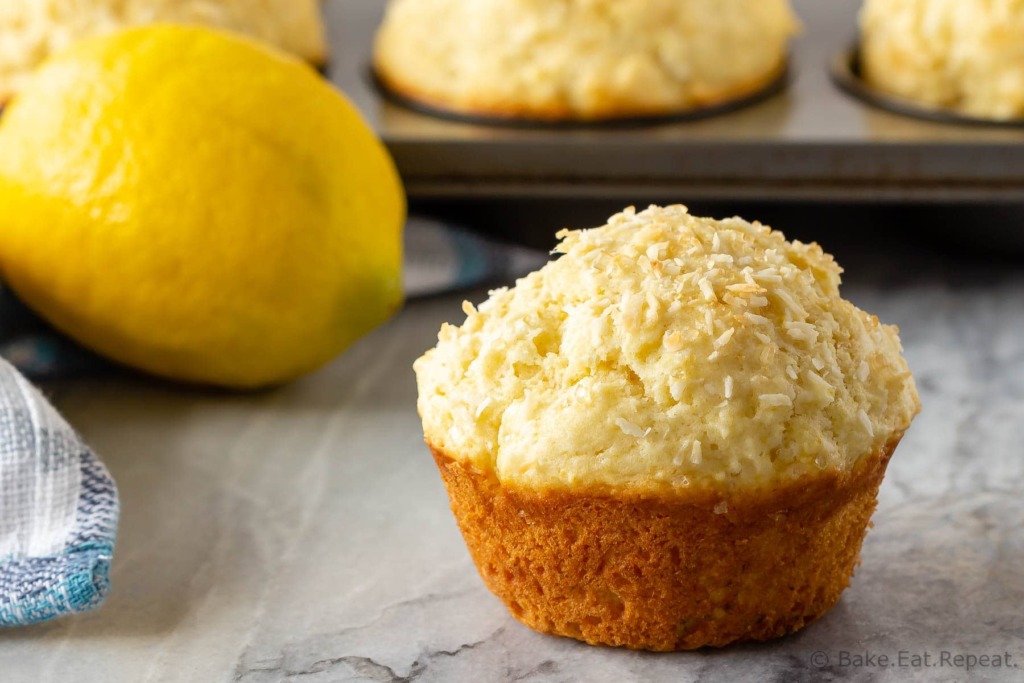 We make muffins like crazy at my house.
Do anyone else's kids demolish muffins at what can only be described as a ridiculous rate?
I swear I make a batch of muffins and they're gone before they've even completely cooled sometimes.
Okay, maybe it's not quite that ridiculous, but pretty close.
Granted, there are five people here so I really shouldn't expect a single batch of muffins to last for more then a couple of days. But it still surprises me every time when they're gone so quickly.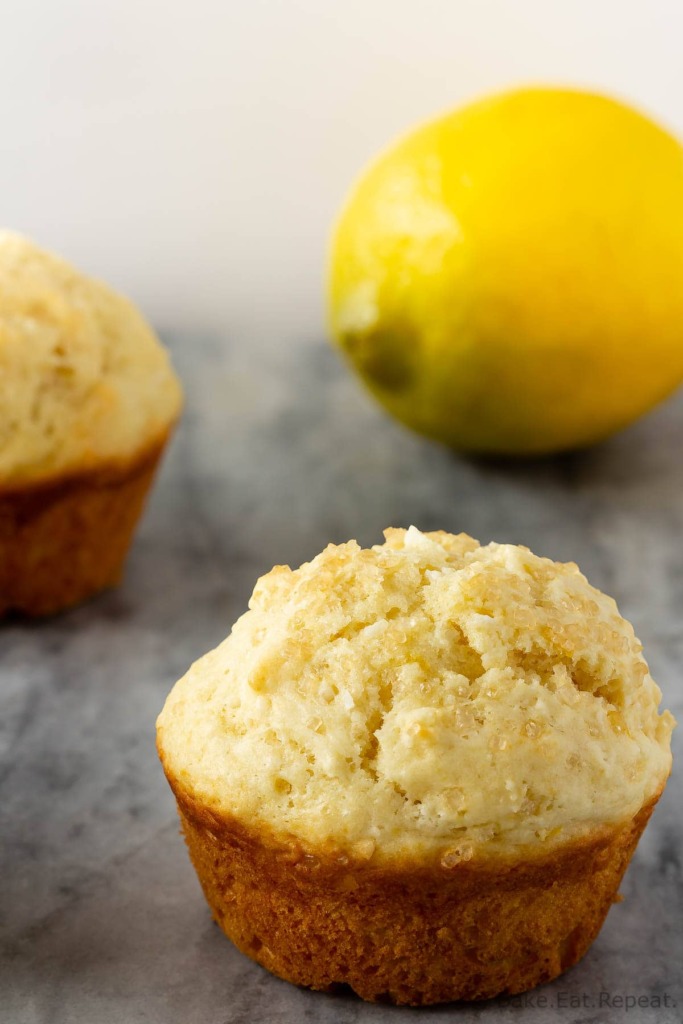 Oh well, just means I get to do more baking.
And my kids are starting to love baking too, which is perfect since muffins make such an easy recipe for them to make on their own.
We all love these lemon coconut muffins.
The perfect breakfast or snack, they freeze well (although I usually don't need to make use of this fact), and they're so easy to make.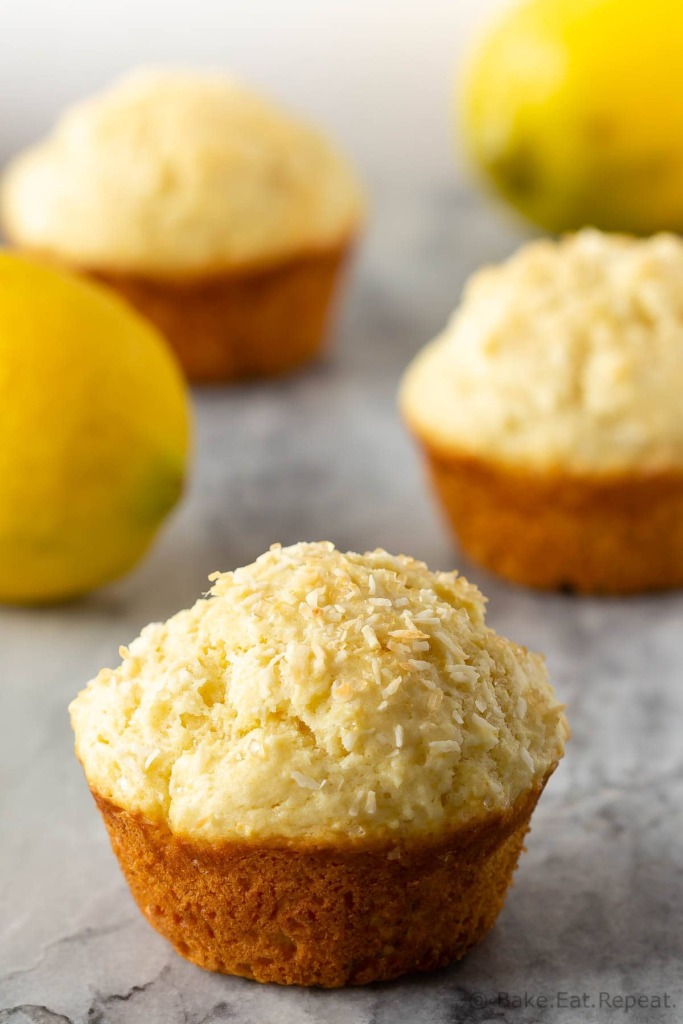 That's one of the things I love about muffins.
You can have them ready to go in the oven by the time it's warmed up.
That, and the fact that they are the perfect snack or breakfast on the go.
If you like lemon and coconut, you will love these lemon coconut muffins!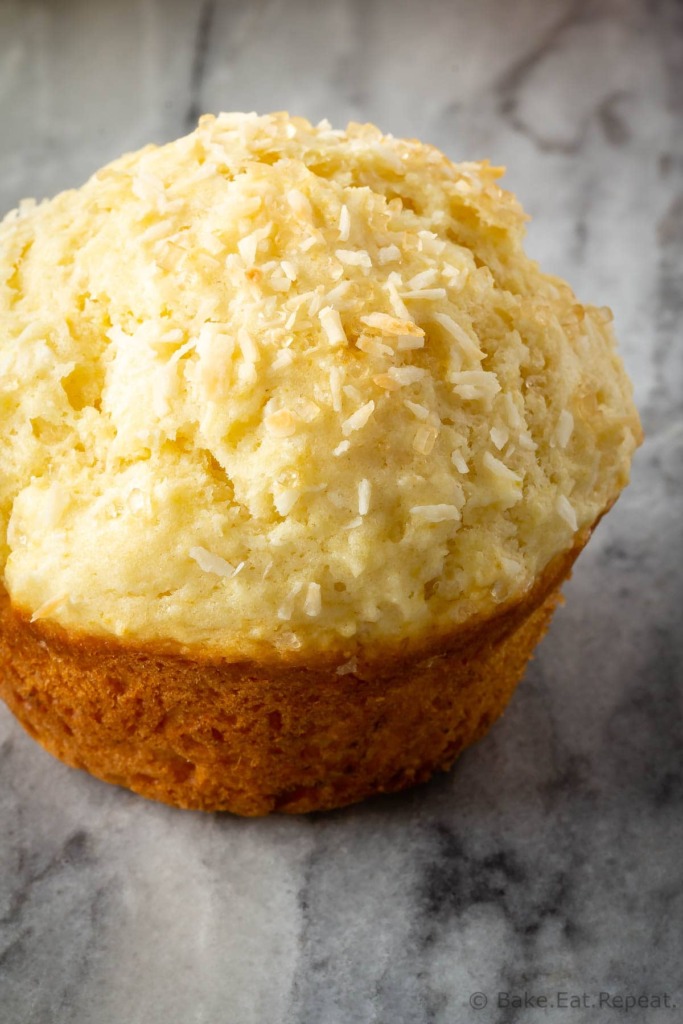 Do you let muffins cool in the pan?
You should let muffins cool in the pan for 5-10 minutes after coming out of the oven.
Then move them to a wire rack to cool completely.
If you try to take them out immediately after baking they tend to stick to the pan more.
They also stick a bit more when left to cool completely in the pan.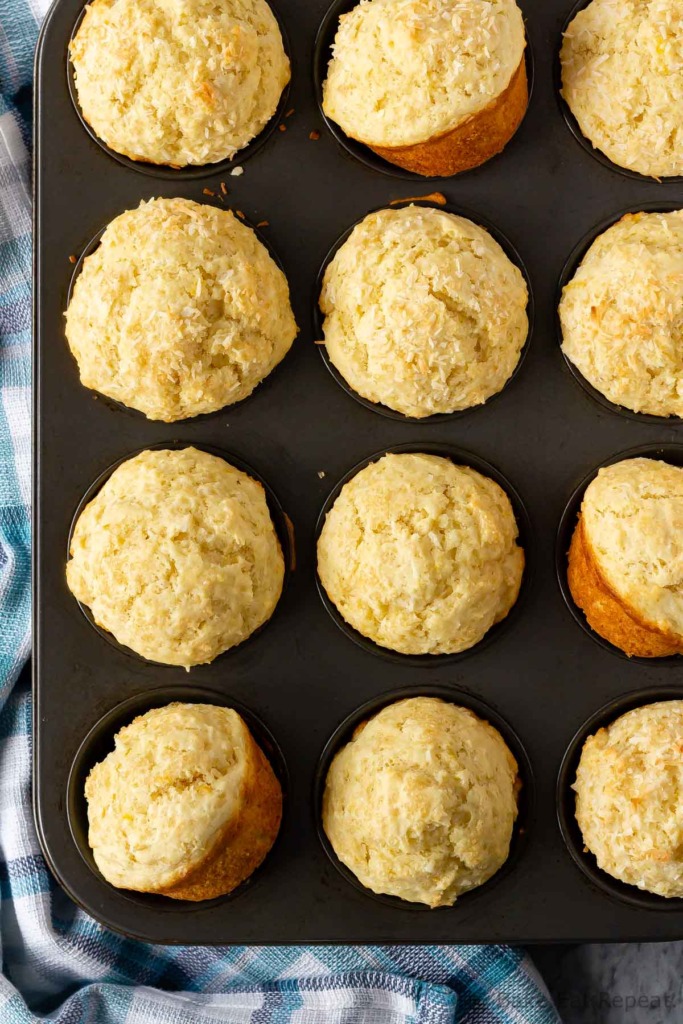 Can I freeze muffins?
You can definitely freeze these lemon coconut muffins. I do it all the time.
The best way to freeze muffins is to let them cool completely. Then freeze them in an airtight container or large ziplock bag.
They can thaw at room temperature in a lunch kit and be great for lunch, microwave them for a minute or so, or reheat them in the oven at 350F for 5-10 minutes.
If you have time to reheat them in the oven that gives them the best "fresh from the oven" taste.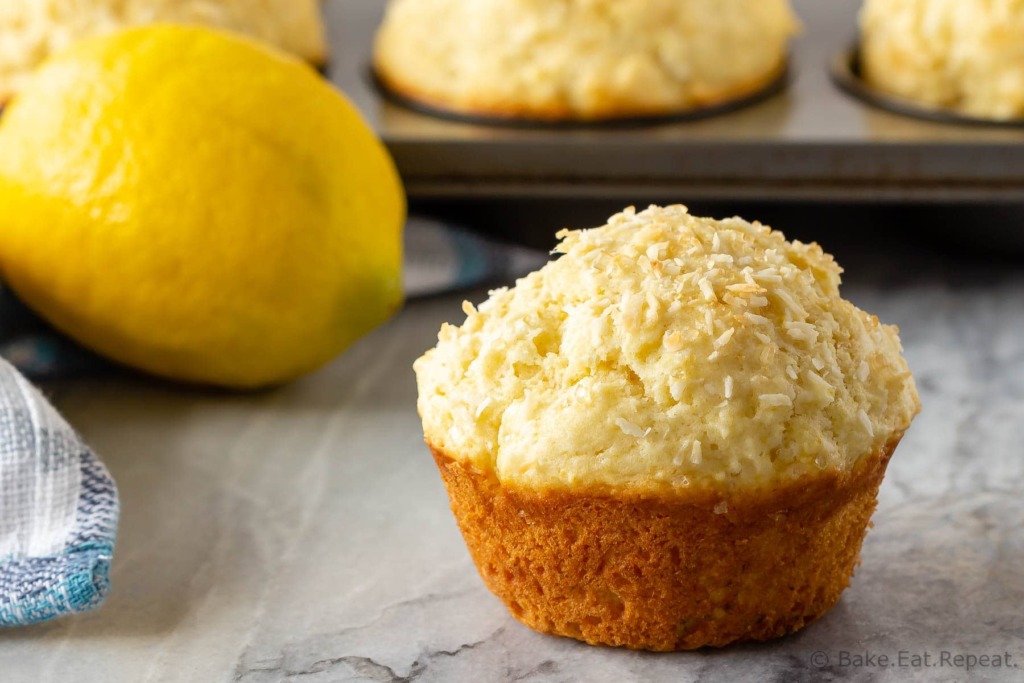 What's the best way to store muffins?
I like to store my muffins at room temperature in a large container, but with the lid unsealed.
Letting some air at the muffins keeps them from getting soggy, as muffins tend to do when they are in a completely airtight container.
If you think you will have the muffins for more then 2-3 days, you will want to keep them in an airtight container so they don't dry out.
I would also recommend placing some paper towel on the bottom of the container and some more on top of the muffins to help absorb some of the moisture.
You can reheat them in the oven (350F for 5-10 minutes) to crisp up the top a bit before serving them.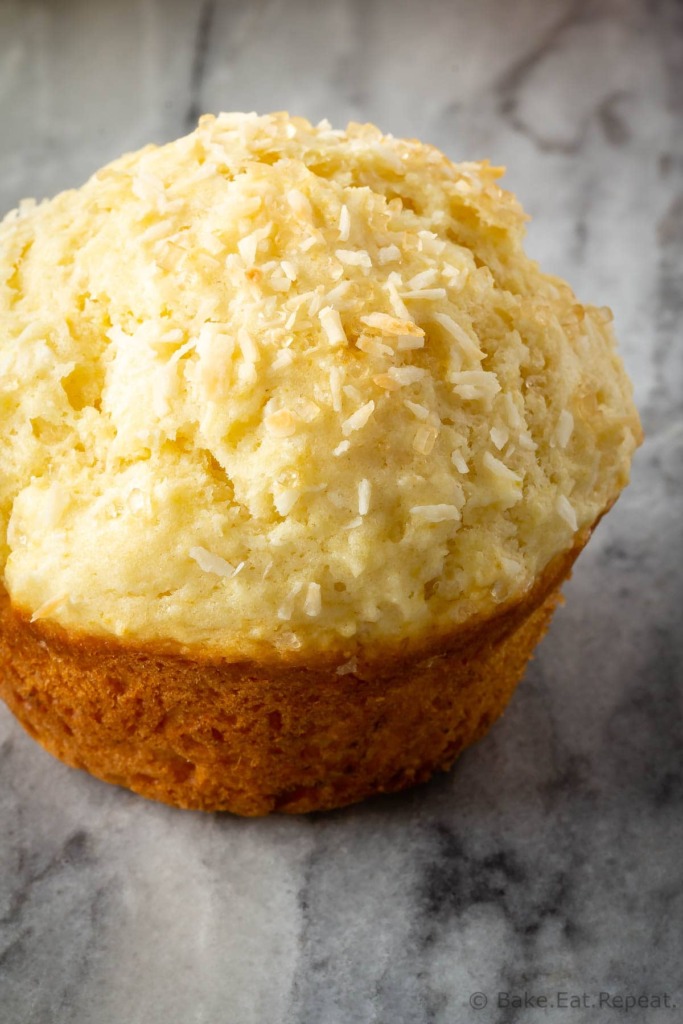 How to make Lemon Coconut Muffins:
We like these lemon coconut muffins sprinkled with shredded coconut and coarse sugar on top. You could definitely leave it off if you like though.
I love making muffins in this stoneware muffin pan, they tend to rise a little bit better in it then they do in a regular muffin tin. But if you have one, keep in mind that muffins typically take a little longer to bake in this kind of pan, so plan on adding an extra 5 minutes or so to your bake time.
Using a trigger style ice cream scoop to portion your muffin batter into the muffin pan will help give you evenly sized muffins with nice rounded tops.
I like to use a food processor for mixing the sugar and lemon zest together, as this helps give the muffins a better lemon flavour. You can just stir everything together in a bowl instead if you like, but the lemon flavour won't be quite as pronounced.

Here are some more great lemon recipes for you: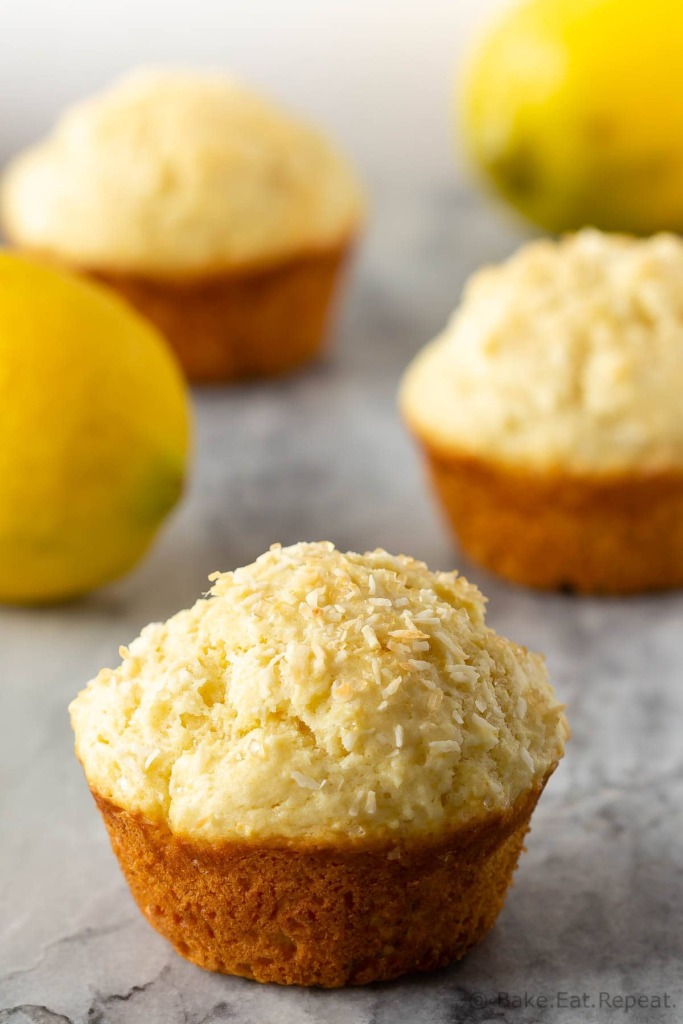 I've also shared this Lemon Coconut Muffins Recipe over on Food Fanatic.