These guacamole devilled eggs are a great way to change up your classic devilled eggs. With an avocado based filling, they're both healthy and delicious!
Disclaimer: This post has been sponsored by Egg Farmers of Canada and I have been compensated monetarily for my time. All opinions are, as always, my own.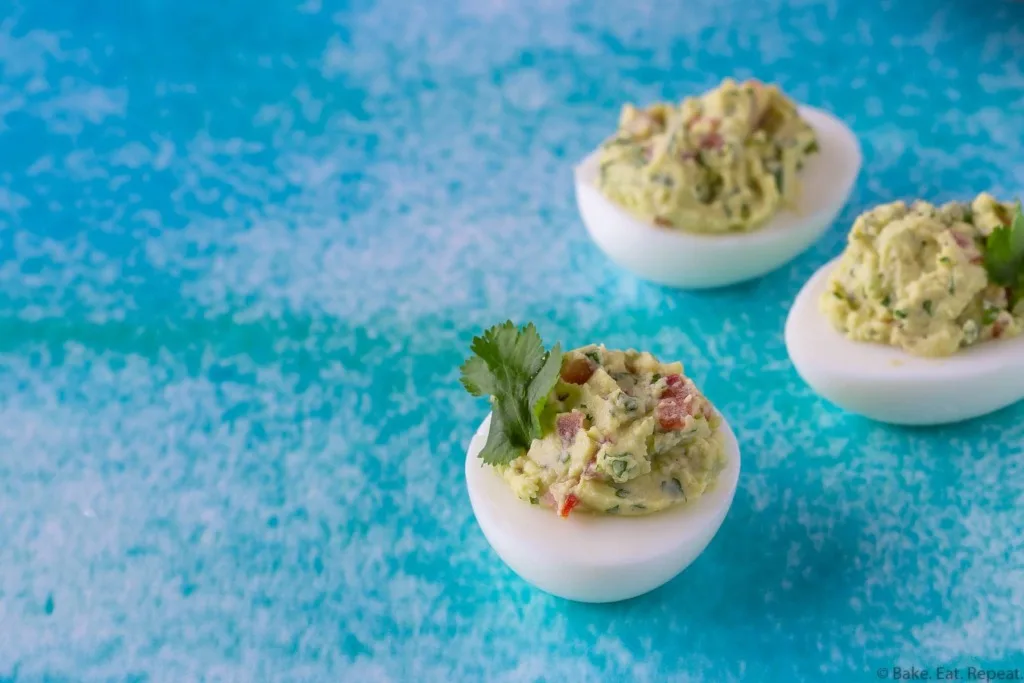 This recipe combines two of my favourite appetizers into one. And I have to say, it's fantastic.
Guacamole and devilled eggs are both amazing. Combining the two into guacamole devilled eggs made these eggs disappear even faster than regular devilled eggs do.
And trust me, that does not take long in this house.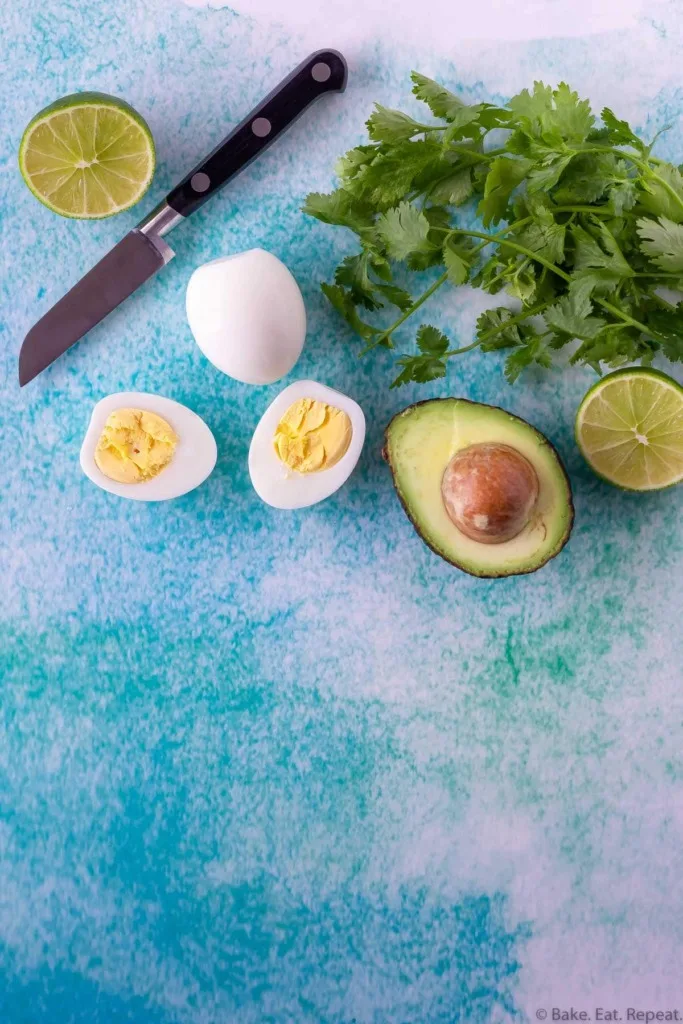 Traditional devilled eggs use mayo for that creamy filling. Instead of mayo, these guacamole devilled eggs use avocado to get that same creamy consistency.
Stir in some lime juice, tomato, jalapeño, and cilantro, and you have one amazing devilled egg.
Over 1100 egg farmers across Canada work to provide fresh, local, and high-quality eggs for Canadians to enjoy.
This year they helped Canadians in a big way by donating millions of eggs to food banks across Canada.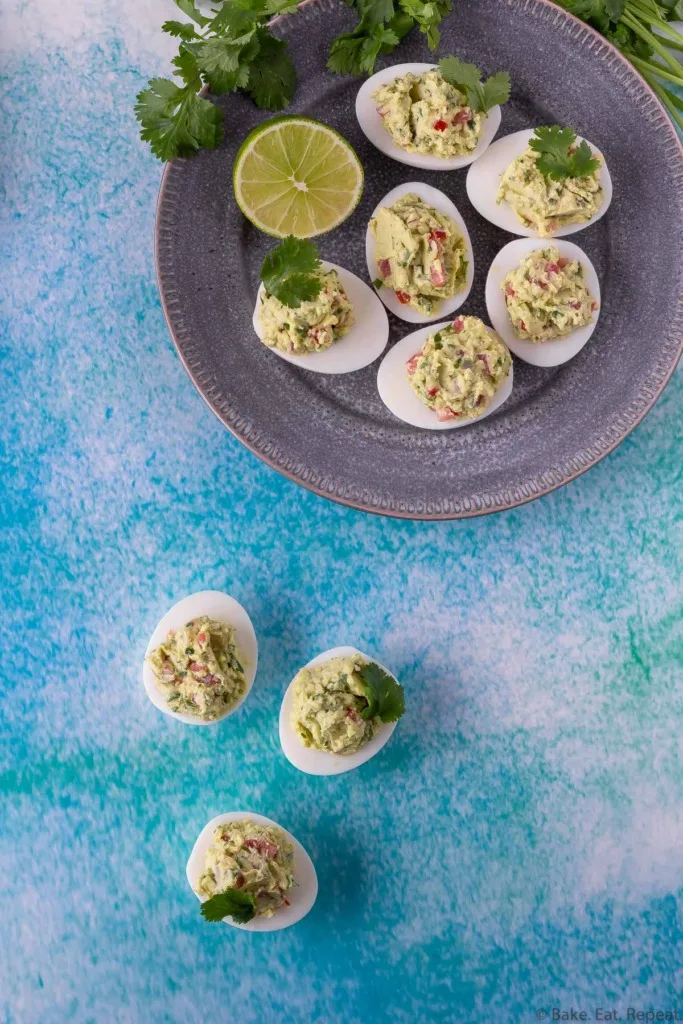 Giving back and supporting communities is a huge part of the egg farming sector in Canada.
So these guacamole devilled eggs were the perfect way to celebrate World Egg Day on October 9 this year.
Make something with eggs today and join me in celebrating Canada's egg farming sector!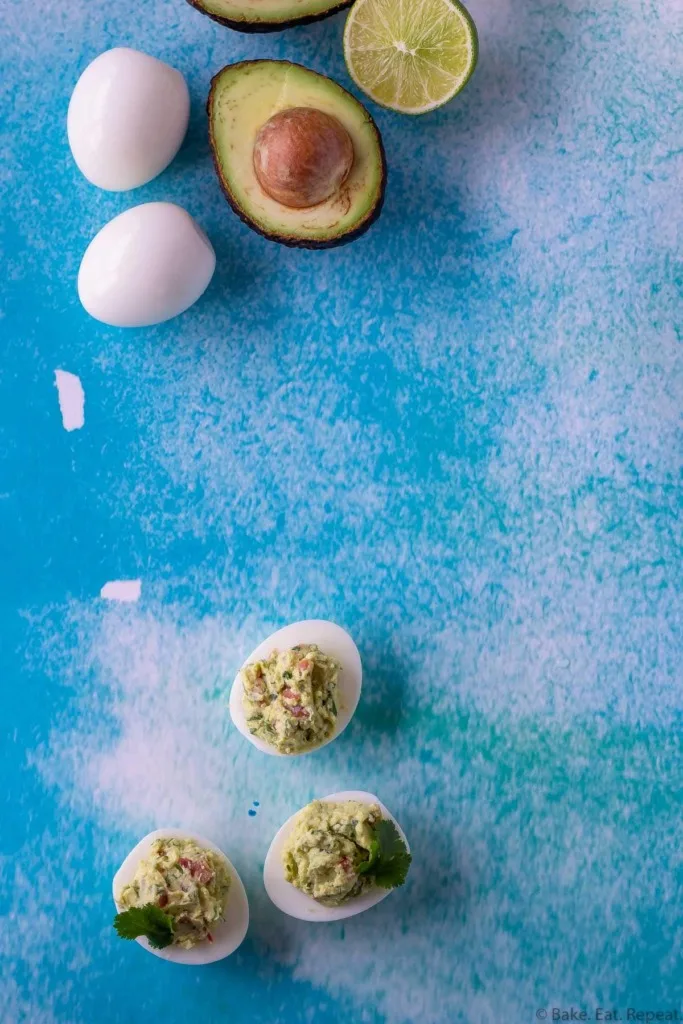 What is the easiest way to hard boil eggs?
I like to hard boil eggs in my pressure cooker. Instant Pot hard boiled eggs are so quick and easy.
I have an 8 quart pressure cooker and can fit a dozen eggs in it, and they only take 4 minutes to hard boil this way.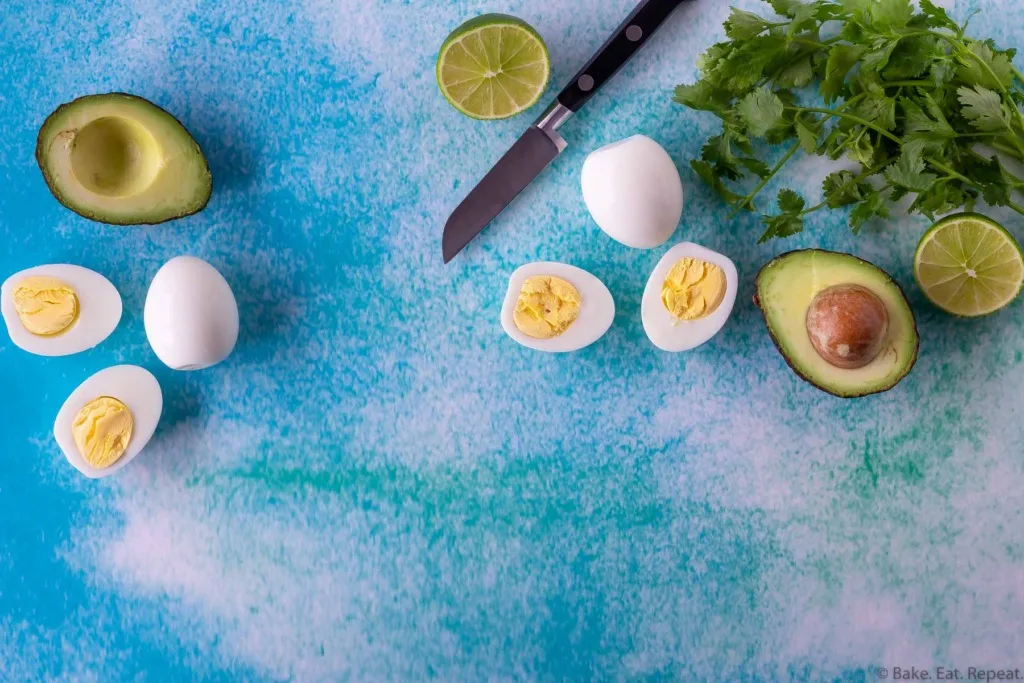 How long do you boil an egg to hard boil it?
If you don't have a pressure cooker, it's still very easy to hard boil eggs on the stove, it just takes a little longer.
To hard boil eggs on the stove, cover the eggs with cold water in a medium saucepan. Bring the water to a full rolling boil over high heat. Once it's at a full boil, turn off the heat and cover the pot with a lid.
Let the eggs sit for 12 minutes to hard boil them. Remove them from the pot and immediately place them in an ice water bath to cool completely.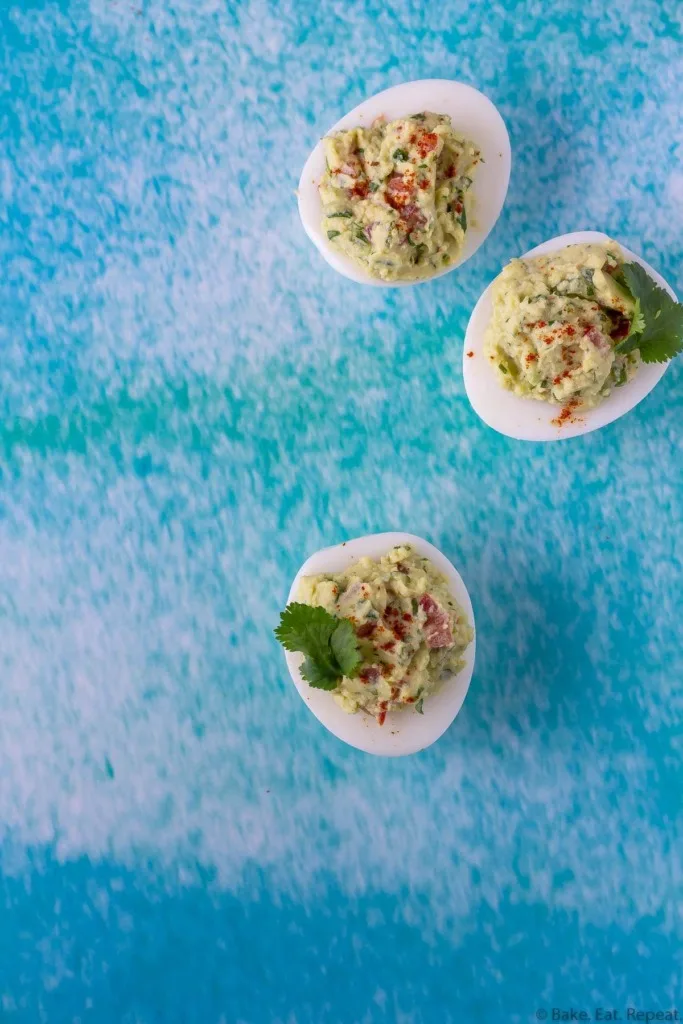 How do you peel an egg without the shell sticking?
After hard boiling eggs, make sure to put them in an ice water bath right away and let them cool completely before peeling them. The eggs will peel a bit easier if you crack the shell before placing them in ice water.
I like to tap the bottom of the egg on the counter to crack it, and then place it in ice water. If the ice water can get under the shell while the egg cools it helps prevent the egg white from sticking to the shell when you peel it.
It's also best to peel them once they're cool, rather than storing them in the fridge with the peels on. If you put hard boiled eggs in the fridge, planning to peel them later, the shells are more likely to stick. Peel the eggs first, then refrigerate for later, it works much better.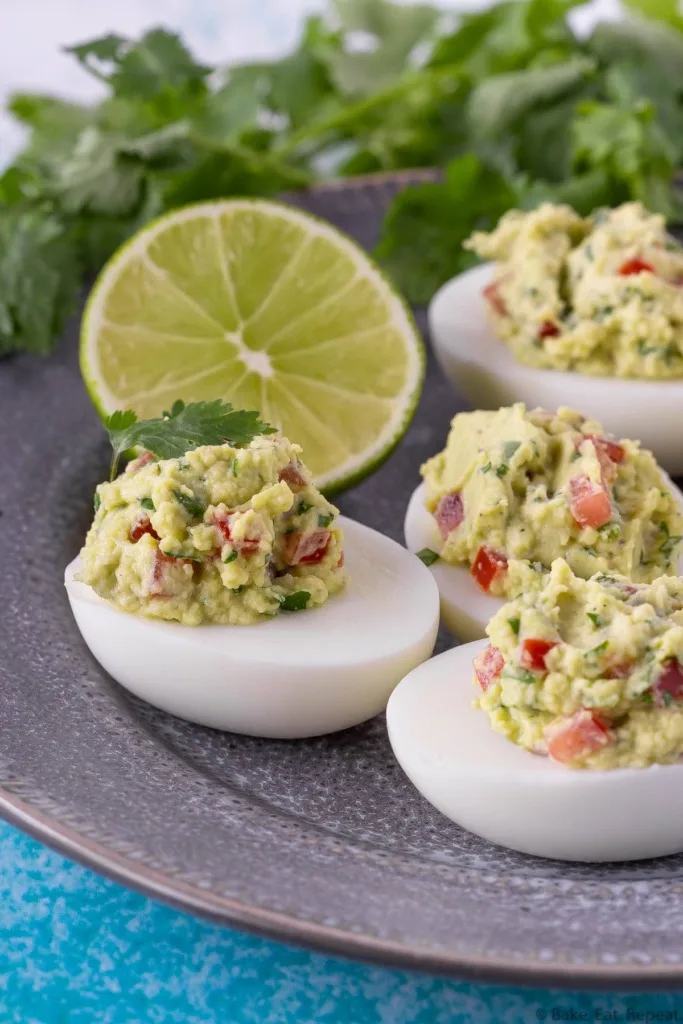 Can I prepare Guacamole Devilled Eggs ahead of time?
While classic devilled eggs are a great appetizer to make ahead as they can be prepared early, guacamole devilled eggs are not. Because of the avocado in the filling, it will brown as it sits.
So guacamole devilled eggs are best served immediately. The leftovers will still taste great for 2-3 days, but they don't look as nice as the filling turns brown wherever the air is touching it.
Plan to serve them right after making them as they look best for a few hours after making them.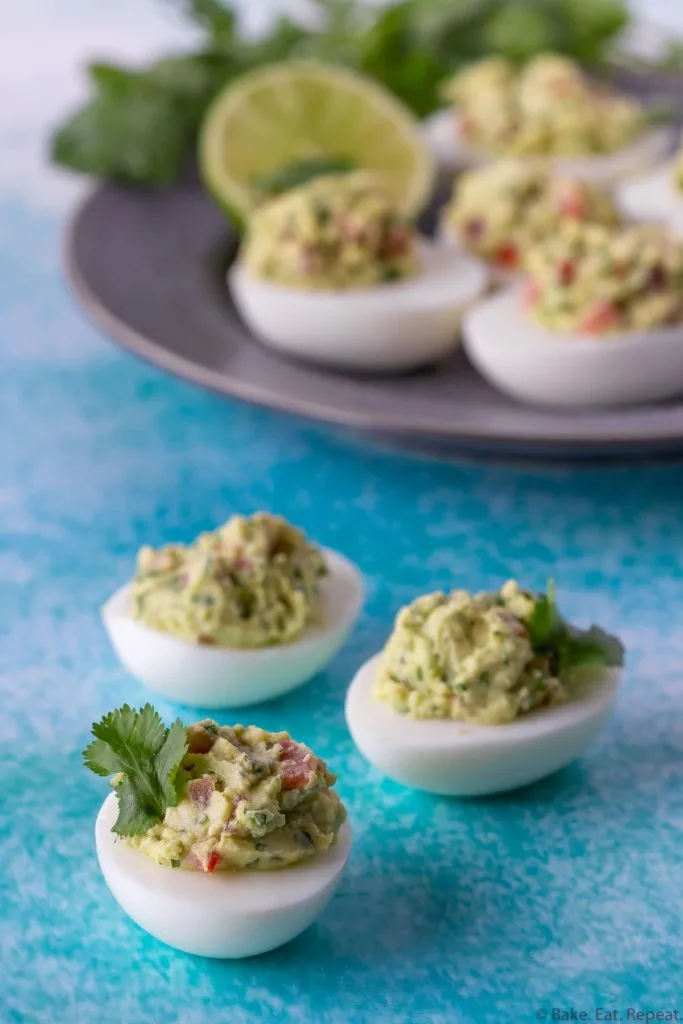 How to make Devilled Eggs:
Hard boil your eggs and let them cool completely in an ice water bath before making guacamole devilled eggs.
You can boil your eggs the day before making the guacamole devilled eggs, just make sure to peel them before refrigerating as they do peel easier when it's done right after they cool.
You can just mash the filling with a fork or a potato masher, but I like to use an electric mixer to whip the filling (before adding the tomato, jalapeño, and cilantro) so it's completely smooth. If you want the filling a little chunkier though, just use a fork.
This recipe can easily be doubled if you want to make a large batch of guacamole devilled eggs.
Here are some more great appetizer recipes: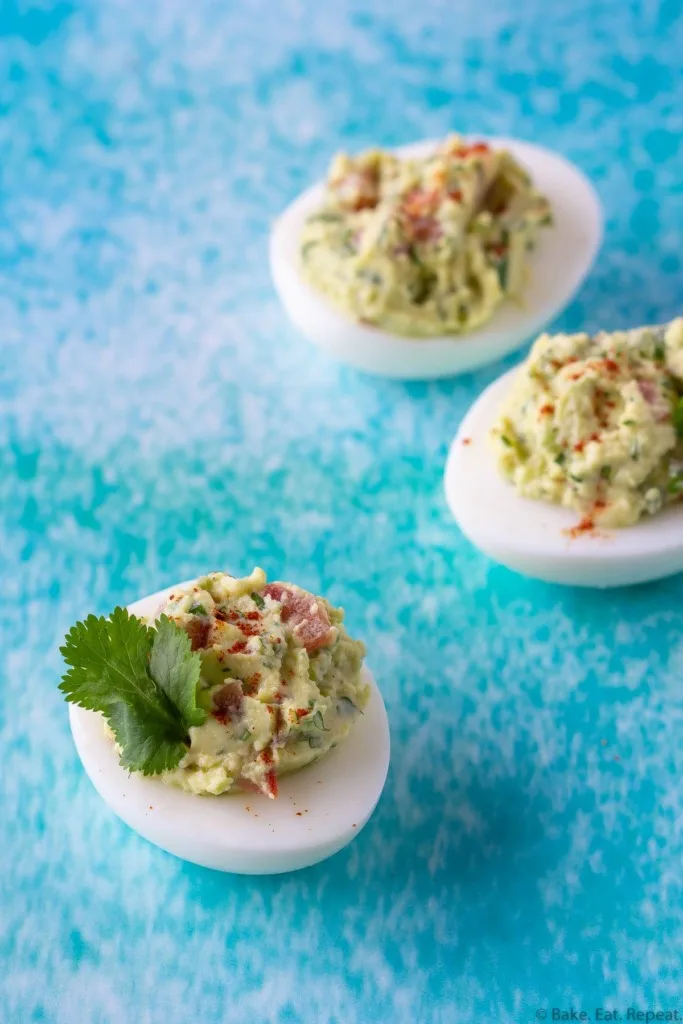 We will be enjoying these Guacamole Devilled Eggs for World Egg Day today.
Let's celebrate those working together to keep Canadians fed by sharing what you're making with eggs today.
Use #WorldEggDay, and check out this video by Egg Farmers of Canada for World Egg Day!