Crispy wonton cups filled with a black bean and sweet potato taco mix – these cute little taco cups are the perfect appetizer or meal!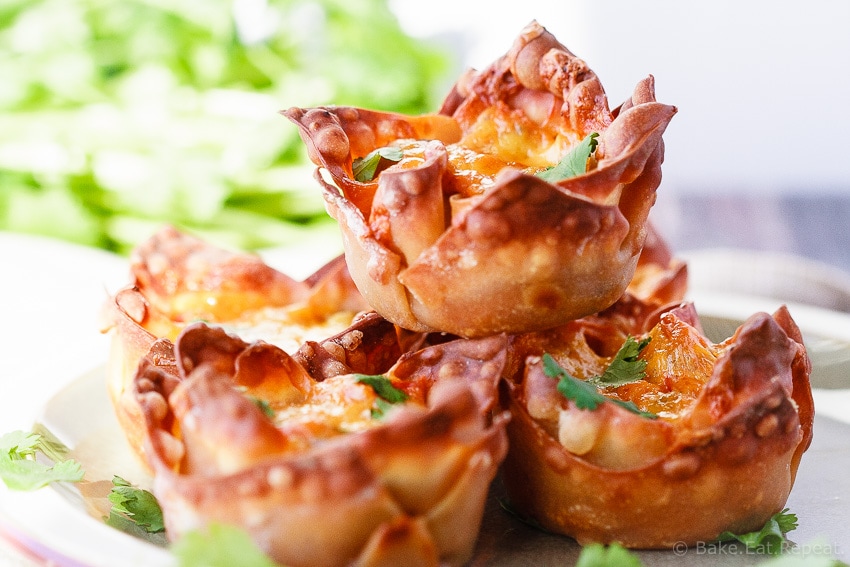 So….these weren't supposed to be this.  I don't even think that's a sentence.  What I mean is that these cute little sweet potato taco cups are not what I started out making.  I'm not sad it's what I ended up with because I really enjoyed these things, but it wasn't the original goal.
The first thought I had was a sweet potato burrito of some sort, but my family doesn't love burritos, or sweet potatoes, and I can't eat a whole batch of them myself so I scrapped that.  Then I thought stuffed sweet potatoes would be amazing.  And I still think that.  You could totally use this filling to make stuffed sweet potatoes and ditch the wonton cups if you wanted.  That was the plan.
The problem was the sweet potato skins.  I'm clearly inept in the crispy potato skin department, because I could not make them work.  From all the recipes I read, you're supposed to bake them, then slice in half and scoop out the flesh, leaving a little behind to make the shell stand up, then bake again to make them crispy.  Simple enough, right?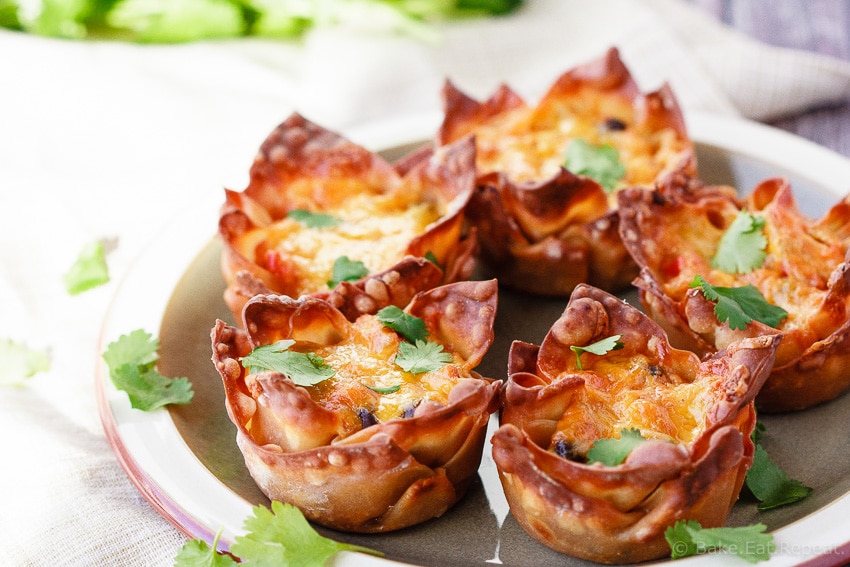 Not so much.  The skins just slid off when I sliced the baked sweet potatoes in half, so there was no leaving a little bit in them.  So then when I tried to make them crispy they just collapsed into a flat pile on the baking sheet.  Stuffing them was clearly not going to work for me.
So, plan B.  And you know what?  Sometimes plan B is even better.  Using wonton wrappers to make crispy little cups to fill up with the sweet potato taco filling may have been even better then stuffing it into the potato skins.  Crunchy wonton cups, creamy sweet potato and black bean taco filling, melty cheese, and plenty of salsa and sour cream for dipping – these were amazing.
Of course, I didn't even bother giving them to my family since none of them like sweet potato and black bean things, so you'll have to take my word for it.  But I did eat these sweet potato taco cups every day for a week for lunch, so you can probably trust me!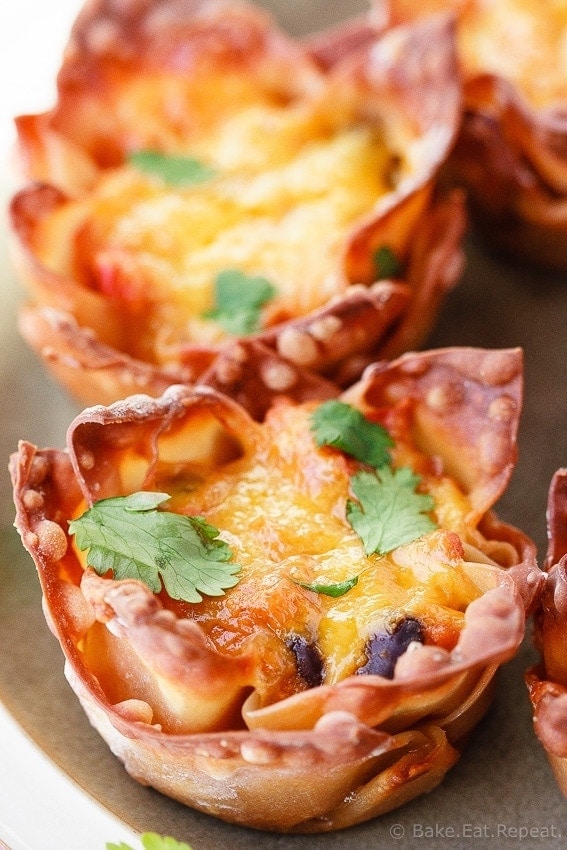 Yield: 24 taco cups
Sweet Potato Taco Cups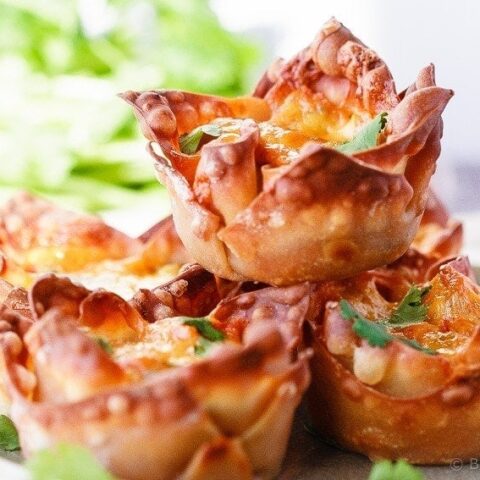 Crispy wonton cups filled with a black bean and sweet potato taco mix - these cute little taco cups are the perfect appetizer or meal!

Prep Time 20 minutes

Cook Time 1 hour 5 minutes

Total Time 1 hour 25 minutes
Ingredients
2 medium sweet potatoes
1/4 cup plain Greek yogurt (or sour cream)
1 teaspoon olive oil
1 jalapeno, seeded and chopped finely
1 red pepper, diced small
1/2 cup red onion, finely diced
1 clove garlic, minced
2 teaspoons chili powder
1 1/2 teaspoons cumin
1 teaspoon salt
1/2 teaspoon pepper
1 cup canned black beans, rinsed
1/4-1/2 cup cilantro, chopped
2 tablespoons lime juice (juice of 1 lime)
1 cup shredded sharp cheddar cheese
24 wonton wrappers
Instructions
Preheat the oven to 400 degrees F.
Place the sweet potatoes on a parchment lined baking sheet and roast for 45-50 minutes, or until they are fork tender.
Allow to cool for 5-10 minutes, or until you can handle them, and then slice them in half and scoop out the flesh.
Mash the sweet potato flesh together with the yogurt.
While the sweet potatoes are roasting, heat the olive oil in a frying pan over medium heat.
Add the jalapeno, red pepper, red onion, garlic, chili powder, cumin, salt and pepper and saute until the vegetables are softened, about 3-4 minutes.
Remove from the heat and stir in the black beans, cilantro and lime juice.
Add the vegetable mixture to the mashed sweet potatoes and stir to combine.
Increase the oven temperature to 425 degrees F.
Lightly spray 2 muffin tins (24 cups) with cooking spray and press one wonton wrapper into each muffin cup, pressing it into the bottom and up the sides to form a cup. Spray the tops of the wonton wrappers with cooking spray.
Place the muffin tin in the oven and bake for 10 minutes, or until the wrappers are crispy.
Spoon the sweet potato filling into the wonton cups, about 2 tablespoons per cup.
Top with shredded cheddar cheese. Bake for another 10-15 minutes until the cheese is melted and bubbly.
Remove from the muffin tin and serve with salsa and sour cream.
Notes
The wonton cups don't stay super crispy in the fridge, so if you're not eating these right away, just keep the sweet potato filling in the fridge until you're ready to make the taco cups. I kept the filling in the fridge and then would make a few at a time, rather then the full batch of 24.

Also, you can put the filling in the wonton wrapper right away rather then baking the wonton cups separately first, but the bottoms of the cups don't crisp up very well that way, so I prefer to bake them first so they're nice and crispy. (Also, the photos show two wonton wrappers making up each cup, the recipe says to make them with one wrapper - both ways work. If you want the wonton cup to be thicker, just add a second wonton wrapper on top (turned so the corners are offset) of the first one.)
Recommended Products
This post contains affiliate links. As an Amazon Associate, I may receive a small commission from qualifying purchases.
Nutrition Information:
Yield:
12
Serving Size:
2 taco cups
Amount Per Serving: Calories: 179Total Fat: 7gSaturated Fat: 4gTrans Fat: 0gUnsaturated Fat: 2gCholesterol: 20mgSodium: 489mgCarbohydrates: 20gFiber: 3gSugar: 3gProtein: 9g

Nutrition Information is estimated based on ingredients used and may not be exact.