This easy Buddha bowl recipe is the perfect "make your own" healthy dinner recipe. Plus it's super customizable to what you like and have on hand!
We first made this easy Buddha bowl recipe 3-4 years ago, and loved it so much it's been a dinner time staple ever since. And yet it's taken me this long to actually get around to posting the recipe.
I guess it's taken so long to post, because the bowls are rarely the same. This is one of those recipes that is super customizable, and we make them with whatever we happen to have in the fridge.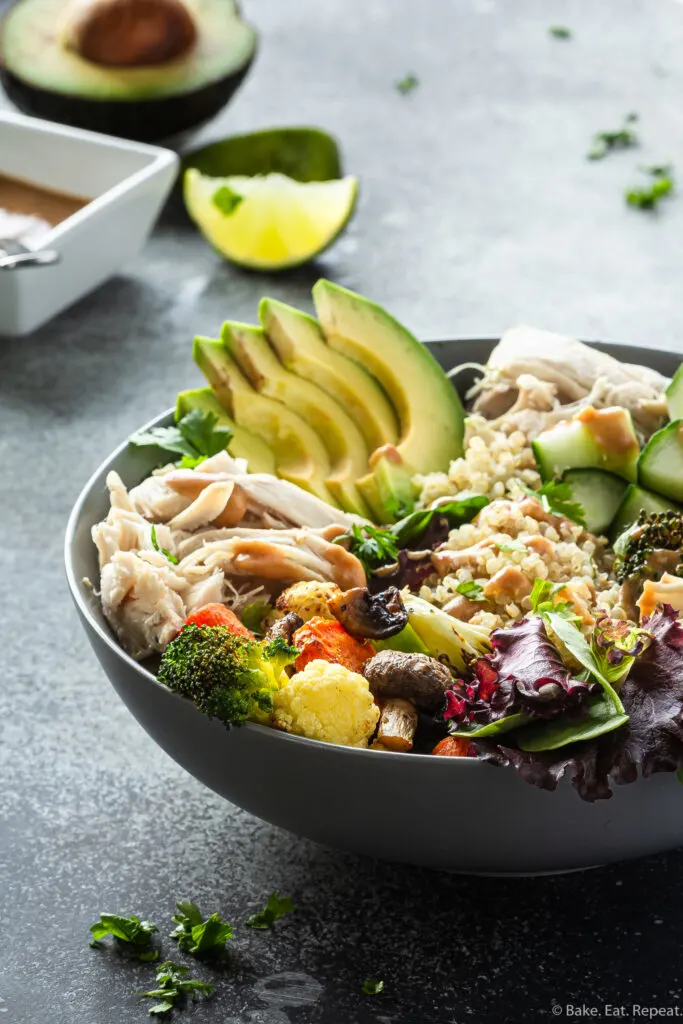 So feel free to change up this Buddha bowl recipe to suit your tastes. We usually have cooked chicken, quinoa or rice, chopped cucumber, diced avocado, spinach or mixed greens, and roasted vegetables.
The roasted vegetables change according to what I happen to have, but we like broccoli, cauliflower, carrots, and mushrooms.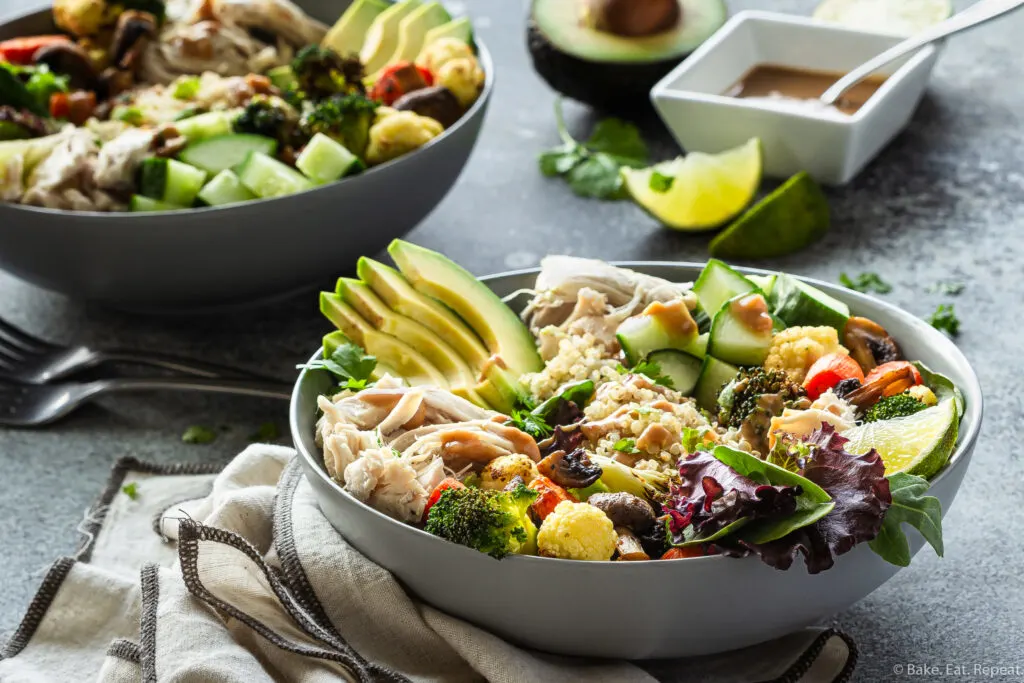 We usually use the peanut sauce shown here, but they are also delicious with the avocado dressing in this Cilantro Lime Grilled Shrimp Salad recipe.
If you've never tried making Buddha bowls, I highly recommend this recipe. It's one of my favourite dinners! Easy, delicious, and healthy!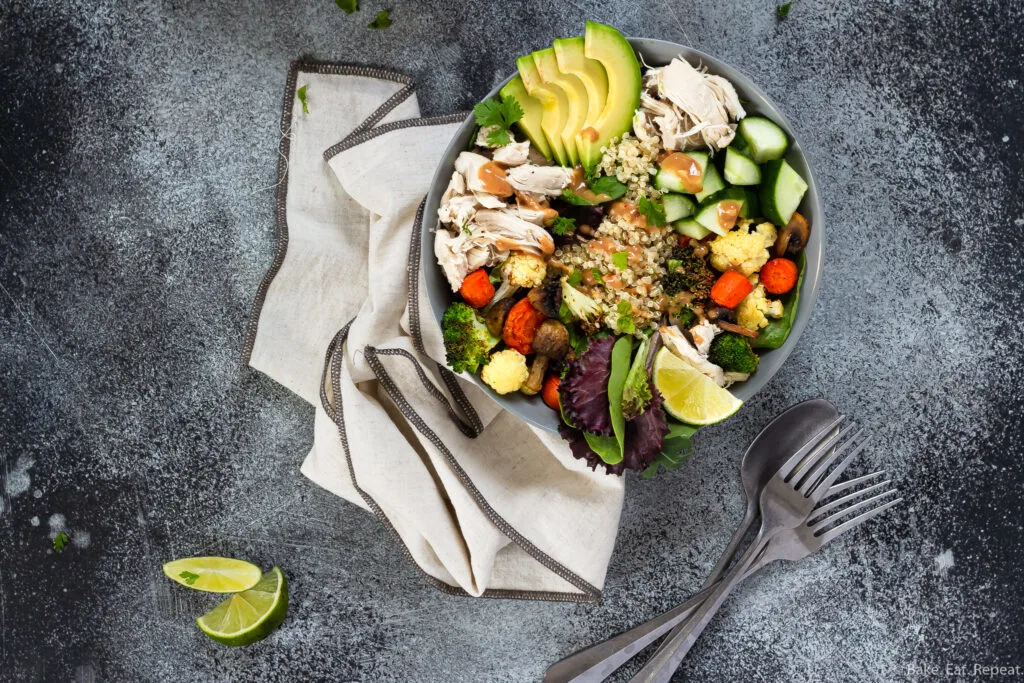 What's another name for a Buddha bowl?
Buddha bowls are also called "nourish bowls", "bliss bowls", or "power bowls". They make the perfect one dish meal.
Typically Buddha bowls are half vegetables, one quarter protein, and one quarter whole grains. They're traditionally vegetarian bowls, but we like to use cooked, shredded chicken as the protein in ours.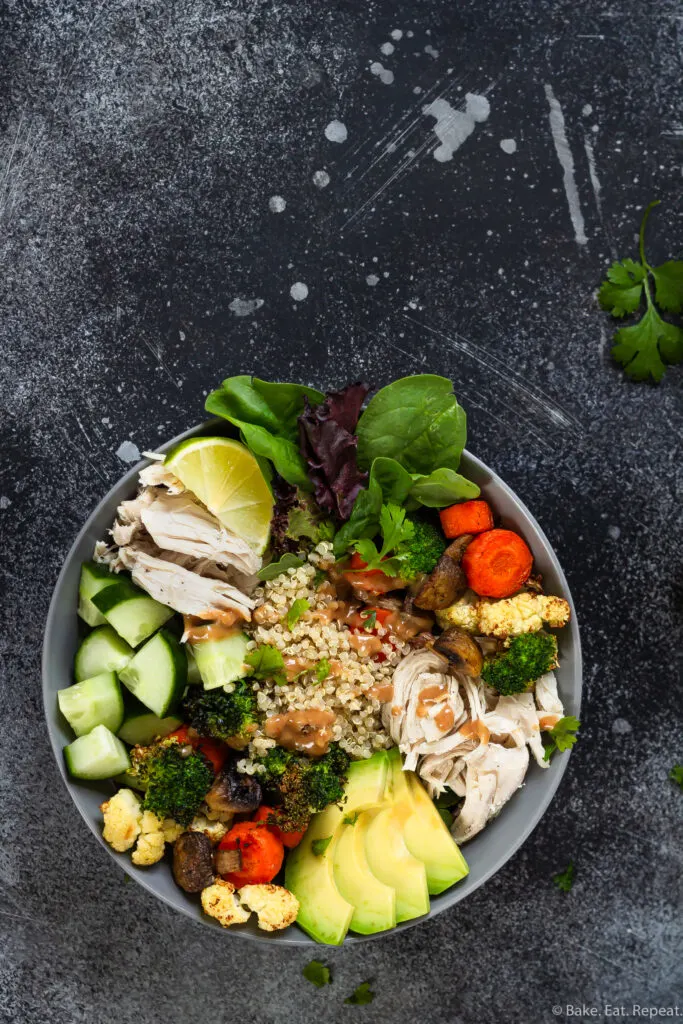 What's the best way to roast vegetables for Buddha bowls?
The best way to roast your vegetables is to cut up the veggies into bite size pieces, toss them with some olive oil, and sprinkle them with salt and pepper.
Spread them on a baking sheet and roast them in a 425F oven for 15-25 minutes, depending on what type of vegetables you're using. For instance, carrots will take longer to roast than bell peppers will.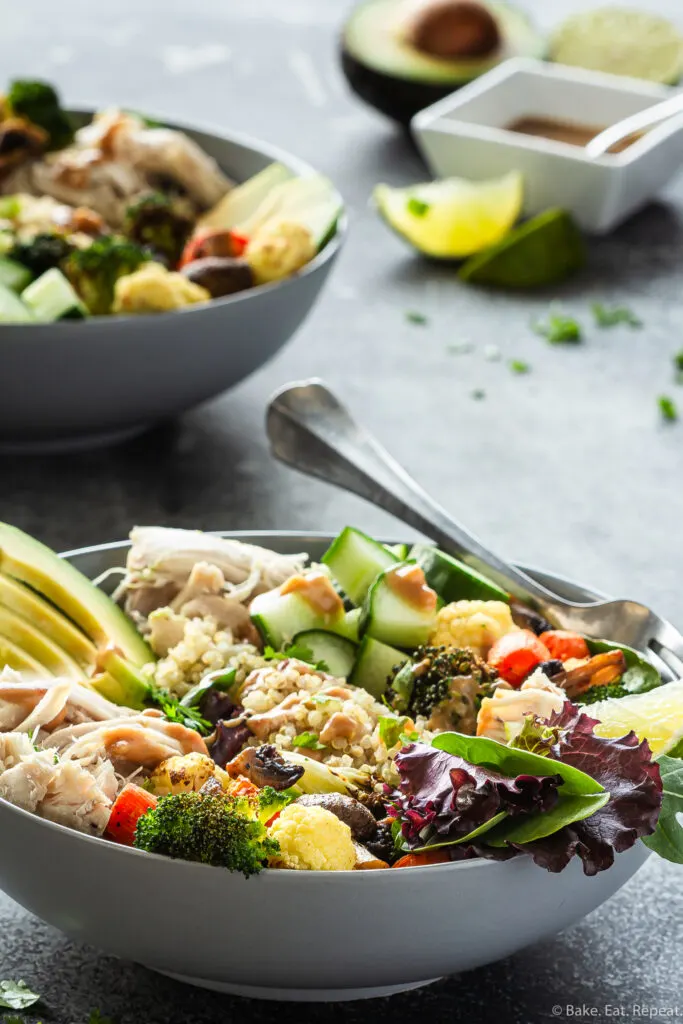 You can also cook your veggies in an air fryer if you prefer. If you want to air fry your vegetables, they will take 8-12 minutes at 400F. The type of veggies will determine how long they take to cook.
I've included directions for both cooking methods with the vegetables here in the recipe card.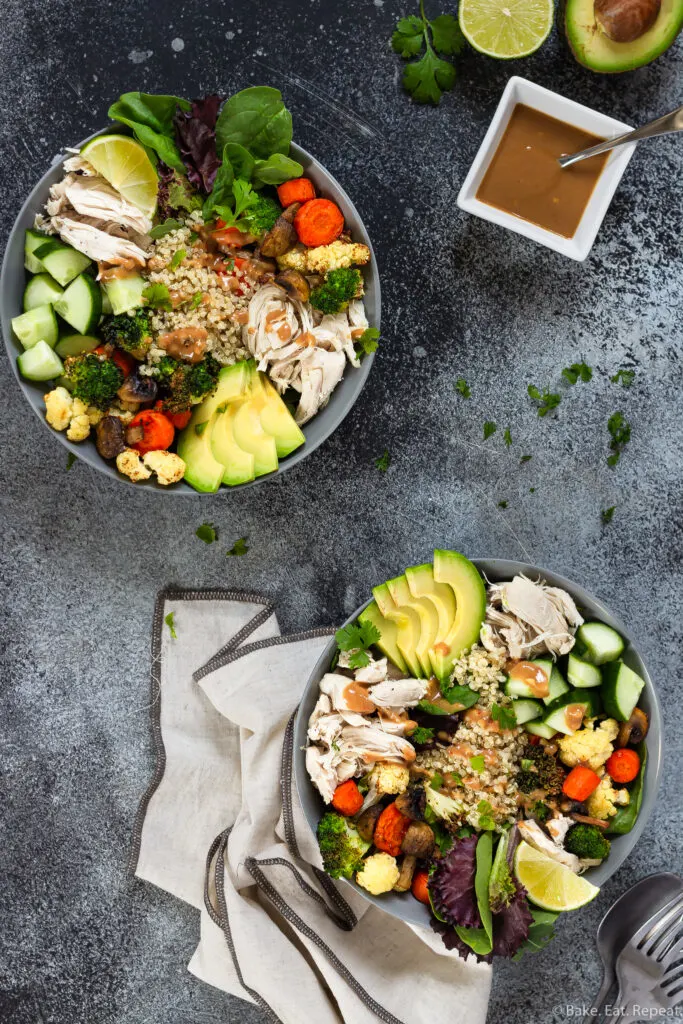 How to make this Easy Buddha Bowl Recipe:
You can make all the components of this recipe ahead of time if you like. The chicken and roasted veggies are good both hot or cold, so if you want to make everything ahead and keep it in the fridge that's fine.
The leftovers are fantastic for lunch the next day. No need to reheat anything, but if you want to the chicken, quinoa, and veggies reheat well in the microwave.
Feel free to change up the protein, use different veggies, use rice instead of quinoa – these are super customizable!
I usually cook the chicken in the Instant Pot, but you can just cook it on the stove or BBQ as well if you prefer. Here's my recipe for Instant Pot Shredded Chicken if you want to cook it that way.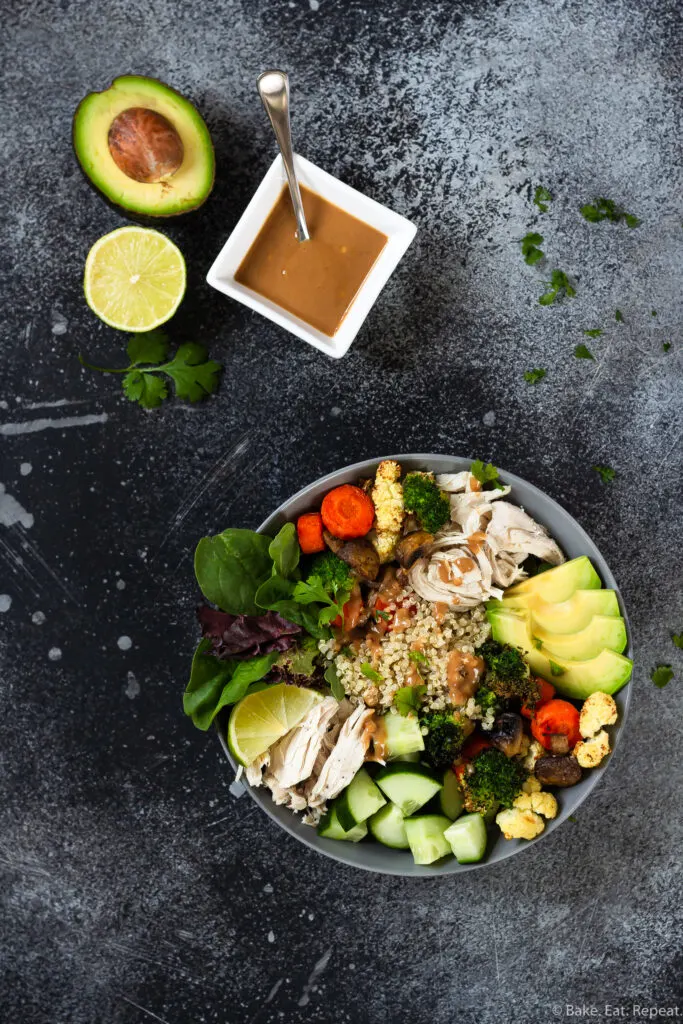 Here are some more great dinner bowls for you: