These blackened fish taco bowls with corn salsa are amazing! Spicy fish, fresh avocado, and corn salsa are served over rice for the perfect meal!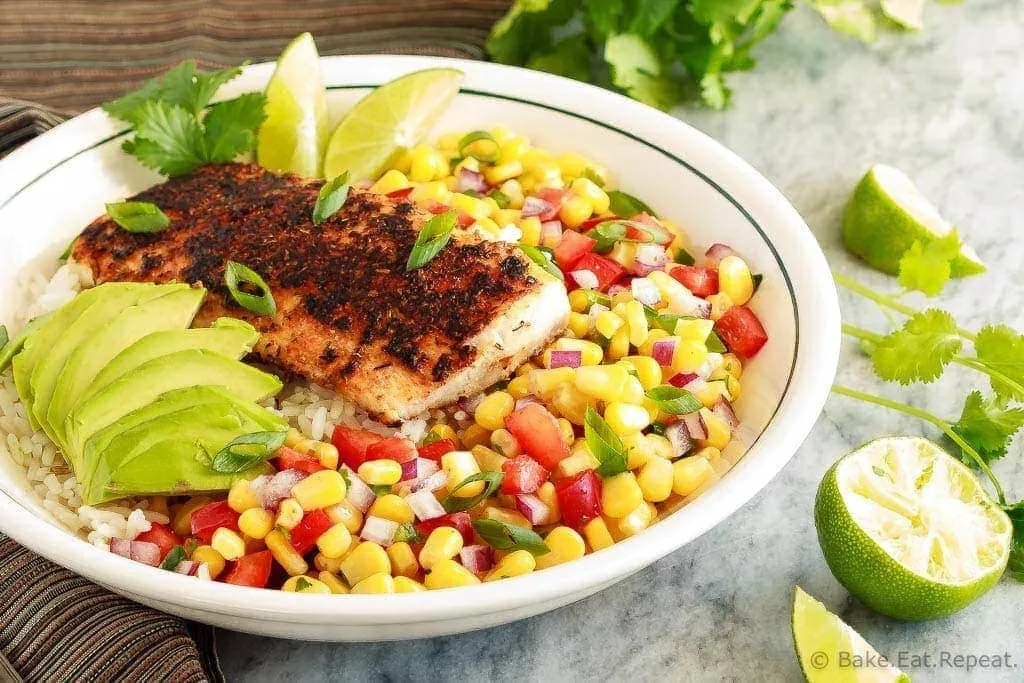 Blackened fish might be my favourite meal of all time. Actually blackened anything – spicy food is good. But blackened fish is really the best.
Add it to a taco bowl and cover it in corn salsa, fresh avocado, and avocado cream and I'm in my happy place.
If you enjoy fish and Mexican food, I can pretty much guarantee you'll love this meal.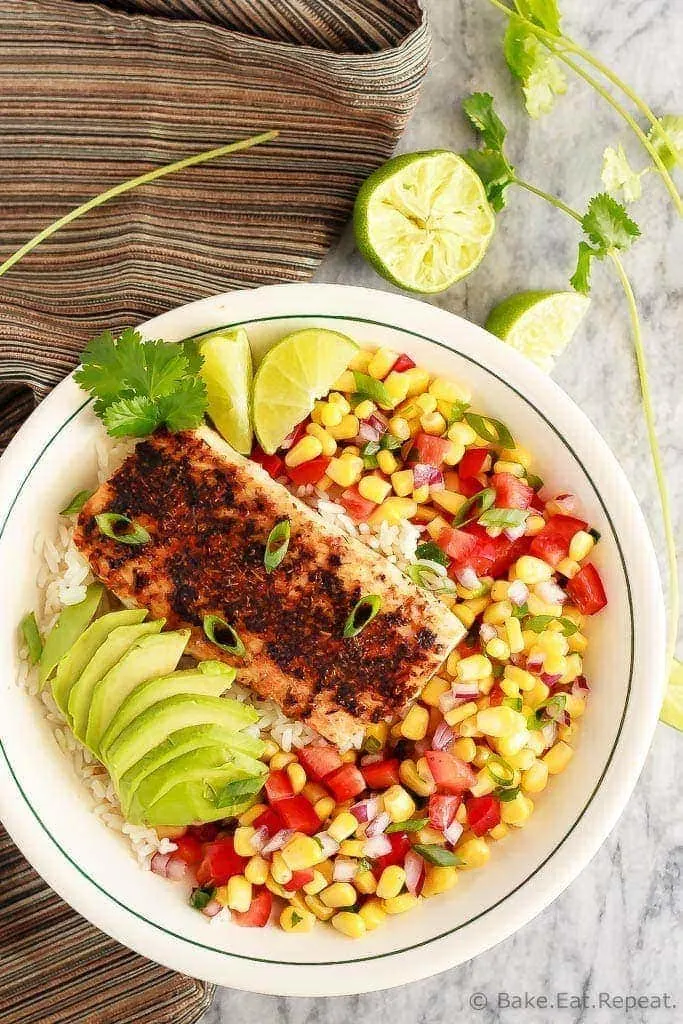 I used mahi mahi for the fish, because I had some and I really like it, but any firm white fish would work well here. You could also use a blackening seasoning mix (or cajun seasoning – it's pretty similar) if you happen to have some instead of making the seasoning.
Or you could leave it off altogether and just season your fish with a bit of salt and pepper. That's how my kids like it – because they're crazy. Definitely an option if you don't care for spicy food though – this seasoning mix does have a bit of kick to it.
These blackened fish taco bowls were the perfect meal for 30 Minute Thursday this month. Something about fish tacos just screams summer to me, so this taco bowl version obviously needed to happen for the first summery Thursday this year!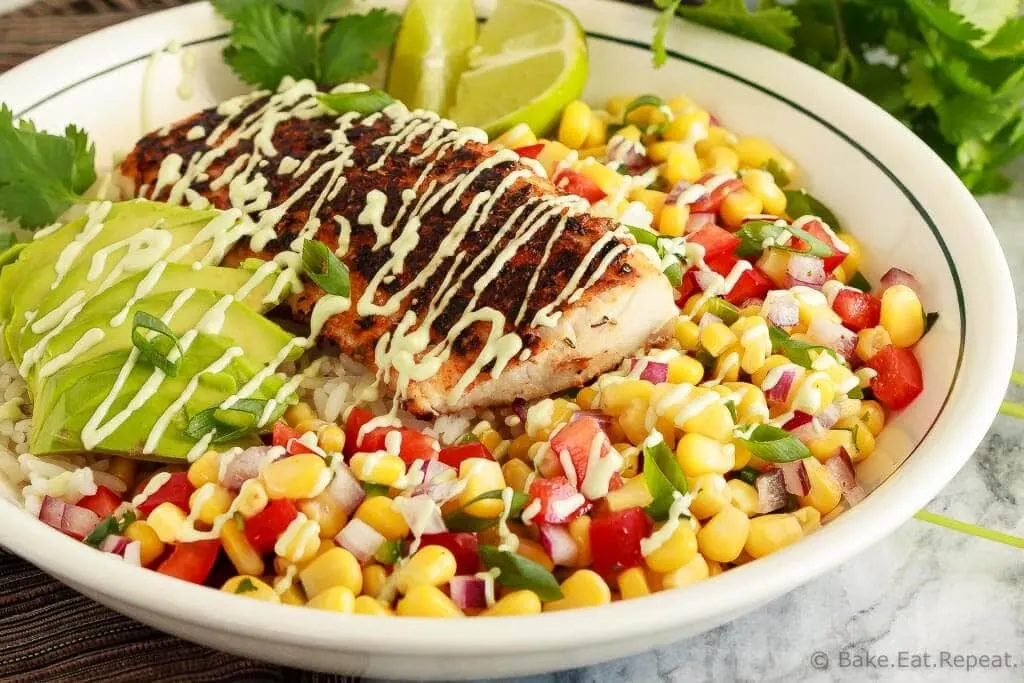 Easy to make and full of flavour, this is the perfect meal for a busy weeknight. Or a weekend. I'm not picky.
These blackened fish taco bowls with corn salsa, fresh avocado and an amazing avocado lime cream sauce need to make an appearance at your house too! I'm pretty sure this will be on the meal rotation here for the next few months. Or longer – because I'm not getting sick of this meal anytime soon!
You'll also find a list of more 30 minute meals from my friends just below the recipe!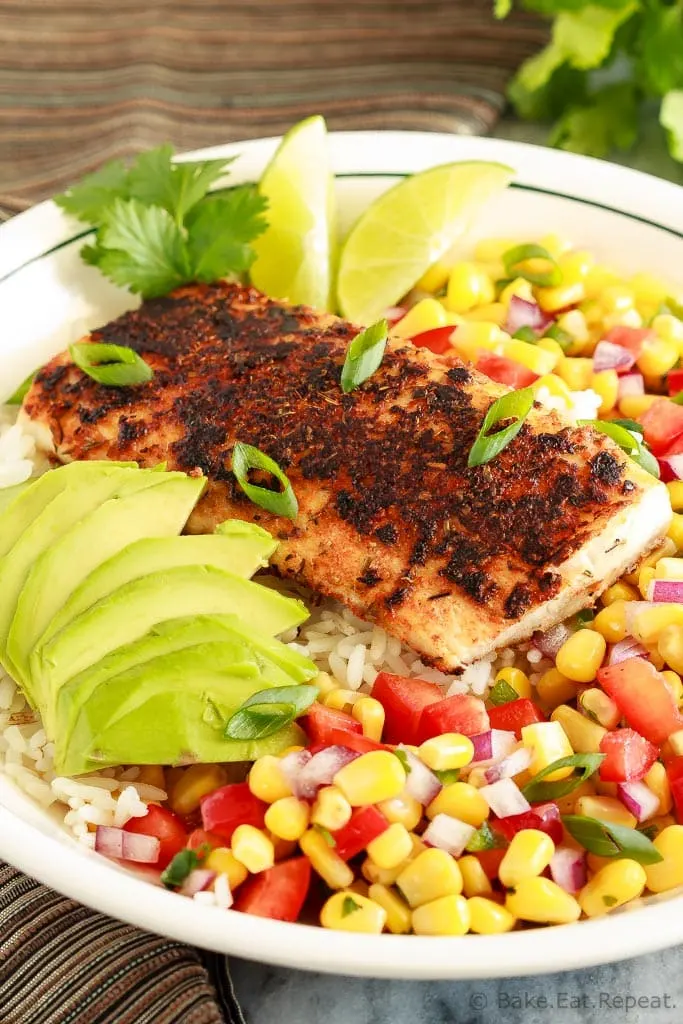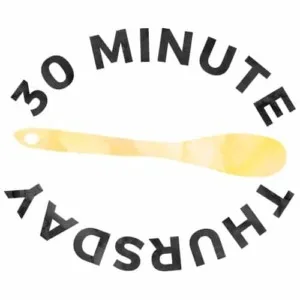 Creamy Sausage and Mushroom Rigatoni by Pumpkin 'N Spice
Grilled Balsamic Chicken Salad Pizza with Fresh Strawberry Salsa by Floating Kitchen
Chicken Caesar Pasta Salad by Life Made Sweeter
One Pot Creamy Vegan Caprese Pasta by She Likes Food
Vegetarian Portobello Mushroom Fajitas by Kristine's Kitchen
One Pot BBQ Chicken Pasta by The Recipe Rebel