These easy chocolate whipped shortbread cookies, topped with drizzled white (or semi-sweet) chocolate, are rich and buttery and full of chocolate flavour!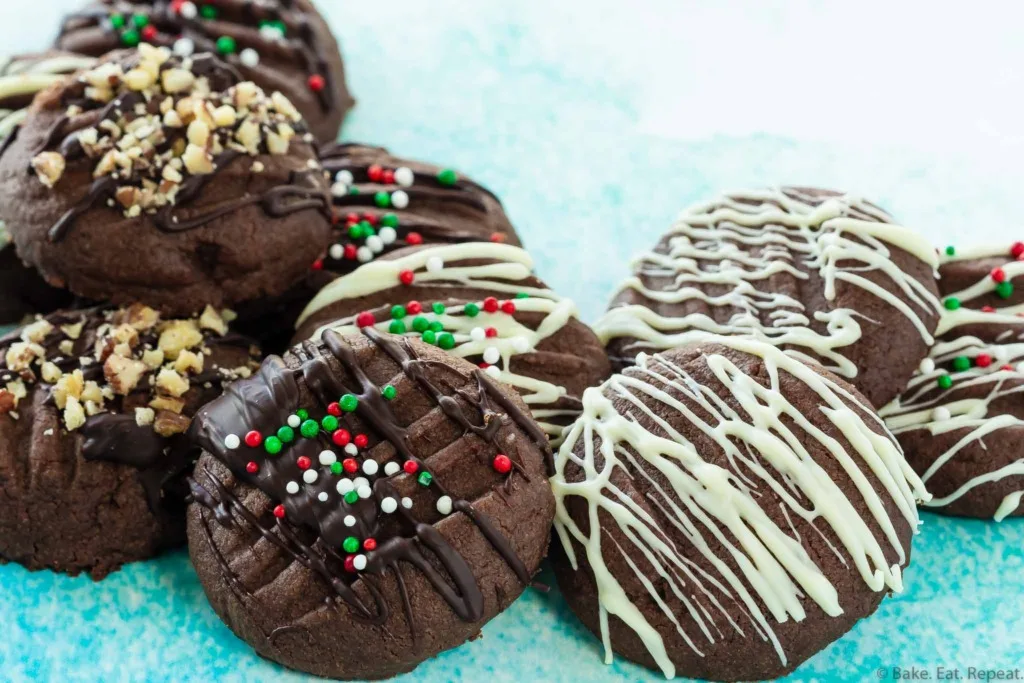 Whipped shortbread cookies have always been a Christmas cookie favourite around here. But we've always just made the regular vanilla shortbread cookies and left it at that.
This year I decided to branch out and try a few new flavours of whipped shortbread cookies, and I'm so glad I did!
These chocolate whipped shortbread cookies are rich and buttery and full of chocolate flavour.
They're super easy to make, they freeze very well, and they taste fantastic. We loved these chocolate whipped shortbread cookies.
They make a great addition to your Christmas cookie tray!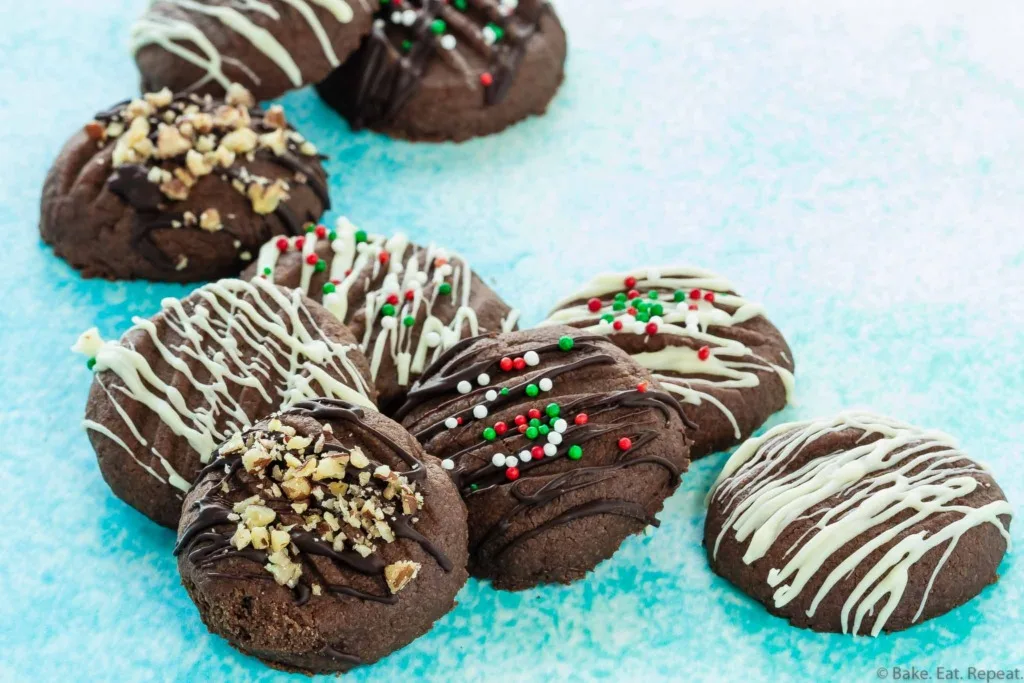 What does chocolate whipped shortbread taste like?
There is a lot of butter in shortbread cookies, but not a lot of sugar. Chocolate shortbread cookies are buttery and chocolate-y, but not overly sweet.
They are definitely the kind of cookie that needs a glass of milk or a mug of coffee alongside them.
If you prefer sweeter cookies, go with these sugar cookies instead.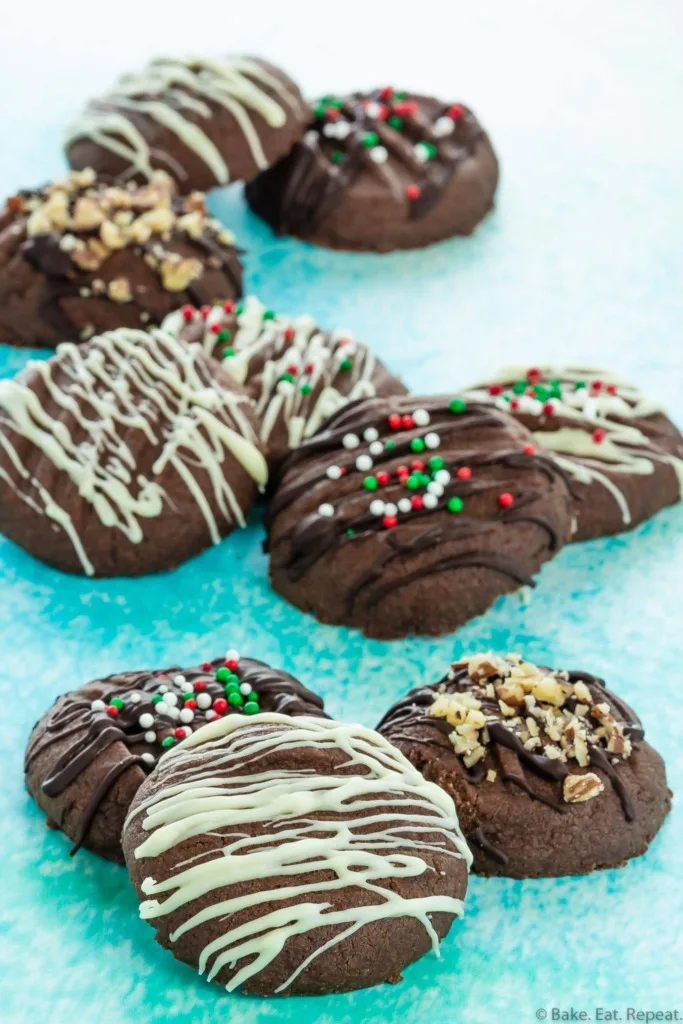 Why is it called shortbread?
It's called shortbread because of the large amount of butter in the cookies. The term short actually means crumbly.
These buttery cookies are supposed to be a bit crumbly. Don't expect a chewy cookie – chocolate shortbread cookies are crisp, buttery, a little bit sweet, and melt in your mouth delicious.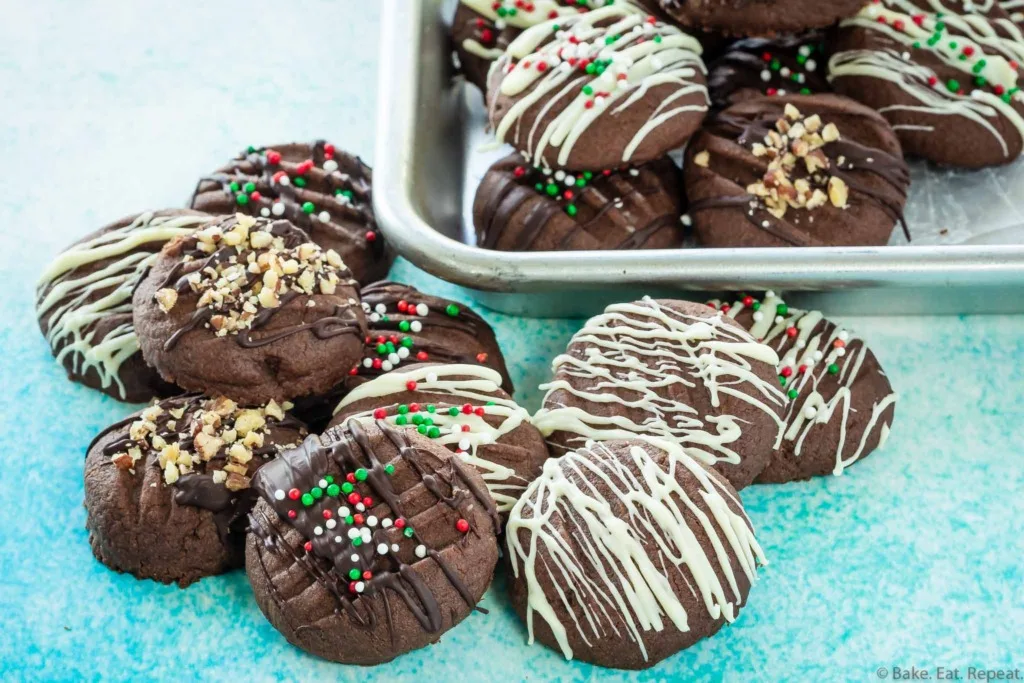 Can you freeze chocolate shortbread cookies?
These shortbread cookies freeze very well.
Wait until the cookies have cooled completely, and/or the chocolate drizzle on top has set, and place them in an airtight container with wax paper in between the layers so they don't stick together. They can be frozen for up to 3 months.
They defrost very quickly at room temperature, and are very good even when they're still cold.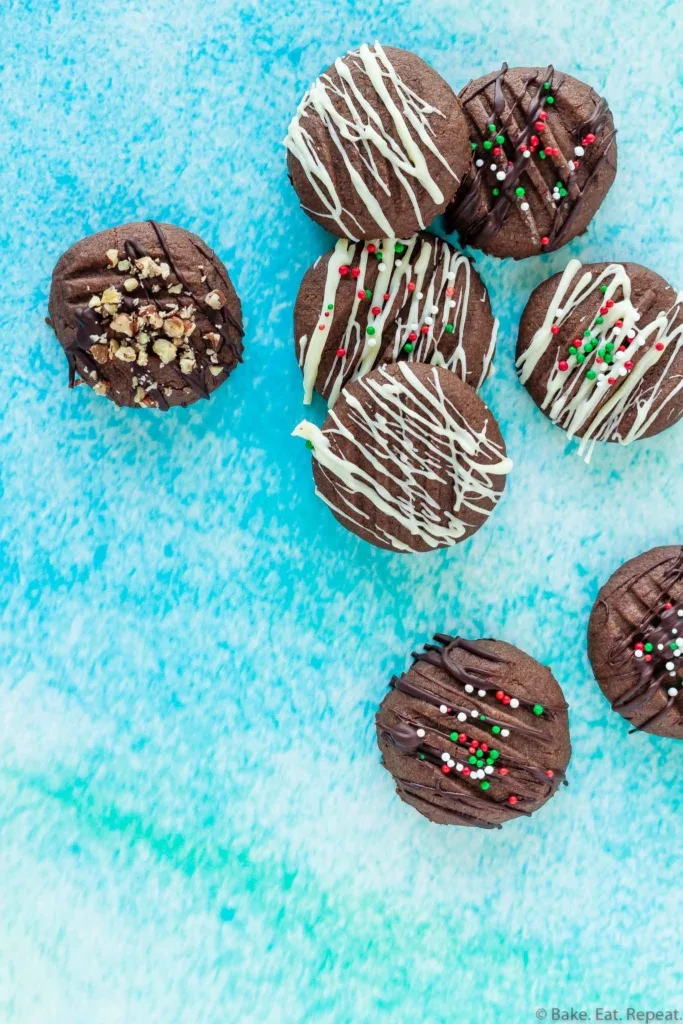 How to make Chocolate Whipped Shortbread Cookies:
Make sure you whip the dough well. It will be crumbly at first and then will come together into a ball – this takes 2-3 minutes of whipping in a stand mixer or food processor, and 4-5 minutes with an electric hand mixer. If you don't whip it long enough, it will be too crumbly.
Don't use butter that is too warm. You want it just softened enough to whip, but if it is too warm it will get too soft when whipping the dough, and your cookies may be a bit flat. If your dough is sticky, put it in the fridge to firm up a bit before shaping your cookies.
These cookies aren't super sweet so they do need something on top (in my opinion). We liked them with white or semi-sweet chocolate drizzled on top. I think they'd be good with half a candied or maraschino cherry pressed on top (like these whipped shortbread cookies), or a drizzle of vanilla glaze instead though.
If you have a cookie press, these cookies can also be shaped with one of those instead of rolling the dough into balls and pressing it down with a fork. It may depend on the cookie press, but mine makes the cookies quite small, so the bake time is only about 8 minutes instead of 12-14 minutes.
I have recipes for 4 other flavours of whipped shortbread cookies. You can find them here: 5 Tasty Whipped Shortbread Cookies
Here are some more great Christmas cookie recipes for you: